REPORT OF THE THURLOW HUNT MEETING HELD AT HORSEHEATH RACECOURSE ON FRIDAY DECEMBER  31st 2021
By Mike Ashby
 A huge gathering of extremely enthusiastic spectators witnessed history being made at Horseheath when Gina Andrews duly rode her 304th point-to-point winner of her career, on Fumet D'Oudairies in the Ladies Open race, to become the most victorious lady point-to-point rider in the sport.
 Tumultuous applause and loud cheering greeted the pairing as they returned to the winners' enclosure after their facile increase of pace saw them overtake the front-running Princeton Royale to win by 3 lengths.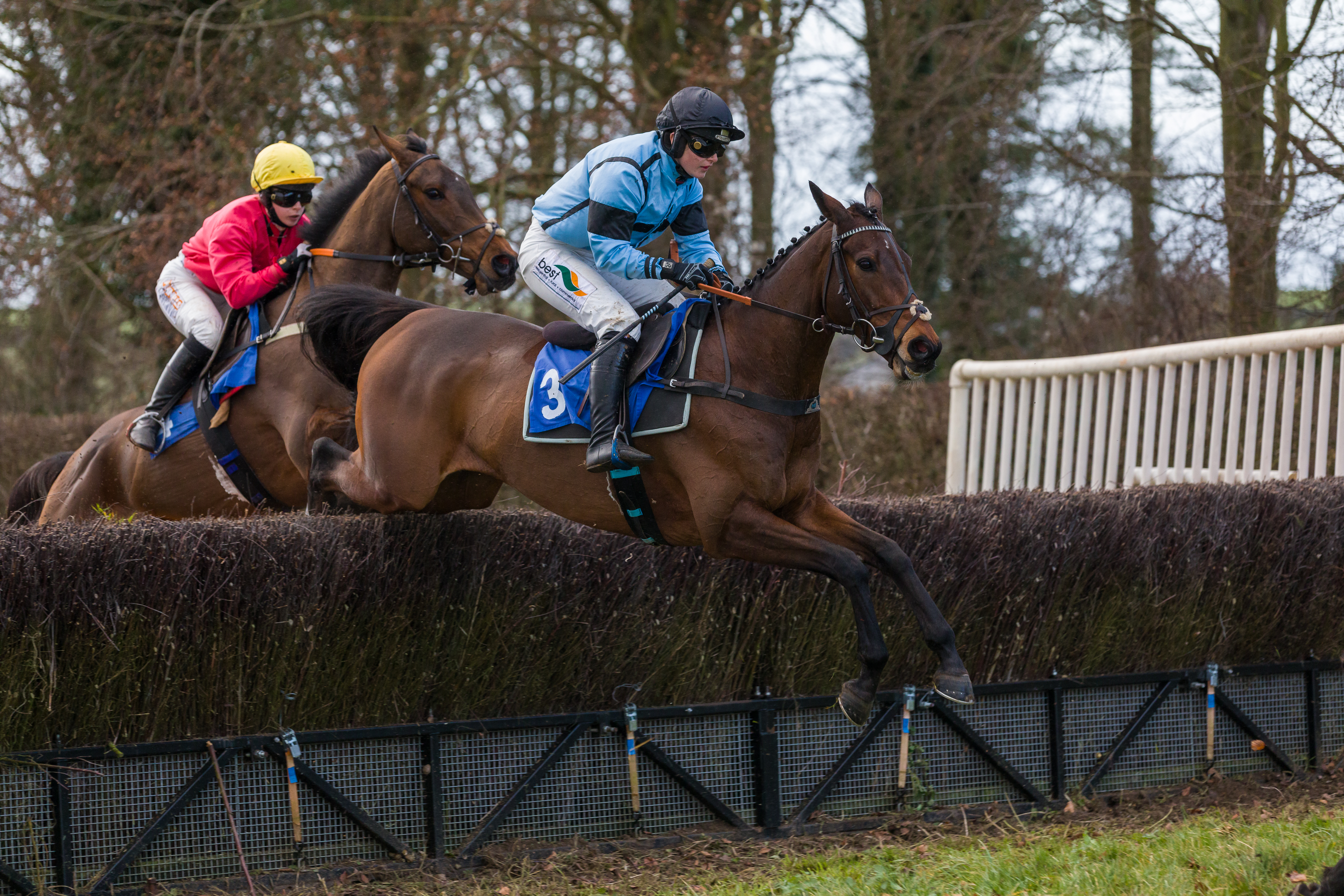 Gina on her way to her record-breaking 304th career success on Fumet D'Oudairies in the Ladies Open race.
True family support has been behind Gina's success. Simon her father, trained her first success in 2008 and Gina's husband Tom was responsible for the training of this record breaking winner. Apart from Simon and Tom other immediate family members, Mum Joanna and sister Bridget, were quickly on the scene to offer their congratulations whilst brother Jack was in riding action at Uttoxeter. It was the combination of Gina and Jack who secured the purchase of Fumet D'Oudaries who has now been ridden to victory by all three Andrew's siblings and the next, most likely, outing for the now 7yo will be back at Horseheath, at the end of January.
 Gina summed up her equine superstar partner by saying " He is just a phenomenal little horse and a pleasure to have him in the yard ". The record-breaking rider went on to heap well-deserved praise on the Horseheath course considering it one of her favourites, except when breaking her wrist here on her 21st birthday !  " A very fair track with well presented fences " enthused Gina who has now ridden 23 winners at Horseheath and is the course's all-time leading lady rider.
 Gina later went on to record her second winner of the day, in the Restricted race,   on the particularly impressive mare, Mammoth, returning to racing after nearly two years, as they trounced their nearest rival by 15 lengths, having taking the lead at the final open ditch. Mammoth's owners, namely Nigel Bloom, Tim Moore and William Wales, enjoyed a combined total of over fifty winners at Horseheath during their riding days and they were delighted to see the mare capture her second course win, having won her Maiden here in February 2020. Their plaudits go to Gina and Tom Ellis who found the mare for them and were particularly impressed by " the lovely training performance by the Ellis' "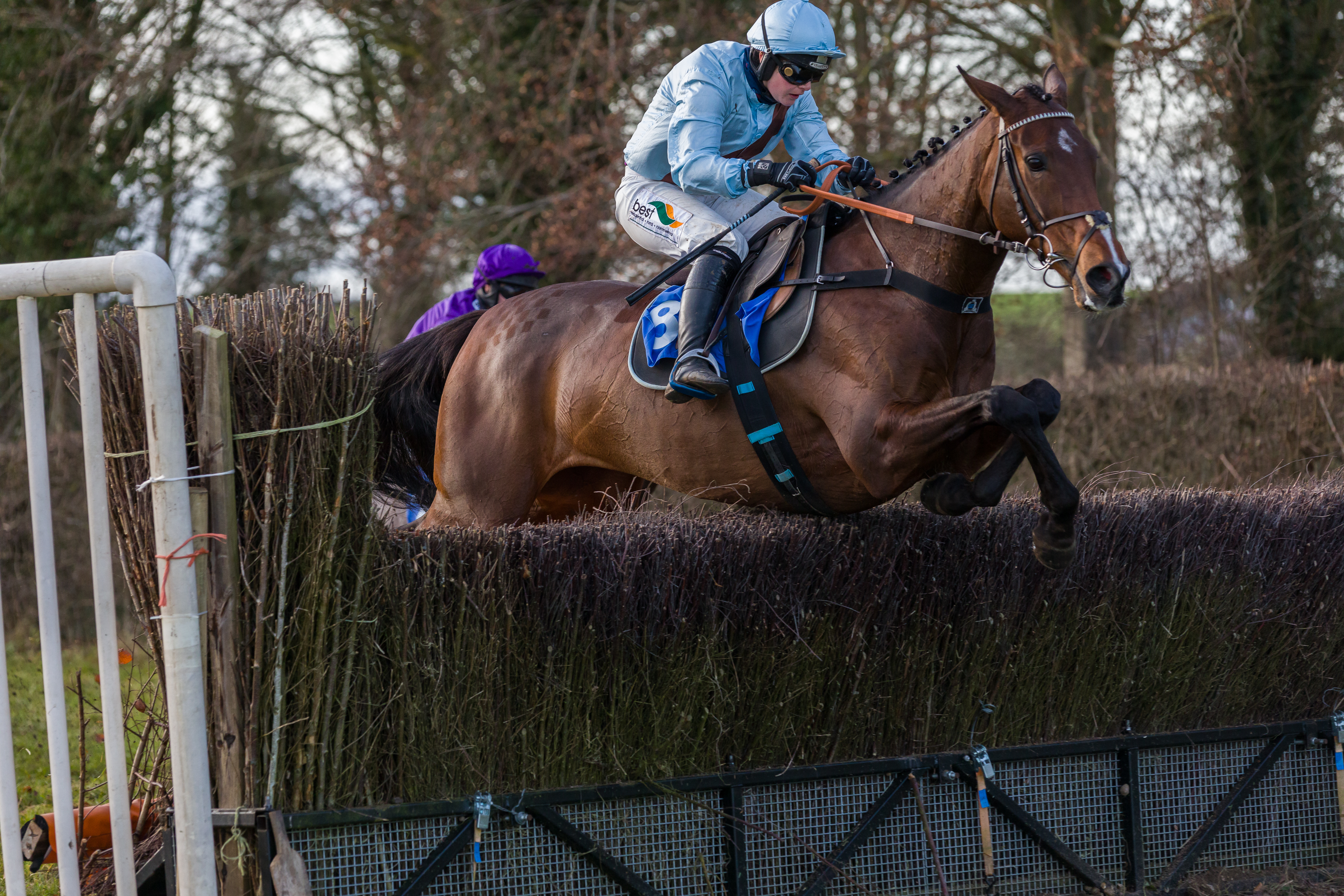 Mammoth and Gina Andrews on their way to victory in the Restrcted race.
The Novice Riders' races are always competitive affairs and Bawnmore looked to make his customary front-running tactics pay dividends but they were challenged and subsequently overtaken by Mr. Love ridden by Murray Dodd who ran out comfortable winners. Murray was recording his second success of his career and would have had full knowledge of the ability of Mr Love, along with trainer and part-owner Nick Pearce, as the gelding was a former inmate at the Dan Skelton yard, where both trainer and jockey are also associated, with employment.
The Mens Open race was building up to be a close affair until Pont Aven departed at the third last fence leaving Early Retirement and Vivaldi Collonges to battle it out up the Horseheath final two fences and then the run-in. It was the latter who took the prize, by a head, under a strong riding finish from Ben Bromley. Ben, who recently turned nineteen has been gaining valuable experience riding on the NH scene and is attached to the stable of Philip and Mel Rowley. Ben is more than happy to retain his amateur status, for the time being and the opportunity to ride in points is something he particularly enjoys and is a natural extension of his pony racing days, most of which took place in East Anglia. He is the son of Vivaldi Collonges' owner Anthony Bromley, a highly respected bloodstock agent and racing manager. The horse was purchased from leading amateur David Maxwell, who won Hunter 'Chases on him and Anthony, co-incidentally, was also responsible for purchasing the horse from France, for leading owner John Hales, in its early days.
Pont Aven was none the worse for his fall and his day will come soon. Owner Tim Gredley was in attendance as well as receiving moral support from Frankie Dettori, who often wears the same famous Gredley colours, who was paying a visit to Horseheath and enjoying a day's pointing.
 The two Maiden events produced eye-catching performances from two ex-Irish imports that will both go on to make their mark in the sport. Bloodstone, previously with Henry De Bromhead, was a £25k Doncaster Sales purchase and provided jockey George Henderson with his first winner for a number of years and now boasts a career total of over twenty successes. He broke his back about five years ago but was determined to resume his race-riding which he has now achieved with grateful help of the Injured Jockey's facilities. Trainer Dale Peters pre-race advice was to "sit in behind" but with George's excitement and exuberance, he and Bloodstone were always leading a packed field and kept the momentum going when clearing the last fence two lengths to the good but understandably tiring. They were almost caught by Call Colman and Alex Chadwick, on the run-in, but still prevailed by a neck, where it mattered.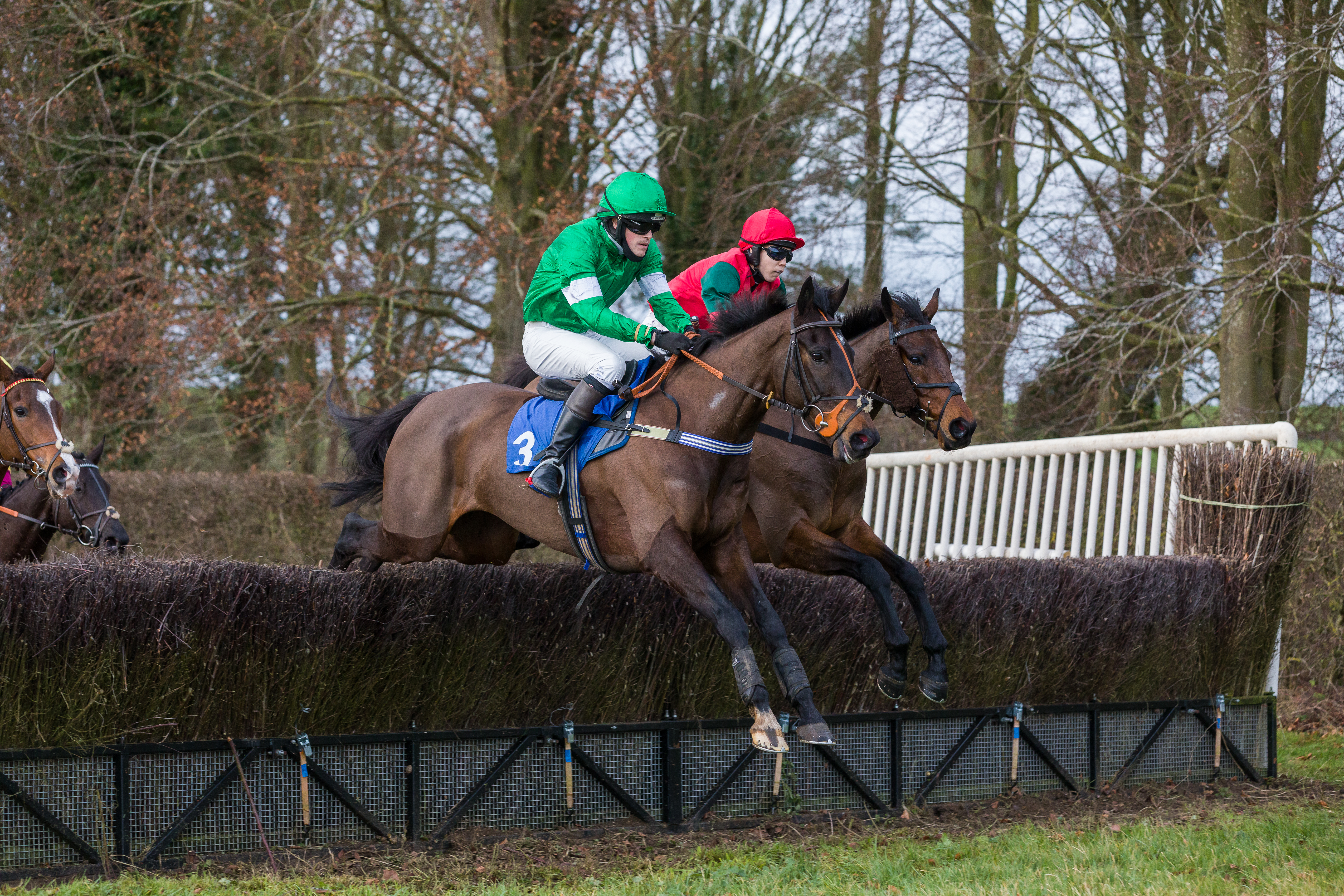 Bloodstone and George Henderson (nearside) winners of the Maiden Race
The most impressive performance of the day came from Coolagh Park and Izzie Marshall in the concluding Maiden Conditions race who took up the running on the final circuit, winning handsomely, with plenty in hand, by a distance. This was yet another winner for the Cranfield Family and Izzie's record when wearing their colours is outstanding. The owners and trainer Alan Hill together with son Joe will look forward to some fruitful days if the exciting round of jumping displayed by Coolagh Park, in these conditions, is anything to go by.
Coolagh Park and Izzie Marshall in command in the Maiden Conditions race.
Kaproyale and James King won the opening Conditions race after "the race fell apart, coming down the hill for the final time" according to James and the partnership found themselves in front after being content to take a backmarker role, early on in the race. The early fast pace of the race took  its inevitable toll and there were only five finishers from the thirteen who faced the starter.
 What a day. 63 runners from 81 individual horses entered. Fantastic racing but this was Gina's day and we were privileged to be there to witness her outstanding individual achievement.
ALL PHOTOS COURTESY OF GRAHAM BISHOP
www.gdbphotography.co.uk