Photograhpy Courtesy of Richard Weller-Poley – www.rwpphoto.com and Graham Bishop – www.gdbphotography.co.uk
On a day that saw particularly fast race times it was the Alan Hill trained Broken Eagle who set the day alight with a lightening quick round in the Men's Open that saw him win his 8th race at the track. Ridden again by Jack Andrews, Broken Eagle only had to face two other rivals.  He led from the get go and whilst both his rivals tried to take him on during the race there was never really a moments worry for the now 11 year old who Jack describes as a "very straightforward ride".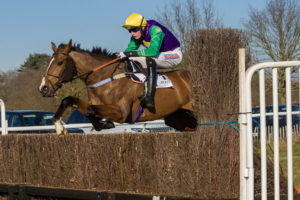 Broken Eagle and Jack Andrews put up a lightening quick display in the Men's Open
Broken Eagle's win was the first part of a double for Hill and Andrews who also teamed up to take the Restricted race with the impressive Captiva Island. The winning margin of three lengths doesn't do justice to the ease with which the race was won; Captiva Island never came off the bridle and Jack Andrews never moved on top.  Jack has always been sweet on Captiva Island since steering him to win his Maiden at Cottenham earlier in the season and was clearly impressed today.  Andrews' said "He won well and he likes that ground.  I've always liked him and he's a horse that has loads of gears so fingers crossed he will keep progressing." This was Jack's 10th winner of the season and keeps him in contention in the National title race.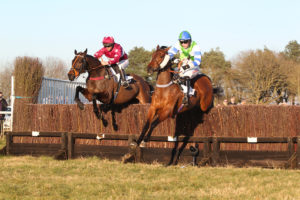 Captiva Island on his way to winning the closing Restricted race
The biggest smile of the day came from owner/rider Anna Metekohy after taking the PPORA Conditions Race aboard Poyle Thomas, a horse she was gifted at the end of last summer and who was having only his third start over fences. Poyle Thomas originally started life with flat trainer Ralph Beckett and has won multiple races in that sphere.  He clearly enjoyed the track and ground taking the lead after the first fence and never seeing another rival.  Anna, who works at Newmarket Racecourse, modestly describes herself as the "happy hacker of the pointing world" but this was her 8th career winner and she hopes to be able to go for a Hunter Chase towards the end of the season.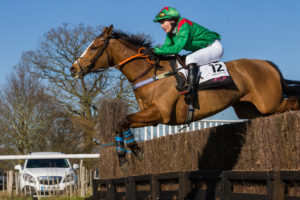 Poyle Thomas and Anna Metekohy
It was another Newmarket based jockey, Charlie Clover, who took the opening Novice Rider's race with his own One Fine Morning. It was their third success at Higham and he saw the race out gamely although perhaps not as impressively as his last visit to the track, Charlie put this down to the quicker ground which One Fine Morning enjoys but is perhaps not able to show his best on at the age of 13. The horse is clearly a family favourite and is trained in Newmarket by Charlie's brother Tom who is better known for his team of flat horses.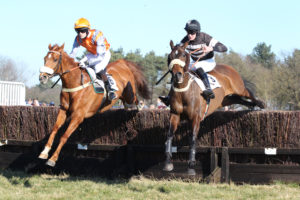 One Fine Morning coming with a late run to win the Novice Riders race under Charlie Clover
It was a day for horses with previous track form and the Ladies Race was taken by the evergreen Top Smart, who loves Higham, that took the spoils under Izzie Marshall from the Edward Turner trained Sa Kaldoun. Turner's wife Rosie gave Sa Kaldoun a great ride to give Top Smart a fright coming down the home straight for the last time but Top Smart's class told in the end and he won by four lengths to give Izzie Marshall her fourth win of the season.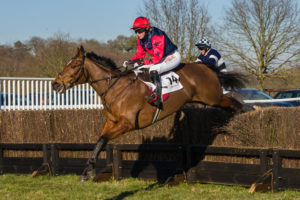 Top Smart continues his love affair with Higham taking the Ladies Open
A day at Higham wouldn't be complete without an Andrew Pennock trained winner and sure enough he and stable jockey Richard Collinson took the maiden with Laser Beam who looks like a smart prospect. Collinson was clearly taken with Laser Beam, saying "He's a nice import with some nice form. The race was run at an honest enough pace and he did his job properly.  He will be better again on softer going and over a stiffer trip but he still impressed me today."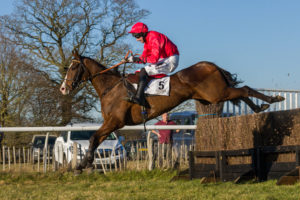 Richard Collinson, along with many others, was full of praise for the team at Higham, who provided a great day of point to pointing in glorious sunshine. Collinson said "Although the ground was quick, the team at Higham have done a great job, as always and it's always nice to ride a winner at my favourite track."
FULL RESULTS BELOW. The official going was good to firm.
Hunt Members and Subscribers Veteran and Novice riders                                                  
1st One Fine Morning            Charlie Clover          1/3f
2nd Abbey Lane              Alex Chadwick         6/1
3rd Weather Warning            Charlie Buckle         5/1
Time 6-00      Dists: 1L Nk               5 ran                                                                   also Garstin PU Kingston College 4th
PPORA Conditions                                                                                                                    
1st Poyle Thomas                      Anna Metekohy        4/5f                                                                 2
nd Dandan                           Tristan Durrell           11/10
3rd Ballybough Gorta            Charlie Case            4/1
Time 6-12      Dists: 6L 12L            5 ran
also Clenagh Castle 4th Tirob 5th
Mens Open                                                                                                                              
1st Broken Eagle              Jack Andrews           2/5f
2nd Call Me Vic               Albie Tuffnell
3/1
Time 5-45      Dists: 3L                    3 ran
also Steeles Terrace PU
Ladies Open    
1st Top Smart                        Izzie Marshall           5/4f
2nd Sa Kaldoun                  Rosie Turner             3/1
3rd Sand Blast             Antonia Peck               4/1
Time 5-59      Dists: 4L 3L              5 ran
also Mighty Leader F No Through Road 4th
Open Maiden                                                                                                                          
1st Laser Beam                        Richard Collinson   6/4f
2nd Josh The Plod               Charlie Buckle         7/4
3rd Flaggan                          Will Hickman                    4/1
Time 5-58      Dists: 4L Dist             5 ran
also Broom Tip PU Pandinus Imperator PU
Restricted 
1st Captiva Island             Jack Andrews           4/5f
2nd Stingthebookies                        Will Hickman            10/1
3rd Ka Maresco                  Tristan Durrell           8/1
Time 5-54      Dists: 3L 15L             6 ran
also Black Jewel UR Bullsempire 4th Shamat F