THE LOCKDOWN LOWDOWN: JACK ANDREWS
22-year-old Jack Andrews is the current national Mens champion jockey, having been five winners clear of his nearest rival when the 2019/2020 season finished early last March. In winning the title, he emulated his older sisters Gina and Bridget (now a professional), both Ladies champions between the flags, Gina seven times. Despite coming from a family steeped in pointing – father Simon won the Aintree Foxhunters and mother Joanna also rode successfully – Jack admits, "I wasn't keen on riding when I was younger. I rode a couple of winners pony racing but it was only when I started schooling Mum and Dad's horses as a teenager and got my first pointer – Pheidias – that I got into it." In the first of a new series of features, Jake Exelby spoke to him to find out more about his love of point-to-pointing… and what he's been up to during lockdown.
Who have been your favourite horses?
Monty's Tag (who won the 2002 John Corbet Cup, trained by Simon and still going strong at home at 28) was my earliest memory of racing. I remember rushing home from school to watch him run.
And Proximo – I've won six on him and he was the horse who got me started riding for Stuart Morris. I rang him up the year I was chasing the Novice championship, asked for the mount, went to school Proximo and won at Garthorpe on my first ride for Stuart. Now I ride as many of his as I can.
Which jockey have you most admired?
You can't not admire Will Biddick. He's the best I've seen – not just a good jockey but a brilliant horseman.
What's your favourite course?
Horseheath. Not only did I have my first winner there, it's a brilliant track, well run, with good quality racing – the layout tests horses and riders.
What do you love most about pointing?
The social side. I especially like sitting on the bank at Dingley on a spring evening, having a drink, celebrating… or commiserating.
What's been your personal funniest moment in the sport?
Dingley again. I remember a former jockey – who shall remain nameless – streaking up the hill.
What's been the highlight of your time in the sport?
Becoming champion jockey – obviously – but in a weird way with the shortened season. Also my four-timer at Ampton last March. I went there thinking I had one or two good chances but I gave each horse a different ride, which was very satisfying.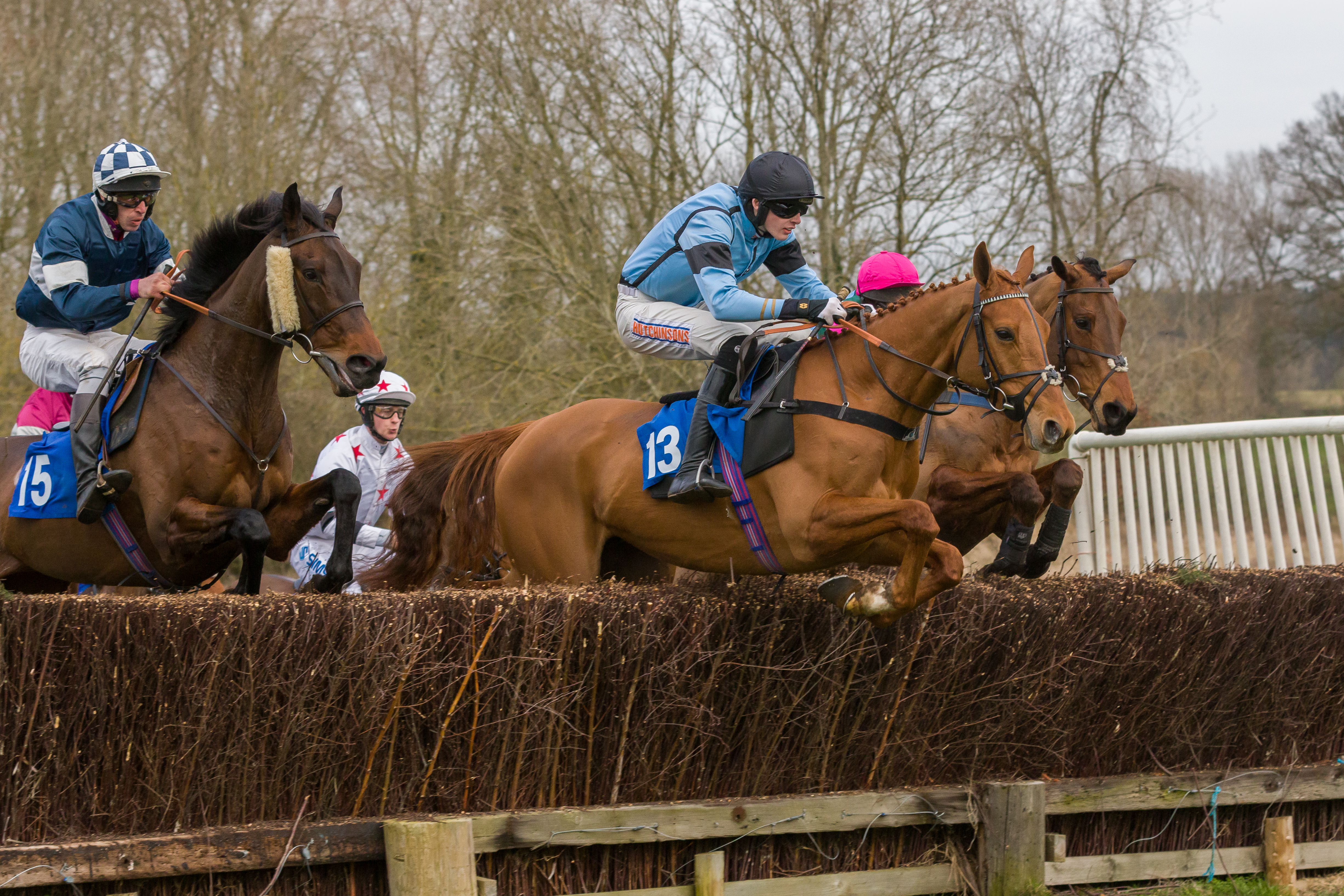 Jack Andrews completing his four-timer at Ampton in March 2020 on  Man Of Means ( centre)                                      (Photo: GDB Photography)
What are your career ambitions?
I'd love to be champion again in a full season, and I'd love to win a Foxhunters, especially at Cheltenham, which sees the best quality horses.
What would you do if you were in charge of the sport?
I'd spread out the meetings more across the year. Last season, with fewer fixtures, the quality of racing was really high – I don't like meetings with walkovers and matches.
How has lockdown affected you from a racing perspective?
I'm obviously riding out at home (Jack lives next the Marton – near Rugby – base of his brother-in-law Tom Ellis, who's married to Gina) and also go to ride work for Fran Nimmo at Ettington near Stratford and for Stuart in Northamptonshire. But I wouldn't leave home if it became an issue.
What do you think about Hunter Chases with professional riders?
It's a kick in the teeth for some people – I won against professionals at Doncaster last week, so why can't I ride now? But it's a government issue, not coming from the BHA or PPA, and it's good that Hunter Chasing is continuing so people can run their horses. Tom's got four or five to run – mostly Open grade horses so they won't lose an opportunity if they win one. It's also better for younger horses to run in Hunter Chases rather than miss a season – they'll gain experience even if they're not up to winning.
Tom will probably run the likes of Deans Road – an ex-Irish chaser we're hoping to qualify for Aintree – experienced types like Haymount, Kalabaloo and Latenightpass and maybe Dubai Quest. Bridget will be first in line to ride, and (her husband) Harry Skelton if we can get him!
What do you think we should do with the rest of the pointing season?
It's great that Peter Wright is being so positive and – if there's a chance we'll be out of lockdown by February 10th, we should aim to start pointing by the 20th. And, if we can't start until later, I'd be up for going on until July if we can at courses like Garthorpe, where Brian Crawford does such a good job. Why not have four or five meetings there?
Have you been watching the live streaming? What do you think?
It's been absolutely brilliant, especially the ones hosted by Cornelius Lysaght. If I wasn't riding, I'd definitely pay £10 to watch.
What do you think the effect of lockdown on pointing will be?
It's hard to say. Some owners have no interest in running under rules – none of Tom and Gina's owners are sending their horses to licensed trainers so far. But some pointers will go to professional yards – if your horse is fit, you've got to run it.
What else have you been up to during lockdown?
Not much apart from racing – if I'm not riding, I'm watching it on TV!
How has lockdown affected you personally?
My friends call me a hermit because I don't go out, so lockdown's like normal life! Seriously, I miss the things we take for granted, like going to a pub for a meal. And I think I'm being watched if I'm not wearing a mask…
Tell me about a book, film, TV series or some music you've enjoyed?
I watched all 90 episodes of Prison Break in just two weeks – I was hooked (note to readers: Jack was just seven when it first aired) – and have been enjoying Barry Geraghty's autobiography.
What are you most looking forward to when lockdown is over?
Going to weddings. I missed Ella Mahon marrying Nick Pearce just before Christmas – well, I hope I'd have been invited! Days like that live long in the memory.
What would you be doing if you weren't a jockey?
I'd like to be a professional golfer. I have a handicap of 14 and (former jockey) Saul Woods says I'm a bandit because I'm always trying to get shots off him.
What are your life ambitions?
Racing-wise, I'd like to be a trainer – ideally to have a yard full of three-year-olds to sell-on. I'd also love to own a house. You've got to have so much money for a deposit or banks won't give you a mortgage. And working in racing, there's no chance of that!