MY POINTING EXPERIENCES
By Ray Newby
I had probably been a keen racegoer, both flat and National Hunt for around 4 ½ years before I attended my first point to point in March 1989. I saw the form guide of a horse in a race card and that said it had won a point to point. I was curious and this was in the days before Google as to what a point to point was. After satisfying my curiosity by looking it up in an encyclopaedia  I duly ordered that years Mackenzie and Selby annual which I saw advertised in the Racing Post. I was in the RAF at this time based at Cranwell in Lincolnshire. I had a good look at the venues in the back of the book and saw something that caught my eye in the description of Newton Bromswold, namely that the number board girls were straight from the pages of Vogue. I picked this venue as my first foray in to pointing. I drove down from Cranwell in my little Fiat X1/9 sports car and found the course by following a few horse boxes and numerous 4 x 4 cars which I guessed were going there. The first race I saw was a victory to Golden Hornet ridden by Tim Bryce for owner Andrew Reid in the members race, but more of Tim Bryce later. I was immediately hooked on pointing, the informality and the fact that you could get very close to the horses and view the action from various fences around the course. I attended a few more points including at Garthorpe and The Carholme at Lincoln before I was posted to Scotland but I still found time to attend a couple of meetings there at Bogside, site of the Grand National until 1965. I also arranged another memorable trip for myself and seven colleagues to Balcormo Mains in Fife with an overnight stop in a B&B in Perth.
After leaving the RAF in 1994 and returning to East Anglia I got a job with the Home Office and I was able to carry on my love of pointing and through the area's PR person got offered a reporter's job with the Maldon & Burnham Standard newspaper in Essex covering the local point to points in East Anglia. Through this role I got to meet several people connected with pointing in that area including jockeys Simon Cowell, Toby and Nicola Bulgin and Alan Coe. I got on very well with local owner Barry Kennedy and bookmaker Ian Moss. I also got to meet Andrew Braithwaite who was just starting out on his riding career and he figures in my next adventure when I decided to become an owner.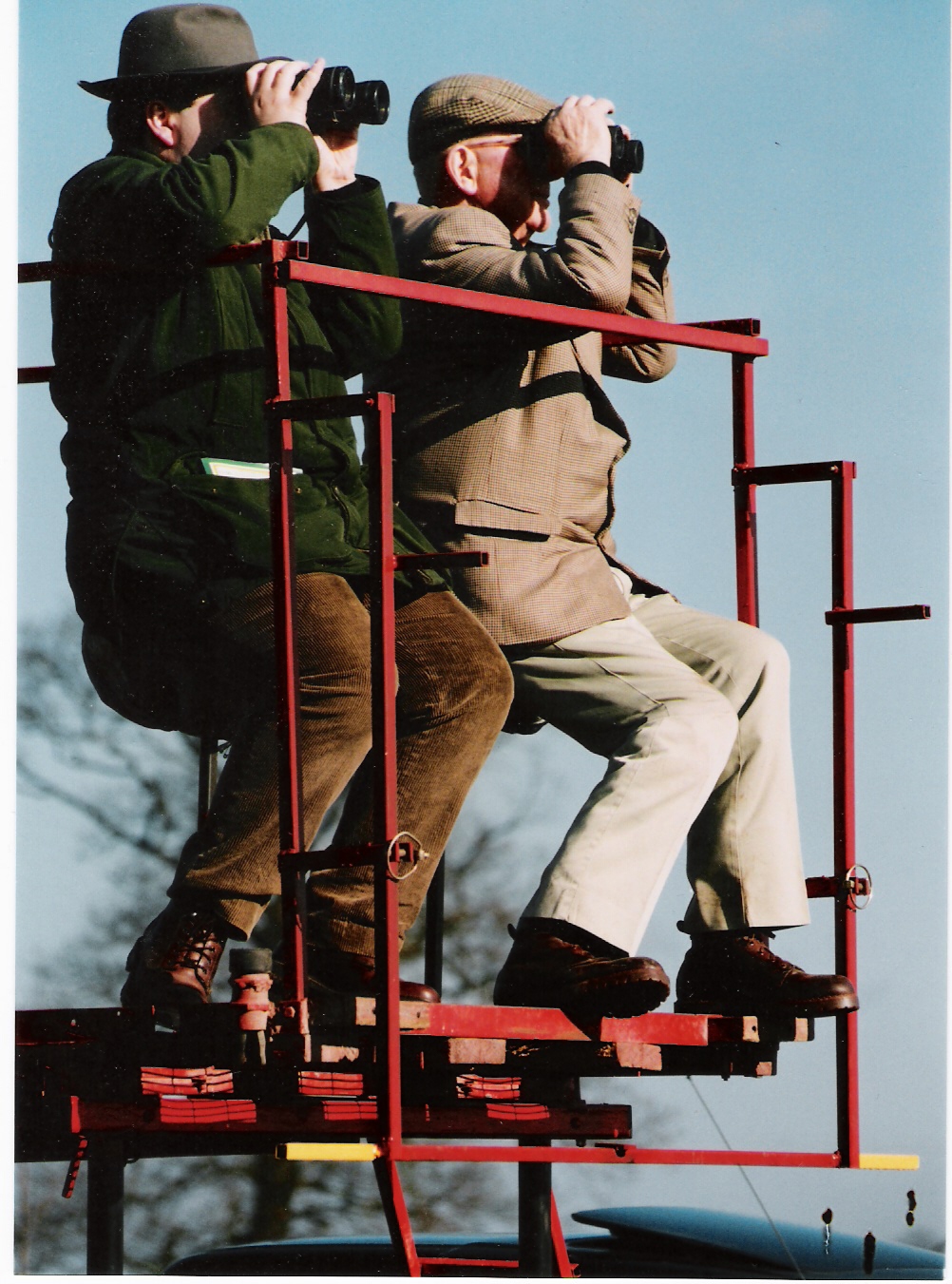 MYSELF AND BASIL COOK VIEWING FROM AN ELEVATED POSITION AT HIGHAM
It had long been an ambition of mine to own a racehorse and I decided to buy one for a local rider Kelly Smith to ride in ladies races. After inheriting some money in 2003 I went to the sales at Doncaster in May 2004 armed with my catalogue and many horses marked in the book as being suitable. My trainer was to be Mike Burman, who trained in the lovely village of Ickwell near Sandy in Bedfordshire. By now I was working at Oakington near Cambridge so it wasn't too far to travel to see the horse after work especially at the weekends. As I arrived at the sales on day one, I met up with Andrew Braithwaite who was going to help me with his knowledge as was my friend Tessa Jenkins who had owned and bred pointers herself. On the morning of the sale we navigated around the boxes looking at the lots I have marked up. Some we eliminated very quickly due to injuries or the expected price was out of my budget. Day one passed by quickly whilst I sat up in the sales gallery. Nothing going through was in my budget. Mike Burman was there looking for a horse for another owner of his which he duly bought and set off back to Ickwell that evening with his purchase. Day two at the sales and things were again going similar to day one, horses were too pricey for me. The in came lot 567, Runningwiththemoon, a 9 year old gelding by Home Sapien out of a mare called Ardeal who I remembered winning a point at Ampton, near to Bury St Edmunds where I now lived. The horse was led around the sales ring three times whilst the bidding was going on, when it reached 5,800 guineas the auctioneer said "Sorry not enough". I turned to my friend Tessa and said. "I liked him, he looks a decent sort". She replied, "Why don't you see if you can do a private sale". We duly got up from our seats and caught up with the horse, his lass and the trainer Chris Bealby. We introduced ourselves and managed to get hold of Andrew Braithwaite who was looking at another horse. He knew a person who worked at Chris's yard and we asked him about the horse. Not the quickest we were told but a sound jumper. Anyway, we agreed on a price for a private sale and we told Mike Burman about it. He agreed to see the horse the next day and Andrew and myself would call in to Chris's yard near Grantham on our way back from the sales. All went well, Mike liked the horse, he had run in a Southwell handicap chase the week before and finished 4th so still looked race fit. I also recalled seeing him run in a member's race at Garthorpe where he finished 3rd beating some more experienced rivals in the process.  He had won a maiden race at Thorpe on Easter Monday subsequently. A price was agreed and we arranged to pick up the horse two weeks later which happened to be Derby Day. After getting him back to Ickwell he summered well and plans were in place as to where we would run him. Ampton in mid January 2005 was chosen and he was entered in the restricted race. In the meantime I had registered my colours with Weatherbys. I had seen a soft drinks label once where orange writing was on a purple background and thought how they went together well so I chose Purple, orange cross belts and hooped sleeves with a purple cap. The day of the race arrived and I was quite anxious that day. Ampton is only four miles from my house and therefore it didn't take me long to get there. We were in the 6th race on the 7 race card. James Owen was due to ride as he had done a lot of schooling on him and Kelly Smith had injured her shoulder so was going to miss that season. Things didn't start well as James got injured riding in a maiden race so a replacement was quickly sought. Luckily Matt Mackley a friend of James agreed to deputise. I had no qualms about this as Matt was a very competent rider. The time of the race came and I was a bundle of nerves. I invited a friend, Dave Everard who rode and owned horses in to the paddock with me. Runningwiththemoon or Bill as we called him, That was his stable name at Chris's looked a picture. Resplendant in his purple and orange rug. He was sweating a bit but that was a trait of his. He was sent off at 5/1 third favourite. I gave some money to another friend to put a bet on for me. The race duly started and I watched it from by the first fence. One rival fell at the second fence, then another unseated halfway. Bill was in mid division then went prominent three fences out. I couldn't see much from my viewpoint but I heard the commentator Iain Mackenzie say Runningwiththemoon has taken it up now and he surged clear between the last two fences and crossed the line 15 lengths ahead of his nearest rival. I was in shock, I couldn't really believe it. My first horse and he wins on his first run for me.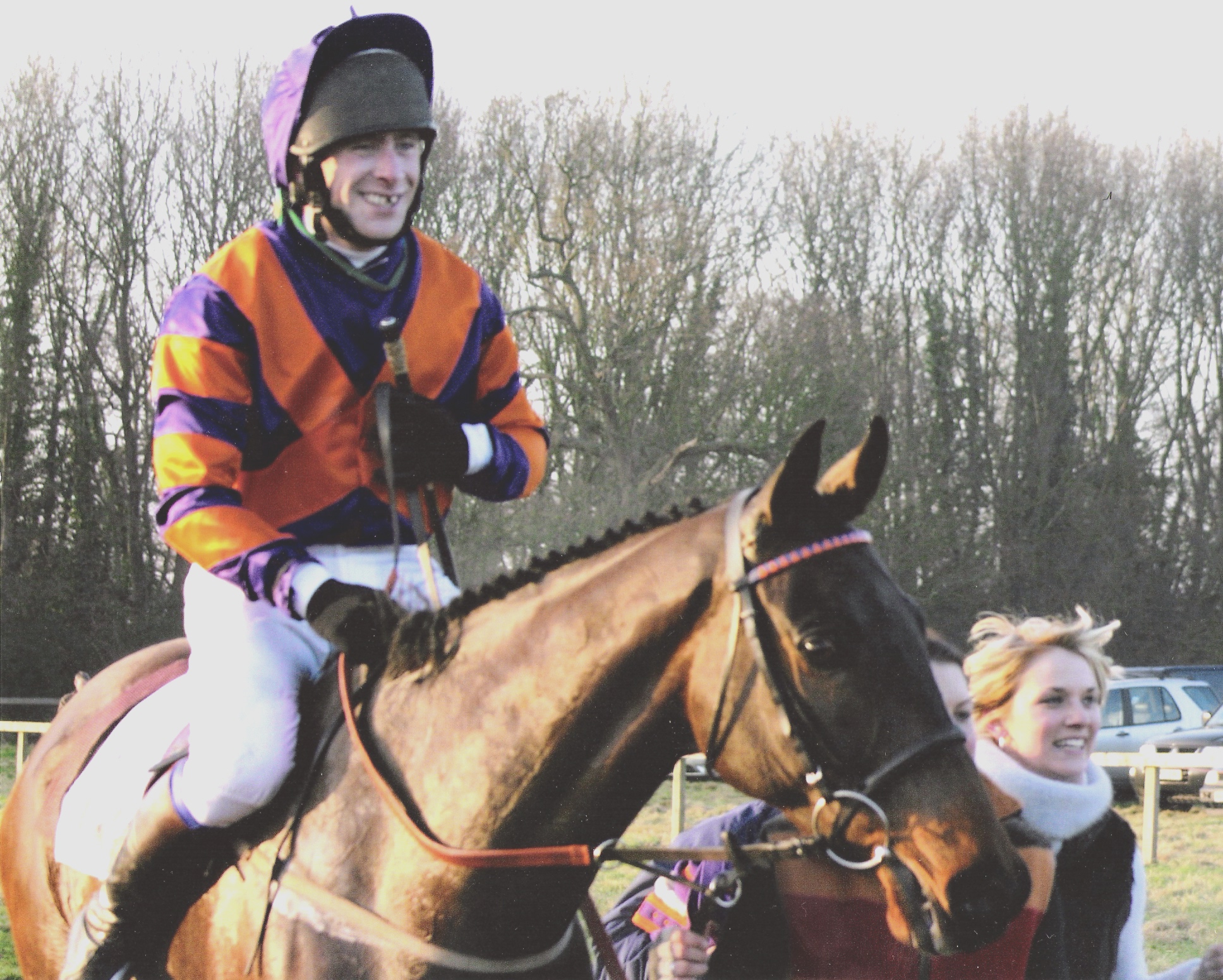 RUNNINGWITHTHEMOON AND MATT MACKLEY RETURN AFTER WINNING THE RESTRICTED RACE AT AMPTON IN JANUARY 2005
I got presented with a silver salver and a hamper of meat. A lovely lady had given me some gloves she'd knitted in my colours earlier that day. When I got back home I phoned Chris Bealby to tell him the news and thank him for selling him to me. Chris already knew and congratulated me.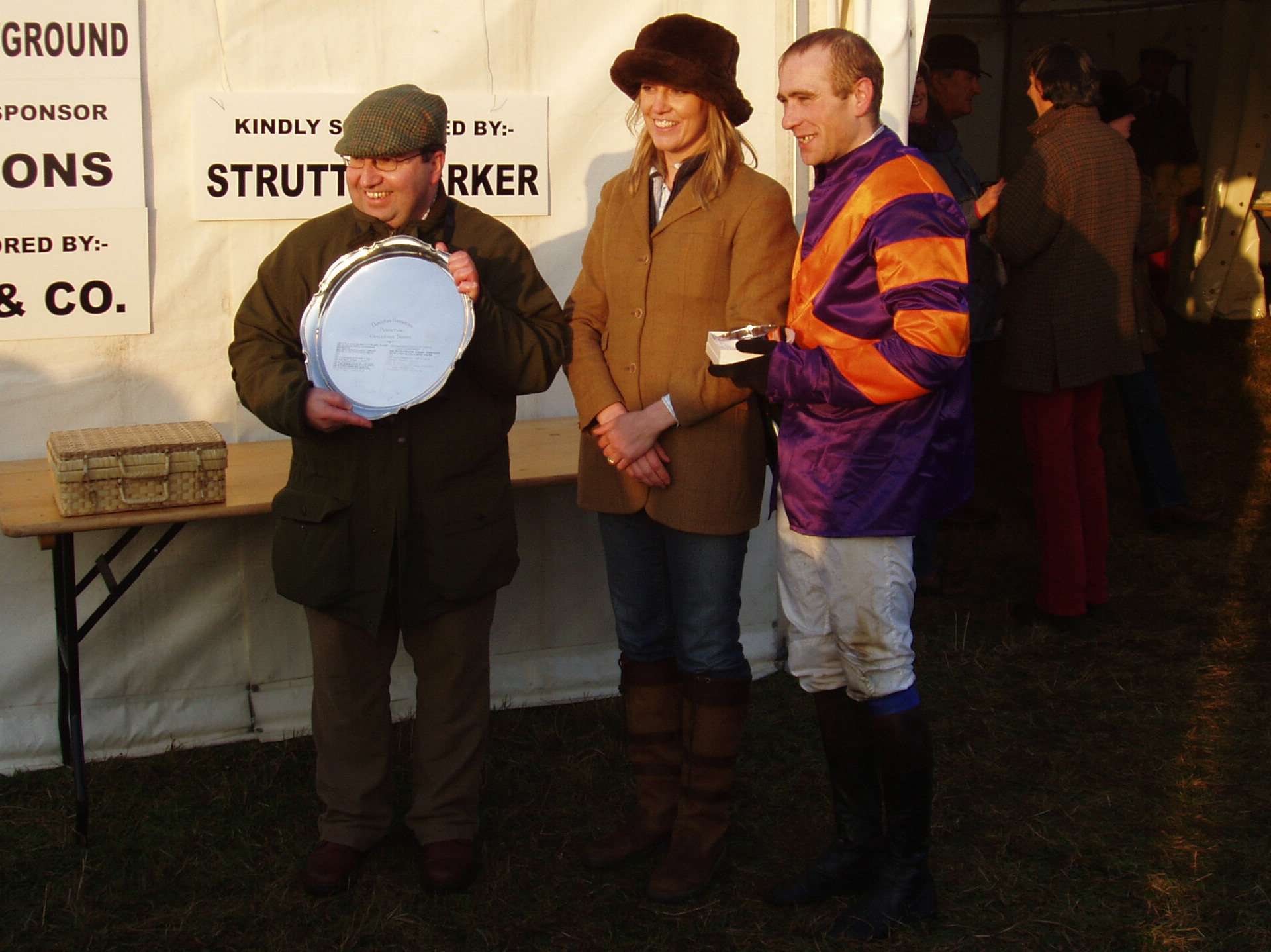 AT THE PRESENTATION AFTER THE AMPTON VICTORY
Bill won twice more for me that season. At Penshurst in Kent and on my birthday at Marks Tey. He also ran in a Folkestone hunter chase, my first runner under rules. He ran the next season with Kelly riding him but didn't win again however he was 2nd twice including at Northaw where a pedal bone injury forced his retirement.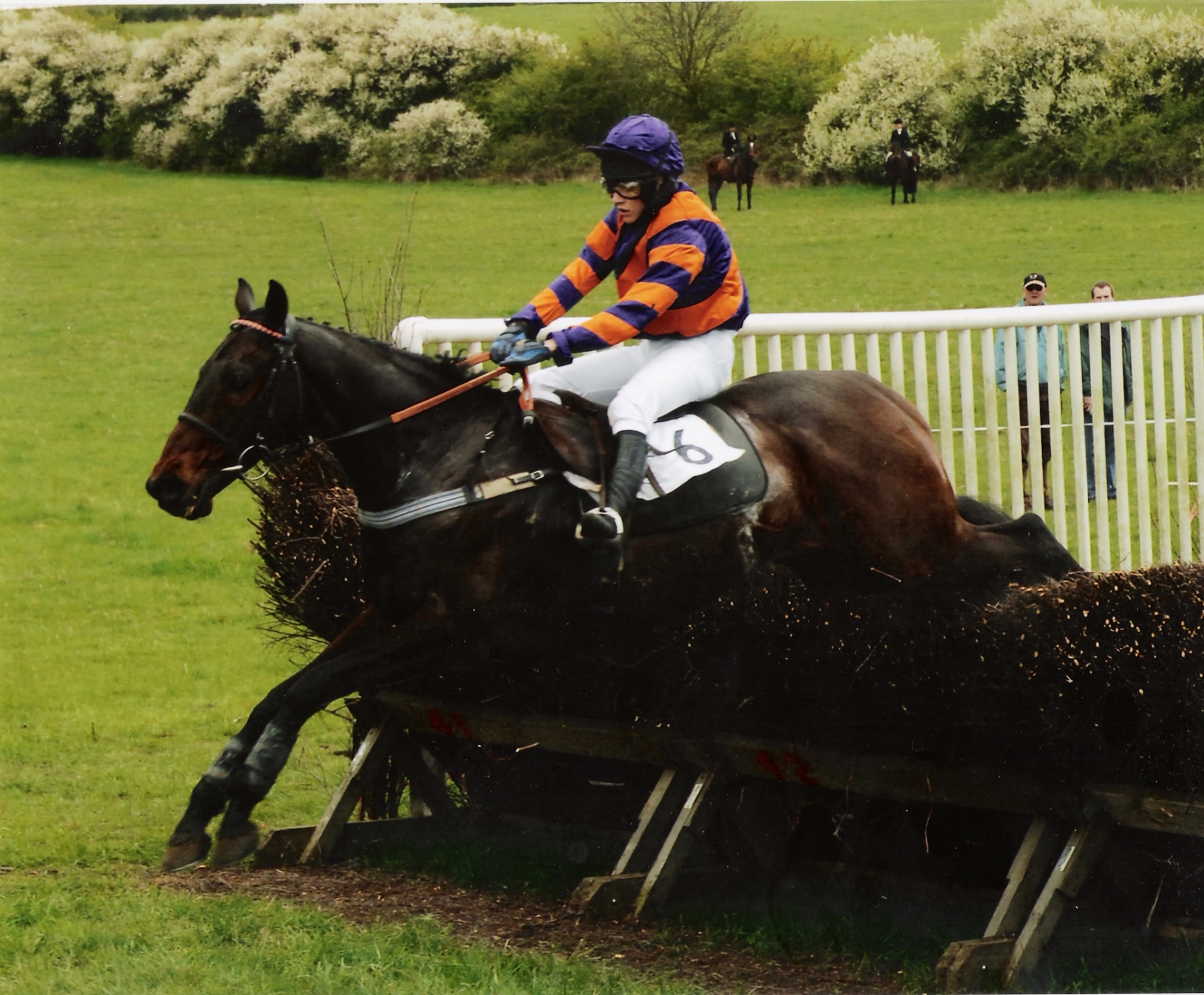 "BILL" AND KELLY SMITH AT NORTHAW
I had arranged for him to become a riding horse with a friend of mine in Norfolk and once recovered he enjoyed his time there and I visited him quite regularly mostly on my way to Fakenham racecourse.
I did have two other horses afterwards. Lee Gap Fair or Shrek as we called him. He was by Bob Back and was previously owned by Sir Robert Ogden. I bought him at the Doncaster sales in 2007. He had a promising run at Carlisle where he was 5th to Tidal Bay in a novice's hurdle.  He was trained for me by Kelly Smith at Timworth, at the bottom of Ampton racecourse.  He fell on his debut at Higham and sustained a leg injury afterwards. We gave him plenty of time off and he ran the following season at Godstone where he finished 4th in a maiden.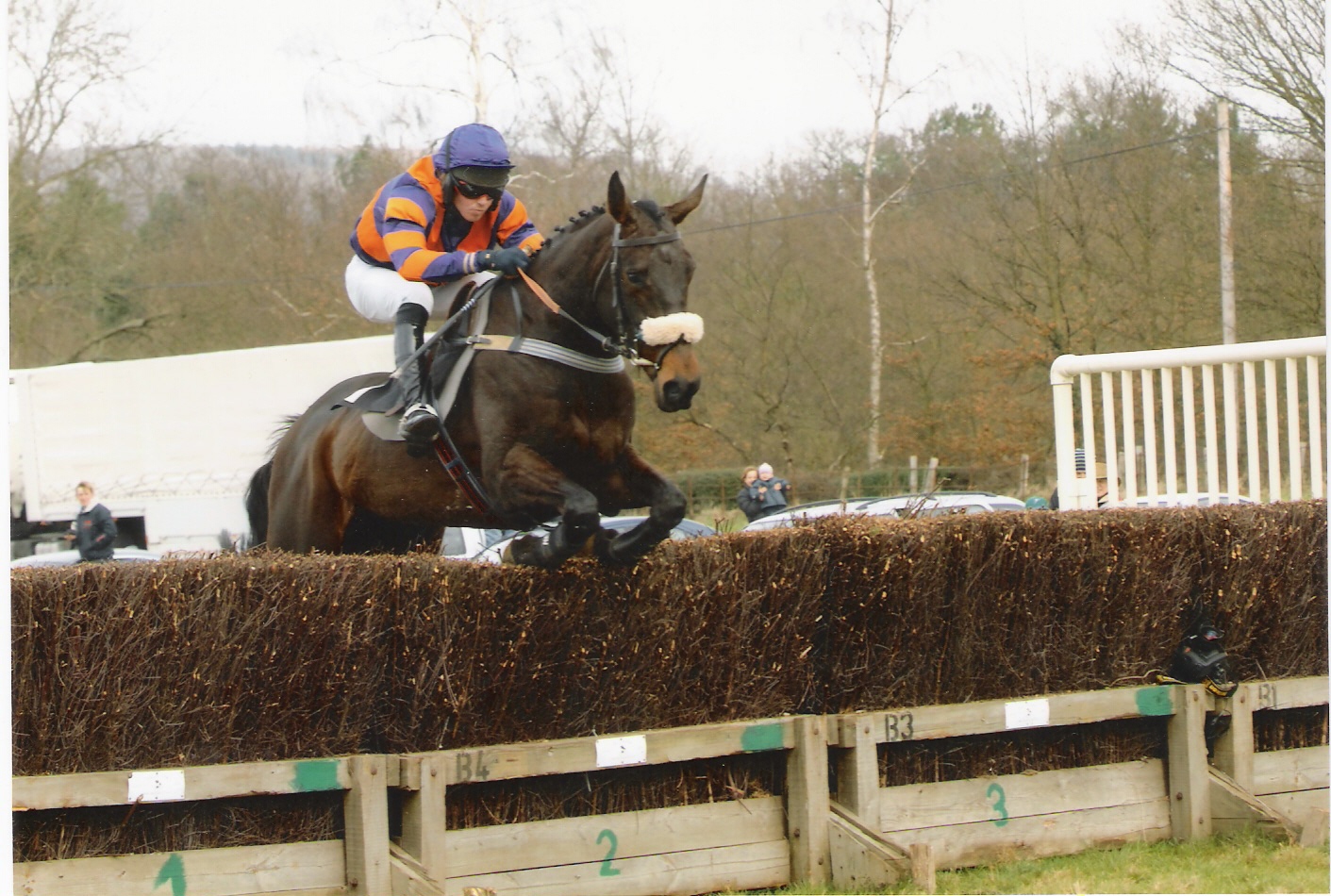 LEE GAP FAIR AND JAMES OWEN AT GODSTONE
After that Kelly moved to Oxfordshire so I moved the horse to Alex Embiricos who trained near Bury St Edmunds. Alex's partner was none other than Tim Bryce, the rider who had won the first point to point I had seen. Despite all Alex's skills we could never get Shrek back on the racecourse, his body was too big for his legs!  He was given to a friend to ride and hunt. My final foray into ownership was with an unraced horse called Lys Of La Garenne which translates as Lilies of the Rabbit Warren. He was French bred so came with that name. His sire was Voix Du Nord, a new sire from the French National stud at Aurillac. He has sired some very good horses including Defi Du Seuil, Kemboy and Vaniteux. I decided on a name change, it was easy to do as he was unraced. I decided on the name Prince Du Nord. Lez was the name we gave him in the stable and I had a half share with Tim Bryce but he ran in my colours. He firstly ran in a bumper at Worcester but finished lame. After a few months off he then ran in two bumpers at Huntingdon without setting the world alight. We then ran him in points but he failed to finish in three starts. On one occasion he was ridden by Toby Lawes who would become an assistant to Nicky Henderson and had the privilege of riding out Altior in the mornings.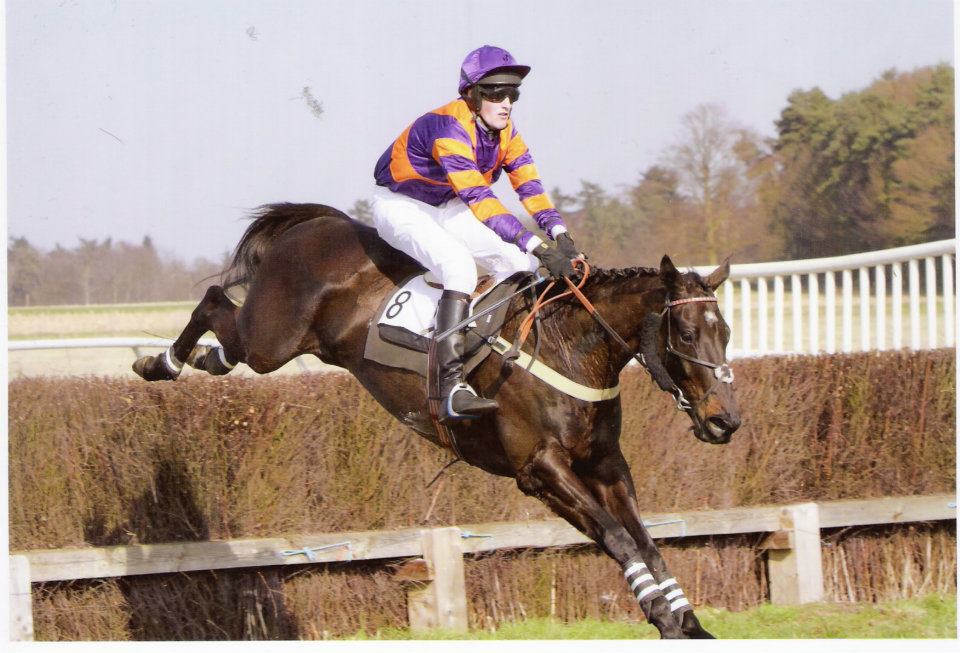 LEZ AND TOBY LAWES AT AMPTON
Lez fell heavily on his final start at Guilsborough when travelling well but was never the same horse afterwards and went off to be a companion horse in West Sussex. Would I get another horse? Probably not. I now enjoy my pointing by helping write previews for the Pub Team. I also act as the assistant judge at Cottenham although I have been head judge on one occasion. I am currently managing the scores for the various championships in the East Anglian area. I am an admin on the East Anglian pointing Facebook page and when work allows I post up the results on Jumpingforfun, PointingEA and the Facebook page. I also enjoy French racing and try to go over once a year to different tracks around the country and I have visited quite a few over the years now.