REVIEW OF THE 2021/22 EAST ANGLIAN SEASON
By Mike Ashby
The 2021-22 East Anglian point-to-point season enjoyed some excellent attendances at their fixtures which were originally scheduled to host twelve meetings, during the season. Only the final fixture at Northaw didn't take place, the meeting being abandoned, as ground conditions were considered unsafe to proceed with the meeting.
The biggest attendance came at Higham on Good Friday with the Essex and Suffolk fixture being featured for the first time on this bank holiday date. With the weather set fair and many additional attractions arranged there was extraordinary turnout and. even the overflow car parks were up to capacity and everybody seemed to be having an enjoyable time, having missed out on the popular fixture, for the last two years.
With the closing of Cottenham course the Waveney Harriers decided to take up the option of running their meeting in mid- November but unfortunately the dry autumn produced firm going at Higham and runners, on the day, were at a premium. However the fixture held at Horseheath, six weeks later, between Christmas and New Year was an absolute cracker. The bumper holiday crowd were treated to some of the best racing seen in the area, for many a season, with the Cambridgeshire course commencing their celebrations of fifty years of racing, having held its first meeting in March 1972.
Jockeys who enjoyed memorable milestones during the season included Gina Andrews and Alex Chadwick, who were crowned East Anglian champions.
No apologies for highlighting the magnificent local and national achievements of Miss Andrews who although now residing in Warwickshire still retains an East Anglian riding certificate. We were fortunate enough to witness Gina's supremacy within the pony racing circles before making her first ever point-to-point ride a winning one when partnering Moving Earth to victory at Cottenham in February 2008, at the age of sixteen years and one week. Therefore it was perfectly fitting for Gina to ride her record-breaking 304th winner at an East Anglian course, at Horseheath in December. With her success on Fumet D'Oudairies in the Ladies Open race, Gina became the most victorious lady point-to-point rider in the sport, passing Polly Gundry's total. True family support has been behind Gina's success. Simon her father, trained her first success in 2008 and Gina's husband Tom was responsible for the training of her record breaking winner.
The anticipation before the race and the tumultuous reception received when returning to the winners' enclosure will remain with all who were privileged to be there, on the day. Gina's record winner was witnessed by her immediate family, husband Tom, Joanna and Simon, her parents and sister Bridget. Jack, her brother, was in riding action at Uttoxeter that day. One man who would have been understandably extremely proud of his granddaughter's achievements, namely Reg Andrews who sadly passed away last autumn.
Gina rode 48 winners from 120 rides and only suffered one fall in a season in which she secured her ninth national title, in the process. Remarkable statistics alone but add to this victory on Latenightpass in the prestigious Aintree Foxhunters and successes at both Cheltenham and Stratford Hunter 'Chase evenings, Gina is creating records that will never be attained by anyone else in the sport.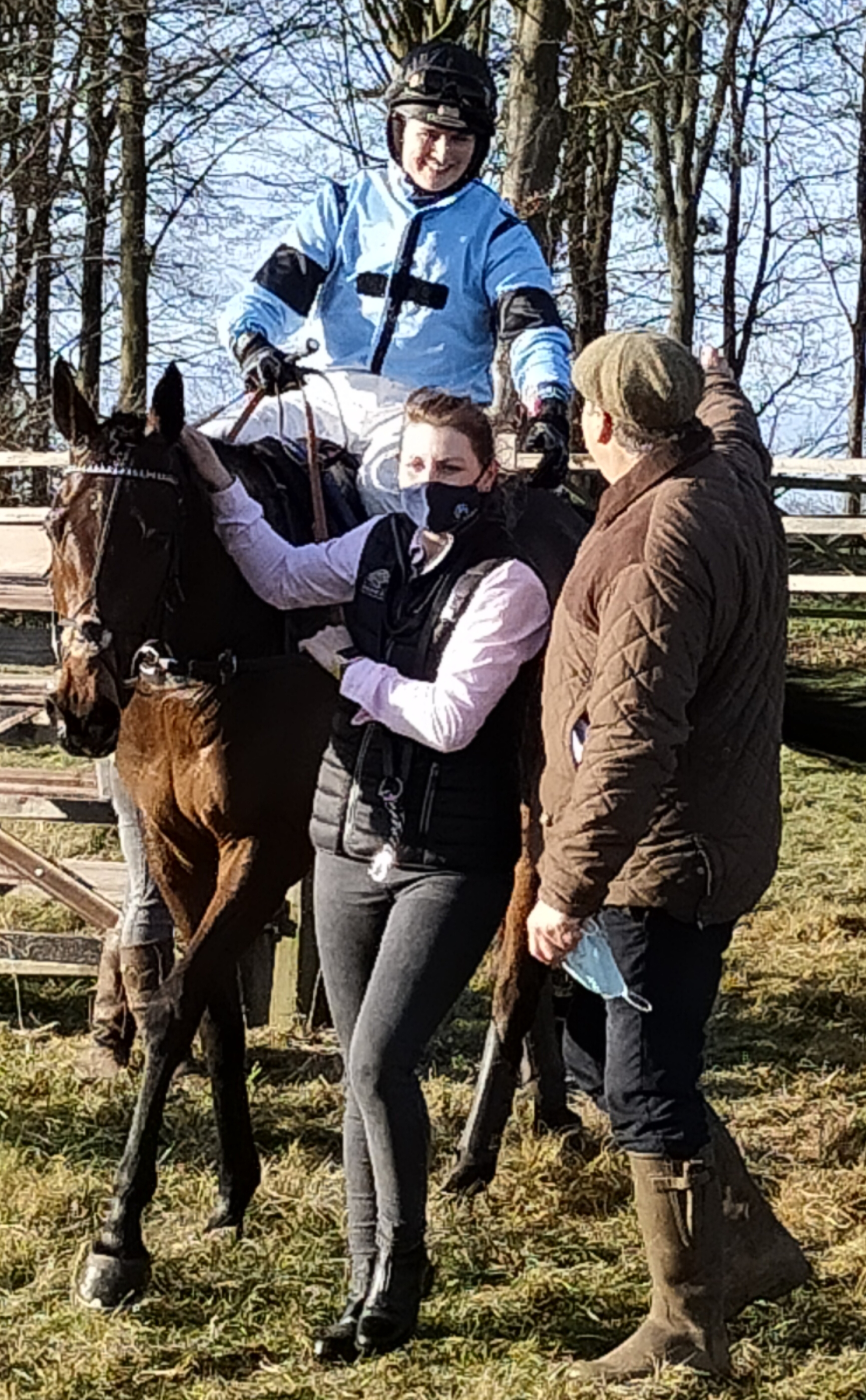 Gina is greeted by her father Simon after her record-breaking victory on Fumet D'Oudairies at Horseheath in December.
Alex Chadwick can look back on a very successful season having amassed 21 point-to-point winners, including trebles at Higham and High Easter, which easily beat his previous season best total. Having won two Arab racing jockey's championships, Alex's ability to ride a strong finish is not in question; however there is more to his riding talent than this particular element. His stylish positioning of a horse at a fence is admirable and couple this with his meticulous pre-race analysis together with full knowledge of his mount's capabilities, through frequent riding out on the gallops.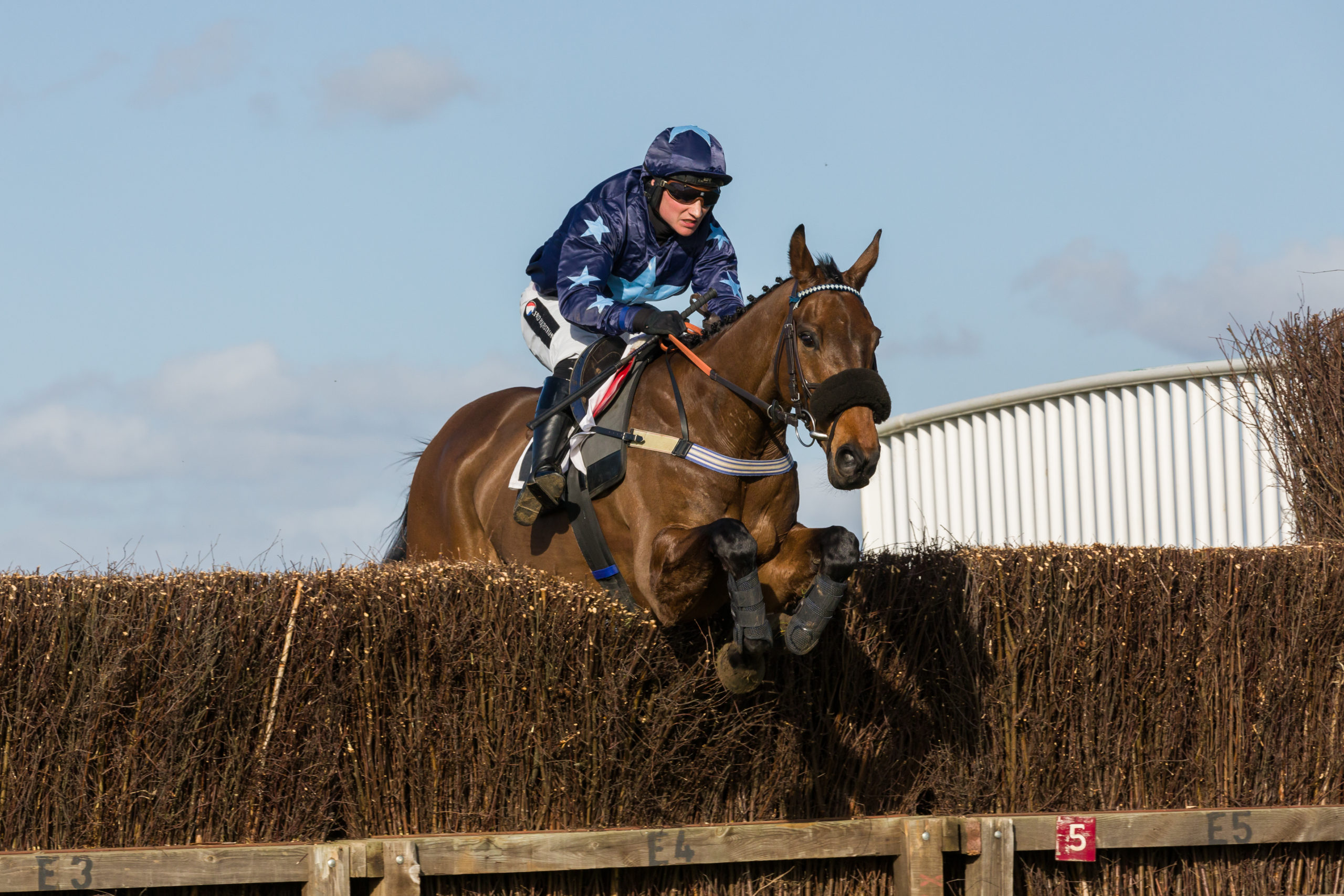 Alex Chadwick and Castle Trump, winners of five races during the season.
During the East Anglian season we were able to witness several contenders who were dominating the national championships. Will Biddick made several successful appearances, many for the first time at an East Anglian course, especially when forging a fine winning sequence on Tullys Touch, for John and Melanie Ibbott.
Biddick rode his 500th career point-to-point winner in early May but was eventually overtaken by James King, who retained the national title for the men's championship. King himself rode in East Anglia on more than one occasion during the winter months and secured two victories at Horseheath, contributing to his total of 62 wins, for the season.
A name to note for the future is Fred Gordon after his totally competent ride on Highway One O One, with proud parents Jenny and Chris watching, at High Easter in March.  Having only celebrated his 16th birthday last October, Freddie went on to amass 12 winners to finish a close second for the national novice men's title, just losing out, on the season's last day of racing.
Equine star from the East Anglia region with highest number of wins was Castle Trump, having notched a total of 5 victories. Previously the ride of Charlie Buckle, the successful switch to Alex Chadwick being legged-up, certainly paid dividends. Three of 8yo wins came in the region, two at High Easter and the other at Ampton.
Tullys Touch continued his consistent form, from previous seasons, with 4 wins which included another 2 successes around Ampton, a course at which he is now unbeaten in 5 outings.
There were a couple of horses that made appearances in East Anglia, during the season, and their outstanding performances warranted plenty of column inches on a national basis.
Blazing Tom, trained by Tom Ellis, and ridden by Natalya Irvine continued where they had left off the previous season adding another 4 victories to the similar number achieved in 2021. Two of these successes came at Ampton and Natalya received great family support, her parents and sister having travelled down from Yorkshire, on both occasions,
Southfield Theatre took the honours for the national champion horse for the season with 8 wins for the Bradstock family. Included in the total was a 'walkover' with preliminaries completed at High Easter in April. Sarah Bradstock and daughter Lily, enjoyed their first-time visit to the Essex venue and were slightly disappointed when not requiring to compete, against any opponents, for the Warwick Vase ladies race. Now at the age of 14, Southfield Theatre, was registering the only walkover 'victory' in 15 pointing career wins, all partnered by Lily Bradstock.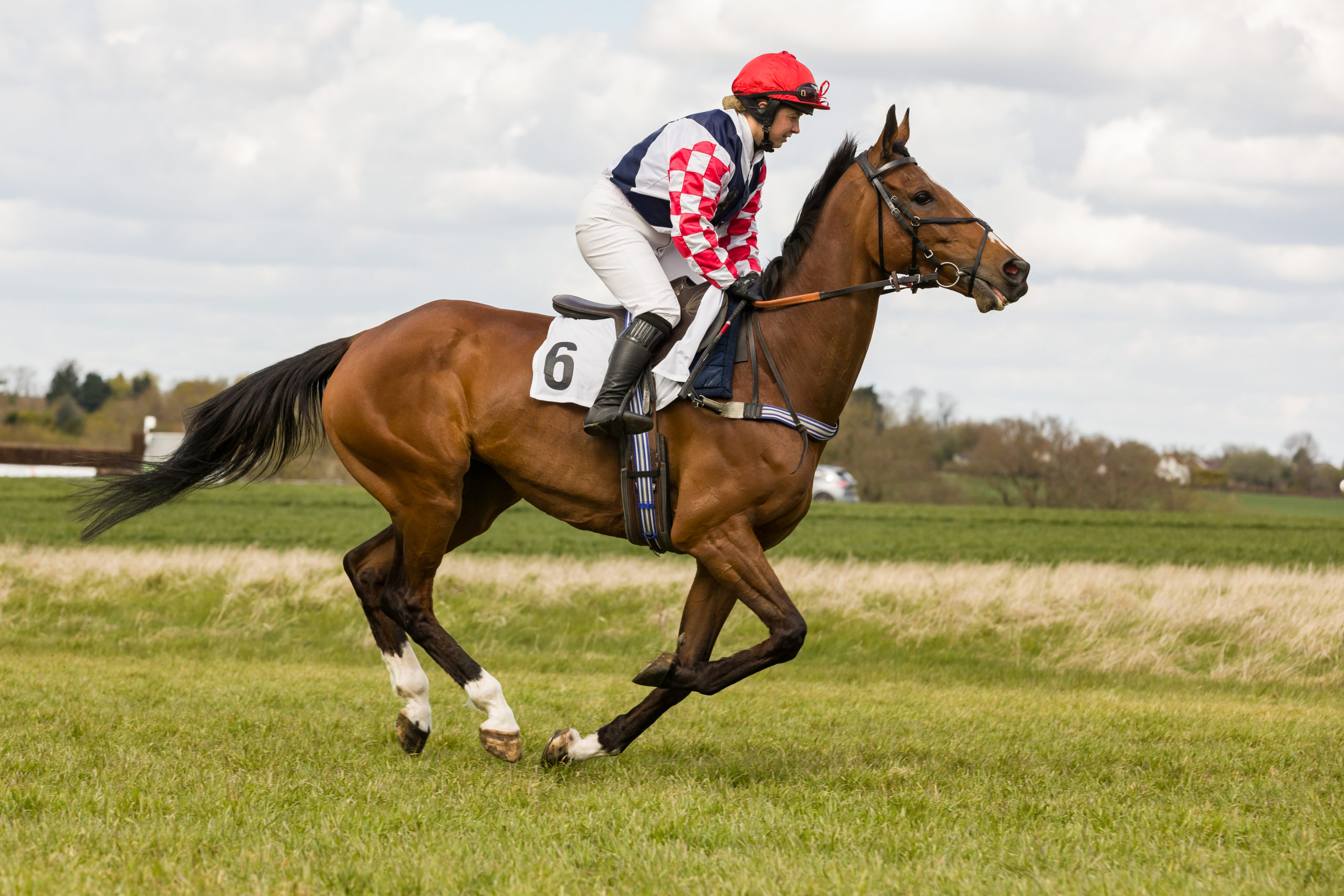 Southfield Theatre and Lily Bradstock completing the preliminaries to register a 'walkover' at High Easter
Trainer for the season who demands first mention is Rob Cundy, based at Semer in Suffolk. Easily his best ever season tally with 8 winners, hugely helped by Castle Trump's 5 wins with Josh The Plod adding another 2 whilst Myplaceatmidnight's victory at Ampton in March was particularly satisfying as it was the first home-bred point-to-point winner for the Buckle family.
Two trainers who regularly enjoy visits to the winners' enclosure, season upon season, were again to the fore, namely James Owen and David Kemp. James from his Newmarket stables sent out 11 winners the most notable being Fiddler Of Dooney a 4-time winner whilst Pont Aven won at Higham and also a Ludlow hunter 'chase.
David operates from Kilverstone near Thetford and one of the stable stars, Caryto Des Brosses contributed 2 wins but probably the most poignant success came with  Stick With It, bought by David's long-standing, loyal owner, Barry Belchem, last summer but sadly Barry passed away in the autumn. The 6yo ran in Barry's colours and is now owned by his sister Linda and the success came at the West Norfolk meeting at Fakenham in April.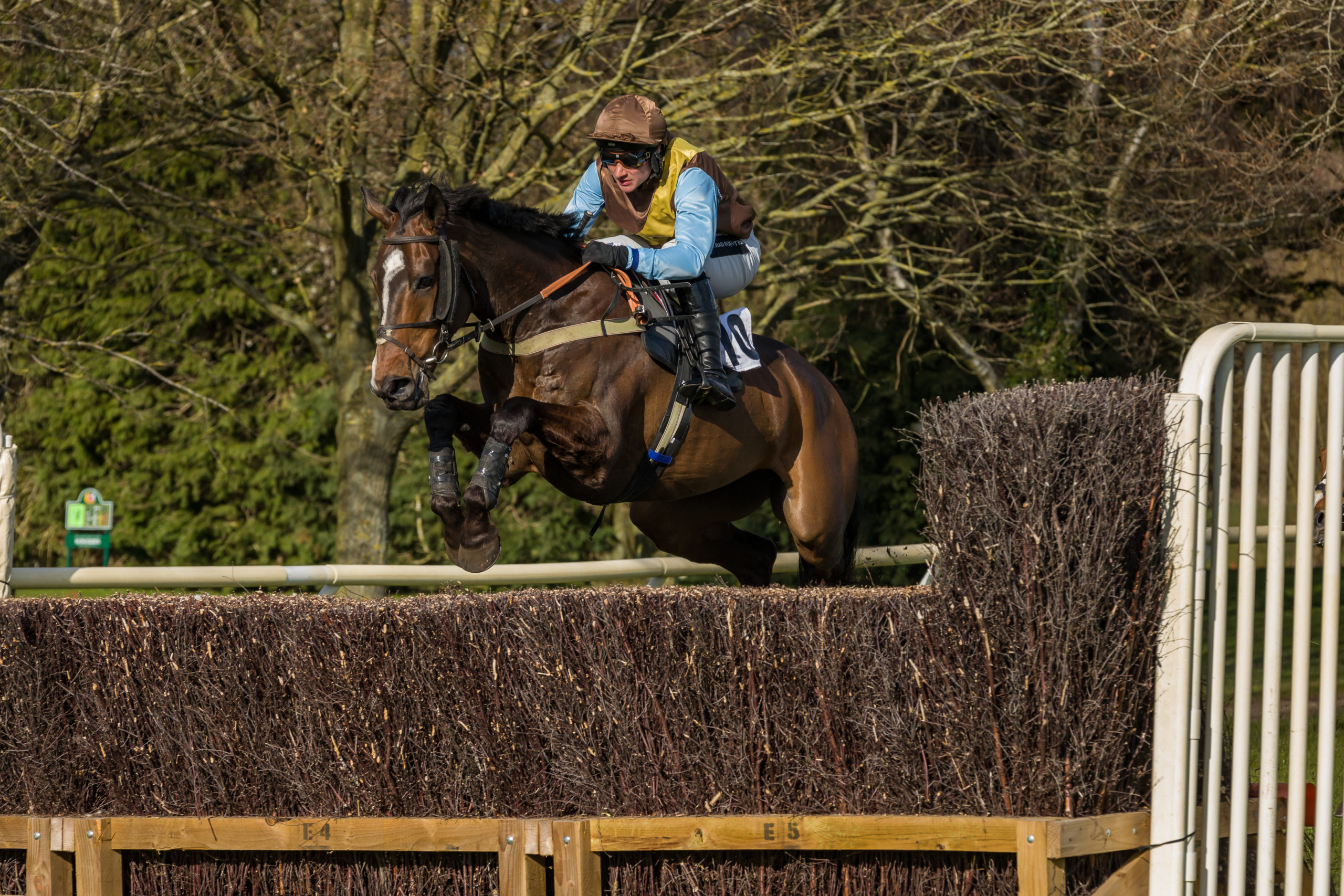 Stick With It, partnered  by Alex Chadwick, registering a poignant victory at Fakenham in the colours of the late Barry Belchem.
Meeting secretaries are never blessed with an easy task with so many factors affecting the conditions on raceday. All the planning and arranging of vets, medical cover, officials etc. can be put in place but the total success of the day will ultimately rely on the weather conditions. The Clerk of the Course will always look to provide the best possible safe racing surface and this factor will hopefully attract a sufficient number of entries. However, on the day, enthusiasts will always be in attendance but the 'fringe' attendees could be influenced by a weatherperson's doubtful forecast and decide against making a visit.
We fully appreciate all the secretaries of each meeting, for the duties they undertake but there are three who deserve a special mention for their efforts this season.
Hetty Keyes survived her baptism as the Suffolk Hunt secretary, with great credit and their March meeting took place seamlessly at Ampton. Spare a thought for Nicholas Belcher who battled on gamely on that most wet and miserable day for the Puckeridge meeting at Horseheath in February. Whilst John Whyte was as keen and as enthusiastic, as ever, when presiding over the very successful, inaugural Retired East Anglian Jockey's Club meeting at Higham in January.
The 2021/22 season may have come to an abrupt end but there were many positives to take from it, especially the attendances. Once again we had the opportunity to go racing locally, meet up with family and friends and probably most appealing, the chance to be out in the open air. There can be no better way to spend an afternoon than watching the colourful spectacle of point-to-point steeplechasing and we look forward to the announcements regarding the new fixture list, when we can all go racing again.
Photos courtesy of Graham Bishop of gdbphotography.co.uk