REVIEW OF THE 2019/2020 SEASON
BY MIKE ASHBY
 The decision taken to curtail the 2019/2020 point-to-point season was inevitable and correct, in line with Government guidelines. The official statement referred to 'minimising social contact and non-essential travel and furthermore the sport creates some medical burden, both on the course and potentially at hospitals, where it would be unwelcome under the current circumstances.'
Despite the obvious seriousness of the current situation it was ironical the East Anglia area was enjoying a buoyant point-to-point season, which had continued uninterrupted since mid- November. There had not been one overnight course inspection required; no Beast from the East to contend with and unlike courses in other parts of the country, the extensive rainfall had not caused any of the East Anglian racecourses to be totally waterlogged. Hunt secretaries were busy with entries, totally opposite to last season when the dry state of affairs led to entry numbers dwindling as the season progressed but the wet start to 2020 has seen the equivalent numbers substantially increase. The statistics clearly demonstrate this with an average of 53 runners per meeting this season compared with a meagre 33 for the corresponding period last year. Not since the foot and mouth epidemic in 2001, had a season been brought to an abrupt halt.
Ten of the scheduled fifteen fixtures took place with Cottenham staging 3 meetings, Higham (2), Horseheath (2) and Ampton (2) whilst High Easter hosted what turned out to be the final meeting. There was the earliest, ever calendar start to the season when Cottenham hosted the traditional curtain-raiser as early as November 17th. The racing that was on offer, throughout those ten meetings, was always enjoyable, exciting and informative.
Equine 'stars' of the season focused around two horses who won four successive races each as they remained unbeaten, for the season. Just Cause moved to the ownership of Simon Stearn but was retained in James Owen's, Hamilton Road, Newmarket stables, for training purposes. The 10yo's initial run was at Ampton in mid-January and resulted in a relatively easy victory in a Veteran Horse race. This was followed by further outings at Higham (twice) and Cottenham, where all these wins were achieved in Mens Open contests. To make it a family affair, Rupert, Simon's son was in the saddle for all four successes.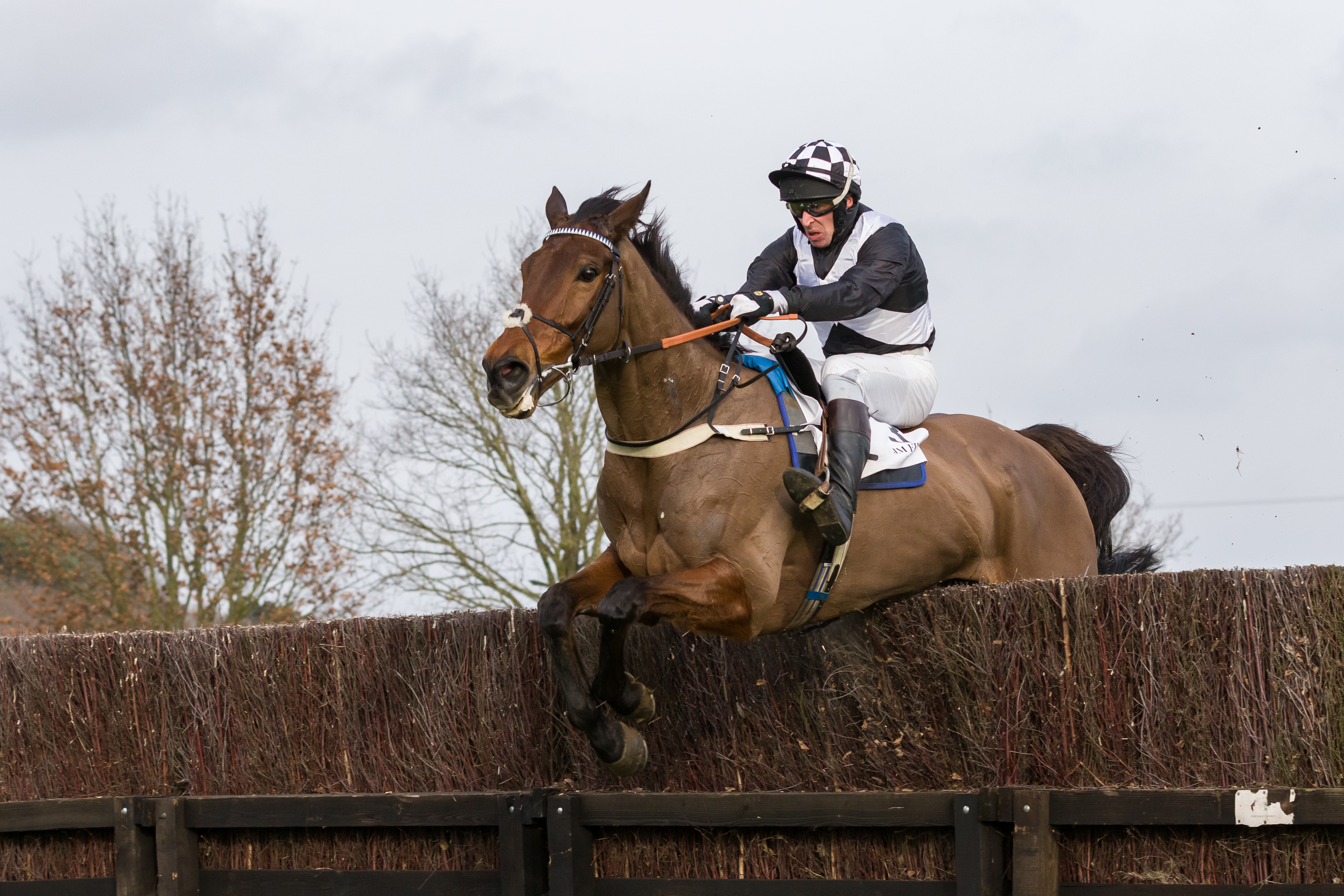 Just Cause and Rupert Stearn on their way to victory at Higham in January
At the very first Cottenham meeting in mid-November we witnessed a really promising performance in the 2 ½ mile Maiden race by, at that time a 4yo, Fumet D'Oudairies, partnered by Jack Andrews. Jack was delighted to have ridden a winner on the opening day but equally buoyant as he had been directly involved, with his sister Gina, in the purchase of his winning mount. Having paid £800 for what at the present moment is some prospect with a future, brought tremendous pride to Jack. There is much more to come from this exciting French-bred youngster that has been given the name "Nick" in trainer, Tom Ellis' yard as a result of the circumstances of his purchase and considered, jokingly, "nicked" as a consequence! The partnership went on to win three other races, progressing with every outing with variations in distance, courses, ground conditions and higher grade races. The enthusiastic owners, the Ice and a Slice Racing Club became more vociferous as each win was secured at Cottenham, again, and twice at Horseheath.
Both Just Cause and Fumet D'Oudairies are up for a share in a national champion horse award with their four wins, apiece, during the season.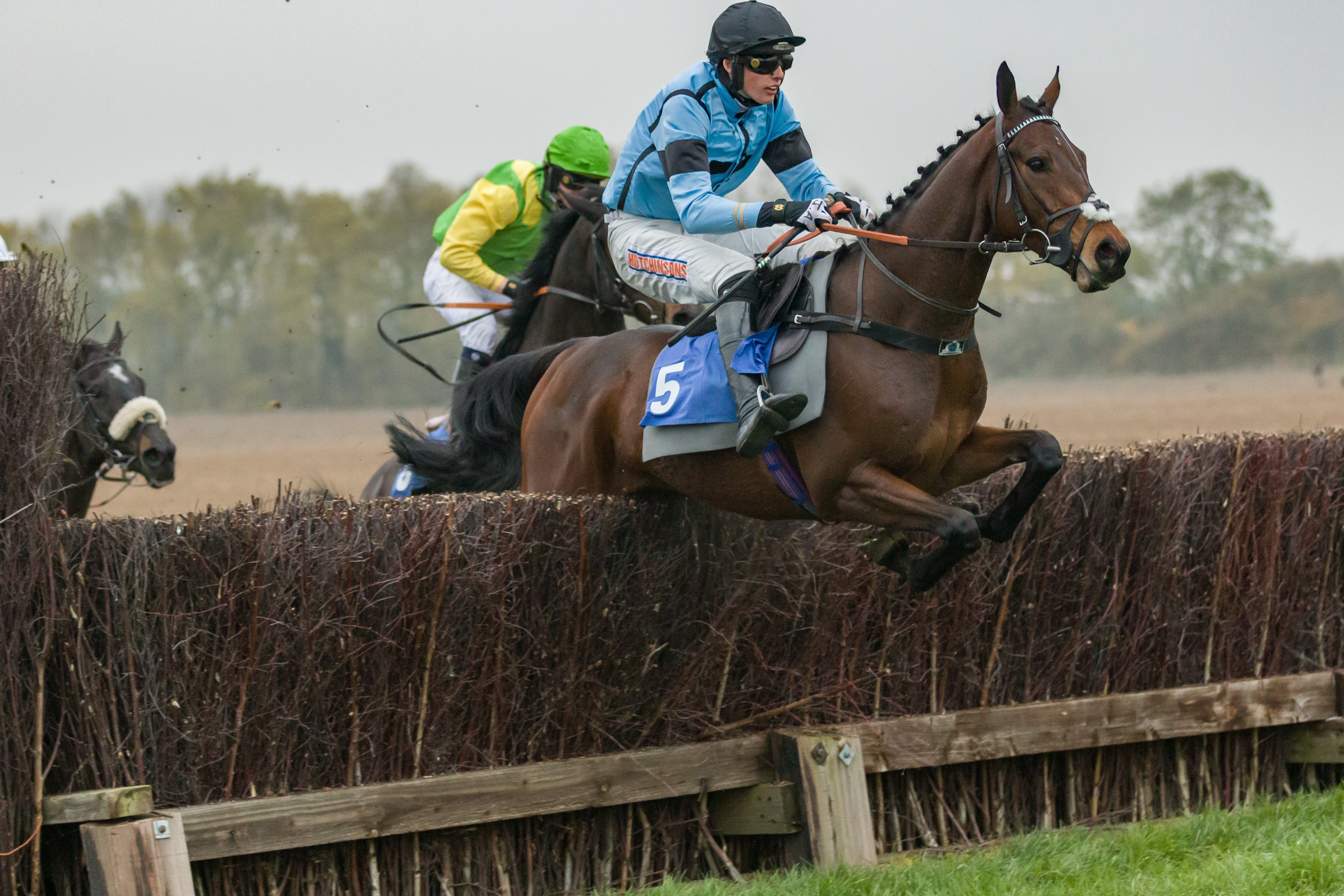 Fumet D'Oudairies and Jack Andrews make a winning debut at Cottenham in November
A mention for Law Of Gold trained by David Kemp at Kilverstone, near Thetford and owned by David and his wife Imogen. A seasonal reappearance was made at Horseheath at the beginning of February, where with Dale Peters in the saddle they convincingly won the Mens Open race. The relative youngster finished last season with a victory in the Champion Novices' Hunter 'Chase at Stratford in May and this win at Horseheath put him on course to run in the Cheltenham Festival Foxhunters, in March. Carrying the hopes of East Anglia enthusiasts and with regular partner Dale, they duly lined-up at the championship meeting and finished a creditable 7th in a field of 21, for this prestigious race. With his jumping much improved, from his early days, this 7yo could go on from here and be given another opportunity to perform on the Cheltenham stage, next March.
Law Of Gold and Dale Peters (right) convincing winners at Horseheath in February
The leading East Anglia based trainers, for the season included Newmarket's James Owen who apart from Just Cause's quadruple wins had further success with Net D'Ecosse and Fiddler of Dooney. Andrew and Ruth Pennock have their stables at Timworth, near Bury St. Edmunds and once again enjoyed success with five winners and as it has now turned out, were responsible for the winner of the final race of the season, Luscious Lilly, at High Easter. This was their 131st since moving to Timworth and has been achieved, not only from dedicated hard work but with the care and the love for their horses, very much part of the daily routine. This was more than apparent when Somme Boy, a definite family, favourite pet, won at Ampton in March. The absolute joy of this success for Ruth, Andrew and son Henry, was there for all to witness.
It was a mixed season for the Pennock's stable jockey, Richard Collinson, who was last season's leading East Anglian rider. He made a surprise and successful return to the saddle when steering the odds-on favourite Bold Gesture to victory at Higham in January. Dicky originally announced his retirement, from race-riding, at the end of last season but resumed the very successful, past partnership with the Pennocks, with this Open Maiden winner. Collinson in a post-race interview confirmed that not only was Higham his favourite course but also Bold Gesture was a particular favourite of the trainer, as well. So the comeback, which they had planned together, had been delivered. Unfortunately, Collinson took a heavy fall and a subsequent kicking when unseated at Cottenham in February which resulted in him suffering concussion and a small fracture to his neck. He was full of praise for the Injured Jockey's facility at Sir Peter O' Sullevan House at Newmarket in his recuperation and was given the all-clear to return to race-riding at the final meeting at High Easter where he finished the day and the season with a win, on Luscious Lilly for the Pennocks.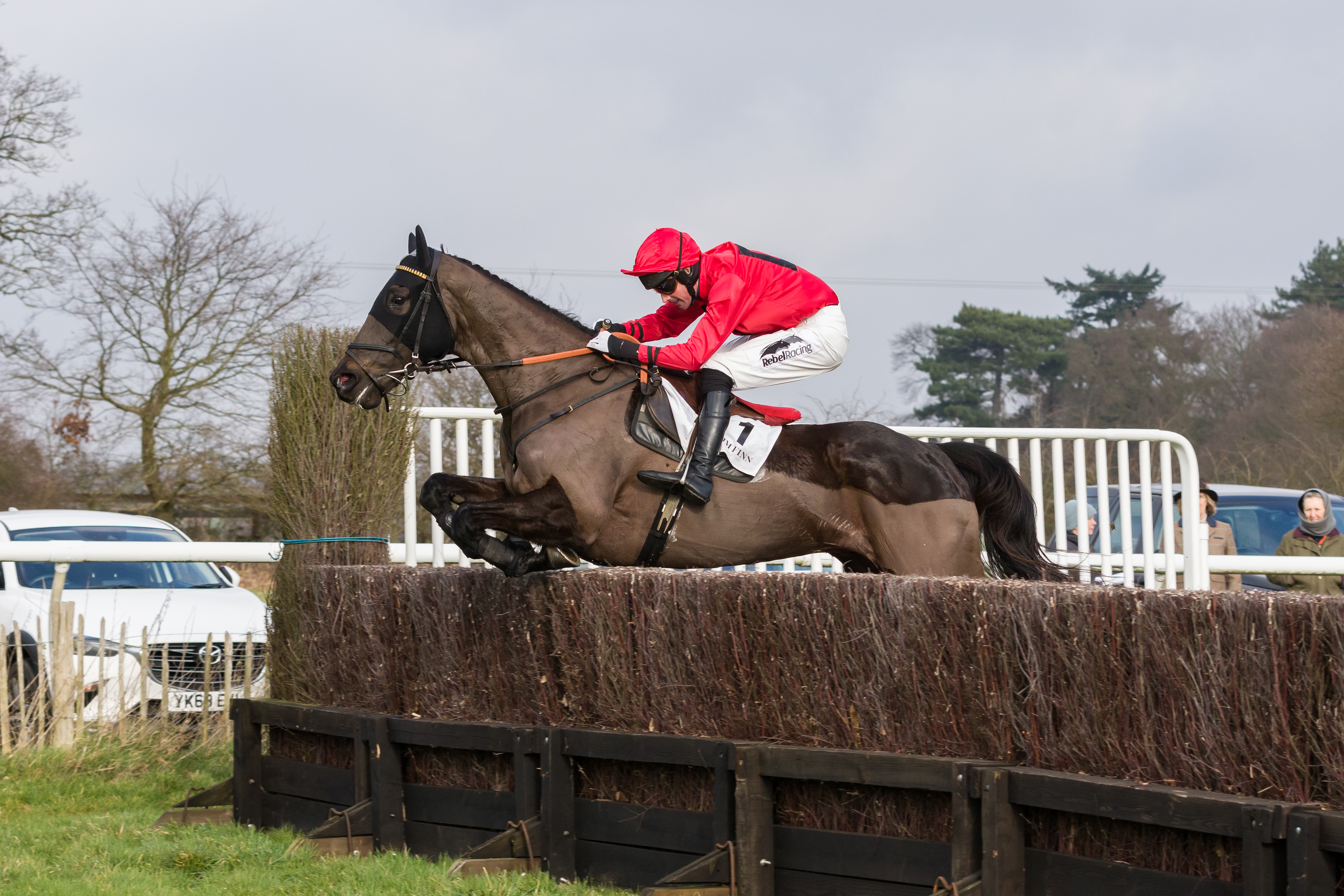 Bold Gesture gives Dicky Collinson a winning comeback ride at Higham in January
Elsewhere, on the riding side of the sport we in East Anglia were once again treated to the talents in the saddle of the Andrews' siblings, namely Gina and Jack. Originally from Hitchin and both now living in Warwickshire, they have competed regularly at East Anglian fixtures. This is the region where their parents Simon and Joanna rode and also sister Bridget, before subsequently turning professional, and it was where they gained their significant racing experience with pony racing involvement in a sphere, all three siblings were extremely successful and dominant.
Both Gina and Jack were leading their respective national rider's championships, when the season finished with Gina about to land her seventh female rider title whilst brother Jack, was  seeking his first male crown. Gina had ridden 22 winners ( 8 in East Anglia) for the season whilst younger brother Jack had amassed 21 ( 13 in East Anglia ) including an unforgettable day in his career, when he rode four winners at the Suffolk Hunt meeting at Ampton in March.
From here, we can only look forward to a new season in or around mid-November and hope and assume general life has returned to some normality. If that is the case and the world is in a better place, then roll on November and let's go point-to-point racing again.