REPORT OF THE WEST NORFOLK FOXHOUNDS AND NORTH NORFOLK HARRIERS  MEETING HELD AT FAKENHAM RACECOURSE ON SATURDAY APRIL 2nd 2022
 By Mike Ashby
Organising a point-to-point meeting, after a three year absence, is quite a challenging task but officials of the newly formed West Norfolk and North Norfolk fixture were duly rewarded at Fakenham, on Saturday.
 Sunny intervals greeted an above average attendance and the high number of declared runners was the most welcome aspect of an enjoyable afternoon's racing. Over the 6 races, there were 34 runners from the original entry of 45 individual horses, on a card that produced some excellent action.
The most intriguing contest on paper, the Restricted race, saw several leading contenders putting their recently acquired reputations, on the line. It was an attacking ride, from the front, by Archie Wright on Oval Street that landed the prize, even though most of their rivals were still in touch, three fences from the finish. "It's the only way to ride him" confirmed his jockey, after their success and made up for Archie being unable to partner Oval Street when he won at Higham in January. He was at home suffering from covid, at the time. The 6yo is jointly owned by trainer Nick Wright and his sister Lucinda but Nick was not present, as he was paying a visit to Ireland.
Of the other pre-race contenders, the mare Highland Glory didn't run her race at all  and was pulled up early on whilst Young Rich, making his seasonal debut, also failed to complete. The New Kid was made favourite but was never nearer enough to offer a challenge and it was left to the High Easter winner, Allo Allo, but his effort was still 5 lengths adrift of the winner, at the finish.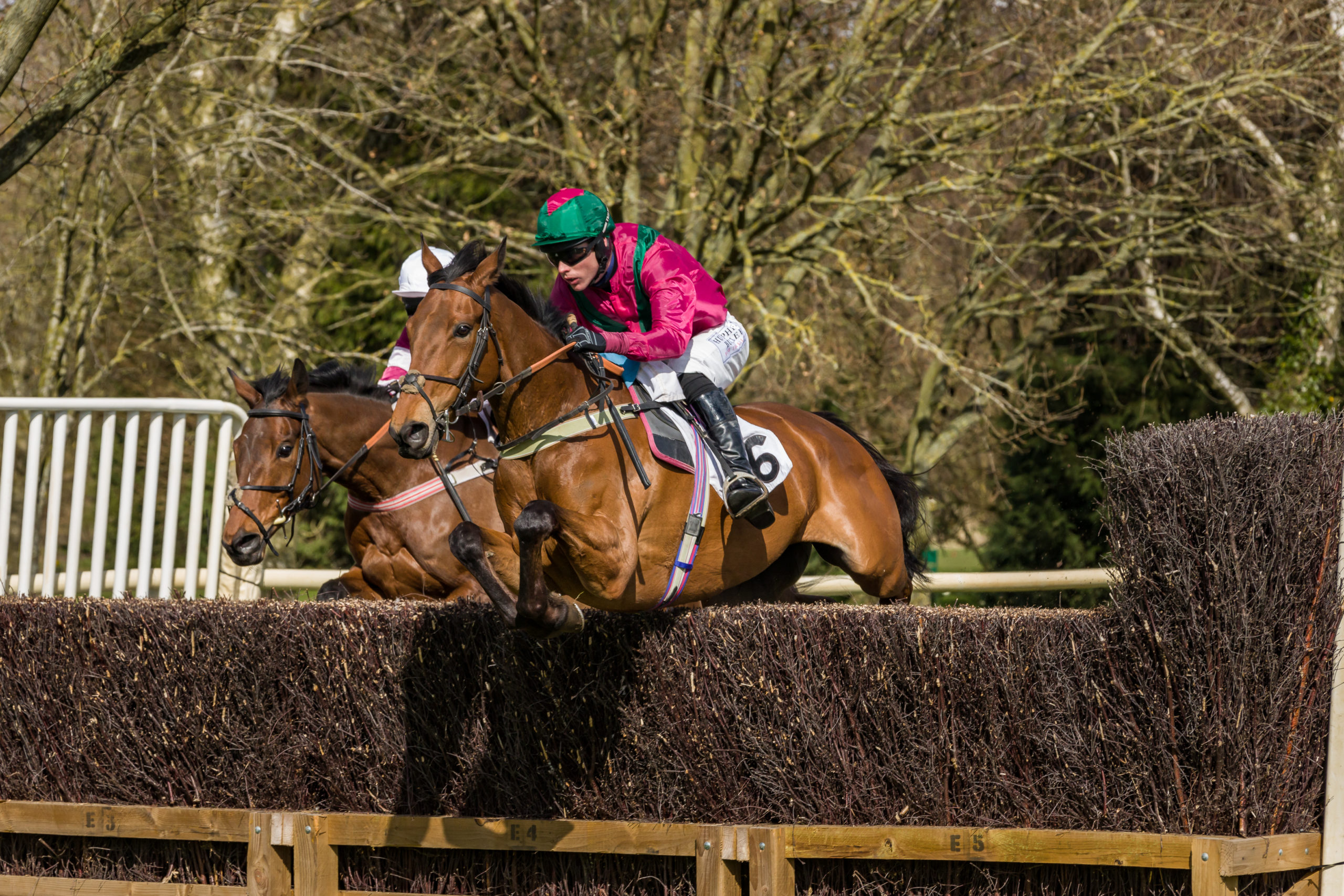 OVAL STREET AND ARCHIE WRIGHT  –   RESTRICTED RACE WINNERS
The Ladies Open was won by General Arrow, only lightly-raced this season and ridden by Gina Andrews. After the race, Gina pointed out that, with hindsight, they should never have run him on the deteriorating, soft conditions at Horseheath. Here the sharp track and good ground were much more to his liking and he revelled in being in front, throughout the contest. Gina was completing a double on the day, initiated by Mammoth in the Conditions race. Mammoth is jointly owned by three retired East Anglian jockeys namely, Nigel Bloom, Tim Moore and William Wales who all, fittingly, graced the Fakenham winners' enclosure during their riding careers. Nigel, for one, confirmed the trio are thoroughly enjoying being involved and certainly this honest mare is providing them with plenty of fun with her consistent performances.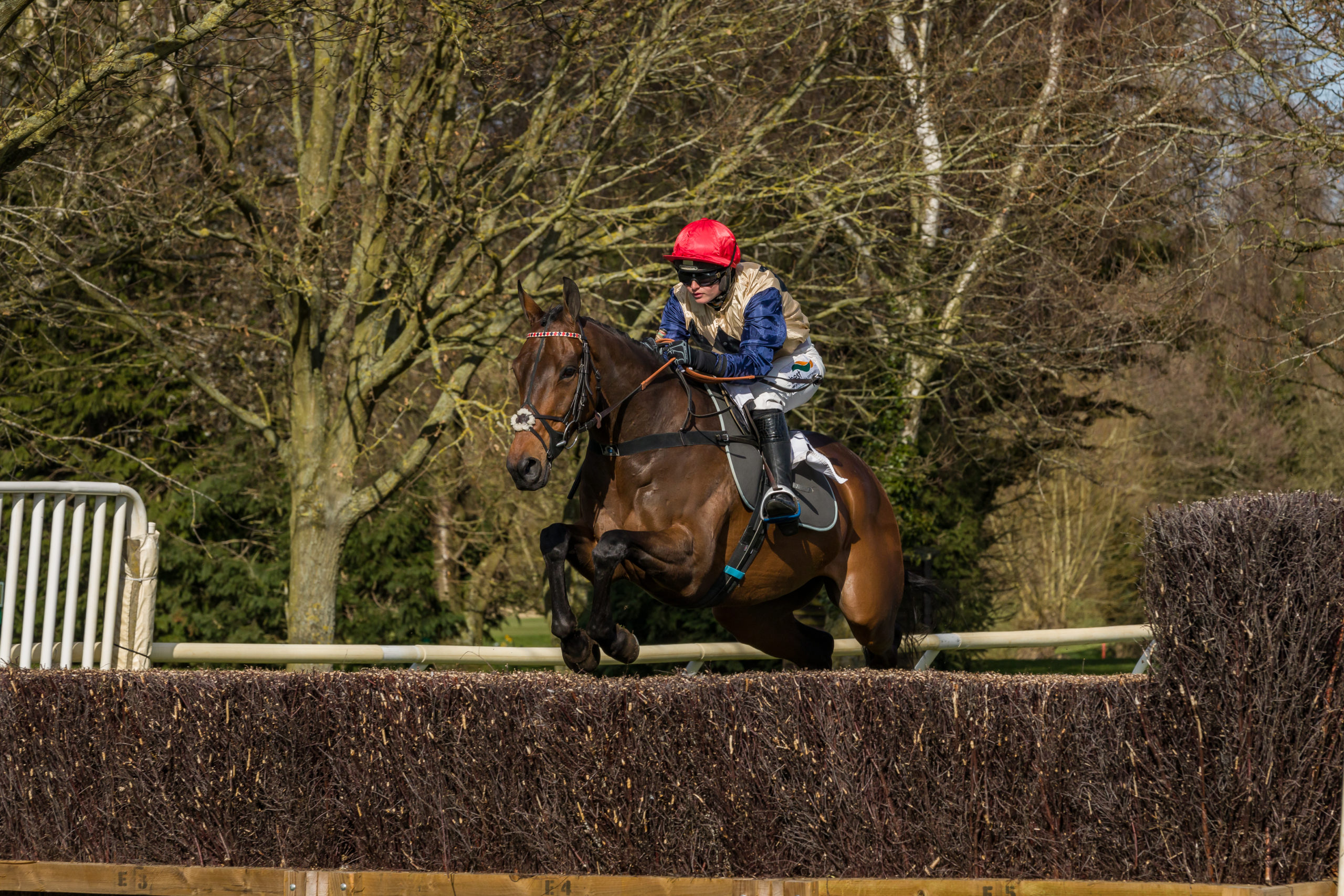 GENERAL ARROW AND GINA ANDREWS WINNERS OF THE LADIES OPEN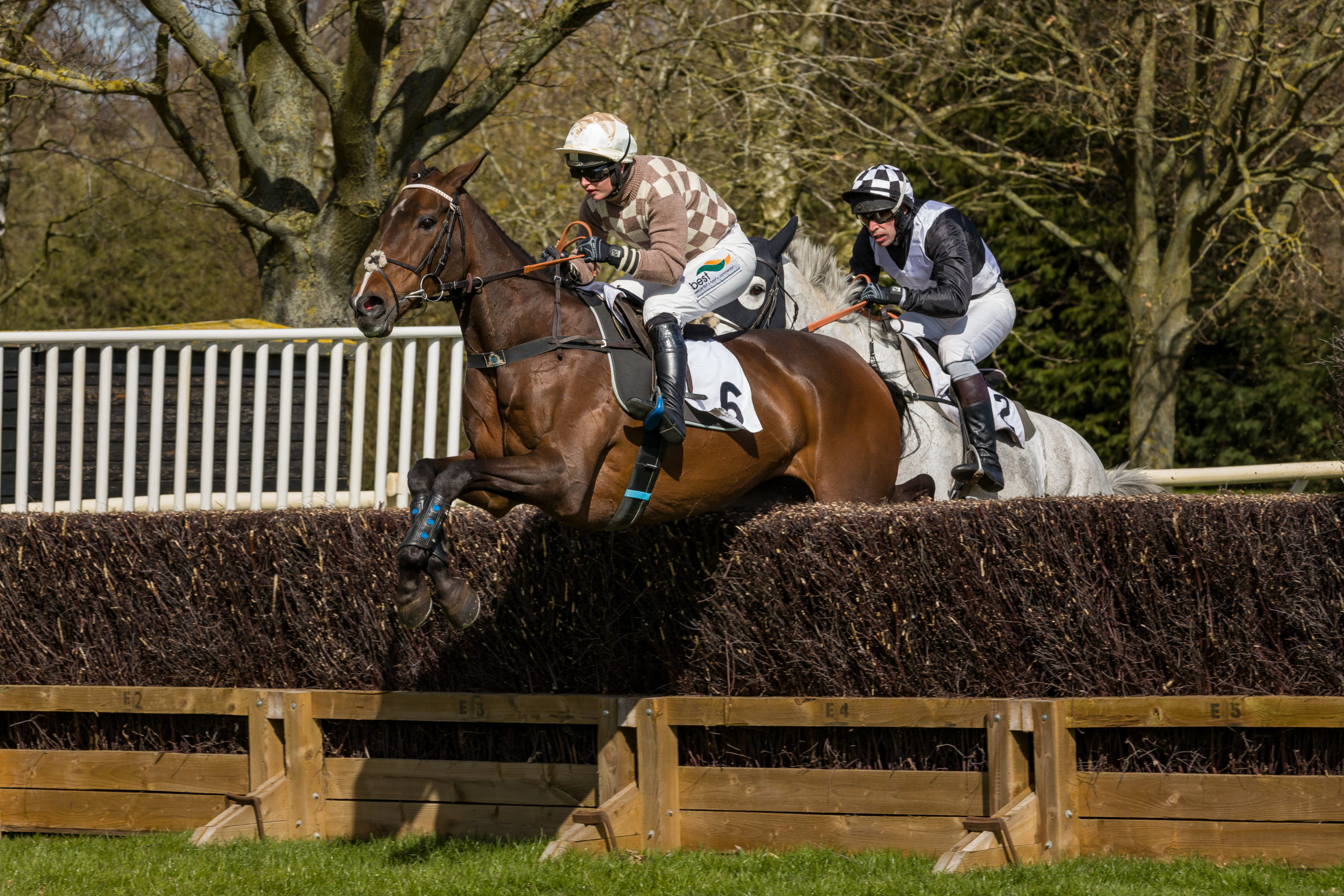 MAMMOTH AND GINA ANDREWS WINNERS OF THE CONDITIONS RACE
There was an unexpected upset in the three-runner Mens Open race when the long odds-on favourite Tullys Touch, unbeaten in four races this season, departed the contest as early as the second obstacle. According to his jockey, Will Biddick, Tullys Touch, uncharacteristically, took off far too early and landed on top of the fence causing the partnership to fall, fortunately both were unscathed. Early Retirement and Tom McClorey, went on to secure the victory by 15 lengths, with Tom enjoying his first win of the season. The partnership comfortably defeating Take To Heart, who was always playing second fiddle when the race became a match.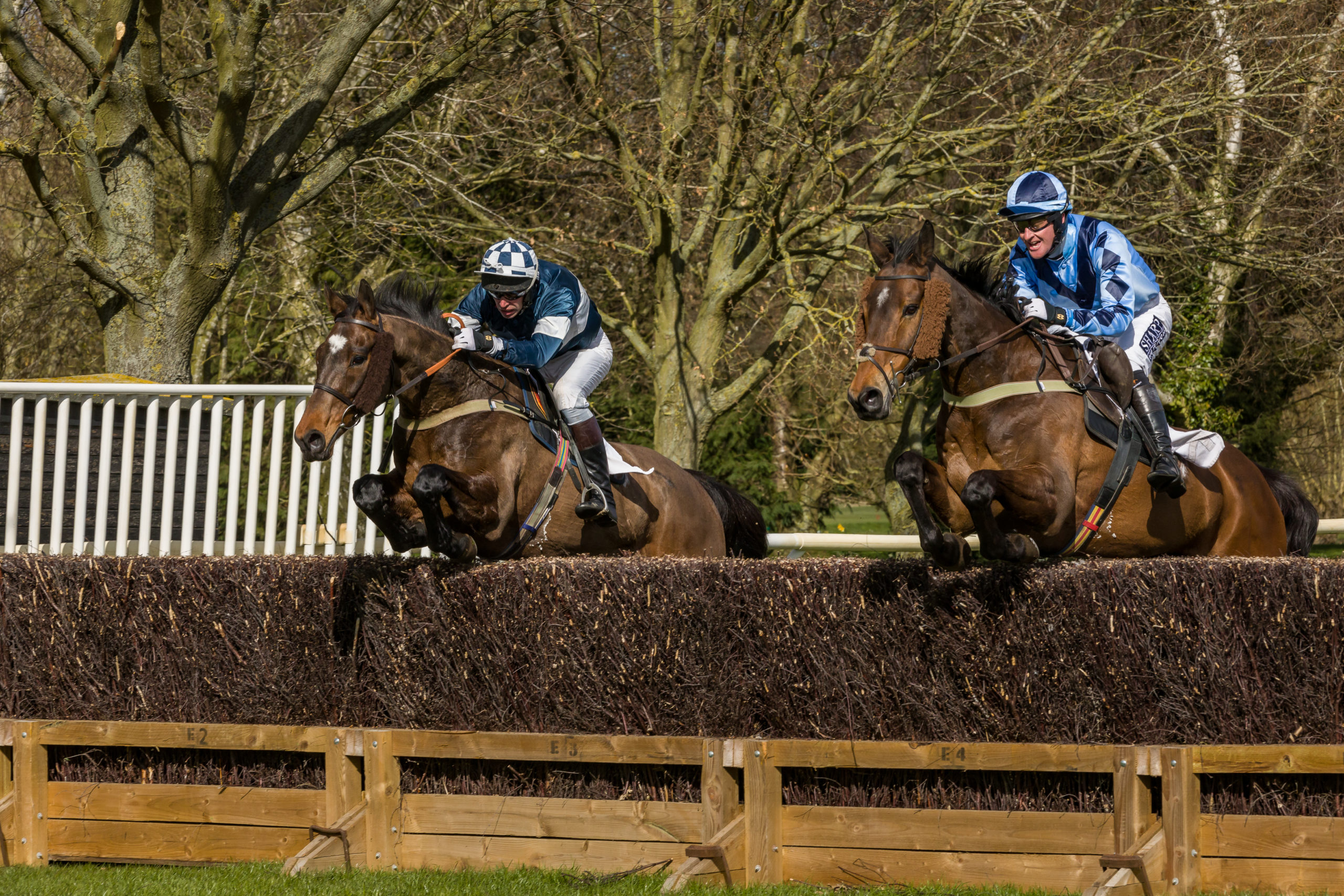 EARLY RETIREMENT AND TOM McCLOREY (right )
WINNERS OF THE MENS OPEN RACE
The opening race produce an emotional, first-ever winner for Emma Freeman on Perpignan, a 10yo trained at Newmarket, by James Owen. Emma, who combines her eventing career with point-to-pointing, made every yard of the running on Perpignan, affectionately known as Pabs and jointly owned by Emma. The pairing jumped impeccably and they were six lengths clear of their nearest rival, at the finish. It was at Garthorpe, last June, when the partnership was controversially placed 2nd, in a similar event, when most onlookers considered they had secured the success. Today was their day and they were led into the winners' enclosure, at the ninth attempt, to a deserved welcome.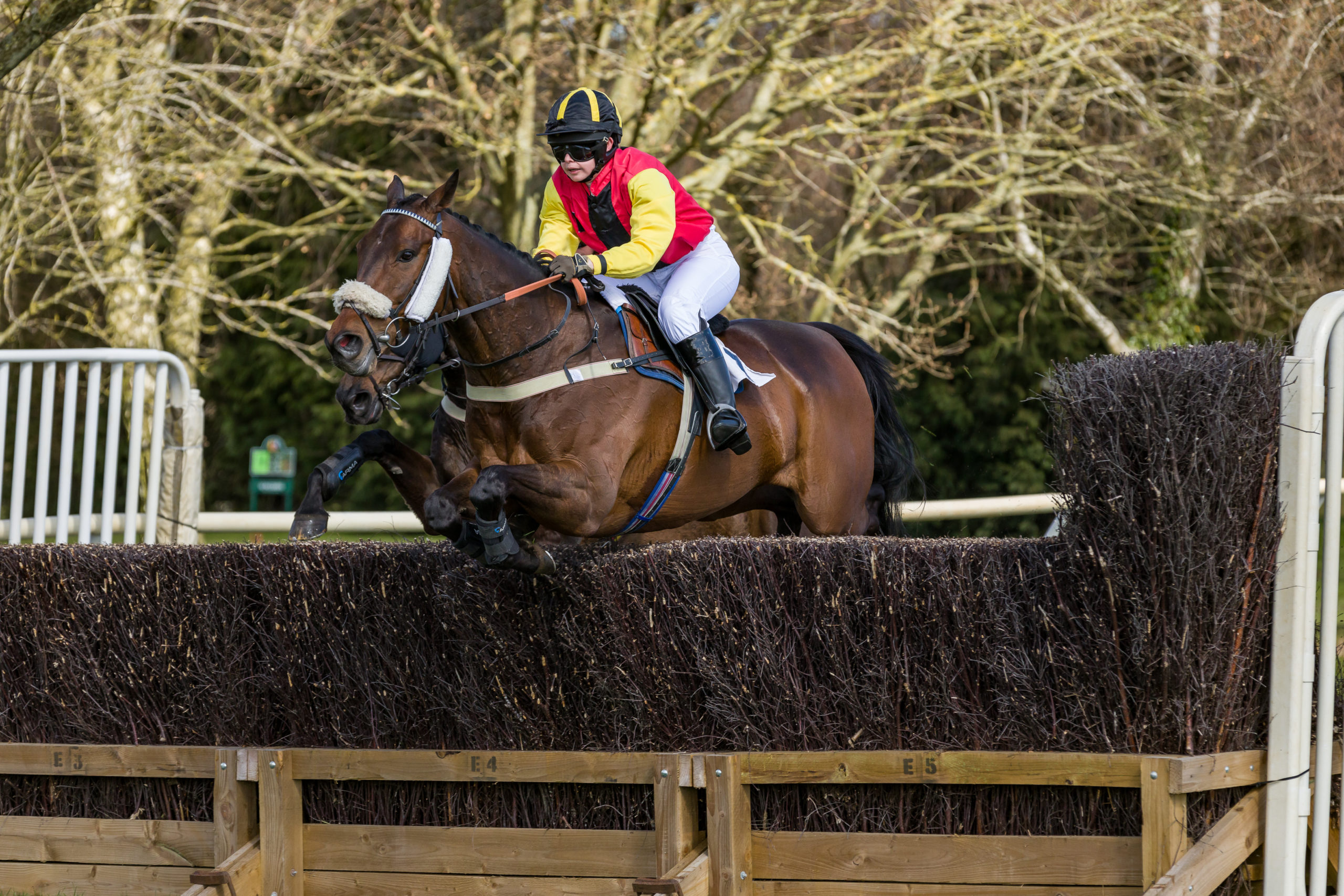 EMMA FREEMAN RIDES HER FIRST-EVER WINNER ON PERPIGNAN
The concluding Maiden race was won with another front-running performance by Stick With It, providing Alex Chadwick with his 12th success of the season. The winner is now solely owned by Linda Hayes, sister of the late Barry Belchem. Barry had purchased the horse last summer, before his untimely passing. Trainer David Kemp, who has an excellent record at Fakenham, which he considers his local track, had applied cheekpieces to the 6yo which might have made all the difference. Alex had his mount jumping soundly and although the Ellis/Andrews debutant Copper Fox began to make inroads on their lead they could never get close enough to directly challenge and the winners were 2 ½ lengths to the good, at the finish.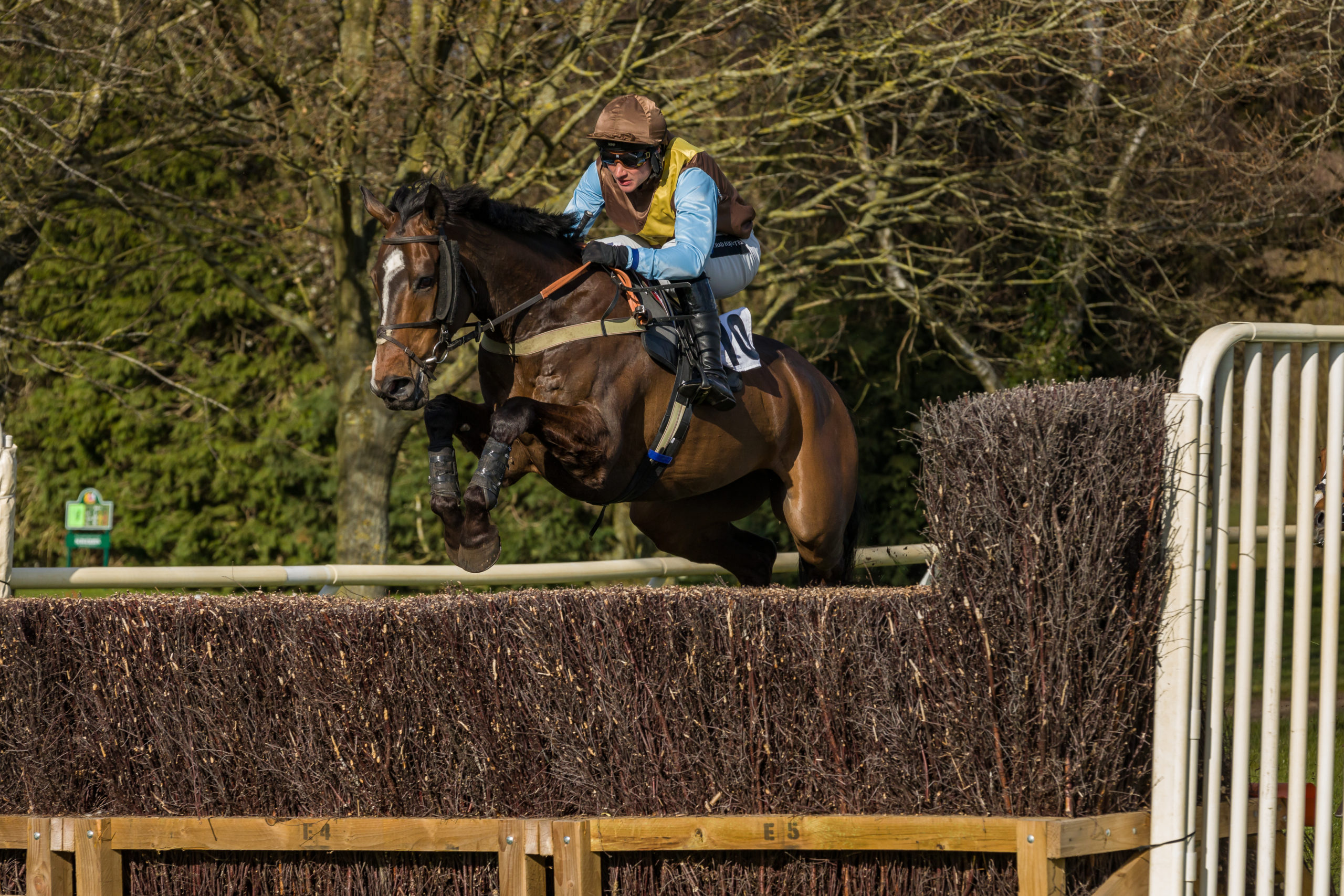 STICK WITH IT AND ALEX CHADWICK – OPEN MAIDEN  RACE WINNERS
A very successful meeting, expertly organised and rewarded with an excellent quota of runners witnessed by an enthusiastic and knowledgeable attendance who were able to offer congratulations, at the conclusion of racing, to Dr. Piers Reinhold, at a presentation, in respect of his retirement.