REPORT OF THE THURLOW HUNT  
MEETING HELD AT HORSEHEATH RACECOURSE ON SATURDAY FEBRUARY 1st 2020
 By MIKE ASHBY
The Andrews family has been associated with winners at Horseheath, for many a season. Husband and wife, Simon and Joanna, were triumphant in their riding days and their children have continued the success story. Bridget has subsequently turned professional whilst elder sister Gina and younger brother Jack were again in winning action on Saturday.
 Gina, seeking her seventh national ladies championship title, added another two victories to her Horseheath tally whilst Jack won the opening Conditions race on Fumet D' Oudairies, winning him the "Ride of the Day" award. Gina's husband, Tom Ellis, trained all three winners.
Young Jack's day started well, in what proved to be a very competitive, Conditions opener which was run in the fastest time of the day. The 15yo Gunmoney was not giving an inch to his younger rivals and with regular partner, John Russell, made an admirable attempt to beat their opponents with some genuine, swift fencing. This almost paid dividends until they had to give way, approaching the last, where Harmoney Row and Fumet D'Oudairies had emerged as threats. Although the pair came close after jumping the obstacle it was Jack and the 5yo Fumet D'Oudairies who prevailed by 1 ½ lengths, at the finish. Jack was thrilled with the way his mount had "winged the last and then stuck his head down, to the line ". This young horse, who is now unbeaten in three races this season, demonstrated that he is on the upgrade. Having previously won twice round the flat track at Cottenham, both at 2 ½ and 3 miles, he was put to the test here, round Horseheath undulations and stayed on strongly to the great joy of his ever-supportive and vociferous group of owners, the 'Ice & Slice Racing Club'. Next up could be a return to Horseheath, at the end of February, to contest an Intermediate race.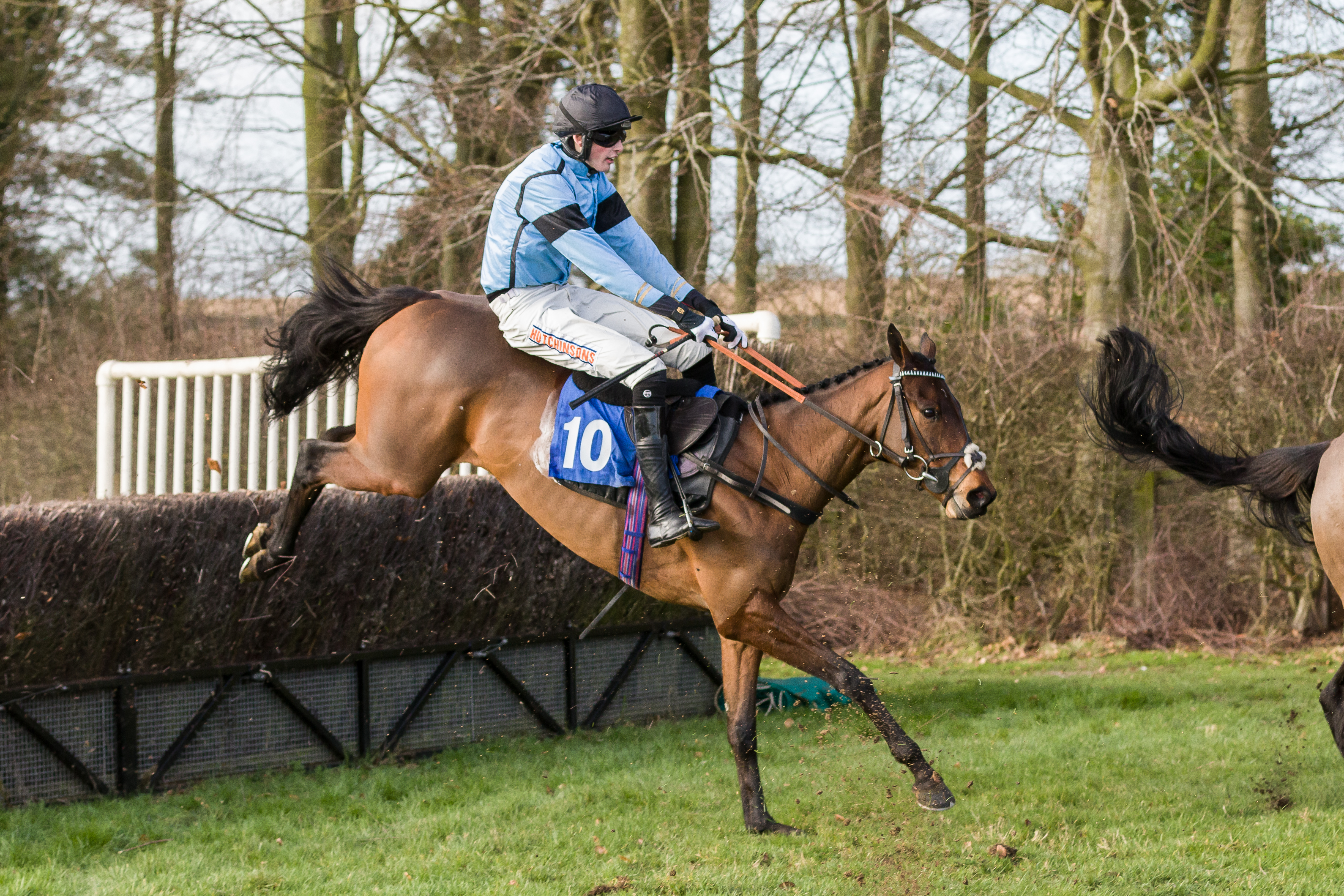 Fumet D'Oudairies and Jack Andrews winners of the Conditions race
Gina's knowledge of Horseheath was paramount in both her winning rides, by staying to the inside. Bawnmore, won the younger horse Maiden race by his superior jumping, effectively making all of the running. The field was tightly packed as they approached the open ditch for the final time with By Appointmentonly and Raffle Ticket attempting to mount their challenge. Bawnmore and Gina were only briefly headed down the final hill but still hugging the inside rail, the partnership were not to be denied to win by 1 ½ lengths, from By Appointmentonly. Trainer Tom, on greeting his winner, was naturally delighted with the 6yo's performance. " Such a jumper and what an absolute dude ".  Bawnmore was building on a promising British debut at Larkhill, four weeks prior.
Bawnmore and Gina Andrews winners of the 4,5&6yo Open Maiden race
Gina used waiting tactics, in the Ladies Open, on the odds-on  Latenightpass, content to stay behind the front-running Mercers Court with Kate Gowing. The action increased, with three in-line approaching two fences out, again Gina maintained the inside line, often a key factor at Horseheath, to cruise past her rivals. They won by a comfortable 2 lengths from Changeofluck and Izzie Marshall, who had also saved their effort for the final stretch.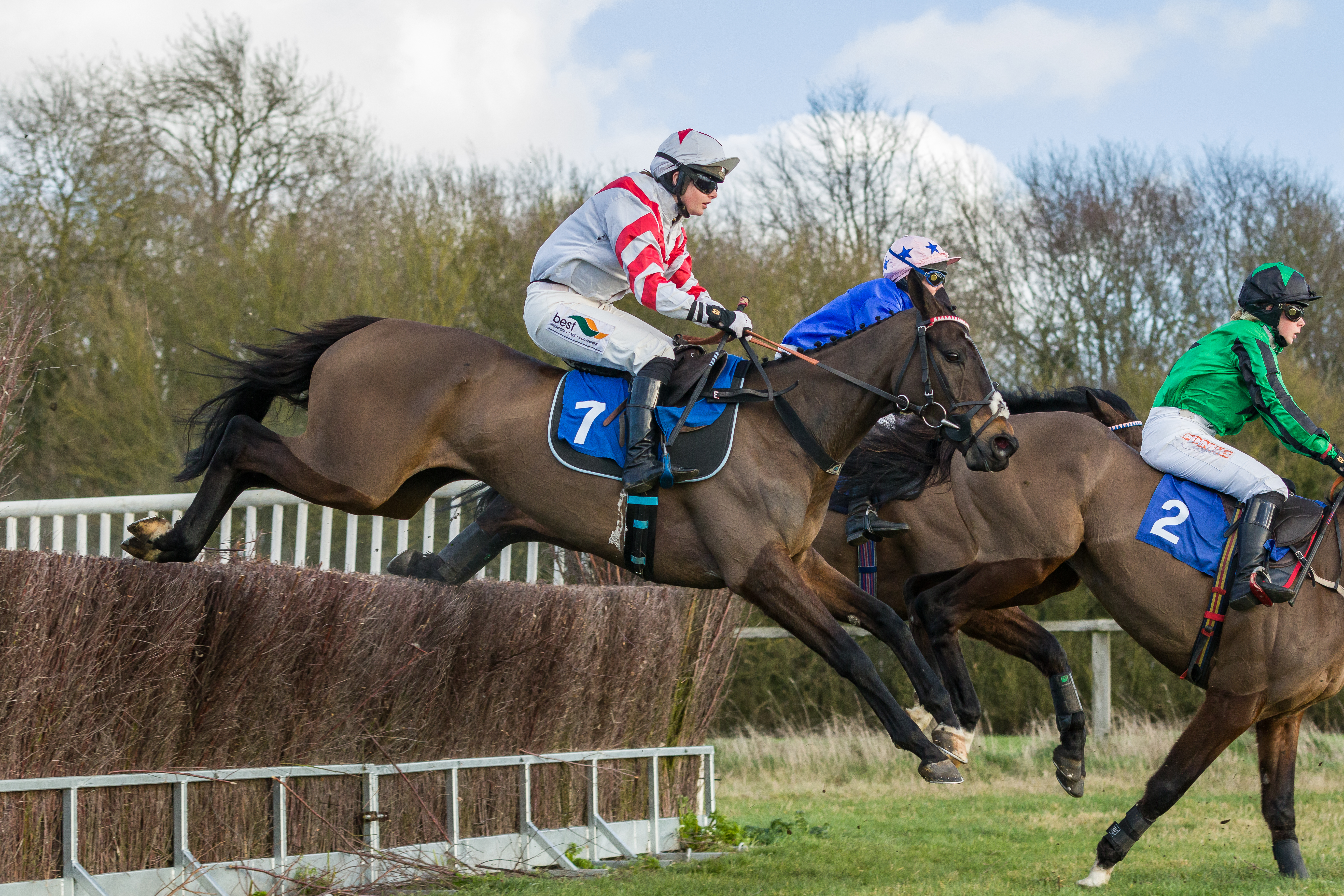 Gina Andrews completes a double on Latenightpass in the Ladies Open
The Mens Open enjoyed the quality of some proven horses and it was the David Kemp-trained, Law Of Gold, with Dale Peters in the saddle, who emerged as winners. Two previous Horseheath visits had resulted Law Of Gold falling but here his jumping was error-free as the runners were led round by some brilliant jumping by the mare Chosen Rose. At the top of the hill for final time, Law Of Gold went a length up with Tullys Touch chasing behind the vastly consistent and improving 7yo stayed on really well, up the Horseheath finishing straight to win with some degree of ease from Tullys Touch, by 8 lengths. Chosen Rose's effort petered out very quickly on entering the straight and she was pulled up. Trainer Andrew Pennock will have her thoroughly checked over and her day will come again. Law of Gold, who won the John Corbet Cup Hunter 'Chase at Stratford last May definitely has the staying ability and a tilt at the Foxhunters at the Cheltenham Festival, could be a possibility. Certainly a live outsider, if that route was pursued.
Law Of Gold and Dale Peters (right) winners of the Mens Open race
Luke Scott and Summer Sounds won the Novice Riders race in dramatic circumstances.  Having been handy throughout the race, Luke was unperturbed when Back Bar and Amigo pressed on, after jumping the last open ditch. Content that his mount, previous course winner Summer Sounds, would stay the trip, the pairing re-challenged the two leaders, up the finishing straight and was upsides Back Bar at the last. However, a slipping saddle became more of an opponent but Luke valiantly maintained his balance to ride a winning finish, by ½ lengths, before being unshipped, after the winning line. Fortunately unscathed, the more pressing problem facing Scott, was to retrieve all the tack which was now strewn all over Cambridgeshire, when Summer Sounds took off. The Francesca Nimmo trained gelding was eventually caught unharmed. The observing stewards clearly had to monitor the situation to ensure that everything was gathered together before Luke weighed-in correctly and no further action was necessary. Afterwards Luke dismissed the idea that he was becoming a Horseheath specialist having won a similar Novice Rider's race, at the course, last season. "Having fallen at the first in the opening race probably puts paid to that idea". Luke had a valid point !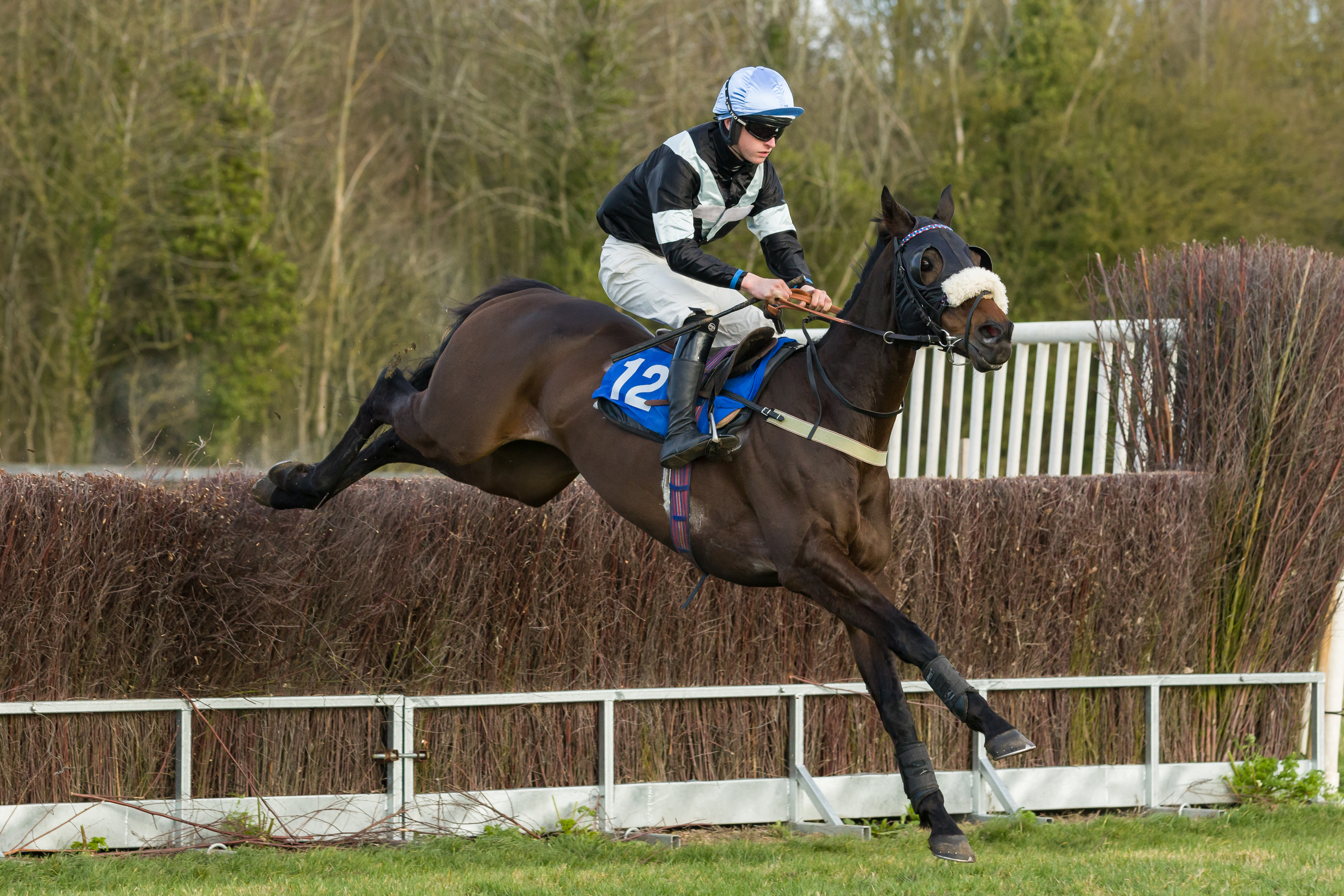 Summer Sounds and Luke Scott winners of the Novice Rider's race.
The Restricted race turned out to be 'hot' contest with some particularly progressive horses stepping up from their Maidens. Rebel Dawn Rising gave trainer David Kemp's supporters another good run for their money with a front-running effort. Dale Peters' mount was joined by a breakaway group consisting of Fiddler Of Dooney, Oscars Fame and Getting Closer, as the race came to the business end, approaching three fences from home. Fidder Of Dooney and Alex Chadwick's effort looked to be the one to take the prize. Even trainer James Owen thought his charge would win from two out but they had to contend with a final fence arrival of Getting Closer. Jockey Charlie Marshall had delivered a perfectly timed challenge and in a tight, driving finish there were just 2 lengths between the winner and the 3rd placed horse, Rebel Dawn Rising. Assistant trainer Joe Hill agreed that the overall race looked very competitive, on paper, and assessed that their entry would do very well to be involved in the final outcome. However, Joe was not surprised by the way Getting Closer had finished with a late run, as he had completed his races in Ireland, in a similar manner.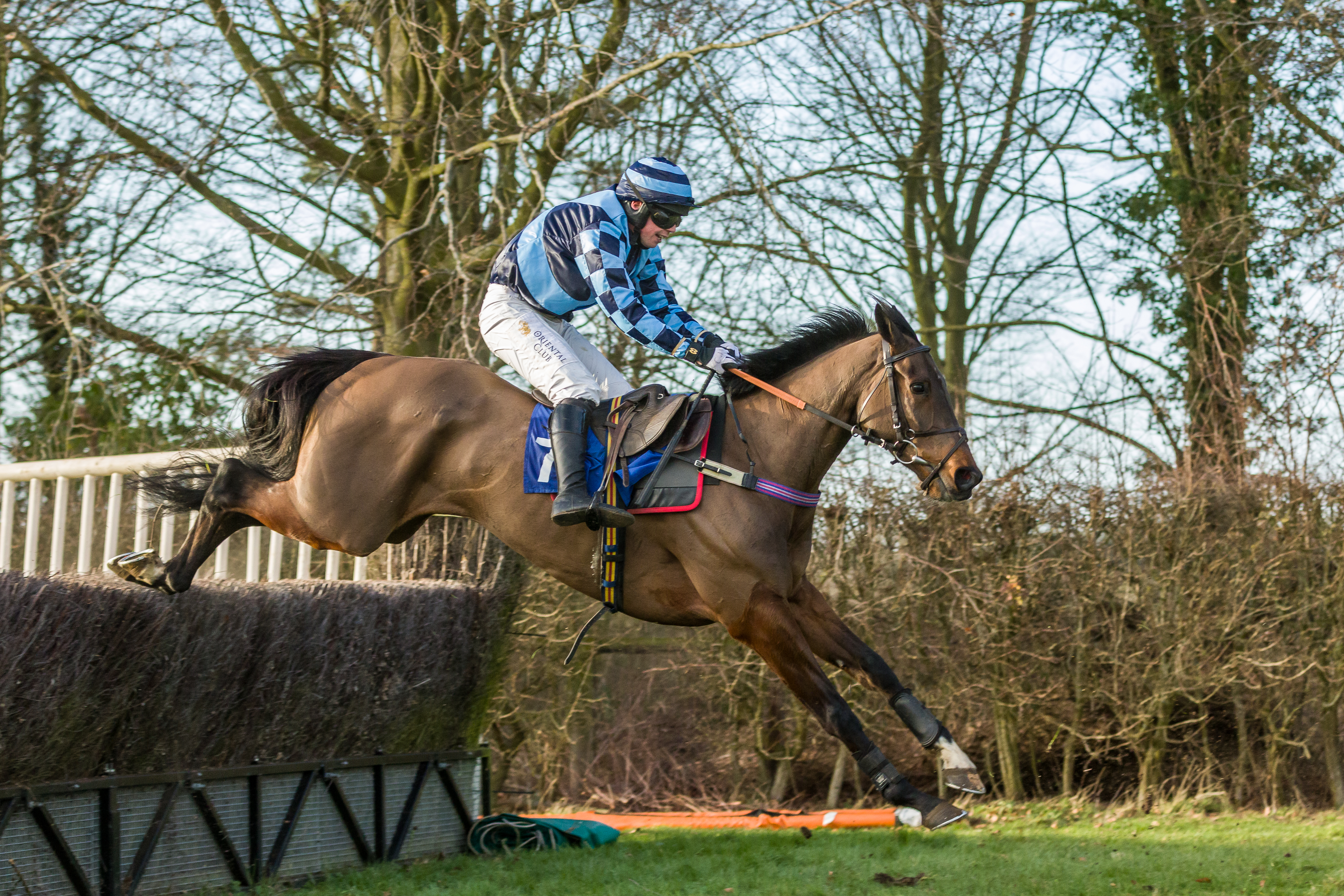 Getting Closer and Charlie Marshall successful in the Restricted race.
The final race of the day was the older horse Open Maiden and produced a remarkable training performance with Big Dawg, who had been off a racecourse since September '16. Partnered by Will Hickman, they bided their time behind the runaway leader On Parole, who ran like a scalded cat. Alice Stevens quickly pulled up the favourite on the second circuit having noticed evidence of blood. Big Dawg then raced clear of his remaining rivals, two fences out and never looked back. His long absence from the track was because of a suspensory ligament injury sustained when with the NH trainer Gary Moore and he would have made a comeback last season but picked up another injury, after being spooked on the training gallops. Connections were quite rightly thrilled with the 9yo's performance, on his return to racing, to conclude a marvellous day's racing.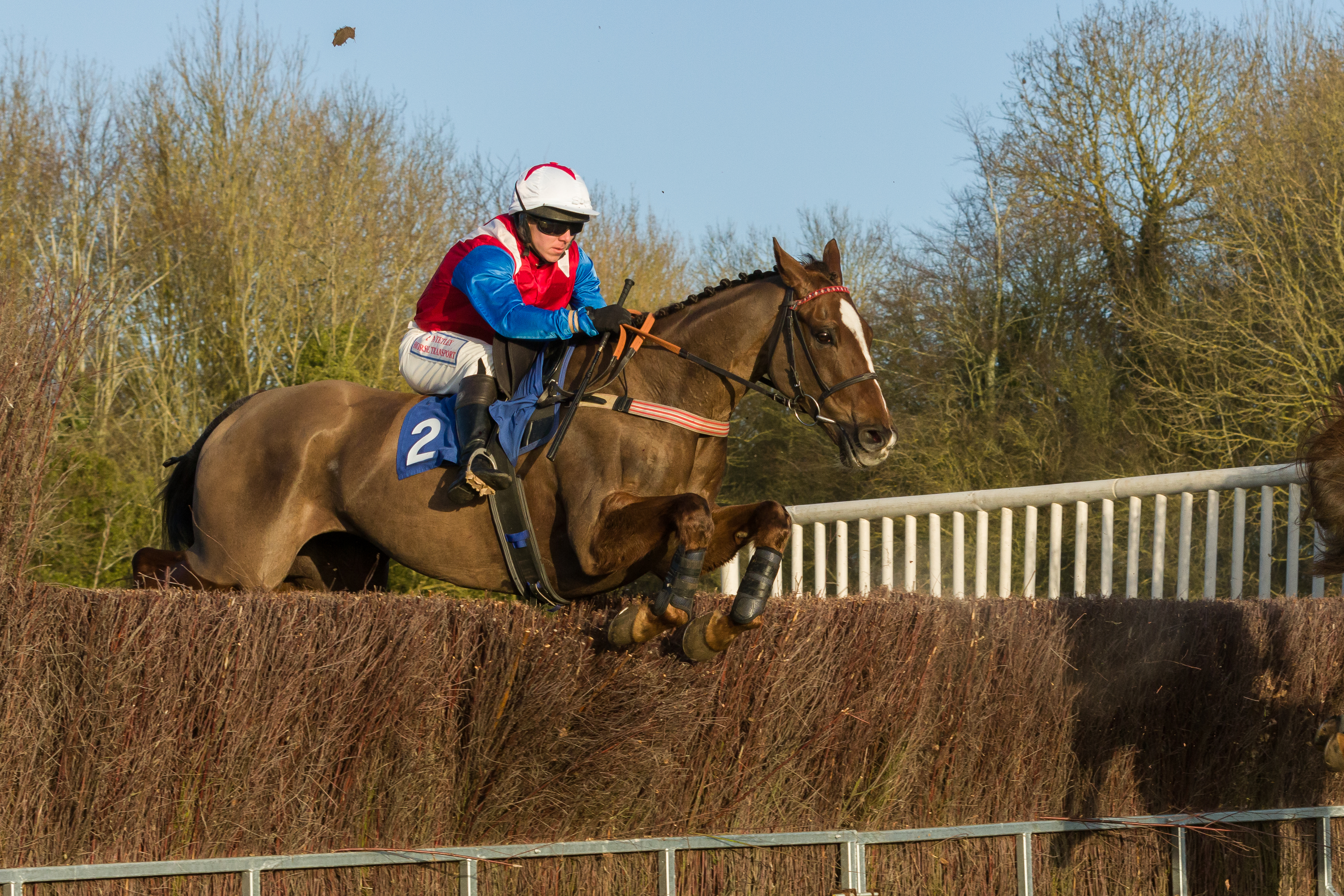 Big Dawg and Will Hickman winners of the 7yo & over Open Maiden
ALL PHOTOGRAPHS COURTESY OF AND AVAILABLE FROM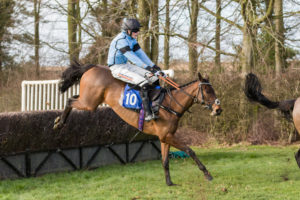 www.gdbphotography.co.uk