REPORT OF THE NORTH NORFOLK HARRIERS  
POINT-TO-POINT MEETING HELD AT HIGHAM RACECOURSE ON SUNDAY JANUARY 26th 2020
By MIKE ASHBY
Richard Collinson, last season's leading East Anglian jockey, made a surprise and successful return to the saddle when steering the odds-on favourite Bold Gesture to victory, in the opening race at Higham on Sunday.
 Dicky originally announced his retirement, from race-riding, at the end of last season but resumed the very successful, past partnership with trainer Andrew Pennock, as stable jockey, with this Open Maiden winner. In the eyes of the trainer "the door was never closed" as Pennock and Collinson have acknowledged, mutual respect for each other and as the season progresses, the fruits of this combination will become evident, by their success rate. Collinson in a post-race interview confirmed that not only was Higham his favourite course but also Bold Gesture was a particular favourite of the trainer, as well. So the comeback, which they had planned together, had been delivered.
Bold Gesture, before joining the current stable, had seven runs for Gordon Elliott and had shown definite promise with his run at Cottenham, when finishing 2nd over two and half miles, at the end of December. His owner, George Braithwaite, farms adjacent to the Higham course and there was quite a cheer from locals, at the subsequent prize-giving. Bold Gesture and Collinson took the lead from the 'off' and were briefly challenged by Hop ' N Skip as they left the woodside but his rival hung violently right as they rounded the final bend leaving the winning pairing to win by 9 lengths. Charlie Marshall, who rode the runner-up, reported that his mount appeared to lose confidence after jumping the last open ditch and persisted in hanging badly from that point.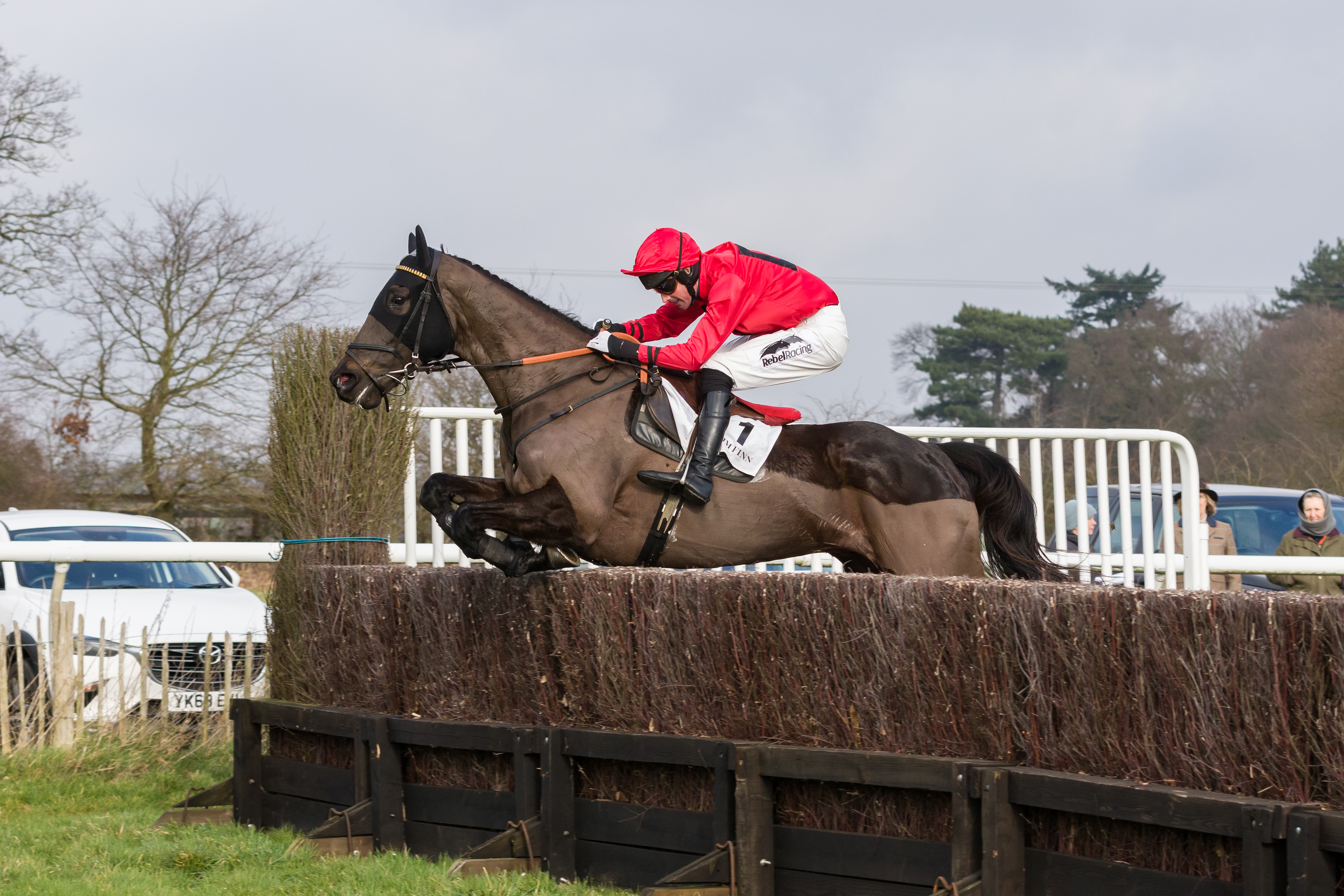 Bold Gesture gives Richard Collinson a winning comeback ride in the Open Maiden
The possibility of a first and last race double, for the owner/ trainer/jockey partnership, disappeared when their representative Laser Beam failed to show his normal zest for racing and was also hanging right after challenging for the lead. Collinson decide to pull his mount up, in the circumstances. The winner of this Conditions race was Net D'Ecosse who was, in turn, completing a double for trainer James Owen and jockey Rupert Stearn. The winner was positively ridden by Stearn and they were never in danger once the odds-on favourite, Laser Beam's, challenge disappeared.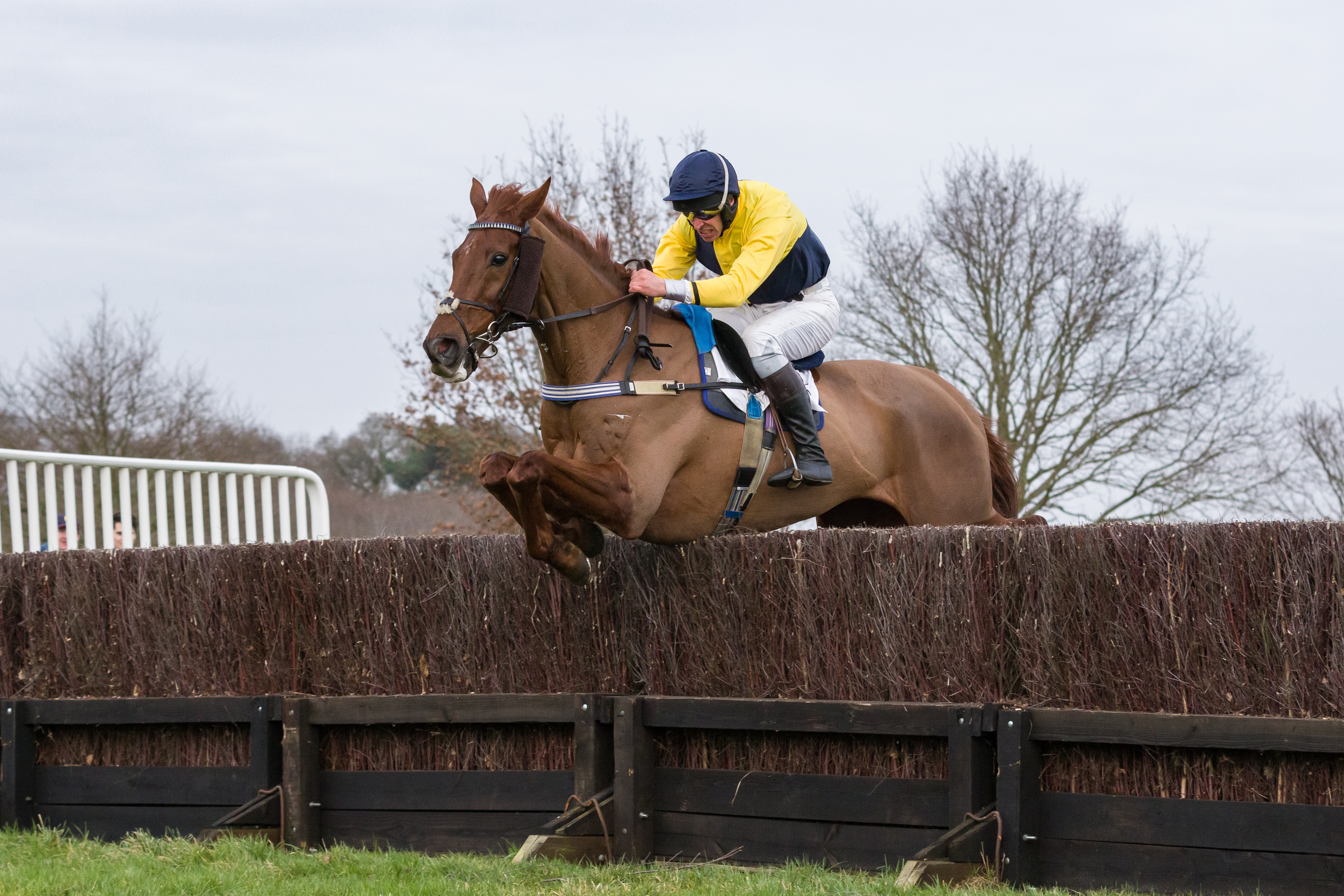 Net D'Ecosse and Rupert Stearn on their way  to victory in the Conditions race
Owen and Stearn had teamed-up earlier in the Mens Open when Just Cause supplemented his recent Ampton success with a very comfortable victory, by a distance, from his five rivals. Winning owner, Simon Stearn, stepped forward to collect the new trophy on offer here, namely, "The Broken Eagle Memorial Trophy" which had been commissioned by the Exelbys, in honour of their exceptional and much –missed star. Broken Eagle won 8 out of 9 starts at Higham, with the only blemish occurring when being brought down. Lawney Hill, wife of Broken Eagles's trainer Alan Hill, was on hand to present the trophy, on behalf of the Exelbys, to the winning connections. Victorious jockey Rupert Stearn then paid a generous and most apt compliment in stating that although Just Cause had won comfortably today, they would have found it impossible to match the truly, magnificent Broken Eagle, around the Higham circuit.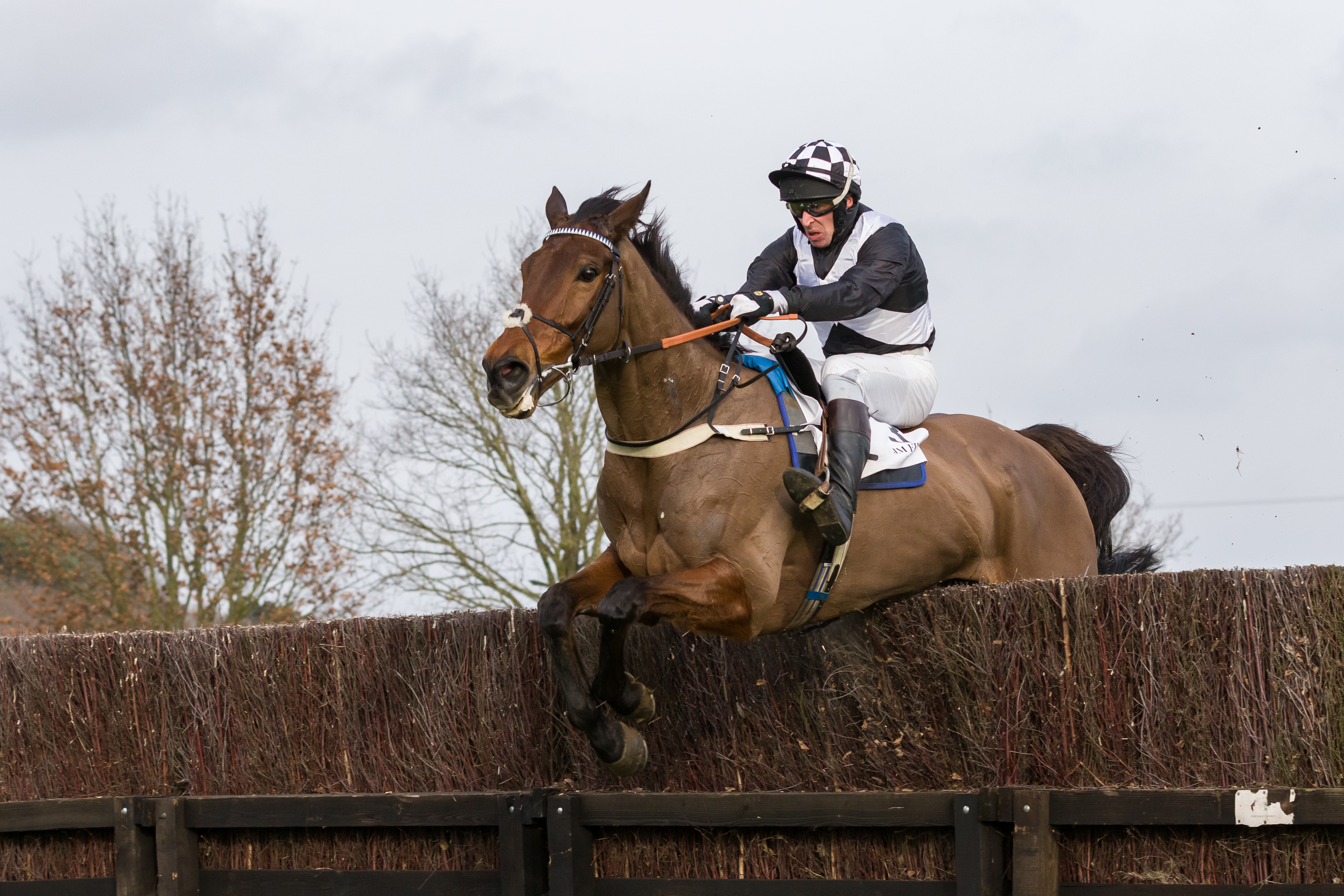 Rupert Stearn and Just Cause winners of the Mens Open
Other highlights of an interesting afternoon's racing saw two young jockeys, Murray Dodd and Alex Knight record their first career wins and both co-incidentally work for the professional stable of Dan Skelton. They will always look back on this memorable, January day at Higham.
Born in Scotland, nineteen year old Dodd was having only his third career ride on Workbench, in the Novice Rider's event and the pairing confidently forced the pace as the runners commenced their final circuit. With an exceptional jumping performance they finished way ahead of their rivals. He would have had his riding instructions from owner/ trainer Nick Pearce who enjoyed many successful days here at Higham, in the past, but as Murray explained " Workbench was clearly enjoying himself so I elected to let him take up the running and it paid off. "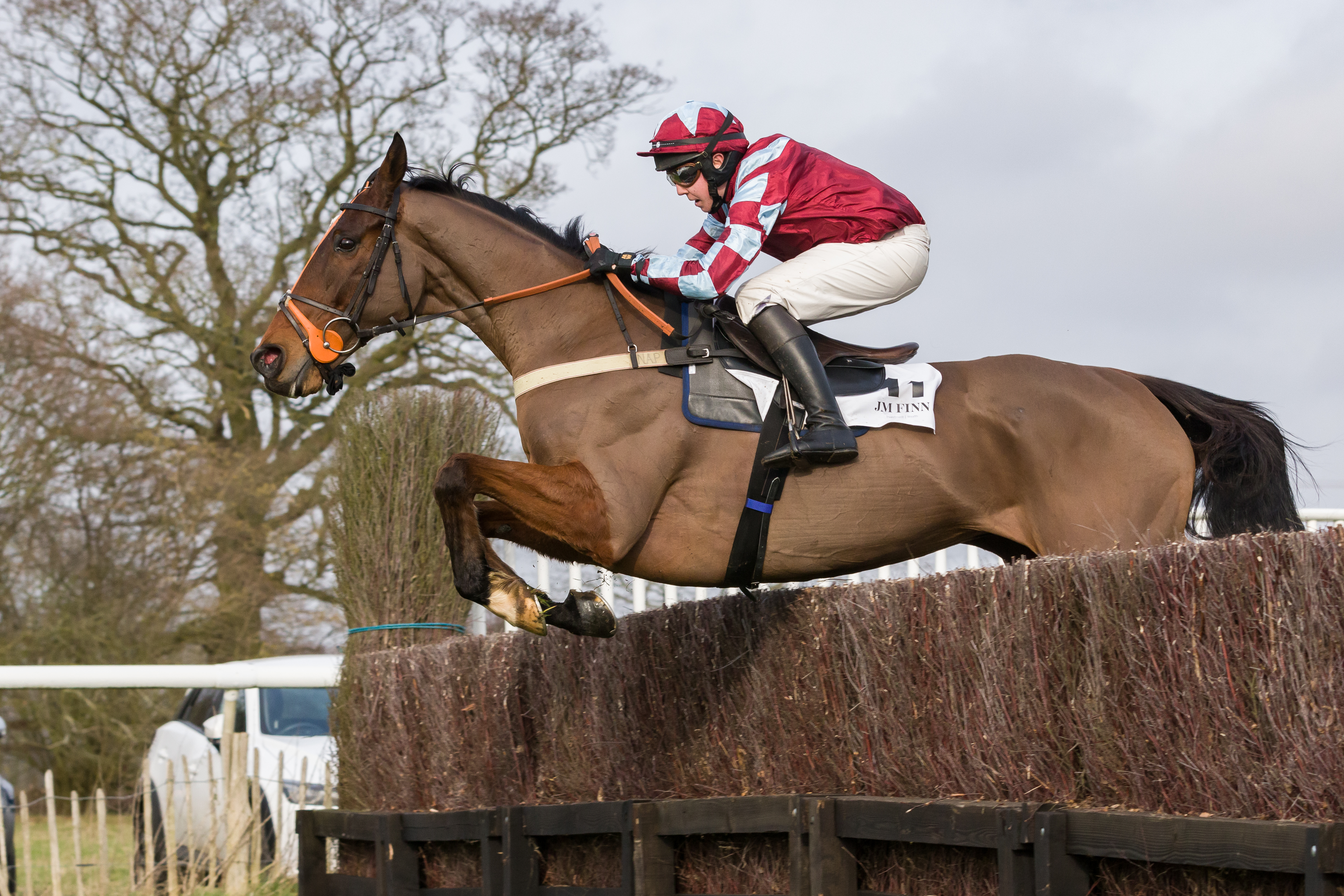 Murray Dodd and Workbench winners of the Novice Riders race
In the Ladies Open, Alex Knight and Knockedoutloaded gave a bold, front-running display and were left clear two fences from home after, the favourite, Top Smart had unseated Izzie Marshall. However, they still had to combat a fast-finishing Brackloon High but held on by a diminishing half a length. Twenty year old Alex was fully aware of the challenges behind her but " hoped I was going to hold on ". Knockedoutloaded was bought privately from Nigel Padfield, last summer, having won six races for him and had been beaten by Ravished at Cottenham at the end of December. Although beaten by 18 lengths that was their first outing together and Alex will have plenty of fun in Ladies' Opens, as the season progresses.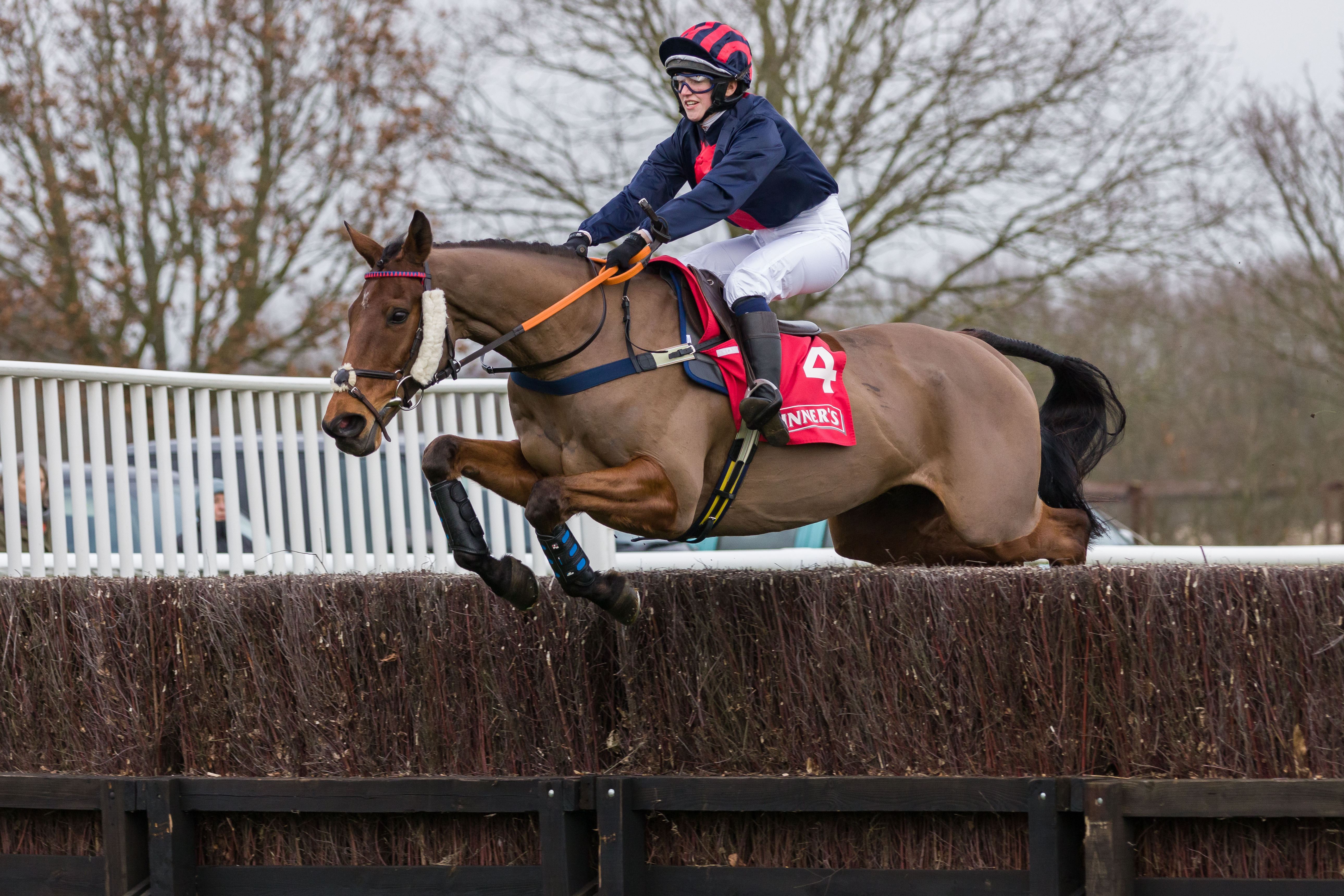 Knockedoutloaded gives Alex Knight her first winning ride in the Ladies Open
The Restricted race saw trainer Alan Hill extend his record of Higham winners when Normofthenorth and Charlie Marshall made light work of the opposition, in fairly comfortable fashion. This success was Charlie's second winner of the season and he is thankful for and making the most of the opportunities he is being afforded.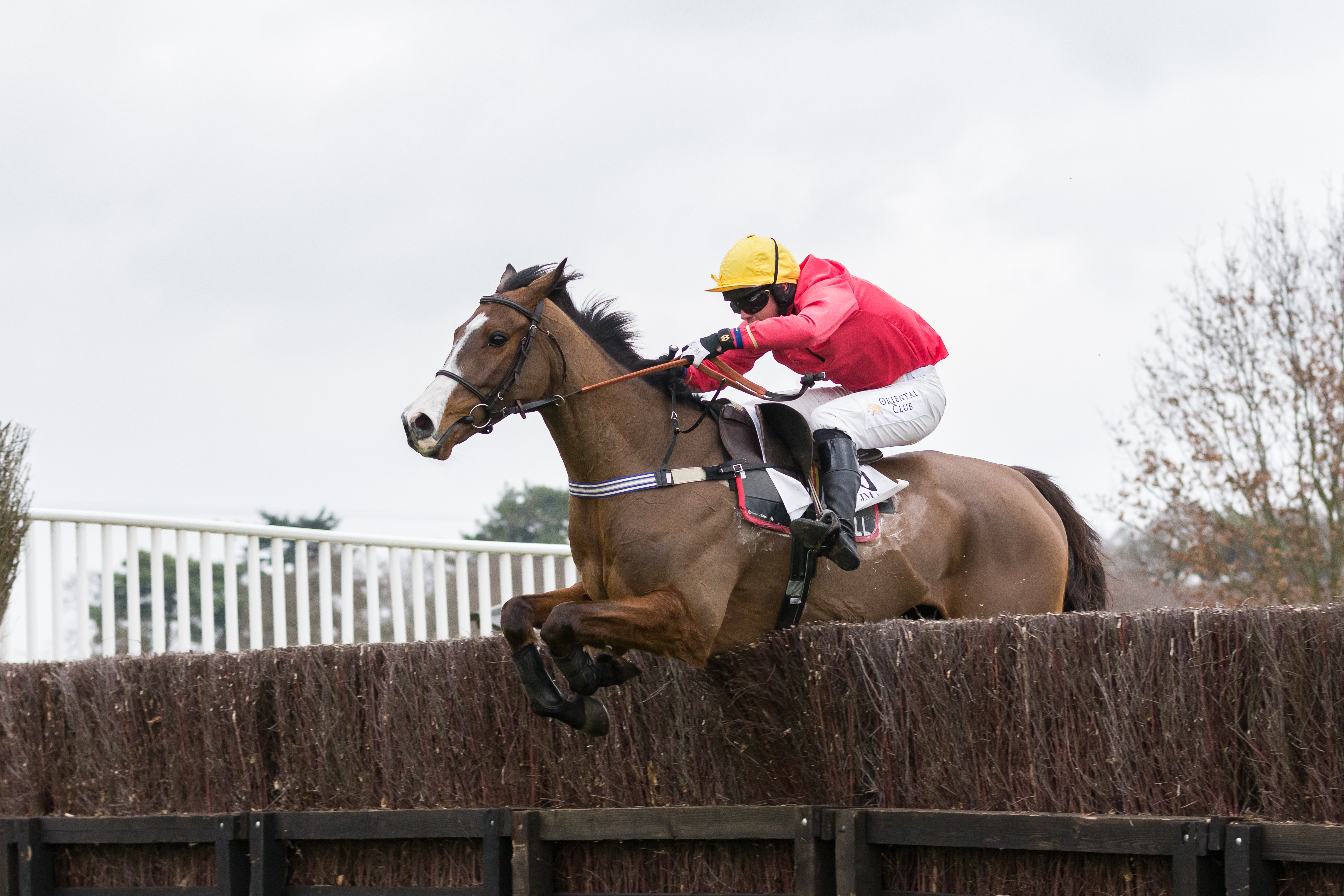 Normofthenorth and Charlie Marshall comfortable winners of the Restricted race
The Higham course was in excellent condition and the fences looked exceptional. A credit to the newly appointed, Clerk of the Course, Bill Gilchrist and his team.
 RESULTS
 Official going; GOOD
 Open Maiden
1st Bold Gesture Richard Collinson 1/2f
2nd Hop N Skip Charlie Marshall Ev
Time 6-07 Dists: 9 L 4 ran only two finished
also Gog Elles PU Josh The Plod PU
PPORA Club Members Novice Riders
1st Workbench Murray Dodd 4/5f
2nd One Fine Morning Charlie Clover 3/1
3rd The Gunner Brady Henrietta Cranfield 3/1
Time 6-01 Dists: 15L Dist 7 ran
also Legend To be 7th Mr Satco 6th Native Pride 5th Provincial Pride 4th
Restricted
1st Normofthenorth Charlie Marshall 6/4f
2nd Uknowwhatimean Will Hickman 8/1
3rd Iron In The Soul Alex Chadwick 5/1
Time 6-08 Dists: 3 L 10 L 7 ran
also Alfie Corbitt PU Mano Cornuto PU The Alchemyst 4th Winola PU
Mens Open
1st Just Cause Rupert Stearn 4/6f
2nd Sugar Baron Archie Wright 3/1
3rd Zeroeshadesofgrey Alex Chadwick 3/1
Time 6-01 Dists: Dist 4 L 6 ran
also Abbey Lane 4th Great Link 5th Wind Place And Sho Ref
 Ladies Open
1st Knockedoutloaded Alex Knight 7/2
2nd Brackloon High Jennifer Harbison 5/2
3rd Dry Ol Party Chloe Emsley 10/1
Time 6-11 Dists: ½ L 1 ½ L 7 ran also Easter Day 6th
Oh Toodles 5th Royal Hall 4th Top Smart 4/5 f UR
CA Conditions
1st  Net D'Ecosse Rupert Stearn 6/4
2nd Hawkhurst Izzie Marshall 5/2
3rd Beggars Bush Immy Robinson 5/1
Time 6-05 Dists: 20 L 2 L 5 ran
also Laser Beam 4/6f PU Weather Warning 4th