POINT-TO-POINT REPORT
SUFFOLK HUNT, AMPTON, SATURDAY MARCH 7th 2020
BY MIKE ASHBY
An unforgettable day in the young life of jockey Jack Andrews, who rode four winners, at the Suffolk Hunt meeting at Ampton on Saturday.
Twenty-one year old Jack is currently leading the national male riders' championship and his memorable day started perfectly when Generous Ransom challenged at the last to pip the long-time leader, the gallant 15yo Gunmoney, in the opening Veteran Horses Conditions race. John Russell was clear in his mind that if Gunmoney had not made a slight error of judgement at the last fence "I would have been surprised if we had been beaten. He gave everything as usual"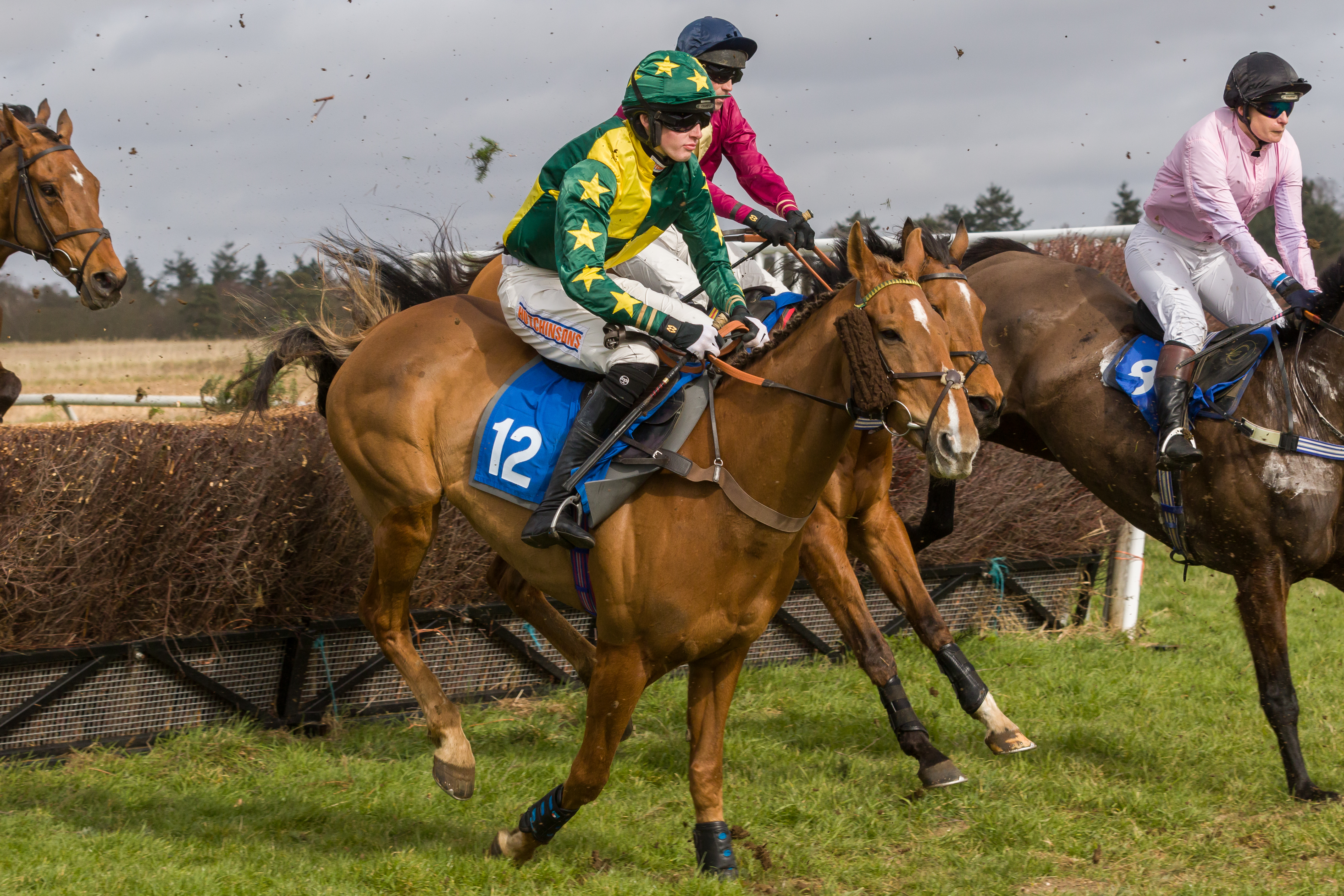 Generous Ransom and Jack Andrews winners of the Veteran Horses Conditions race
Tullys Touch justified favouritism when comfortably defeating four other rivals in the Mens Open. The pairing took the lead five fences from home and never looked in danger from that point, of surrendering their lead. Tullys Touch has never been out of the first two placings in seven races in points and this was the third Ampton course win with Jack in the saddle, for this very consistent 7yo.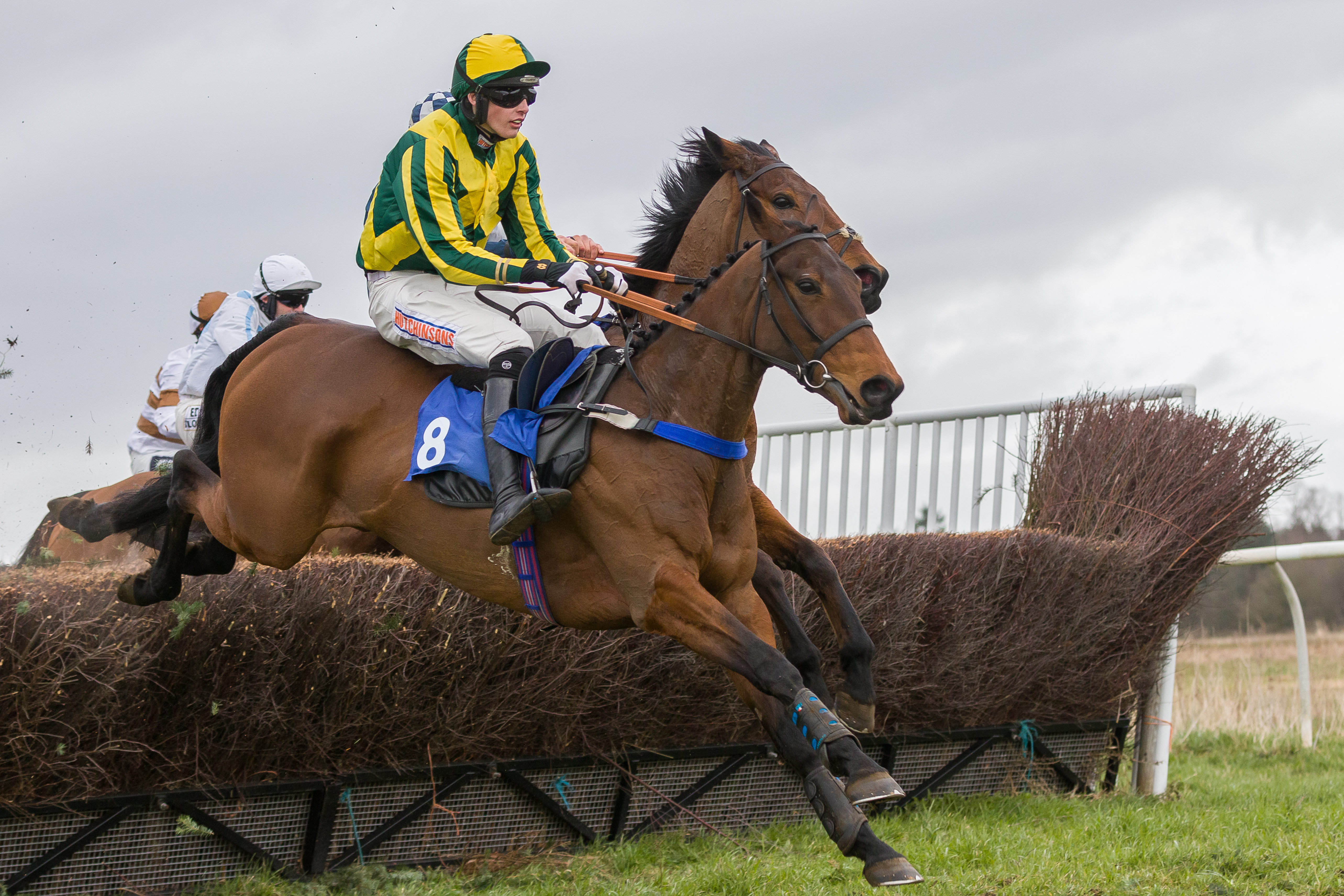 Tullys Touch and Jack Andrews on their way to a comfortable victory in the Mens Open
Jack completed the first four-timer of his career, with wins in both divisions of the Open Maiden. His two mounts, Man Of Means and Direct Flight were making their British racecourse debuts and with Jack currently riding with so much confidence, their successes were never in doubt. Man of Means is trained by his brother-in –law, Tom Ellis, and had one run in Ireland  but as with all Tom's maidens, had been expertly schooled. Jack's integral association with the stable is a definite plus and although there was some novicey jumping early on, the 5yo warmed to the task in hand and came away to win by five lengths from an improved performance by Andrew Pennock's Urban Waltz.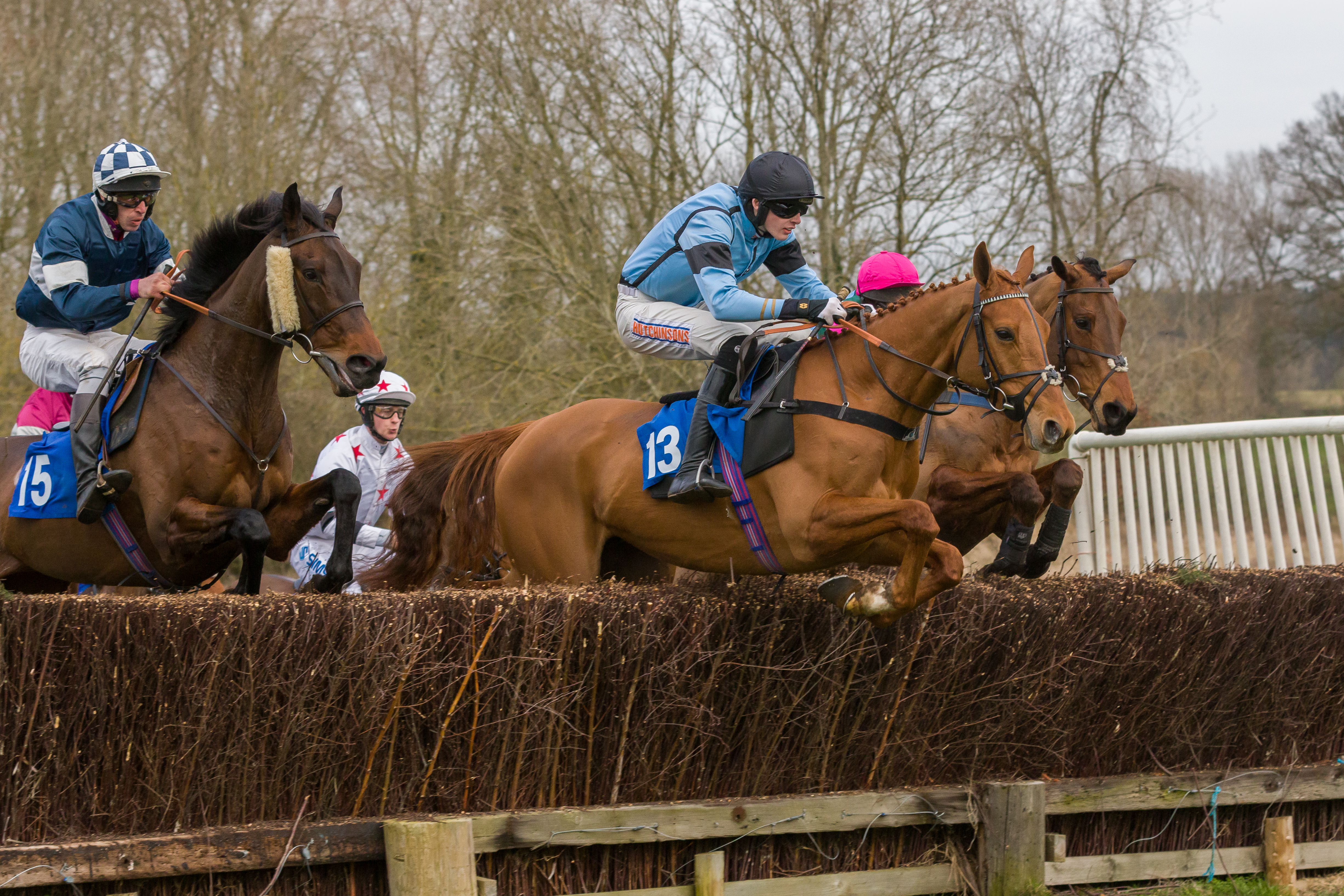 Man Of Means and Jack Andrews winners of the Open Maiden Division One
Direct Flight is owned and trained by Nigel Padfield who has been associated with the Andrews' family success, over many years. Another really promising racecourse debut from this Irish-bred youngster who will be skilfully placed to add to the success rate of Nigel's yellow with navy blue hoop colours.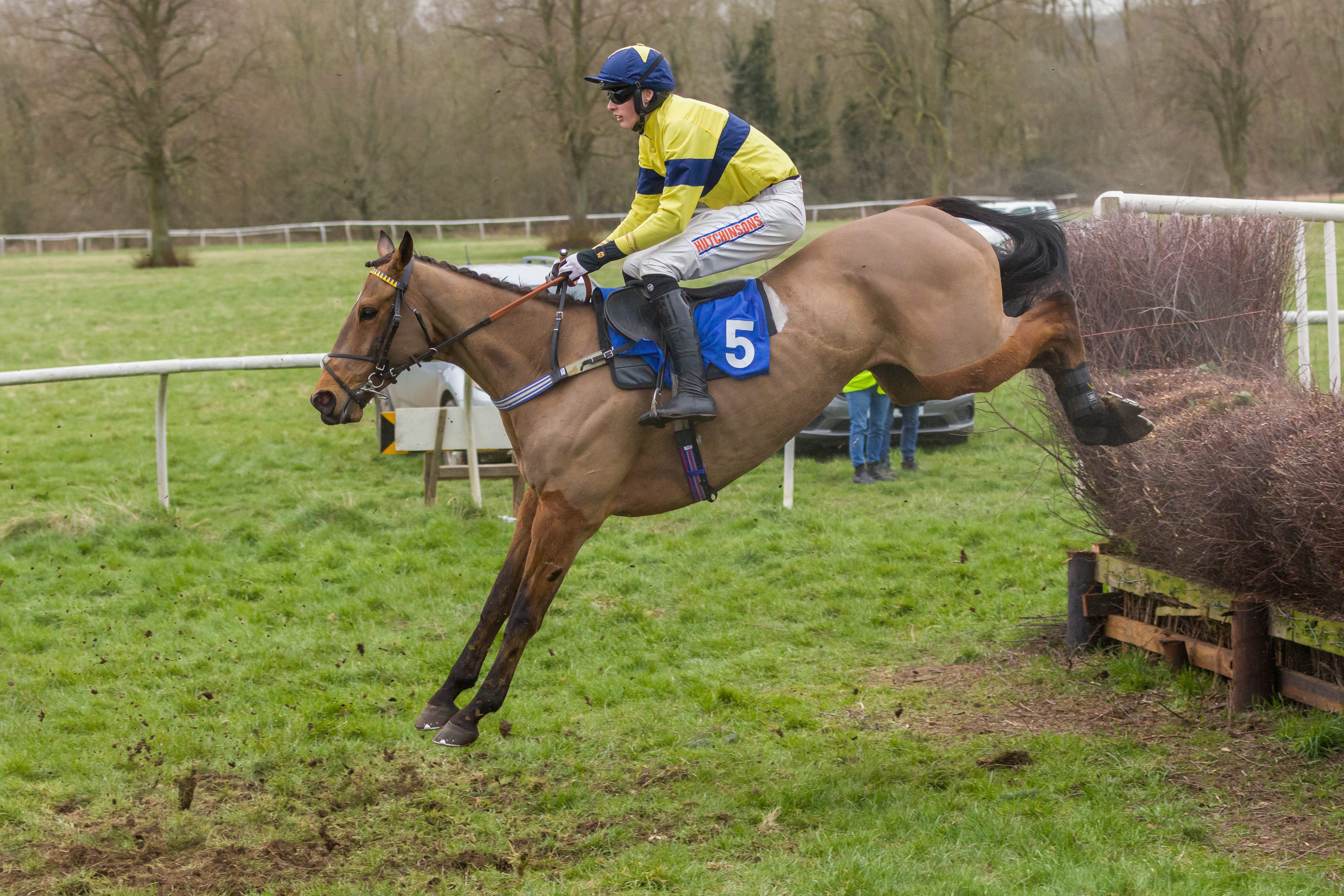 Direct Flight clear winner of Division Two of the Open Maiden to give Jack Andrews his fourth win of the afternoon.
Fittingly, Jack won the Hugh Hodge Perpetual Trophy for the leading rider at Ampton, this season. Hugh would have been so proud of what his grandson has achieved already, in his career to-date.
Huntsmans Jog followed up his January, Ampton victory, with another win, this time, in the Intermediate race. Liam Harrison brought Don Cantillon's 6yo through to take the lead, on the run-in. After winning his maiden, here, unchallenged, this was always going to be more competitive affair and according to Liam that is the reason he made sure his mount was not hustled during the race, with the possibility of making unforced jumping errors. Benefaktor and Gina Andrews employed their customary front-running tactics and rounding the final bend Huntsmans Jog was only third but from here on in Liam "needed to get busy with him" and as it was, they arrived very late but with a well-timed challenge over the last obstacle to win by three-quarters of a length from Benefaktor with Higham winner, Normofthenorth a further length away.
This personable and eloquent young man, Liam Harrison, will be one to follow in the professional ranks in the very near future. Having just completed his conditional course at Newmarket, Liam will remain an amateur until probably May and being attached to Fergal O' Brien's very successful outfit he will have plenty of chances to show his talent, on the bigger stage. Liam was only available at Ampton because of the abandonment of Sandown's Imperial Cup card in which he had a ride in big race. This followed another disappointment when having a live chance in the Eider 'Chase at Newcastle recently which was also called off. Minor set-backs in the scheme of things and with the possibility of some Cheltenham Festival opportunities, life couldn't be better for young Liam.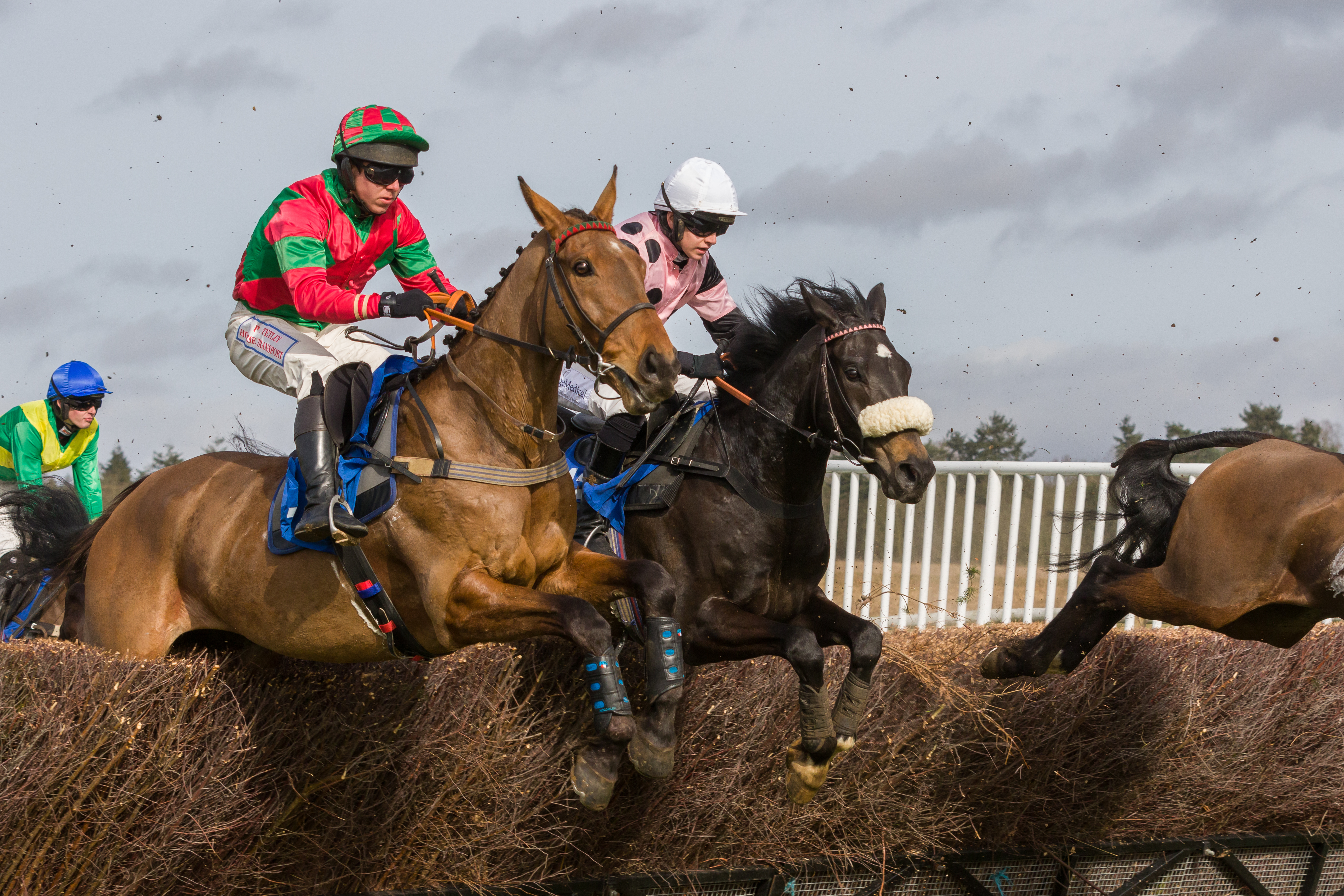 Hunstmans Jog and Liam Harrison (right) on their way to victory in the Intermediate race
The Ladies Open was another close affair with Changeofluck and Izzie Marshall just holding Darius Des Bois and Frankie Flinton, in a driving finish, by a length. The winning partnership was always up in the lead or sharing it with the favourite Pass the Glass and it was the stamina of the Alan Hill-trained 12yo which saw him outstay all challengers, up the testing Ampton finishing hill.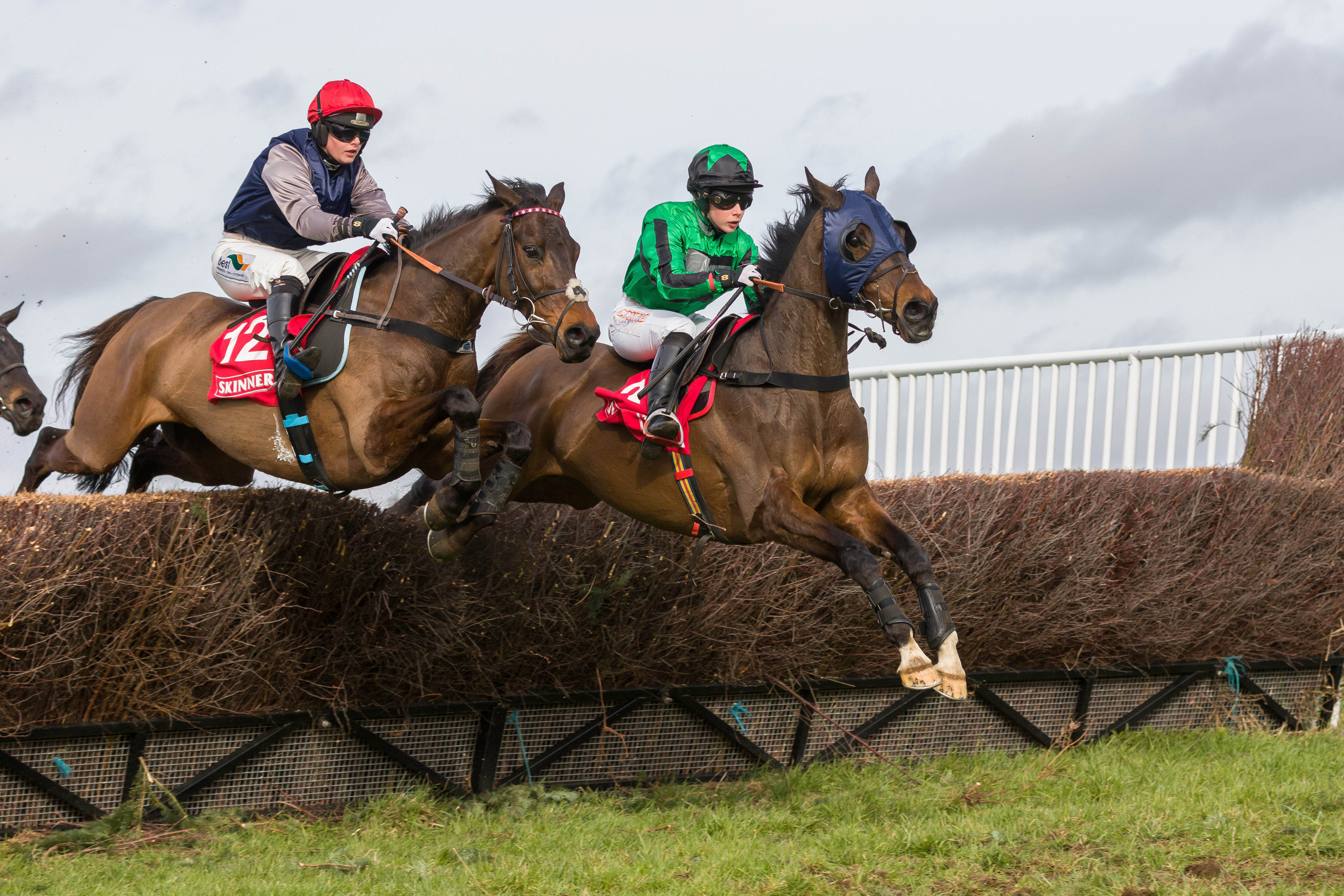 Changeofluck and Izzie Marshall (right) successful partnership in the Ladies Open race.
Alan Hill was responsible for another winner when Knight Batchelor and Henrietta Cranfield gained due compensation for their unfortunate disqualification, at the previous Ampton meeting, in the Novice Riders race. Sent off favourite, the pairing's superior fencing saw them triumph by a length, over Fox Valley. Henrietta was recording her second career win and was extremely pleased for her willing partner, Knight Batchelor. "he so deserved this win" following his Ampton mis-fortunes and after finishing 2nd at  Higham, which was probably not testing enough and Henrietta was suffering from a touch of 'flu' that day. Henrietta only has the chance to ride out once a week, on average, because of the demands of her busy working life as a lawyer in London and thoroughly enjoyed, once again, the thrill and excitement of riding a winner.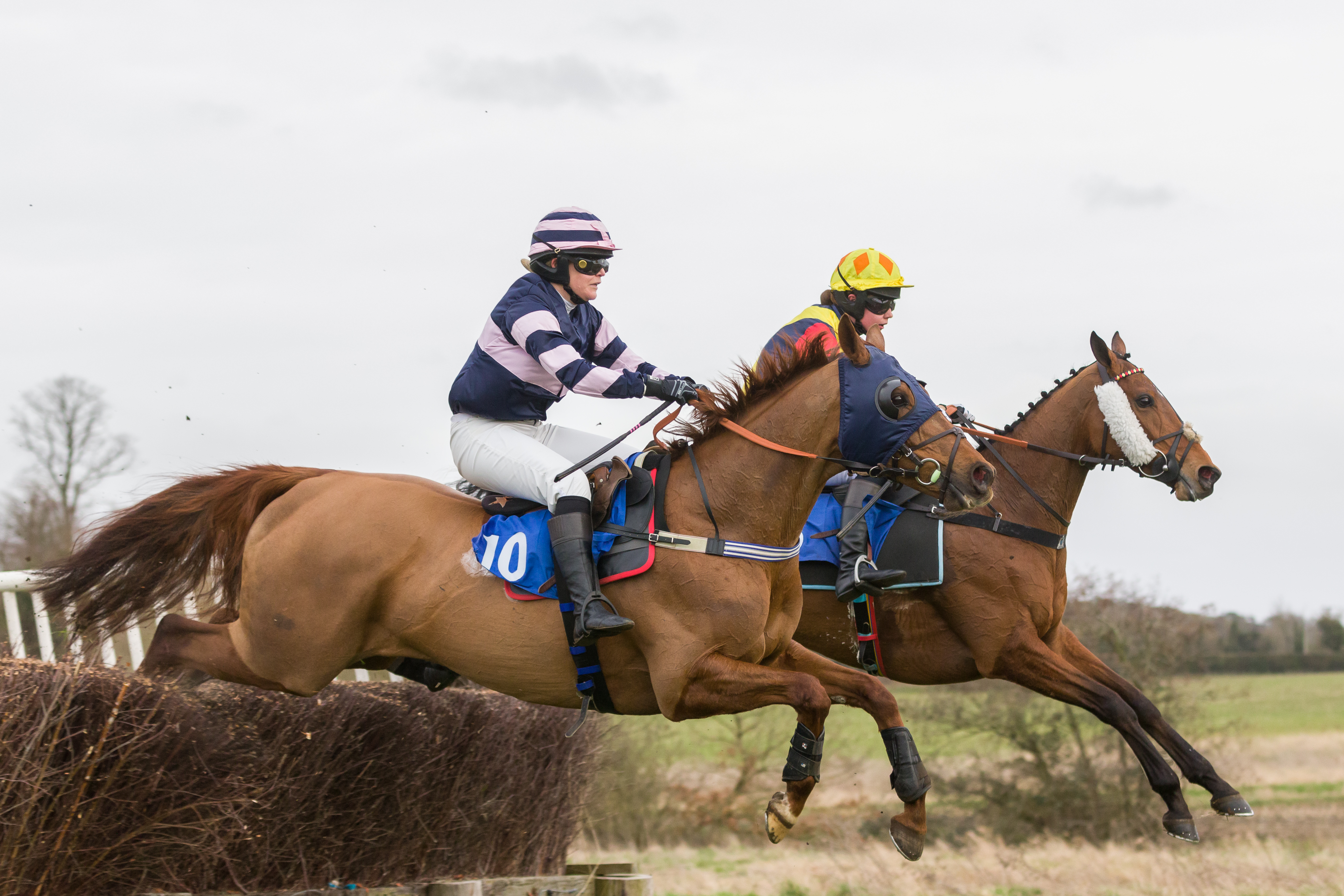 Knight Batchelor and Henrietta Cranfield popular winners of the Novice Riders race
A fine day's racing concluded with an emotional Ruth Pennock leading in her "favourite family pet" Somme Boy, after his Hunt race victory. Breathing problems aside, provided ground conditions and the pace of the race are conducive, this 9yo has a turn of speed which he demonstrated, as he and Sam Lee caught and passed their two remaining rivals, at the last fence. This might have been only Somme Boy's third win in five years with the Pennock stable but the sheer joy of this success for Ruth, Andrew and son Henry, was there for all to witness.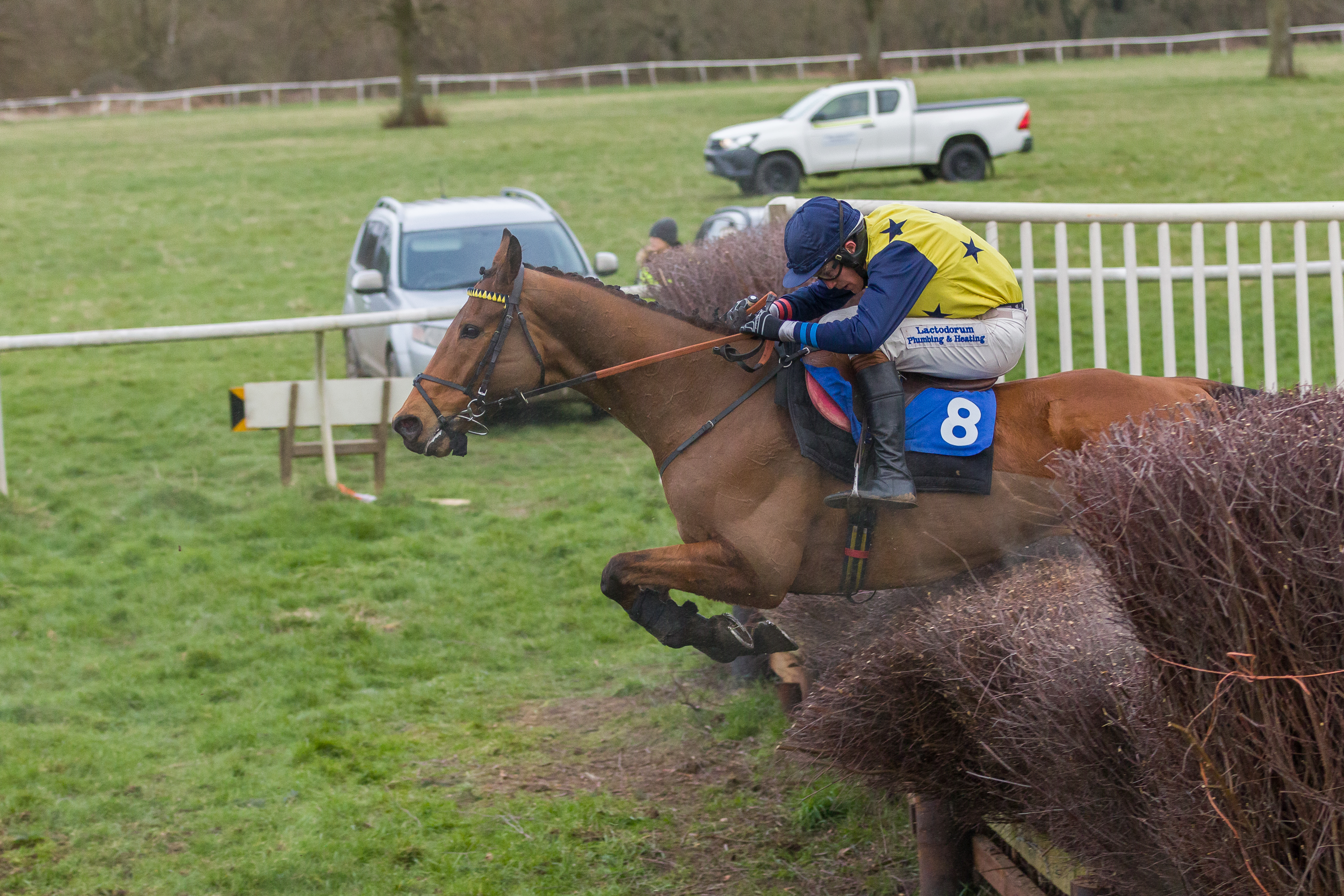 Somme Boy and Sam Lee winners of the Suffolk Hunt Members race
Happy scenes for Ruth and family in the same winners' enclosure that Jack Andrews had graced four times earlier, in the afternoon.
ALL PHOTOGRAPHS COURTESY OF AND AVAILABLE FROM GRAHAM BISHOP PHOTOGRAPHY.
SUFFOLK HUNT RESULTS at AMPTON
GOING: SOFT: GOOD TO SOFT in places
10yo and over East Anglian Veteran Conditions
1st GENEROUS RANSOM ( Jack Andrews) 4/1
2nd Gunmoney ( John Russell )  7/1
3rd Kashmir Peak  ( Dan Cherriman)    2/1 Fav
Also: Liitle Windmill 8/1 (4th), After Hours 11/4 (5th),
Abbey Lane 33/1 ( 6th), Brians Well 40/1 (7th),
Cooladerry King 25/1 (pu), Dream Doc 10/1 (pu),
Hawkhurst 10/1 (ur), Virgo The First 40/1 (pu)
Time: 6 mins 27 secs Distances: ½L, 1½L       11 ran
Intermediate
1st HUNTSMANS JOG ( Liam Harrison )      5/4 Fav
2nd Benefaktor ( Gina Andrews )                    6/4
3rd Normofthenorth ( Charlie Marshall )         4/1
Also: Beggars Bush 20/1 (pu), Calderone (40/1 (pu),
Florella 20/1 (pu), Lightonthemountain 25/1 (pu),
Multimedia 16/1 (pu), Shamat 10/1 (pu)
Time: 6-27         Dists: ¾ L, 1L                 9 ran
Ladies Open
1st CHANGEOFLUCK (Izzie Marshall)      9/4
2nd Darius Des Bois  ( Frankie Flinton )      11/4
3rd Sa Kaldoun ( Antonia Peck )                  14/1
Also: Pass The Glass 7/4 Fav (4th), Allbarnone 12/1 (pu)
Chosen Rose 7/1 (pu), Jac The Legend 40/1 (pu),
Mercers Court 10/1 (pu),
Time: 6-26      Dists: 1L, 8L                      8 ran
Mens Open
1st TULLYS TOUCH ( Jack Andrews )               1/2 Fav
2nd Lancillo Lord ( Tommie O' Brien )       5/1
3rd Steeles Terrace ( Alex Chadwick )         3/1
Also: Franks A Million 20/1 (4th ), Finnegan's Hollow 40/1(ur)
Time: 6-48      Dists;  1 ½L, ½L                5 ran
6yo and over PPORA Club Members Novice Riders Conditions
1st KNIGHT BATCHELOR ( Henrietta Cranfield )      7/4 Fav
2nd Fox Valley ( Natalya Irvine )                      9/2
3rd After Aspen ( Luke Scott)                           7/2
Also: Amigo 5/1 (4th), Bi Quinin Tiep 16/1 (5th),
Groundunderrepair5/2 (6th), Ballygrooby Bertie 20/1(pu)
Time: 6-41   Dists: 1L, 8L                        7 ran
 Open Maiden (Division One)
1st MAN OF MEANS ( Jack Andrews)            4/6 Fav
2nd Urban Waltz ( Sam Lee )                      4/1
3rd Bit Of A Legend ( Will Hickman )        10/1
Also:  Advance To Go 7/2 (f), Kilrane Road 7/2 (pu)
Mega Mani 33/1 (pu), Quietly 14/1(pu)
Time: 6-49  Dists: 5L, Distance                      7 ran
Open Maiden (Division Two)
1st DIRECT FLIGHT ( Jack Andrews)           3/1
2nd Lough Derg Sunrise ( Sam Lee)                9/2
3rd  Tous En Coeur  ( Harry Homer )              7/1
Also: Annie Flower 7/2 (4th), Hally's Kitchen 20/1 (pu),
Red Vita 8/1 (pu), Rum Ration 12/1 (pu), Vamanos 5/4 Fav (pu)
Time: 6-48  Dists: 1½L, ¾L                           8 ran
Suffolk Hunt Members, Subscribers & Farmers
1st SOMME BOY  ( Sam Lee)                  6/1
2nd Midnight Cowboy ( Rupert Stearn )   4/6 Fav
3rd Namako  (Georgie Benson )                7/4
Also: Autumn Haze 10/1 (pu), Haut Bages 8/1 (pu)
Time: 6-42    Dists: ½L, 1½L                       5 ran