POINT-TO-POINT REPORT
HIGH EASTER RACING CLUB, HIGH EASTER, SUNDAY MARCH 15th 2020
BY MIKE ASHBY
It was business as usual at High Easter on Sunday with the High Easter Racing Club meeting taking place as scheduled. The word, however, around the enclosures indicated that the season's proceedings may soon be halted and currently enthusiasts await further updates. Meanwhile next Saturday's East Anglian fixture, the West Norfolk fixture at Fakenham racecourse has definitely been abandoned, in response to the current national situation.
It was also very much business as usual for the Andrews' siblings, Gina and Jack, who enjoyed three winners on the afternoon between them; two for Gina and one for Jack. Both are leading their respective national rider's championships with Gina about to land her 7th lady rider title whilst brother Jack, is seeking his first, the male equivalent. Gina's two successes came courtesy of the lightly-raced, mare Tiger's Song, in the shorter, 2.5mile Restricted race and Sugar Baron who dictated, from the front, in the marathon 3.75 mile Conditions event. Tiger's Song was taking part in only her 4th career race but showed speed as well as greenness but more importantly stayed on well to give Gina her 21st winner of the season. The mare might be fragile but so were possibly Gina's nerves when a wrong number was announced as the winner, as the eventual finish was extremely close !  The 7yo mare had won and overcome Bold Gesture on the run-in to gain the verdict by a head.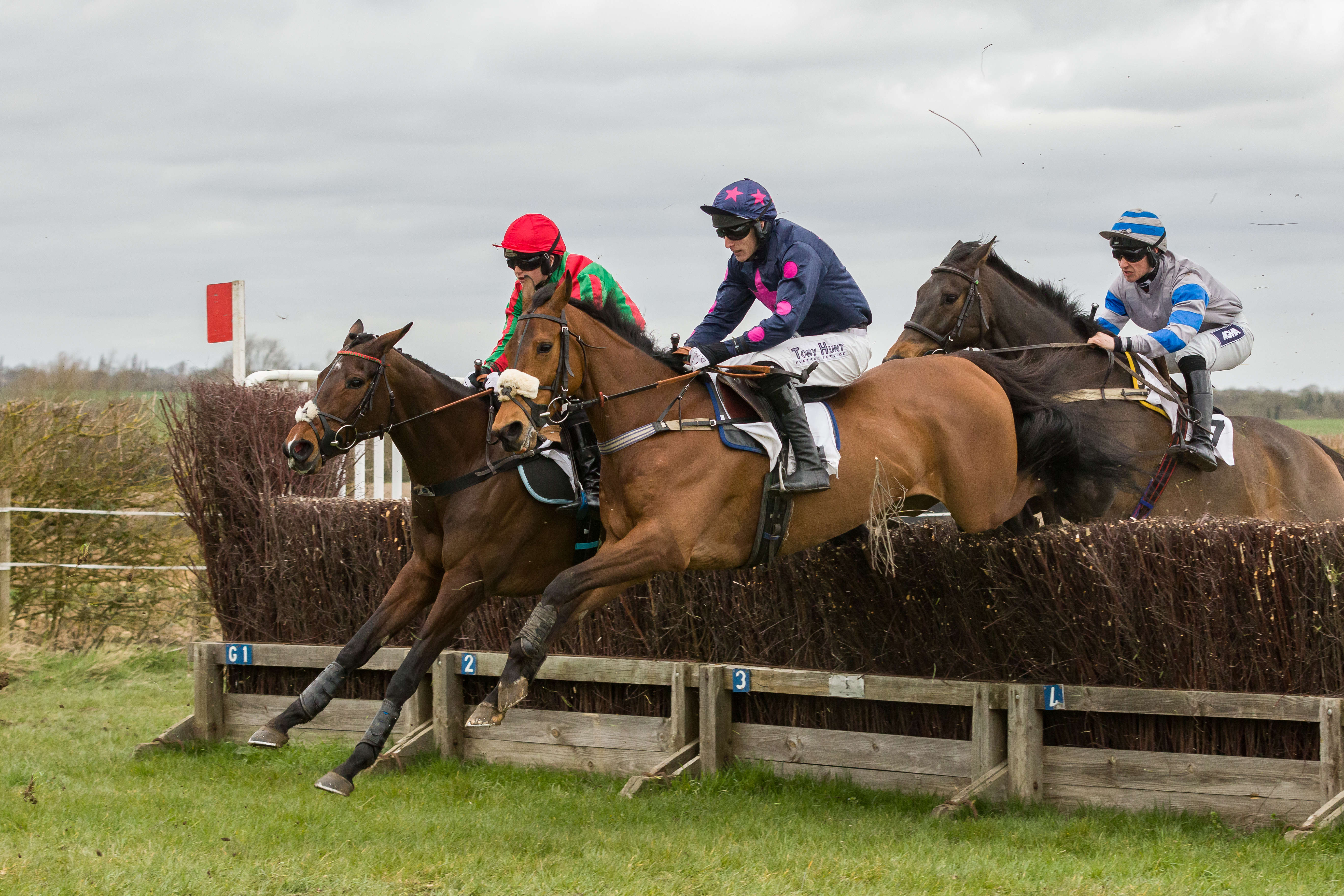 Eventual winners TIGER'S SONG and GINA ANDREWS (left ) contest the lead with BONAMARGY  and DALE PETERS in the Restricted race.
Sugar Baron had been a 'big' race performer for Nicky Henderson under rules running at the Cheltenham Festival, contesting Whitbreads at Sandown as well as lining-up for the Scottish National, during his time with the top stable. All these were over extended distances, so on his pointing debut for Nick Wright when 2nd behind Just Cause on an easy 3 miles at Higham, in January, probably wouldn't have been demanding enough for the 10yo. Here, however, he looked as he could round again after seeing off his rivals by seven lengths and with Gina fully confident of his staying ability, nobody else got a look in, during the race. With Archie Wright still side-lined Gina was quickly on the phone to Nick Wright, as soon as the entries came out, requesting the ride and it proved to be the correct decision. It was the first time Gina had sat on the horse and winner number 22 of the season was secured.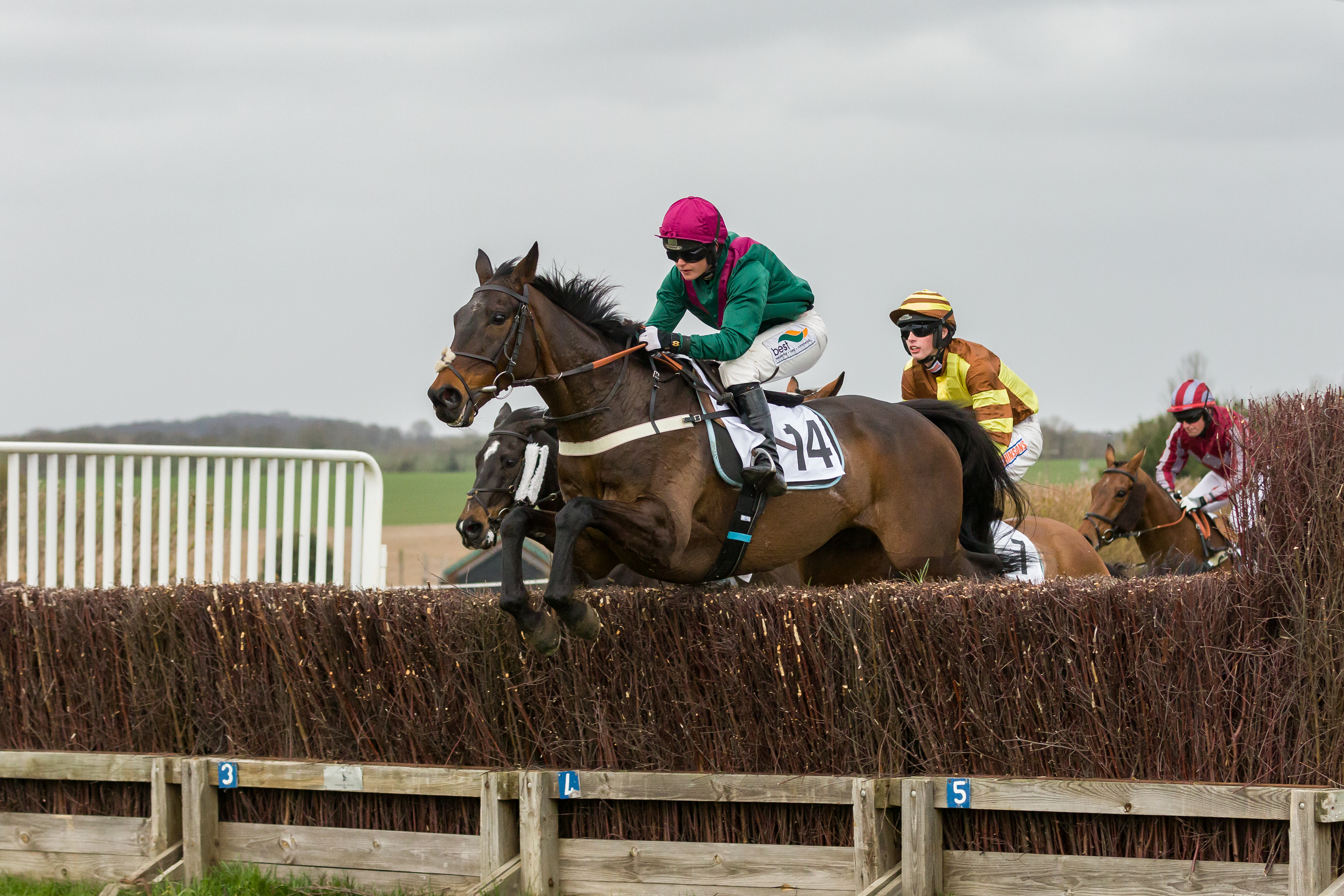 SUGAR BARON and GINA ANDREWS winners of the CA Club Members Conditions race 
Jack made it look very easy, in the Mixed Open, on the odds-on favourite Volnay de Thaix, timing his run to lead at the last fence and win, going away, by four lengths. His main opposition came from sister Gina who picked up a spare ride on Early Retirement, after Tom McClorey was still shaken after his mount had run out through the wing, in the previous race. Winner number 21 for young Jack.
Dicky Collinson returned to race-riding, after suffering concussion and a small fracture to his neck in a fall at Cottenham in February. Collinson was full of praise for the Injured Jockey's facility at Sir Peter O' Sullivan House at Newmarket in his recuperation and was also very complimentary about the High Easter course conditions which produced 72 runners, on the day.His mount, the Andrew Pennock trained, Luscious Lilly stormed through to win the concluding Open Maiden. Several young horses with massive potential were unleashed here and Berties Escape, admittedly in receipt of 18lbs from most rivals, gave an extremely satisfying performance in the eyes of an ecstatic part-owner, Clerk of the Course, Simon Marriage. Nigel Padfield's Howitsdone who had run 2nd in a recent Charing Maiden had to settle for the runners-up spot again but was only beaten a half a length. David Kemp's How To Get Away was up with the leading pack throughout but had run his race, this his racecourse debut, when Dale Peters pulled him up approaching the last fence.
Andrew Pennock has had remarkable success with his wife Ruth ever since they moved their operation to Timworth, based on the Ampton Hall estate near Bury St. Edmunds. They took two runners to High Easter and had Bold Gesture just beaten by a head in the 2 ½ mile Restricted race but this winning moment came with Luscious Lilly, justifying being made favourite, gaining the upper-hand on the run-in. This winner for the Pennock's was their 131st since moving to Timworth and has been achieved, not only from sheer hard work but with the care and the love for their horses, very much part of the daily routine.
Rocklander justified top-rating in the The Jockey Club & Retraining of Racehorses Veteran Horse Conditions event and Dale Peters never experienced too many concerns, apart from having to side-step a fallen horse, on the first circuit. The pairing took the race by the scruff of the neck, at the final open ditch and comfortably repelled Thetalkinghorse by four lengths.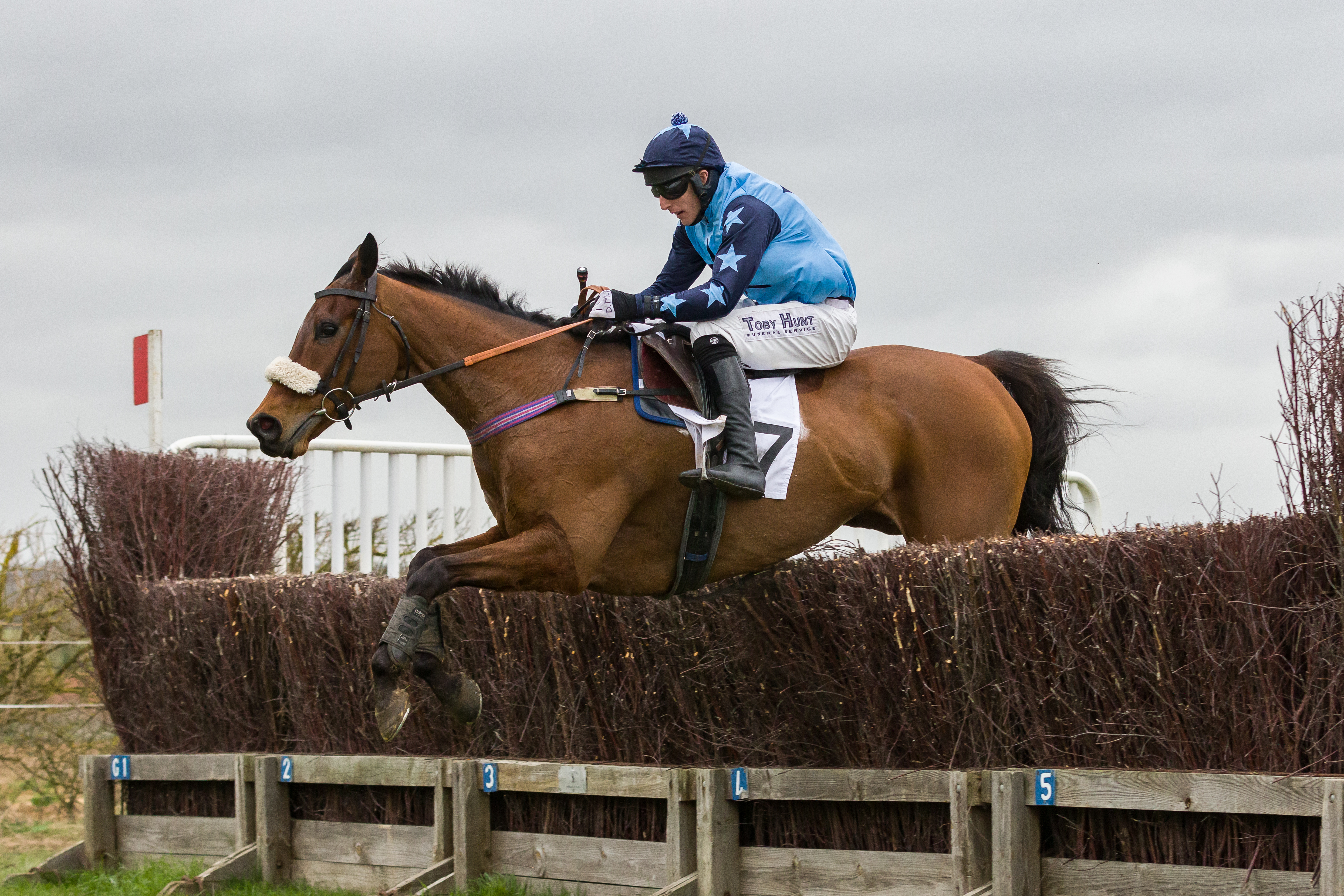 ROCKLANDER and DALE PETERS winners of the Veteran Horse Conditions race
The opening Novice Riders contest went to Perfect Pirate, trained and ridden by Paige Topley, giving her a fourth success of the season and a winner on her initial visit to High Easter. Paige, works for trainer Ben Pauling and Ben's wife, Sophie owns Perfect Pirate and the partnership were following up their Bangor-On Dee win in January, in a similar event.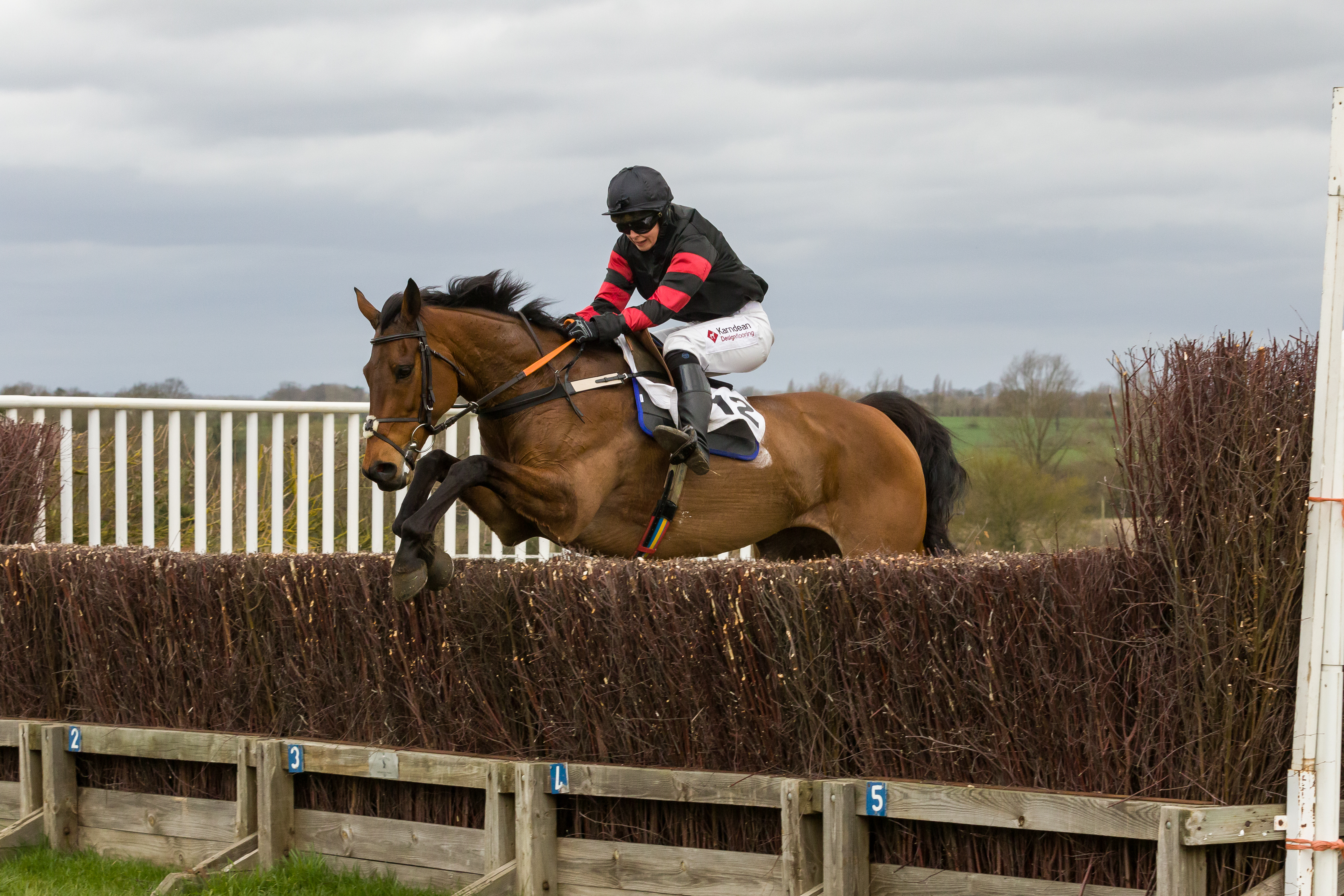 PERFECT PIRATE and PAIGE TOPLEY winners of the Novice riders race
Further information will be forthcoming as this week progresses, regarding the point-to-point season but in the meantime High Easter maintained the high standard of quality racing we have been fortunate to witness, in East Anglia, all season.
ALL PHOTOGRAPHS COURTESY  OF AND AVAILABLE FROM  www.gdbphotography.co.uk
HIGH EASTER RACING CLUB RESULTS
at HIGH EASTER
GOING: GOOD: GOOD TO SOFT in places
 PPORA Club Members Novice Rider Conditions
1st PERFECT PIRATE ( Paige Topley) 9/4 Fav
2nd Earlshill ( Lucy Burton )  4/1
3rd Master Ally  ( Harry Thorpe-Codman)    10/1
Also: Supreme Danehill 5/2 (4th), Enjoy Responsibly 4/1 (5th),
Brave Encounter 8/1 ( 6th), Essteepee 16/1 (7th),
Max My Boy 25/1 (8th ), Curragh Hall 33/1 (9th),
Ballygrooby Bertie 33/1 (pu), Legend To Be 33/1 (pu),
Susquehanna River 5/1 (pu)
Time: 6 mins 46 secs Distances: 3L, 7L       12 ran
Restricted ( 2 miles 4 furlongs )
1st TIGER'S SONG ( Gina Andrews )           2/1 Fav
2nd Bold Gesture (Charlie Marshall)              3/1
3rd Rebel Collins ( Phil York )                       6/1
Also: Bonamargy 5/1 (4th), Josh The Plod  7/1 (5th),
Bulfin Island 25/1 (pu), Draft Pick 9/1 (pu),
Elusive Classic 40/1 (pu), Mega Mania 40/1 (pu),
Racing Eagle 8/1 (pu), Samarinta 25/1 (pu),
Sandygate 16/1 (pu), The Glover 16/1 (pu),
The Triple Pillar 4/1 (ro)
Time: 5-27         Dists: Head, 4L                 14 ran
Mixed Open
1st VOLNAY DE THAIX (Jack Andrews)   4/7 Fav
2nd Early Retirement  (Gina Andrews )        4/1
3rd Dont Do Mondays ( Izzie Marshall )       5/1
Also: Sam Reed 12/1 (4th), Expedite 20/1 (5th),
Easter Day 33/1 (6th), Benefit Of Luck 6/1 (pu),
Carole's Vigilante 25/1 (pu), Take To Heart 12/1 (pu),
Weather Warning 20/1 (pu)
Time: 6-44      Dists: 4L, 3L                      10 ran
The Jockey Club & Retraining of Racehorses Veteran Horse Conditions
1st ROCKLANDER ( Dale Peters )               11/10 Fav
2nd Thetalkinghorse ( Charlie Marshall )       7/4
3rd West Lake ( Gina Andrews )                    10/1
Also: Teeton Kato 6/1 (4th , dead ), Blackwood Rover 10/1(5th),
Dream Doc 20/1 (6th ), Cada Club 25/1(pu), Dunara Castle 20/1(pu),
Finnegan's Hollow 25/1 (pu), Subtitle 14/1 (fell), Teeton Turnip 8/1 (pu),
Wood Pigeon 16/1 (h'mprd & ur)
Time: 6-42 (one fence omitted injured jockey)  Dists;  4L, 4L     12 ran
Countryside Alliance Club Members Conditions (3 miles 6 furlongs)
1st SUGAR BARON ( Gina Andrews)             3/1
2nd King Of The Clothe ( Jack Andrews )      Evens Fav
3rd Newsworthy ( Dale Peters)                           7/2
Also: Distime 6/1 (4th), Spanish Fleet 12/1 (5th),
Cadeau George 20/1 (6th), Chicoria 20/1(pu),
Man Of Steel 12/1 (pu), Merrydown Black 20/1 (fell),
Zeroeshadesofgrey 8/1 (ref)
Time: 8-08 ( one fence omitted injured jockey)  Dists: 7L, 1½L        10 ran
Open Maiden
1st LUSCIOUS LILLY ( Richard Collinson)        5/2 Fav
2nd Howitsdone ( Jack Andrews )                         7/2
3rd Berties Escape ( Gina Andrews )                     7/2
Also:  Flemenskill  8/1 (4th), Shells And Signal 12/1 (5th),
Classic Ruler 10/1 (pu), Eau De Nile 25/1 (pu), Equus Flight 7/1 (pu),
Forest Ash 12/1 (pu), Great Vizier 8/1 (pu), How To Get Away 3/1 (pu),
Jack Lad 16/1 (pu), Jo Mahler 12/1 (fell), Kayfnightmare 12/1(pu),
Time: 6-48         Dists: ½L, 1L                          14 ran