REPORT OF THE PUCKERIDGE MEETING HELD AT HORSEHEATH RACECOURSE ON SATURDAY FEBRUARY 18th  2023
 By Mike Ashby
At 6ft 4ins tall, Jack Andrews, is a giant amongst his jockey colleagues. His winning treble at Horseheath represented a huge stride in his attempt to regain the national Mens' Championship title, he first won in the season 2019/20.
He has now ridden a total of 20 winners for the current campaign and is nearing the 150 point-to-point career winner mark and always quotes the Horseheath course as his favoured venue, where he rode his first winner in 2015. With another 16 weeks of the season remaining, his riding services will be constantly called upon, before it culminates in Devon in mid-June.
Andrews victory on Tullys Touch in the Mixed Open race was the sixth time the pairing have been successful together and no wonder Jack always refers to the John Ibbott trained 10yo, as one of his favourite racing thoroughbreds. Tullys Touch has given his winning partner more wins than any other individual horse. There was quality in the three runners in the race and there was only a head separating the winner and Just Your Type in a thrilling finish, with last month's course winner Ragnar Lodbrok a further 6 lengths away. Trainer Ibbott pointed out that his horse had coughed, after his seasonal debut at Ampton, which fully explains Tully Touch's disappointing run. After giving him a ten day break he was fine again and the Ibbott's "worked him hard last week", obviously to good effect, and owner Christina Blockley stepped forward to collect another winning prize, this being Tully's Touch's eleventh victory in her colours.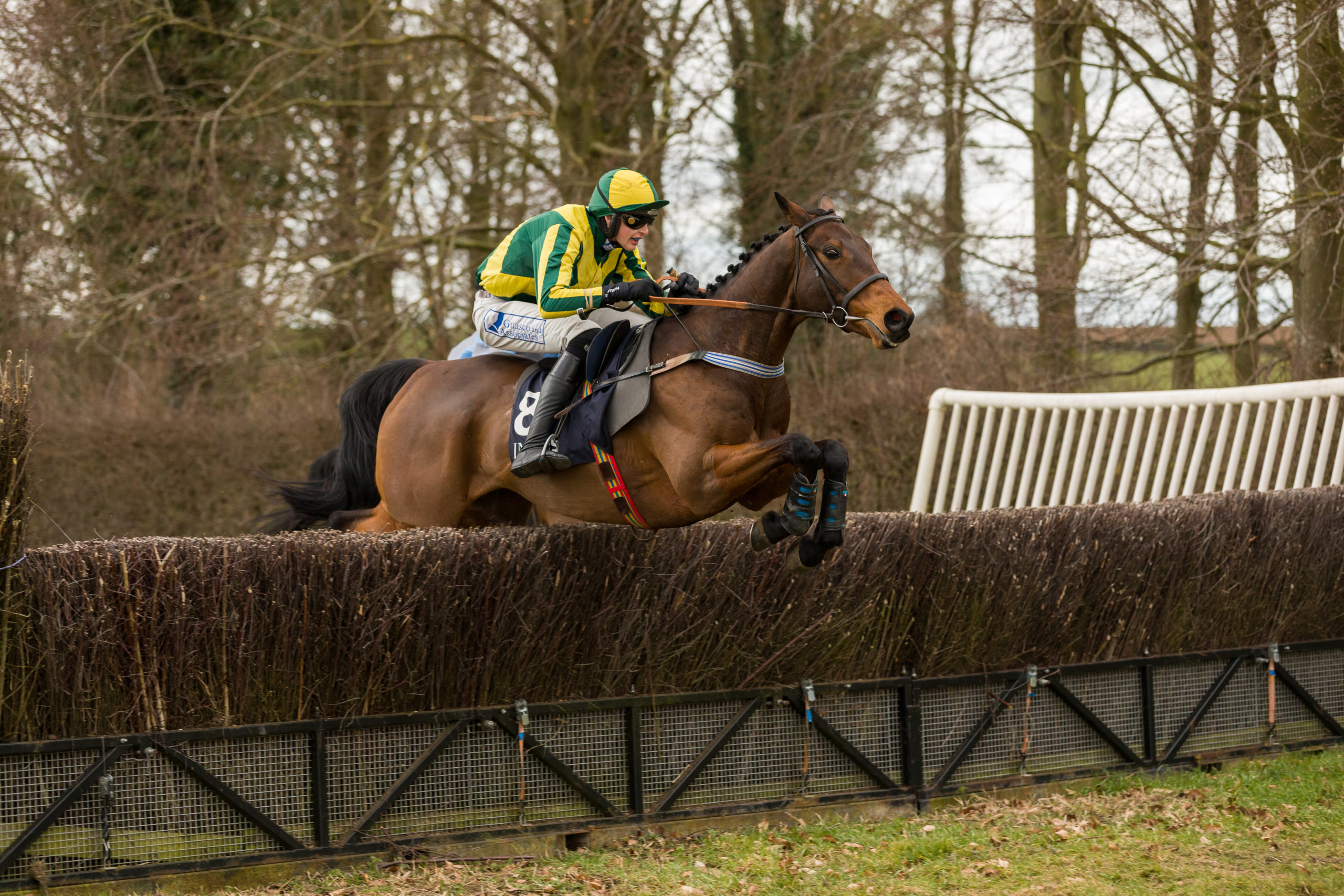 TULLYS TOUCH and JACK ANDREWS
Northamptonshire-based trainer Stuart Morris was responsible for Andrews' other two successes, namely Classic Ruler (Open Maiden race) and Meetuatnine (Intermediate). Both horses came with late challenges approaching the final obstacle and, equally, produced perfect jumps, to take the prizes and give Morris his first winners of the season. Classic Ruler according to his trainer "had been knocking on the door" in previous outings and Jack bided his time on the 9yo, with all three participants in the air together jumping the third last. From here Tango Pete and James King pressed for home but Classic Ruler was brought with a timely challenge at the last and the two battled it out on the Horseheath run-in with a ½ length separating them at the finish. Andrews' basic post-race comment "I left it late as I didn't want to be too aggressive with him too early". Max Comley, trainer of Tango Pete was equally pleased with his horse's performance and co-incidentally the first two home, had both been successful in 'bumpers' at Garthorpe during their early careers. Comley was confident his runner would like the ground, at Horseheath and is more than hopeful that his 6yo will win a race, in the not too distant future.  The Pier Field was made favourite for the race after his GB pointing debut at Ampton, last month, but the Andrew Pennock horse, which would have preferred easier ground conditions, was not in contention at the finish and came home in third place behind his two rivals. When there has been some rain around, to ease the ground, The Pier Field's winning turn will come.
Meetuatnine built on her recent 3rd place at Ampton, in the Intermediate race and Jack Andrews was more than content to sit behind their only opponent, the Andrew Pennock entry Sum It Up ridden by Charlie Marshall. Andrews observed "Charlie's horse was backing off at some fences and I was not prepared to assist them by jumping alongside". Another calculated, timed run towards the last saw the 6yo mare wing the obstacle and here the weight concession of 12lb proved decisive and Meetuatnine beat Pennock's 8yo by 1¾ lengths.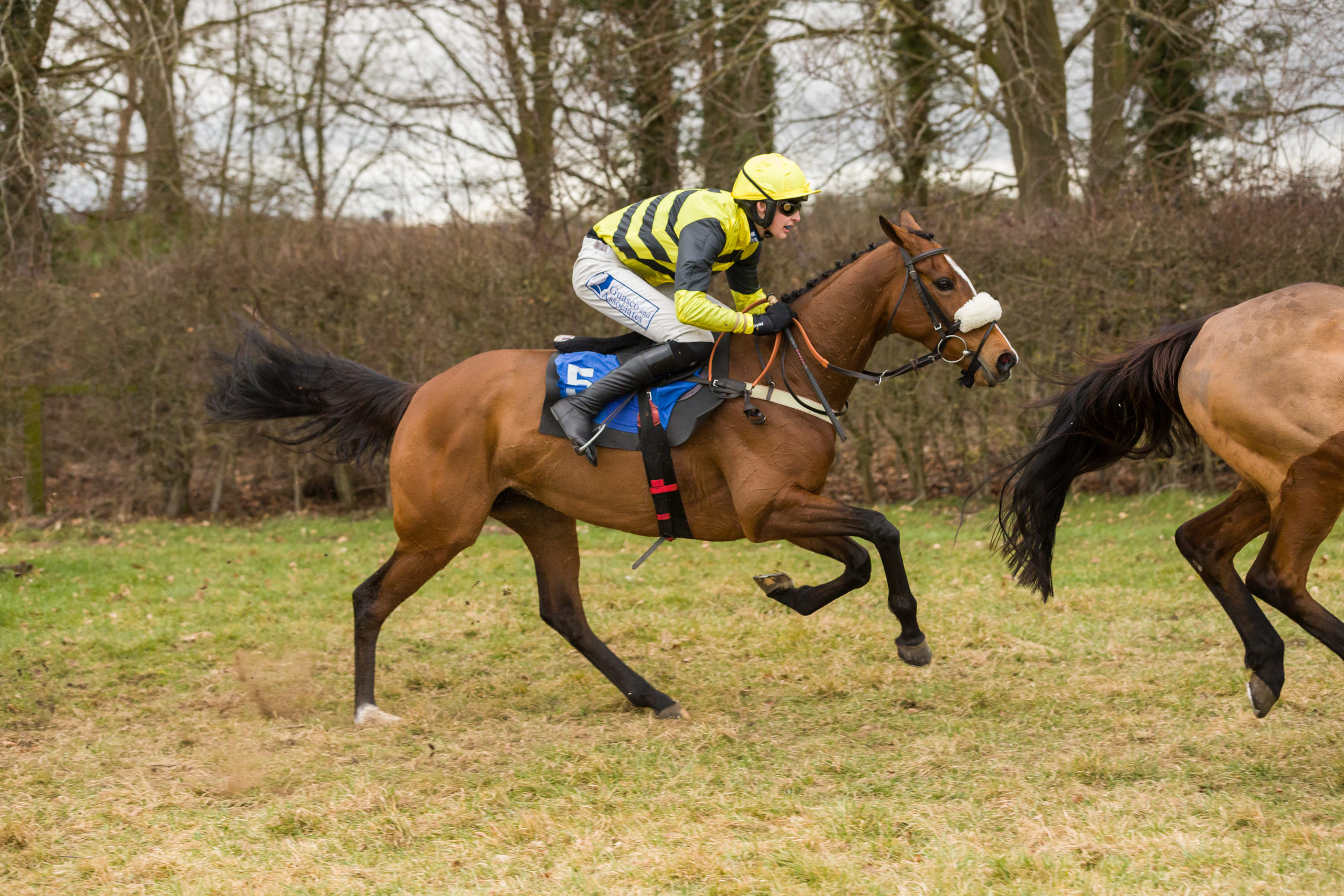 MEETUATNINE and JACK ANDREWS
Twilight Girl has been a revelation this season, when landing a hat-trick of wins, in the novice riders' race, and the 10yo mare gave Jamie Gambin his second career success. At eighteen years of age Jamie from Haverhill, works at James Owen's Hamilton Road, Newmarket stables together with riding out for several other yards during the week, gaining valuable experience, all the time. Delighted owner/ trainer, James Owen, is likely to make an entry for Twilight Girl, at Ampton in a fortnight's time, in a similar contest.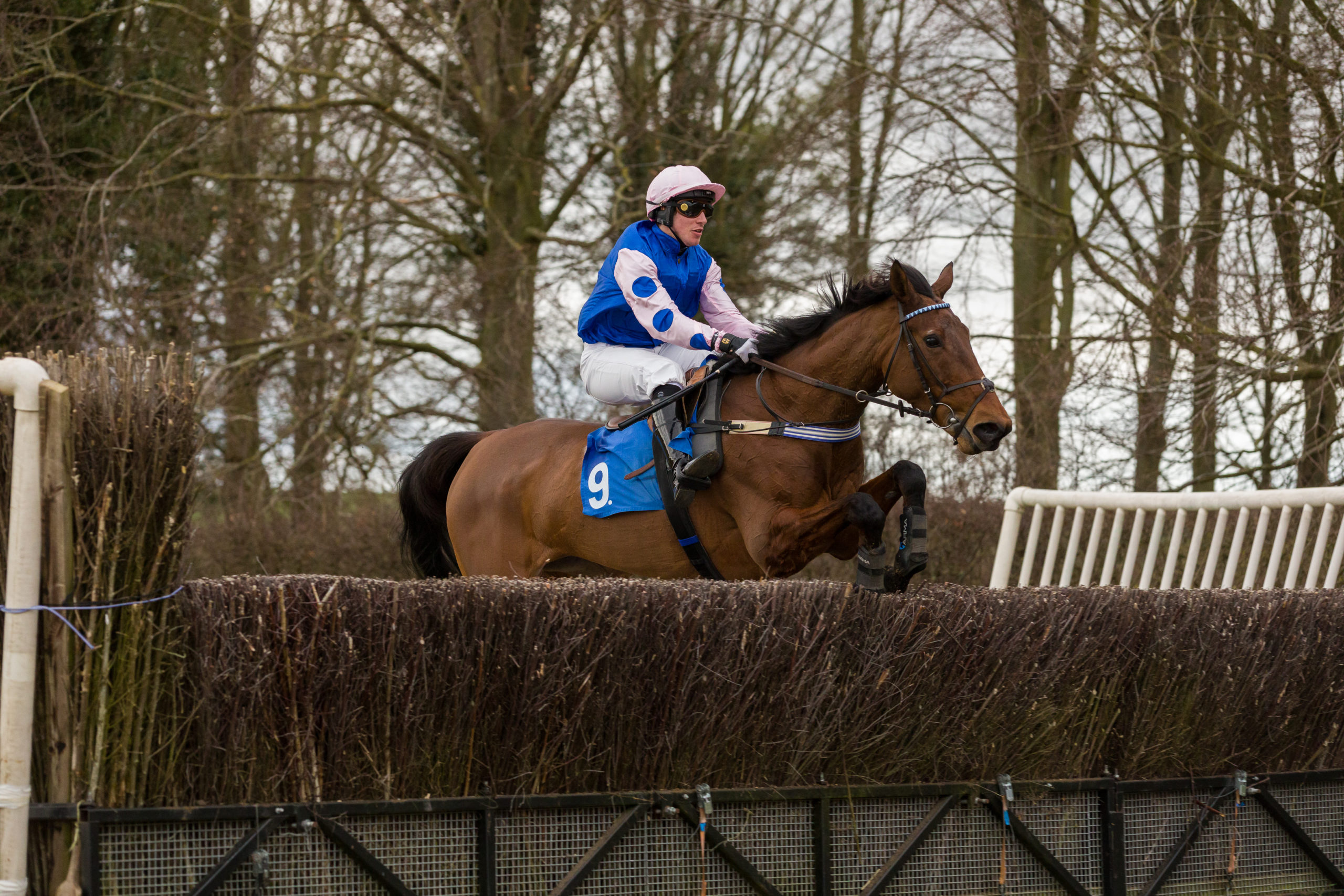 TWILIGHT GIRL and JAMIE GAMBIN
Kilbrew Boy and Charlie Case were all the way winners of the opening Conditions race. The pairing had been successful, together, in two amateur riders' 'chases at Wincanton in 2019 and 2020 but Ben Case's runner had according to Charlie "gone a bit sour" so a return to pointing, where he had started his career in Ireland, was an alternative. This win followed up his 2nd at the previous Horseheath fixture.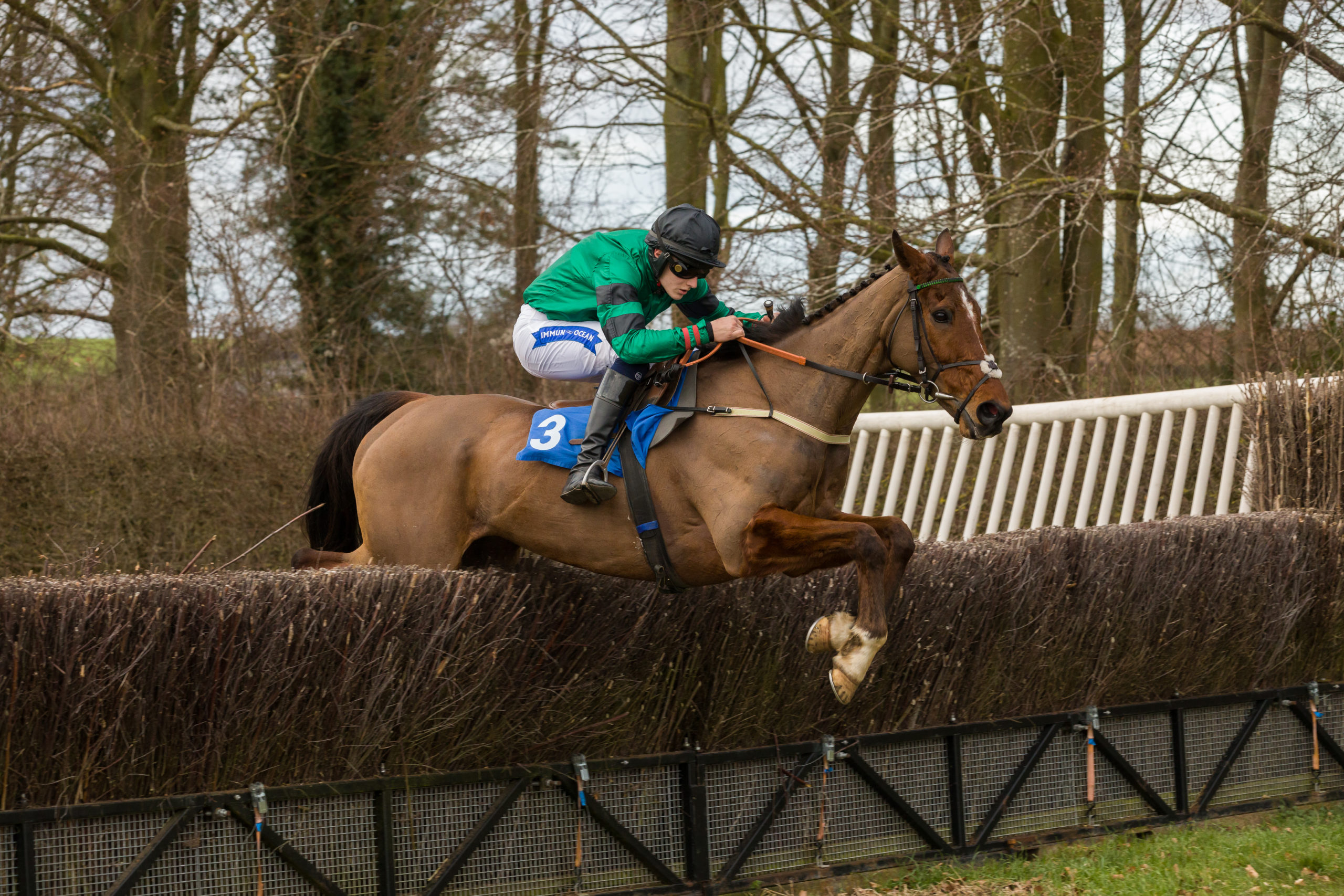 KILBREW BOY and CHARLIE CASE
The meeting concluded with Flashy Kate finally living up to her early promise when breaking her maiden tag in the Mares Only Maiden contest, which was another match race. Partnered by Charlie Marshall the pairing were never headed and although their only rival, Silvretta Schwarz, made some headway on them down the hill for the final time, their effort was short-lived and Flashy Kate came home unchallenged.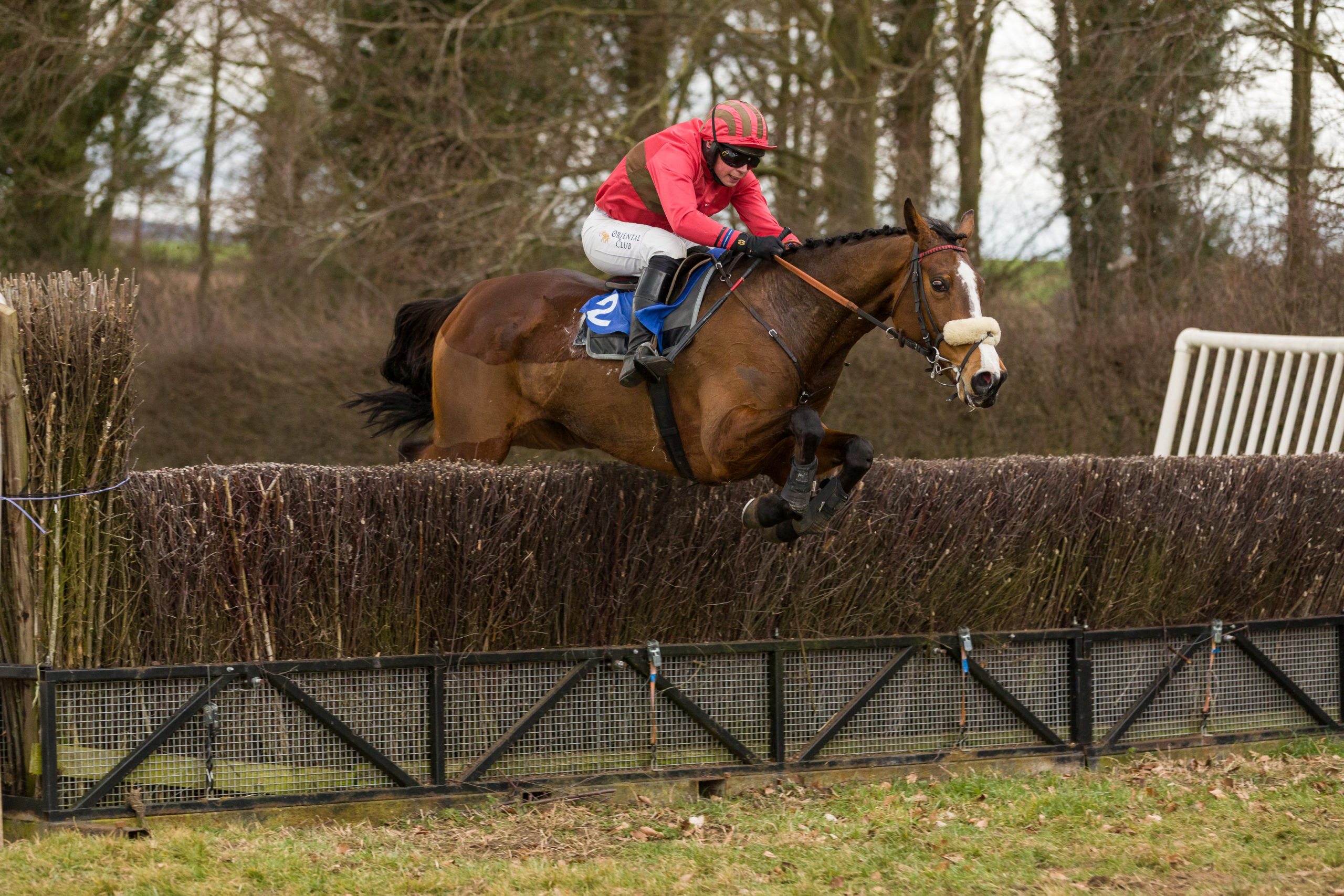 FLASHY KATE and CHARLIE MARSHALL 
Princeton Royale and Kate Gowing completed preliminaries in a walkover situation in the Ladies Conditions race as the fields, all afternoon, were affected by the current dry weather conditions. Every effort went into providing the best possible going conditions, but even professional courses are suffering a similar outcome.
Photographs courtesy of Graham Bishop Photography
www.gdbphotography.co.uk