Essex with Farmers and Union meeting at High Easter
Saturday April 15th 
 By Mike Ashby  
 There was more success for the husband and wife team, trainer Tom Ellis and jockey Gina Andrews when landing a treble at High Easter, where underfoot conditions were decidedly soggy.
 Continuous rain through the previous evening and night had left the course and car park areas saturated but thankfully the sunny intervals and drying wind, during raceday, improved the situation as the afternoon progressed.
The Ellis / Andrews' three wins came via Master Templar ( Conditions race), Fairly Famous ( Intermediate) and I'm Spellbound ( Members) . The latter two victories continued the remarkable ownership success of the Signy and Marriage Families, for this season.
Master Templar was always in the leading trio of the six runners who went to post but it was trainer Andrew Pennock's recent recruit, In Arrears, who made a move entering the meadow area, for the final time, in this 3 ¾ mile marathon contest. However, the Ellis-trained Master Templar had regained the upperhand when they by-passed the normal 2nd last, omitted all afternoon due to false ground, and stayed on strongly to hold Sugar Baron by 6 lengths, at the finish. This was the 8yo's seventh victory from ten outings and the addition of the cheek pieces was considered to be an added bonus to this performance.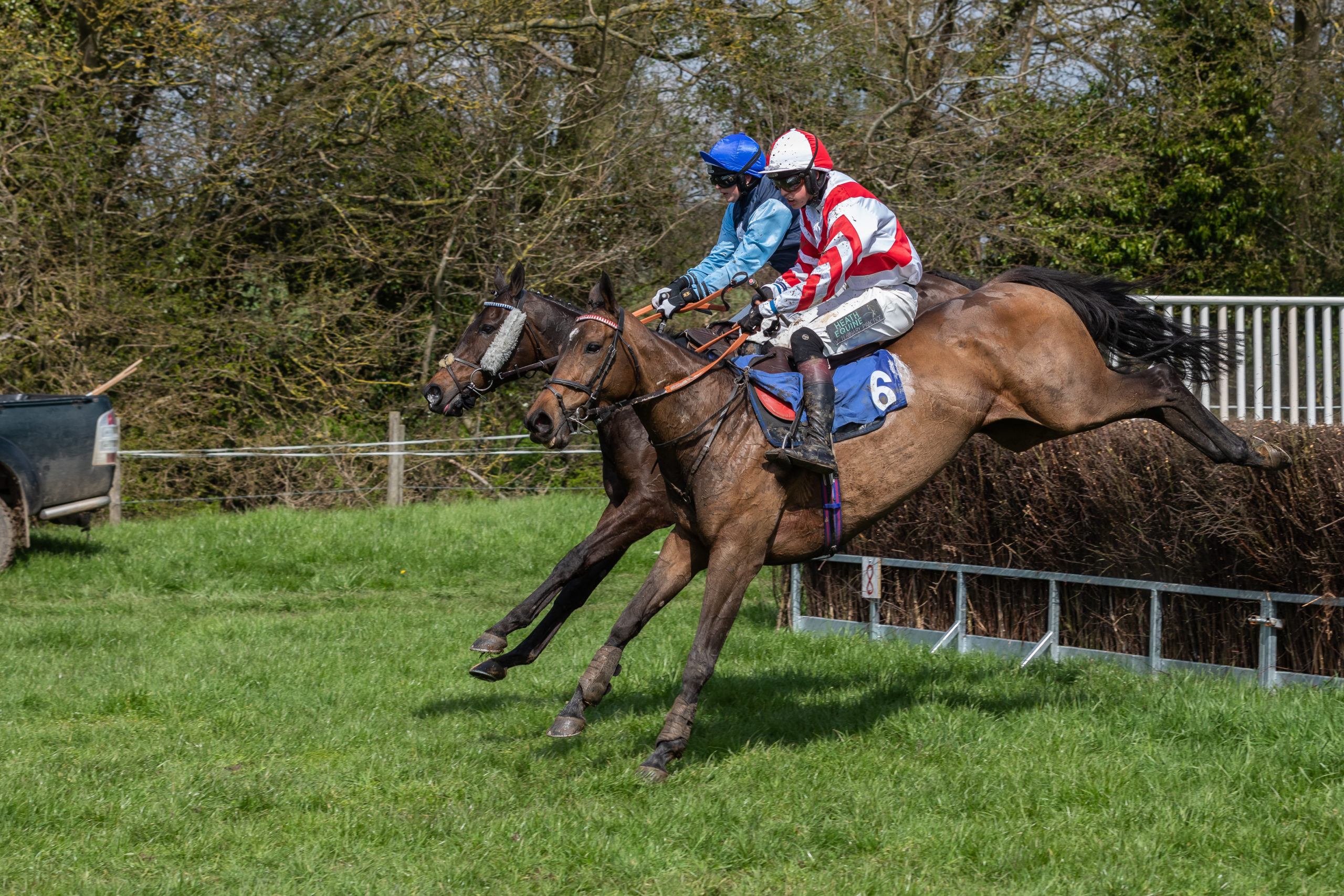 MASTER TEMPLAR AND GINA ANDREWS ( far side ) closely challenged by IN ARREARS AND PADDY BARLOW
The Signy and Marriage Families cannot believe their luck in the canny purchases made on their behalf, for this  season. Of the three horses they have acquired their colours have now visited the winners' enclosure on ten occaions. Fairly Famous victory made it 4 wins from 4, I'm Spellbound success was his 3rd from 4 races whilst Koyote has won 3 out of her 5 outings.
Fairly Famous required minimal effort to win the Intermediate race over a solitary rival in Bolamore Bridge. Not much is gleaned from a match race and in this instance Gina was contented to make it no more than a sensible schooling experience on safe ground.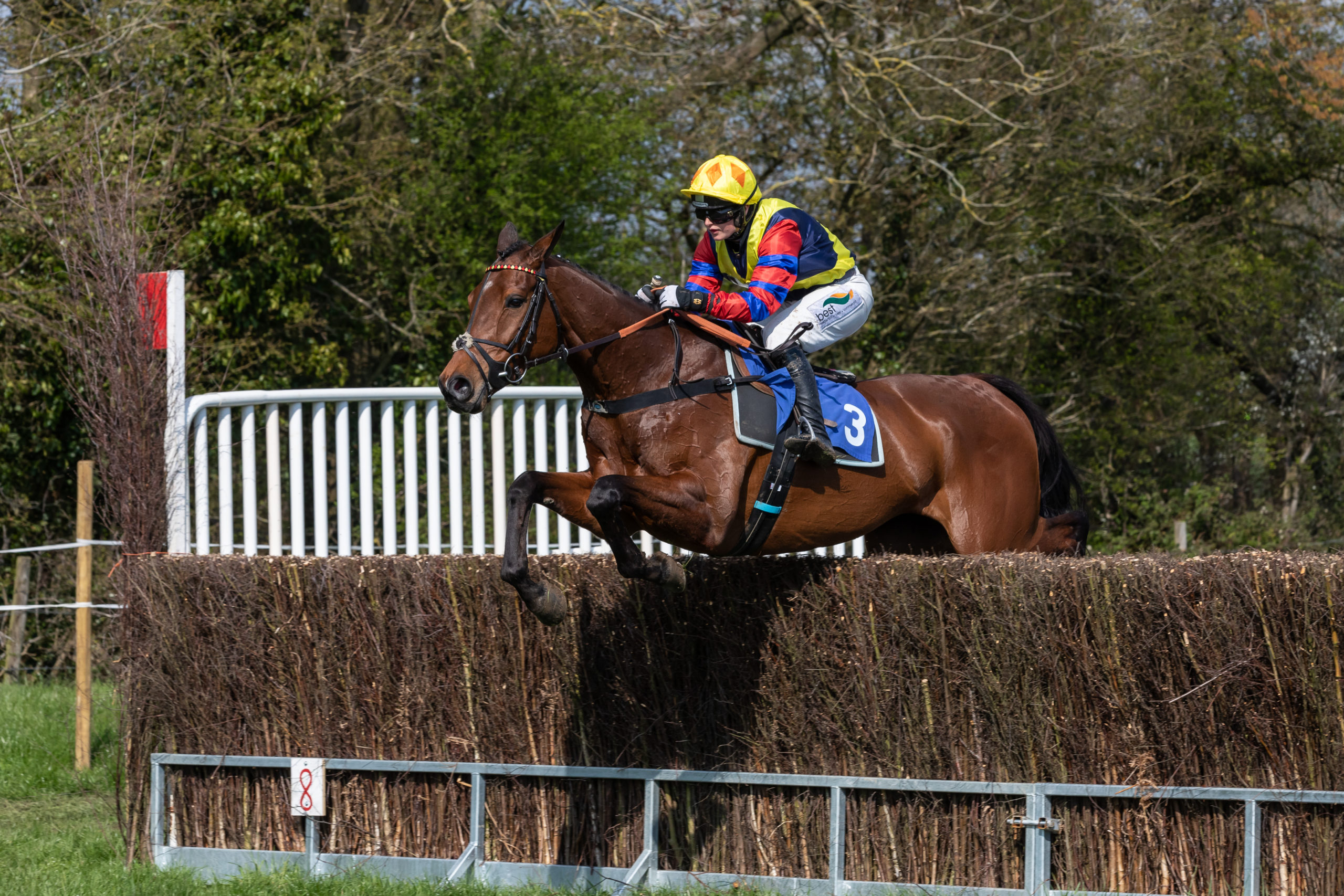 FAIRLY FAMOUS AND GINA ANDREWS
I'm Spellbound extended his winning sequence to three with another comfotable round in the closing Hunt Members' race. Fiddler Of  Dooney made all of the early running but a with effortless ease Gina and I'm Spellbound jumped alongside at the 3rd last and the race was over with 15 lengths, the official winning distance. Fiddler Of Dooney was making his seasonal debut after making ten appearances last season. Apparently, the 10yo suffered a broken knee last summer, when spooked during a bad storm, whilst out in the field. Considering his best form has been recorded on firmer ground it's ironic his debut has been been delayed, whilst recovering, when currently the ground is a lot softer than he prefers.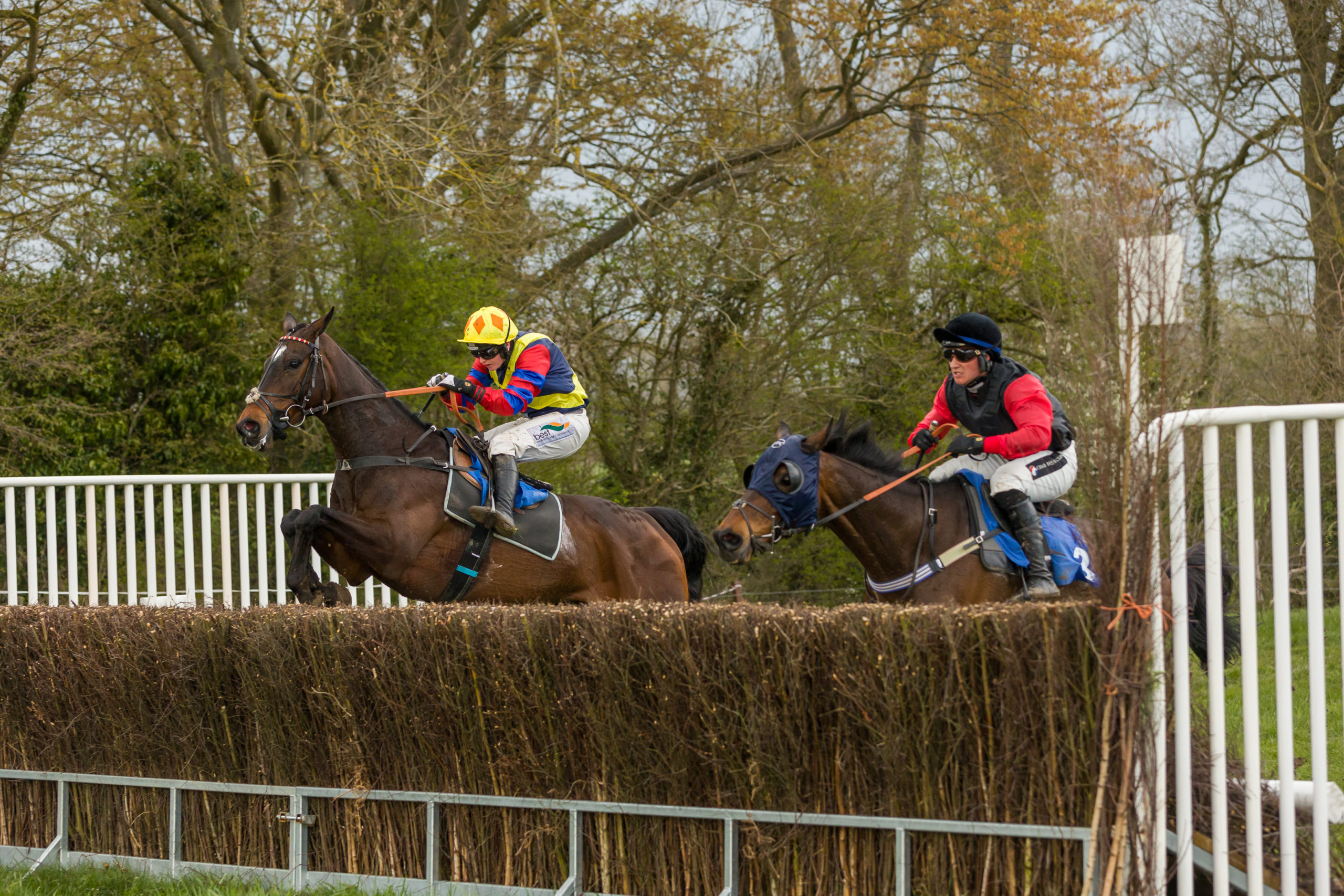 I'M SPELLBOUND AND GINA ANDREWS (left) lead FIDDLER OF DOONEY AND ALEX CHADWICK
Koyote ran in the Ladies Open where the prestigious Warwick Vase, first run just after World War 2, was on offer to the winner.The course's overnight soaking had unfortunately altered some trainers plans for running which left a minimal amount of runners across the card but as proved many times you don't necessarily need many runners to make an exciting finish. This old racing adage was demonstrated, once again, here in the Ladies Open contested by the three runners. They were always in close proximity and it was on the final bend where No Hassle Hoff and the favourite Koyote went for home and jumping the last, the latter made a slight error and No Hassle Hoff was off, heading for the finishing post. However, Getting Closer and Fern O'Brien were only two lengths behind the leading pairing at the final obstacle and they jumped the fence, straight as a die and continued in a similar vein up the run-in to snatch victory by a length from No Hassle Hoff with Koyote a further 1¾ lengths adrift. A wonderfully, executed ride by the teenage Miss O'Brien, who is destined to make a name for herself throughout her career. Fern intends to stay pointing for another year, as she is still studying at present, and then turn conditional with all the benefits of her father's professional yard available to her. With her mother, the former, very capable, amateur jockey Angelica Nolan, this young lady was born to have a career, surrounded by and riding horses. Getting Closer's trainer Alan Hill, was following up a previous success in this race with Laurium ( 2021) and  Fern was deputising for Izzie Marshall, who was shaken up after her fall from I K Brunel in the Aintree Foxhunters. Miss O'Brien was making her first visit to he Essex course and loved everything about the experience and is looking forward to making a return visit, in the future.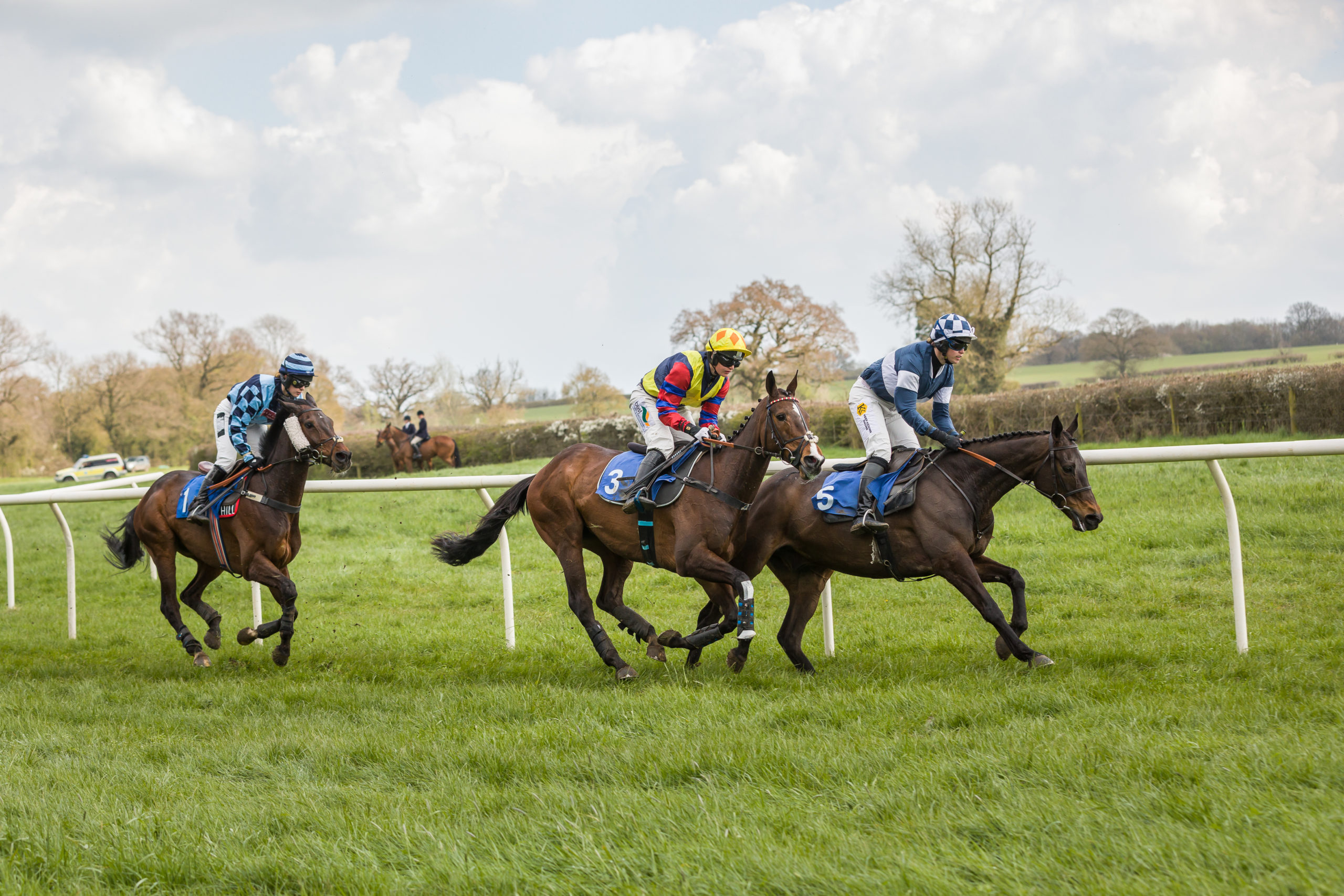 NO HASSLE HOFF AND KATE GOWING lead KOYOTE AND GINA ANDREWS followed by the eventual winner GETTING CLOSER AND FERN O'BRIEN
The racing stable of James and Jenny Owen, based in Newmarket, saddled two winners although their initial success came courtesy of a walkover. In the opening Restricted contest, Dash Full Of Cash was the only horse declared and the winning owner, Simon Stearn, kindly donated the winners' prize money to the Injured Jockey Fund. Ragnar Lodbrok won the Mens Open for the Owens when jockey Alex Chadwick claimed the victory in a match race against Castle Trump and Charlie Buckle. Ragnar Lodbrok has now won four times this season and came home 7 lengths clear of his rival. The application of headgear, in recent outings, seems to have been beneficial although Chadwick believes most of the 8yo's problems in the past "have been in the horse's head but he's on a roll now !"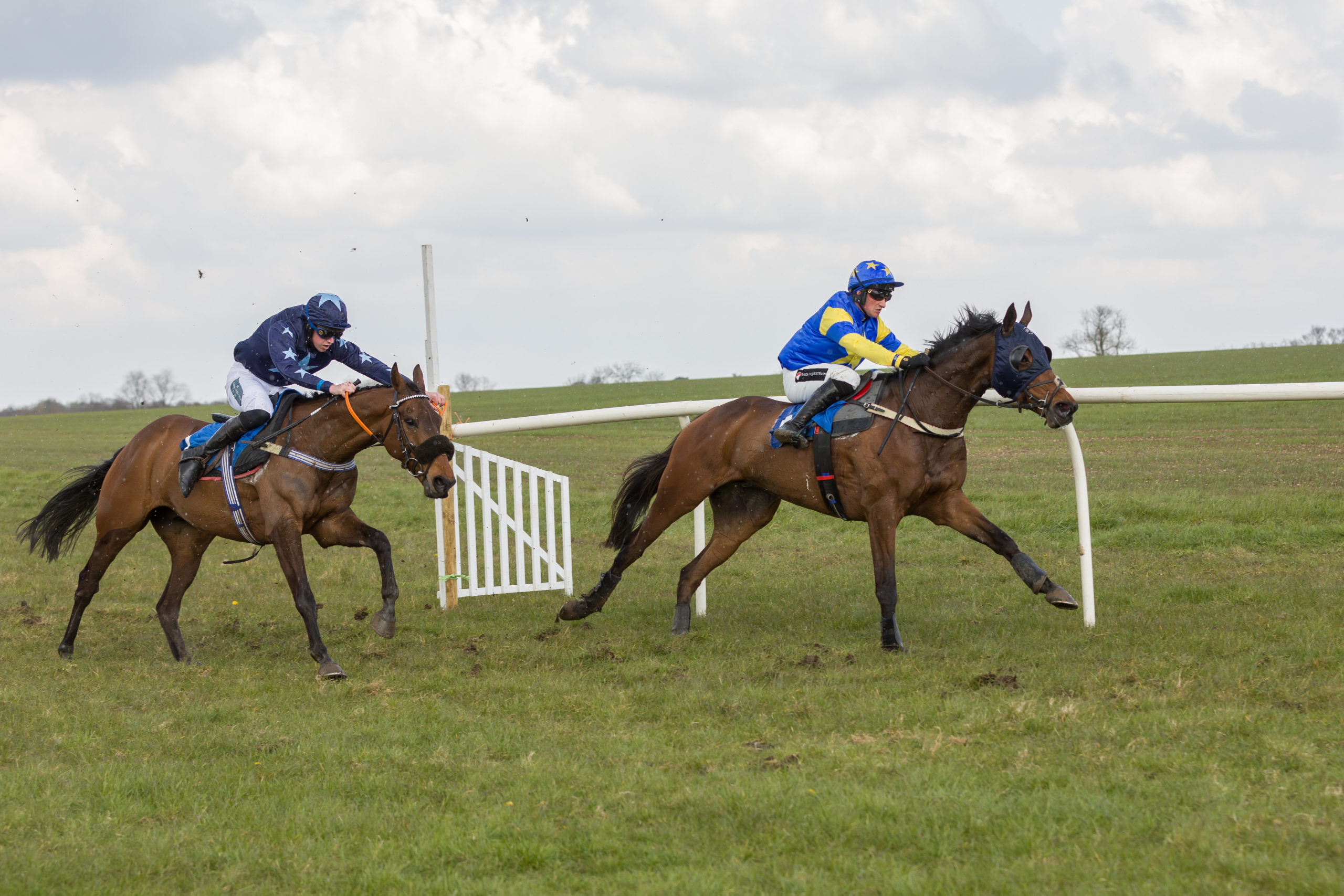 RAGNAR LODBROK AND ALEX CHADWICK lead CASTLE TRUMP AND CHARLIE BUCKLE
Trainer Ed Turner is enjoying his racing at the moment and Mister Splash was an all-the-way winner for him in the Maiden race with Murray Dodd aboard. The pairing outjumped their rivals and finished alone, in the fastest time of the day, to follow up a close 2nd at the previous meeting to Dash Full Of Cash. Dodd felt the horse owed him one after suffering an injury setback when the pairing fell ,when leading, at Garthorpe in early February.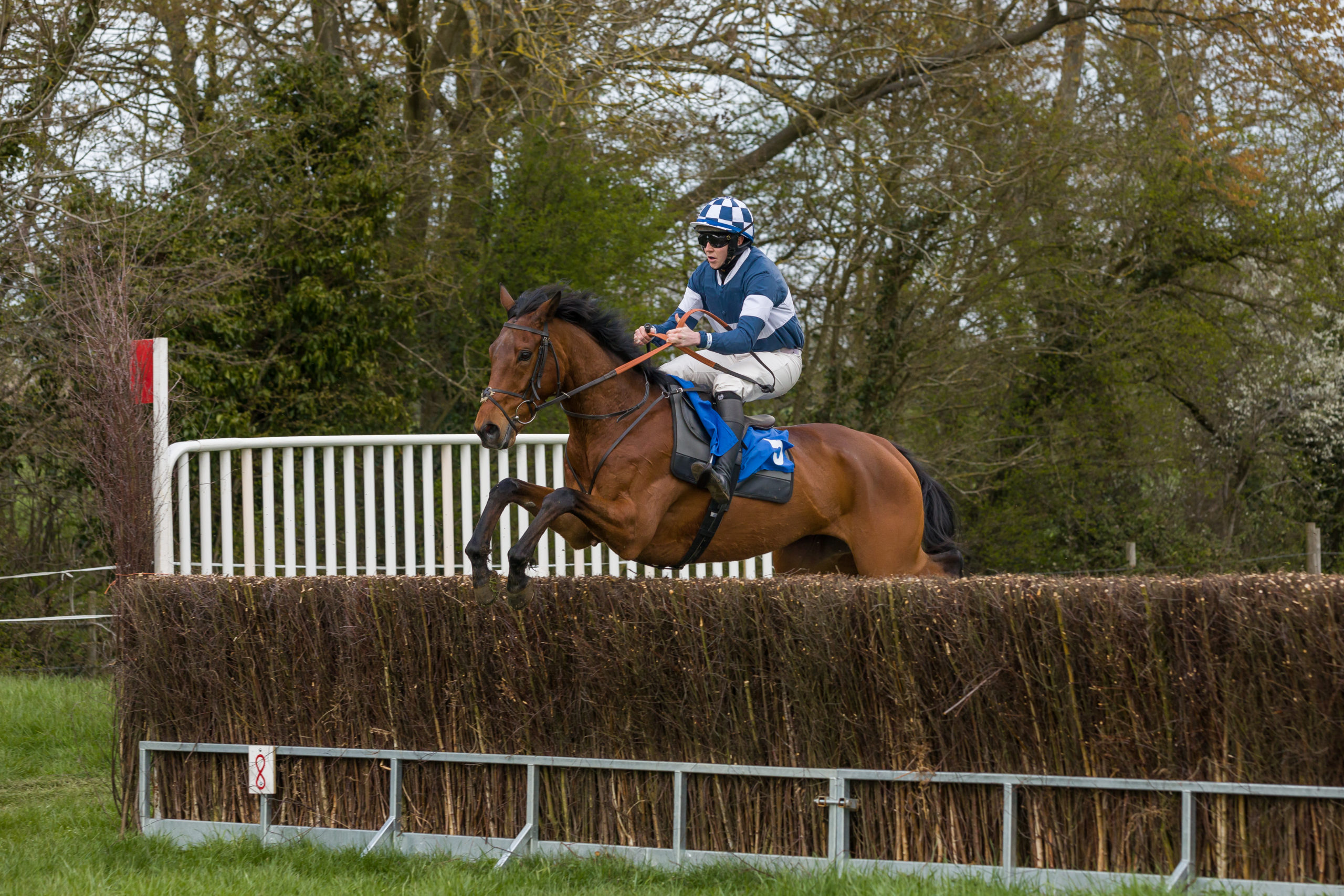 MISTER SPLASH AND MURRAY DODD
Good, contested racing witnessed by an appreciative crowd with everyone willing to assist any vehicle stranded in the mud–caked parking areas.
Photos courtesy of Graham Bishop Photography
www. gdbphotography.co.uk