By Mike Ashby
The positive, upward trend in attracting spectators to East Anglian point-to-point meetings continued at Higham with another significant attendance, to reward the organisers.
 This inaugural fixture of the East Anglian Retired Jockeys Club will be fondly remembered by Newmarket-based jockey Alex Chadwick riding his first-ever treble. Alex's total of 7 wins, this campaign, surpasses his best season tally and will undoubtedly be added to, as the week's progress.
 Bon Calvados comfortable 8 length, Restricted race, victory was for trainer Alan Hill. Alex has associations with Brian Dowling's yard, who had Le Pogues Storm running in the race, and the decision was taken to give a younger jockey an opportunity hence the switch to the Hill representative.  Tom Ellis' Loughan, sent off favourite, led the field but not always hoof perfect at times and Gina eventually had to pull him out of the race, with a broken blood vessel, on the final circuit.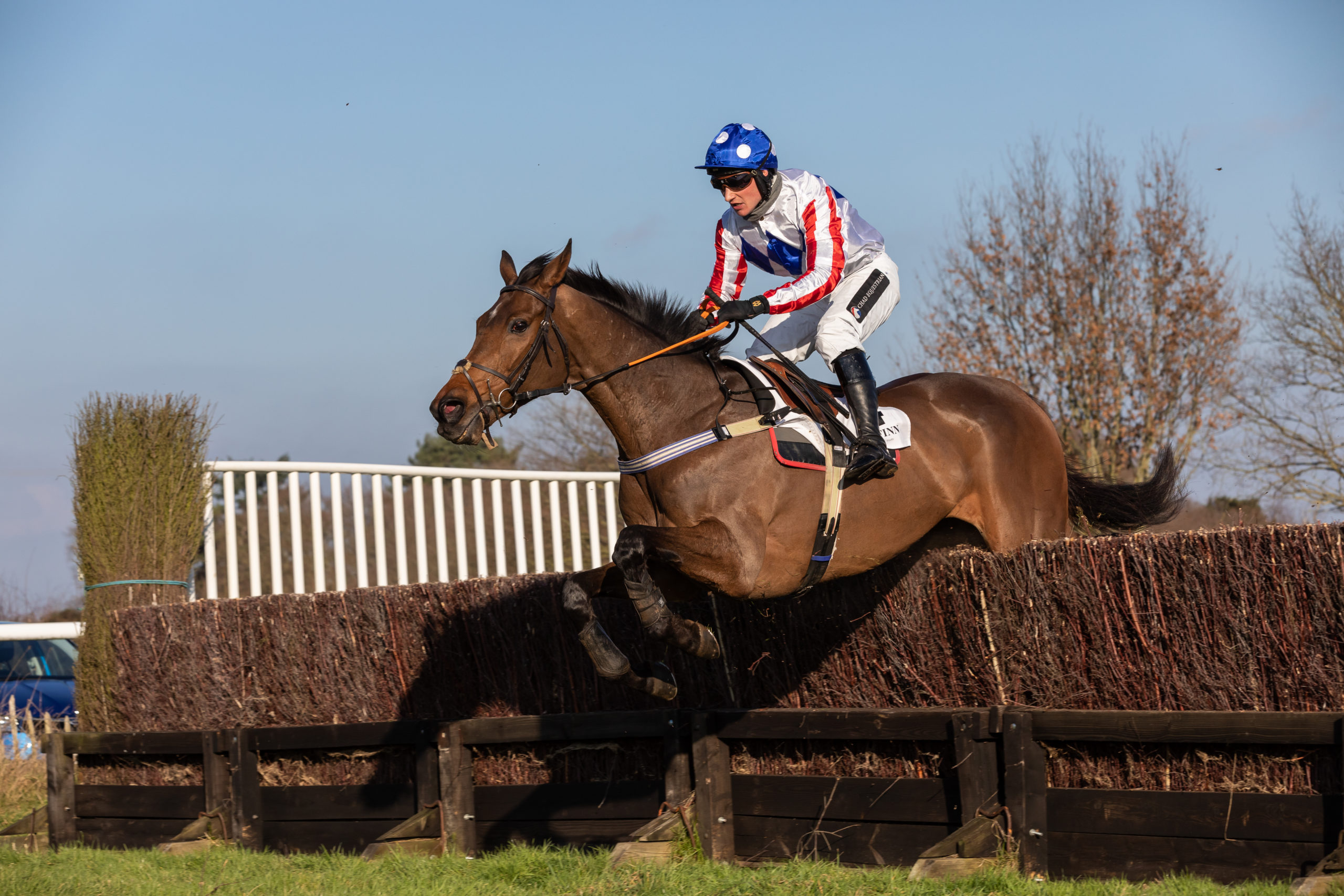 Winner no. 1  for Alex Chadwick on BON CALVADOS in the Restricted race
Alex's afternoon continued with an even more convincing success on Pont Aven , for trainer James Owen, in the Mens Open where the partnerships nearest rival finished a distance behind. The stable feel they are beginning to know more about the Tim Gredley owned 9yo and Alex was convinced he would have won at Horseheath, until falling when in contention, three fences out. Here, Pont Aven's jumping is still in need of improvement and quite a serious error at the last, fortunately didn't halt their momentum. Stablemate Midnight Cowboy gave a satisfactory performance and was the nearest challenger to the winner when unseating Rupert Stearn at the final obstacle.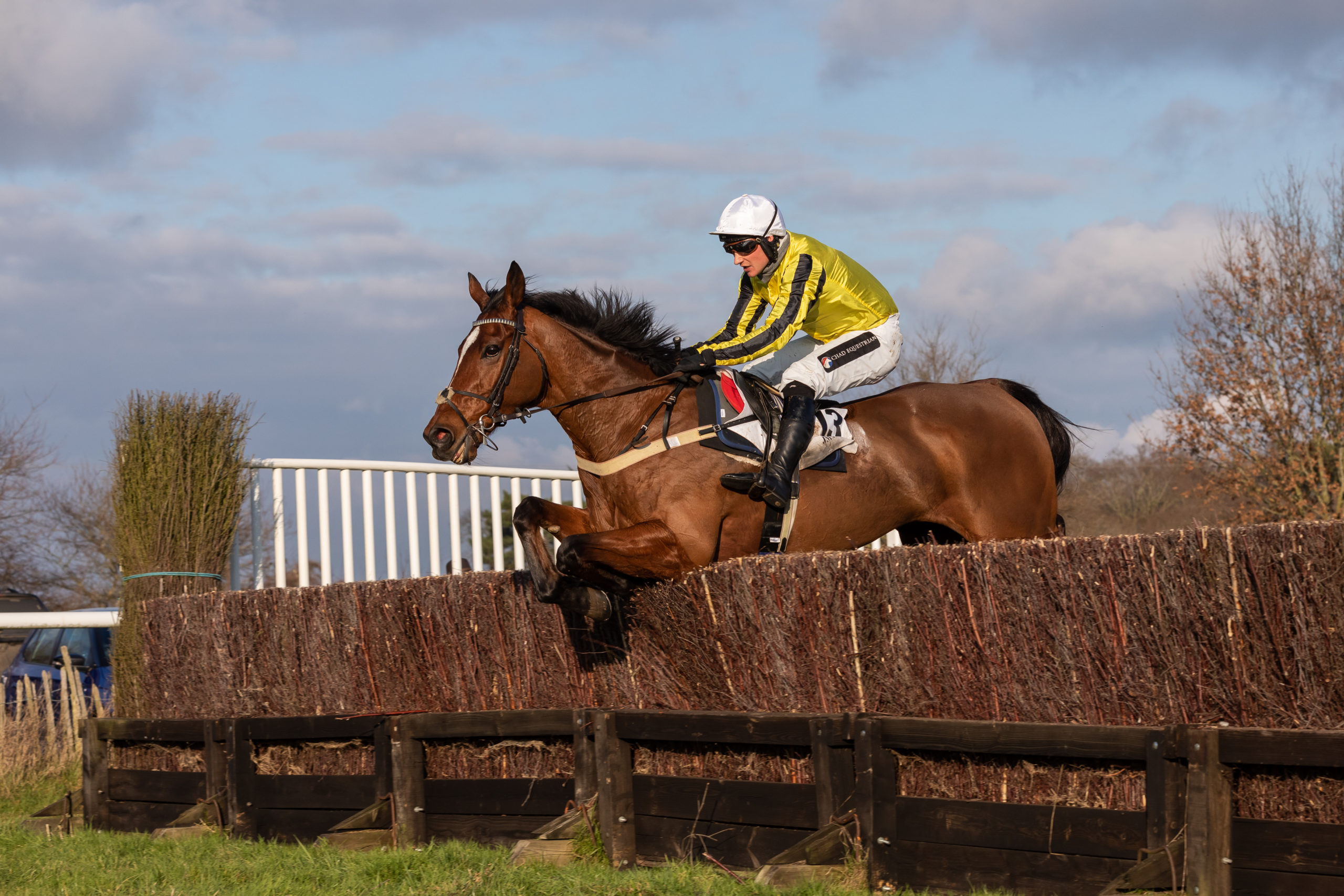 Winner No.2 for Alex Chadwick on PONT AVEN in the Mens Open race
A sad postscript to this race being the fatal injury suffered by Minella Beat with his young jockey Will Featherstone knocked unconscious. The air ambulance was summoned but subsequent medical advice deemed, after Will regained consciousness, he could be taken by road ambulance to hospital for treatment. Latest hospital reports state Wills' injuries include a T4 fracture of the vertebrae but thankfully a CT scan on the brain shows no blood just a swelling which will resolve itself, given time.
 Chadwick's treble was completed in the concluding Open Maiden division, won in powerful style by Oval Street, an exciting, ex-Irish recruit for trainer Nick Wright. Owned jointly by Nick and a first-time owner in sister Lucinda, the 6yo was purchased at Doncaster Sales and would have been ridden by Nick's son Archie who had unfortunately contracted Covid and was having to be content to receive commentary on his mobile phone, at home, to keep up with proceedings.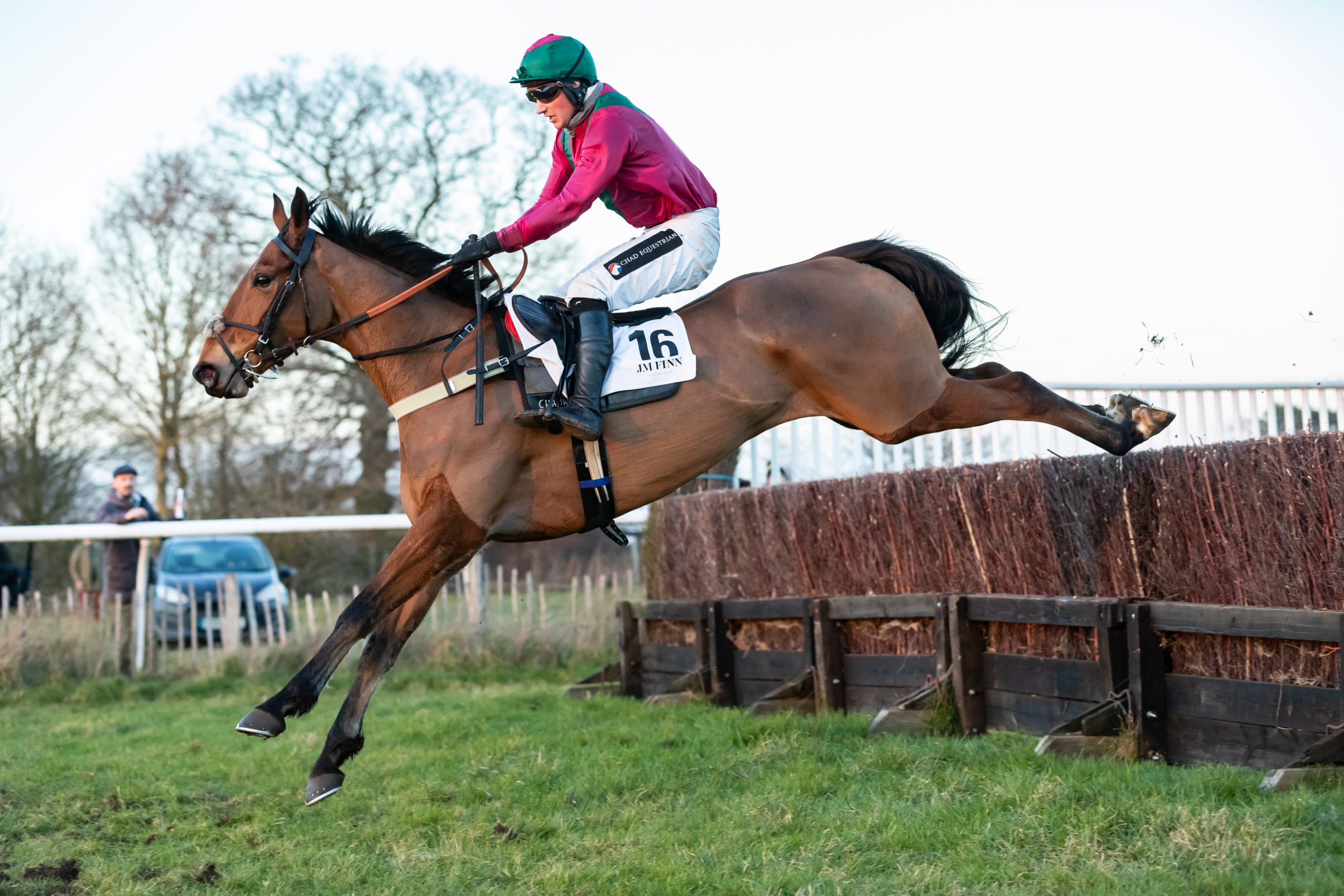 Winner No.3 for Alex Chadwick on OVAL STREET in Div 2 of the Maiden
 A memorable day for Alex and an unforgettable milestone for Heidi Palin who rode her first winner from only her third career start in the PPORA Novice Riders race on Azzuri. The pairing led and jumped superbly throughout the contest and was still 15 lengths superior to any rival, at the finish. Heidi works for the professional stable of Dan Skelton and rides the 10yo, who is owned by Nick and Ella Pearce, everyday. Nick is also responsible for Azzuri's training regime and has the admirable philosophy of utilising young riders, in races such as this contest, to give them an opportunity to race-ride. Several post-race congratulations were on offer to Heidi with a common comment "that was lots of fun". Brilliant !!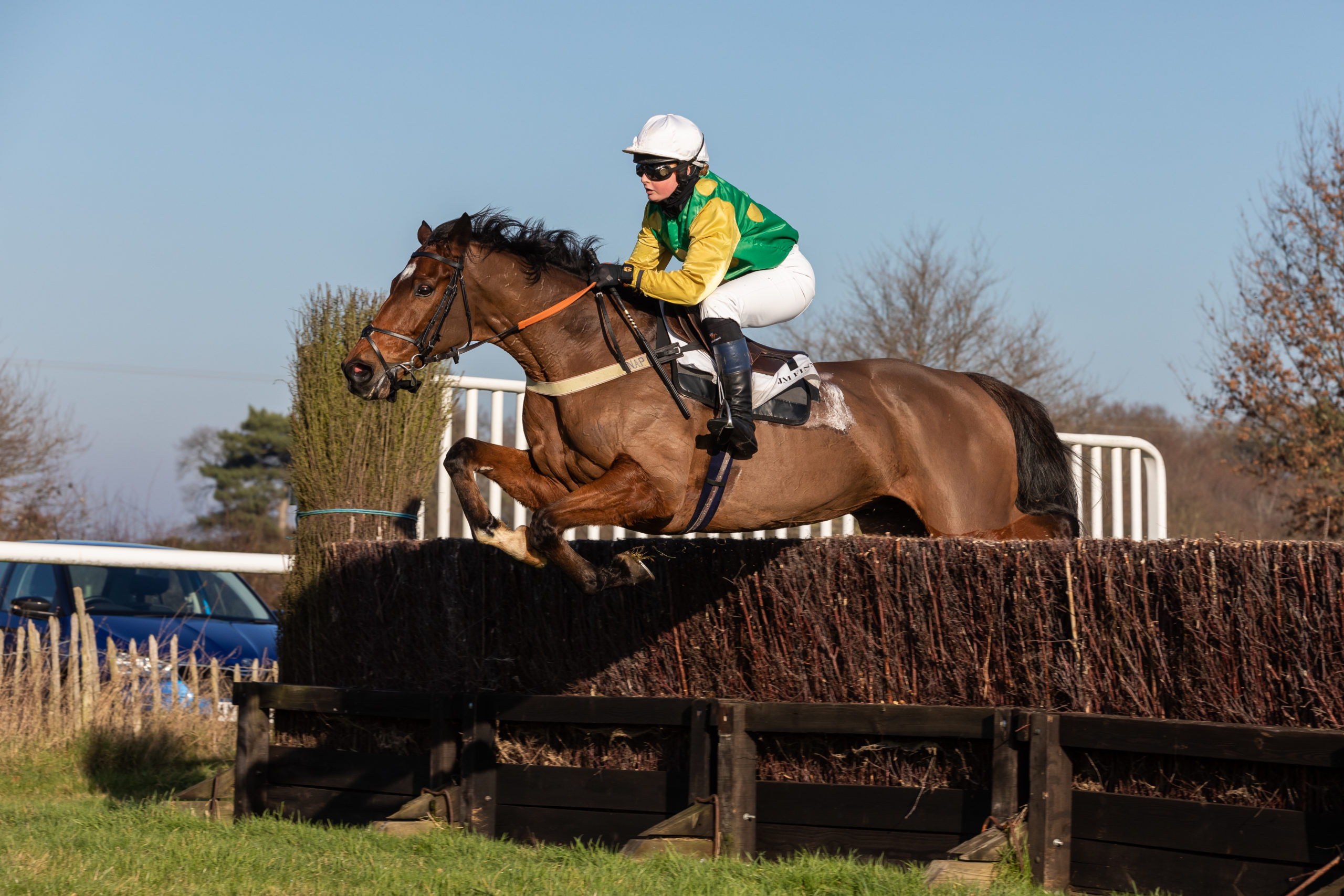 AZZURI and Heidi Palin on their way to victory in the PPORA Novice Riders
 Gina Andrews added to her record-breaking career total with a Ladies Open victory on General Arrow. Gina took the lead, after the veteran Knockedoutloaded had made the running, and looked to have a healthy advantage approaching the finishing straight but the partnership were keenly challenged by market rival, Myth Buster and Lily Bradstock, over the final two fences, 2 ½ lengths the winning distance.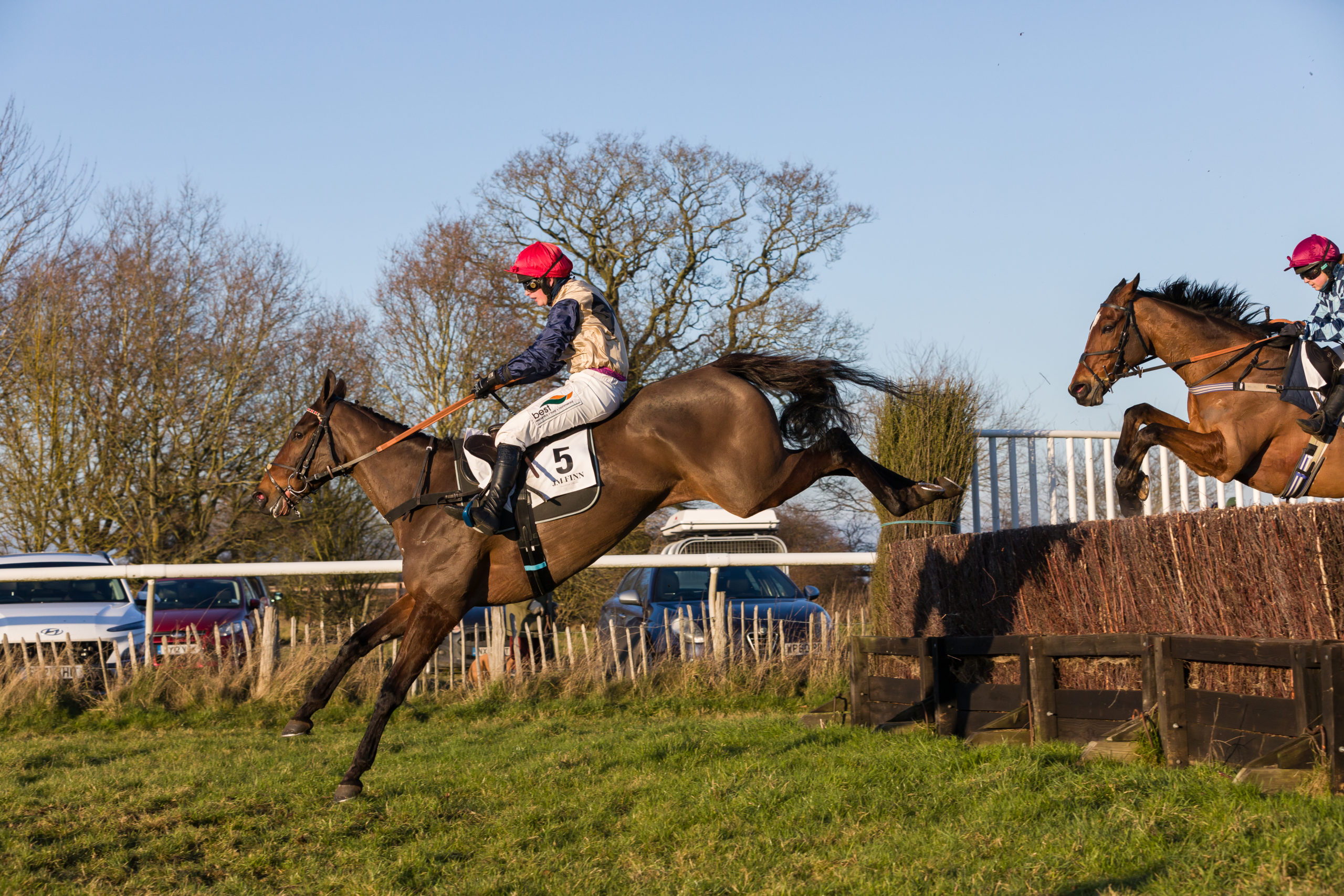 GENERAL ARROW and Gina Andrews in command in the Ladies Open
Bradley Gibbs, challenging for the national men's title, won on his first ever Higham mount, an impressive front-running display by Fier Jaguen, in the opening Intermediate race. Having gone 5 lengths clear at the cross fence they comfortably maintained their advantage, finishing ahead of Killinkere.
Bradley summed up Fier Jaguen's performance afterwards. "He's very versatile. He won on softish ground last time and handled today's conditions with no problem"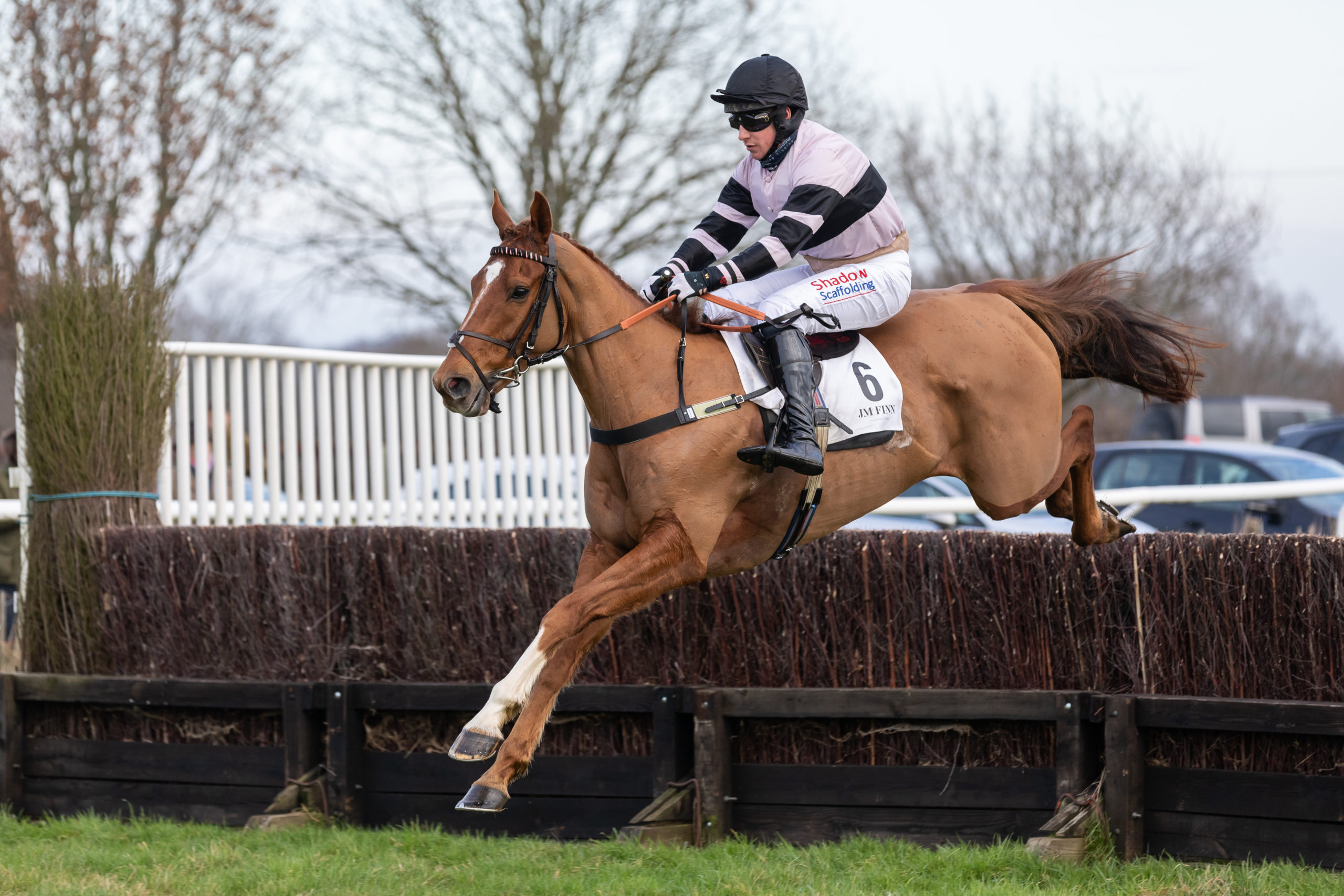 A winning first ride at Higham for Bradley Gibbs on FIER JAGUEN
Gibbs followed up with victory on Whotheman in Division One of the Maiden race, holding off the determined challenge of Some Boy McCoy, on the run-in. Both wins were in the colours of Julian Sherriff, father of Bradley's fiancée Claire and with the couple now based in Hertfordshire, near Welwyn Garden City the likelihood is, we will be admiring more of Mr. Gibbs' riding talent, in East Anglia, in the future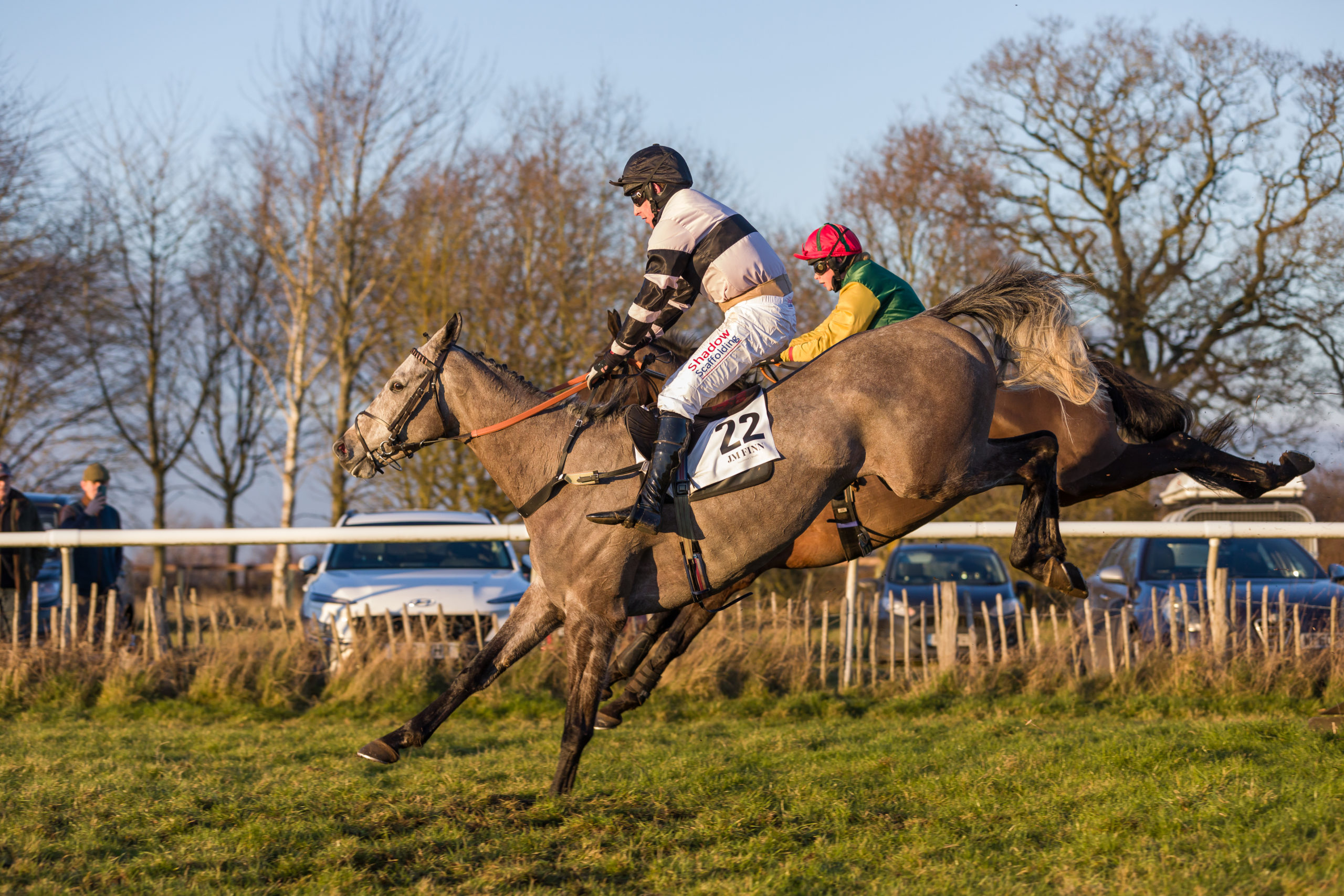 WHOTHEMAN and Bradley Gibbs winners of Div One of the Open Maiden
A very successful meeting that contained celebrations, commiserations and a plethora of invited retired jockeys. A racing certainty the fixture will be retained for the future.
ALL PHOTOGRAPHS COURTESY OF GRAHAM BISHOP
www.gdbphotography.co.uk