By Mike Ashby
 Perfect racing weather and a fine day's action enthralled racegoers at Horseheath's second fixture of the season. The meeting contained three close finishes leaving the crowd anxiously waiting the judge's official decision, on the winners, to be announced.
The tightest finish of the day saw Champion Chase and James King remain unbeaten in two pointing races, when winning the Restricted race from the favourite Master Templar who was adjudged to be a head down at the finishing line with Chongalolo a further neck away. Before joining trainer Francesca Poste the 10yo had failed to enter the winners' enclosure on 32 starts under NH rules but a new environment has obviously worked wonders and it is now two wins from two outings in a fortnight. In his post-race comments, James reported Champion Chase to be a strong traveller in his races and after restraining him as much as he could early on he "let him get on with it" from four fences out and they flew the third last before the race was ultimately decided in a very close finish.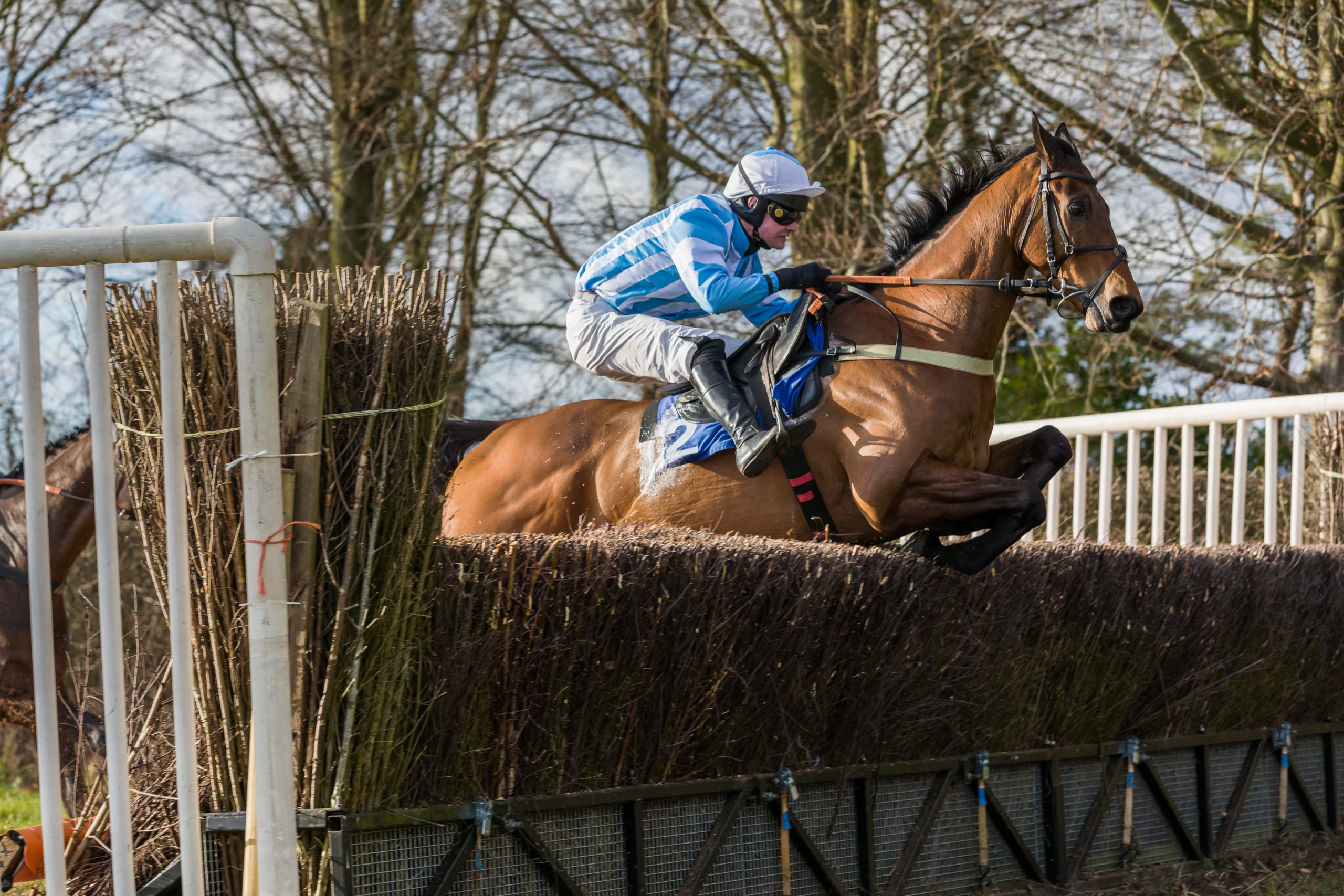 Restricted race winners CHAMPION CHASE and JAMES KING
The PPORA Novice Riders' race was won by another ex-NH recruit Clondaw Rigger with a confident ride by Toby McCain-Mitchell. Carrying lots of local support, they delivered a strong challenge on the run-in to defeat For Rita by 1½ lengths with an accompanying loose horse offering minimal interference, to influence the final result.
Newmarket- based James Owen currently trains Clondaw Rigger after his joint-owner Camilla Ewart suffered a broken back in a fall which meant the ability to handle her recent purchase, herself, was considerably reduced. The undulating course suited the horse perfectly and his young jockey agreed that the tight, flat contours of Higham were probably a bit sharp for him, on his GB pointing debut, a fortnight ago. Toby was offered the ride, originally, after he had spent a week at the Owen yard during the summer and currently works at his uncle Donald's racing establishment, Toby is bound to make the grade, especially with his family background, and already shows the right attributes by his patient but positive tactics employed on Clondaw Rigger, on his first visit to Horseheath.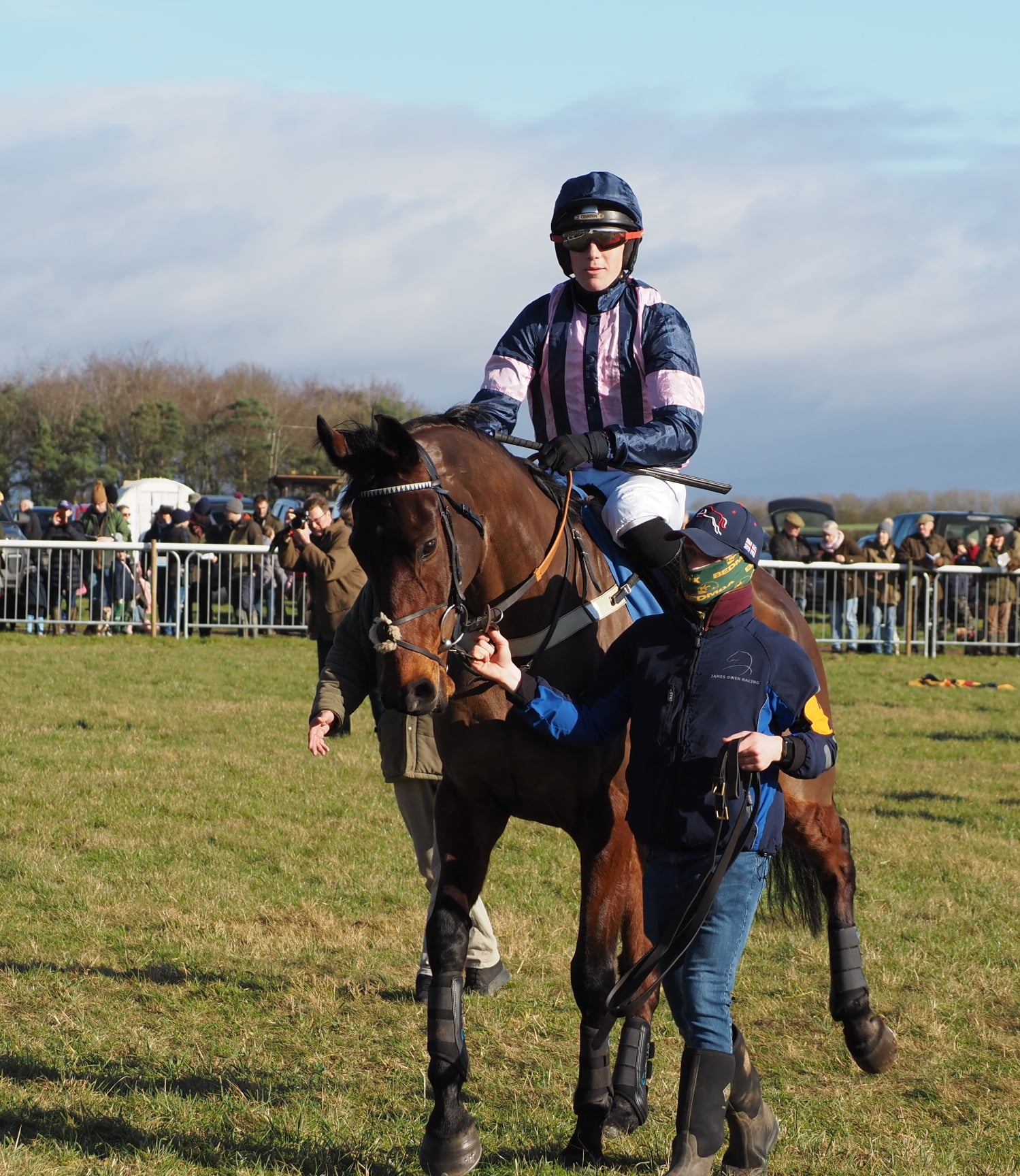 CLONDAW RIGGER and TOBY McCAIN-MITCHELL ( photo by Ray Newby )
Eleven runners went to post for the concluding Open Maiden contest and two horses, Flashy Kate and the favourite Imnottalkingtoyou battled it out over the final three fences with the latter taking the prize with a neck verdict. Partnered by Gina Andrews, the 5yo was following up his racecourse debut at Chaddesley Corbett when runner-up in a short Maiden. He showed signs there that a longer more testing trip would suit and this was certainly a competent performance with the second placed finisher likely to be putting her head in front, in the not too distant future. Trainer Andrew Pennock looked more than pleased with Flashy Kate's running and jockey Charlie Marshall would have also been enthused by this performance, building on her 3rd place behind Bloodstone at the initial Horseheath meeting.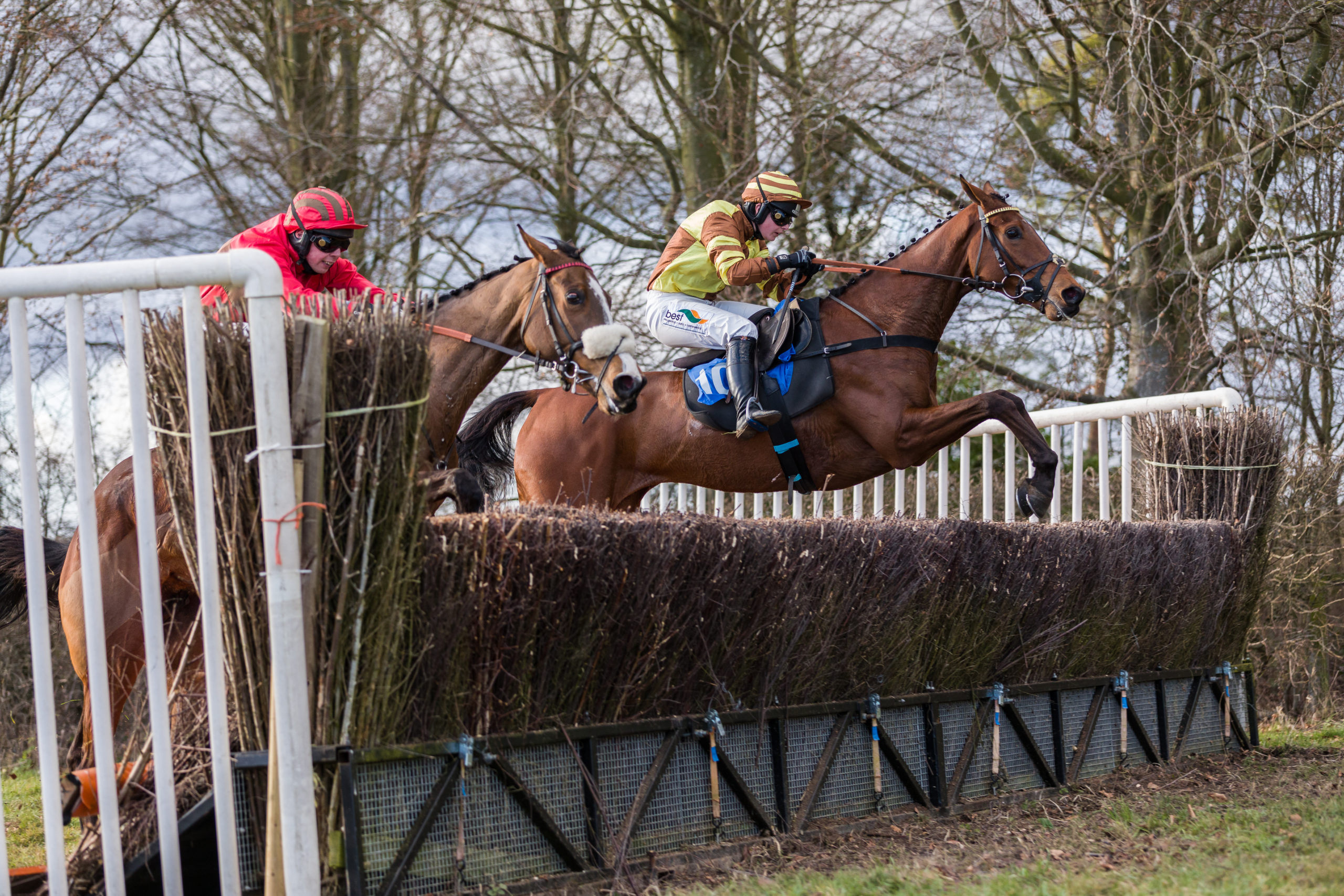 IMNOTTALKINGTOYOU and GINA ANDREWS ( farside) lead FLASHY KATE and CHARLIE MARSHALL in the Open Maiden race. 
Imnottalkingtoyou's success completed a double for the Gina and trainer Tom Ellis having previously won the Ladies Open race on Fumet D'Oudairies who was recording his fourth course success. This was a slightly laboured performance by this classy 7yo but there was still enough in hand to beat his solitary finishing rival, Normofthenorth by 1½ lengths. Another win secured and the route map is still showing onwards and upwards to Cheltenham.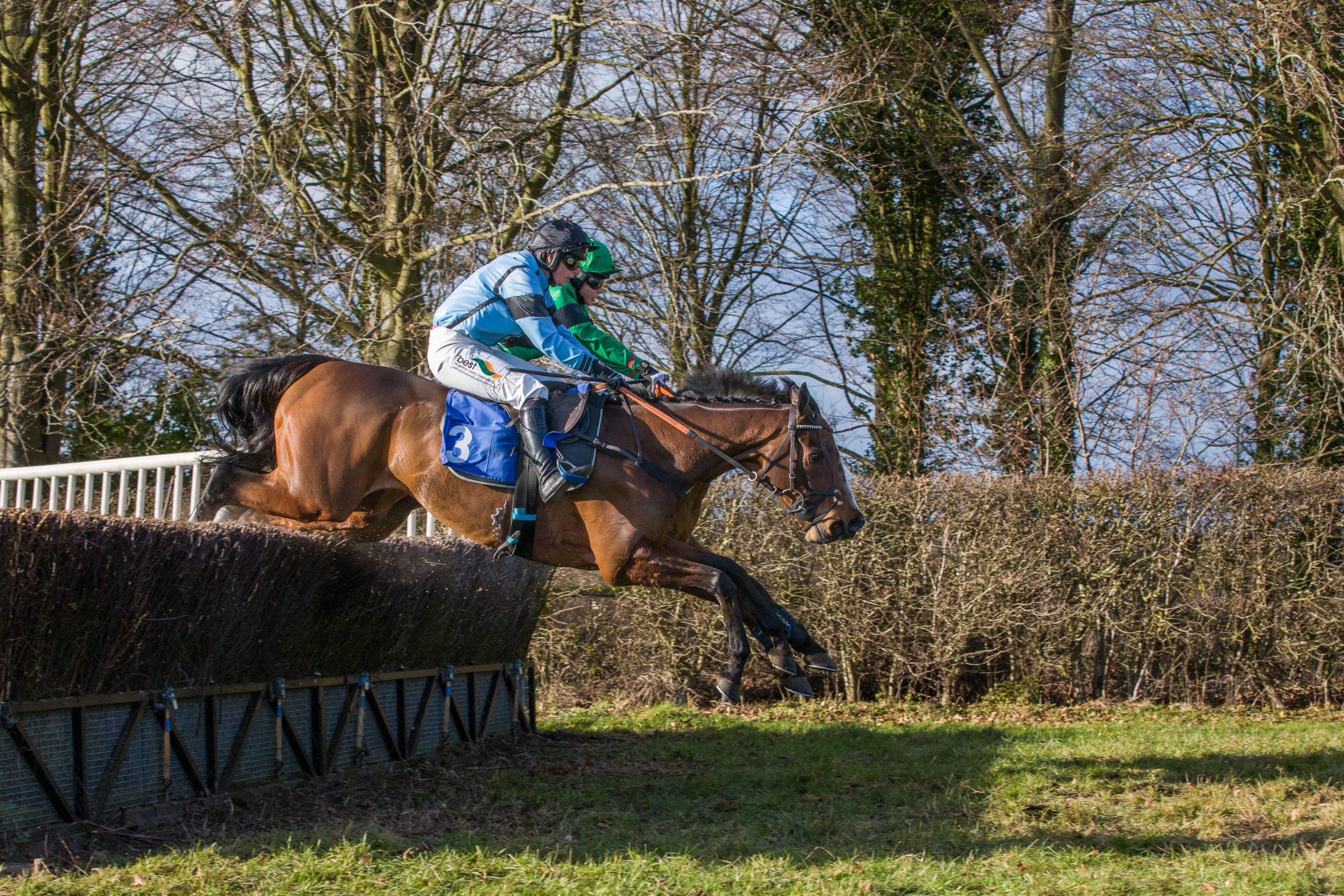 FUMET D'OUDAIRIES and GINA ANDREWS winners of the Ladies Open race
The Mens Open produced only three declared runners, similar to the Ladies equivalent, and here the long odds-on favourite Tullys Touch and title-seeking jockey Will Biddick secured their victory in considerably easier style, suppressing the challenge of Midnight Cowboy. Will made the journey from Somerset, for his first visit to the Cambridgeshire course, and as relieved trainer John Ibbott explained afterwards " these can be muddily run races" but was delighted Tullys Touch had followed up his Ampton victory and added " it's a good thing for the horse to have an easy race sometimes". John, has a return visit back here in three weeks time in  mind for Tullys Touch and his owner, Christina Blockley, leaves all decisions on race planning to her trainer and to-date this has yielded 100% success rate, for this season, for her multiple winner.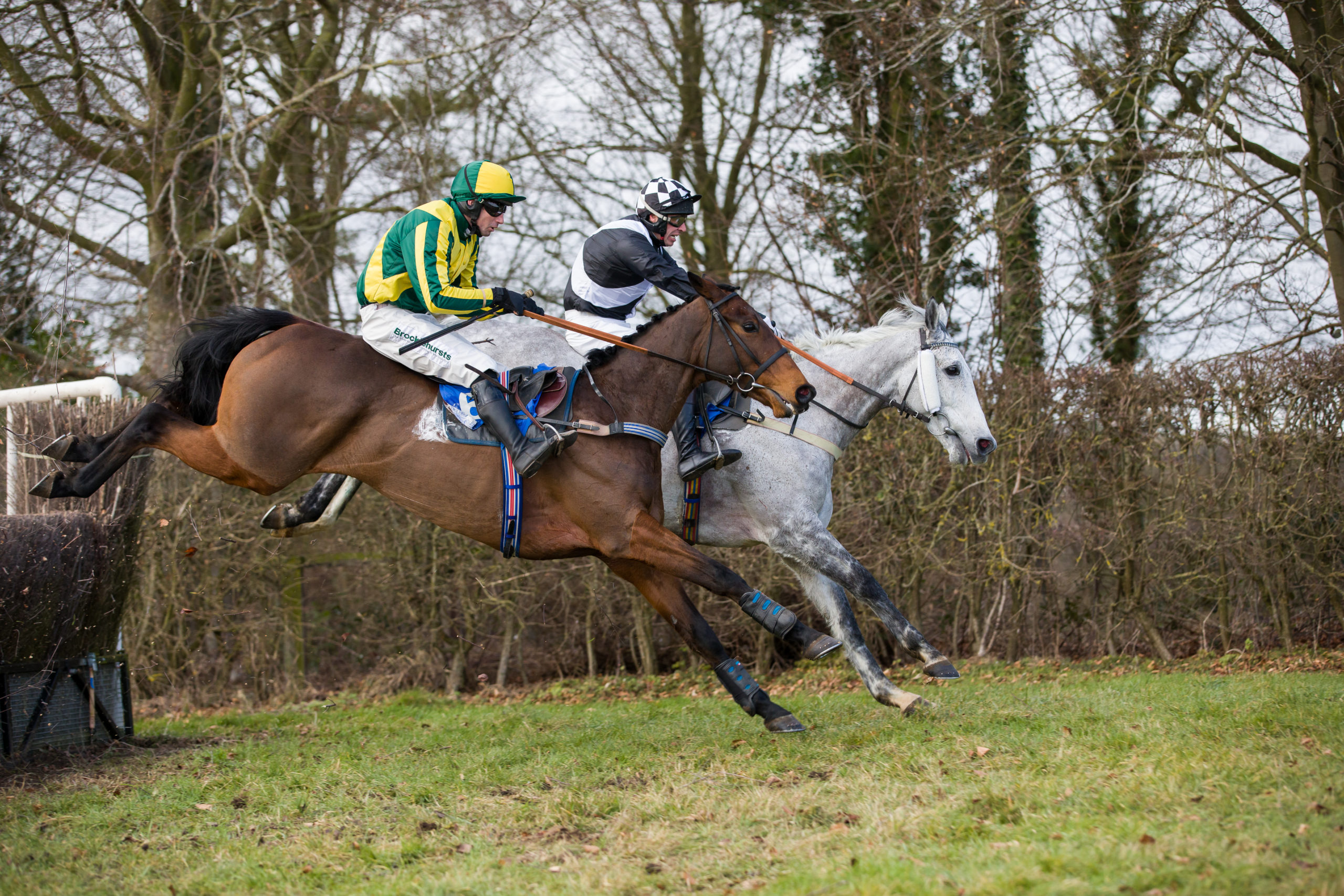 TULLYS TOUCH and WILL BIDDICK (nearside) winners of the Mens Open race.
The opening race of the afternoon lived up to all pre-race expectations with several recent winners looking to add to their previous successes. The outcome, however, was decided by a powerful injection of pace, up the finishing straight, by season debutant How To Get Away and Dale Peters, which stretched all their rivals with the nearest, dual course winner Mammoth, still 10 lengths adrift at the winning post. Trainer David Kemp was taken aback by the unexpected win as was Dale Peters to a certain extent as his pre-race analysis assessed there would be plenty of pace from the outset and his mount normally runs keenly. He managed to "drop in" How To Get Away and as the field were led across the skyline, for the final time, by dual winner Castle Trump who took a clear lead at the open ditch. However, on the downhill stretch, after four fences out, Dale description of his mount's progress was "he never stopped" and this was totally decisive as the partnership won unchallenged by the largest winning margin of the day. Progressive or what; the Oak Partnership and even his bewildered trainer can look forward to a potentially exciting few months ahead.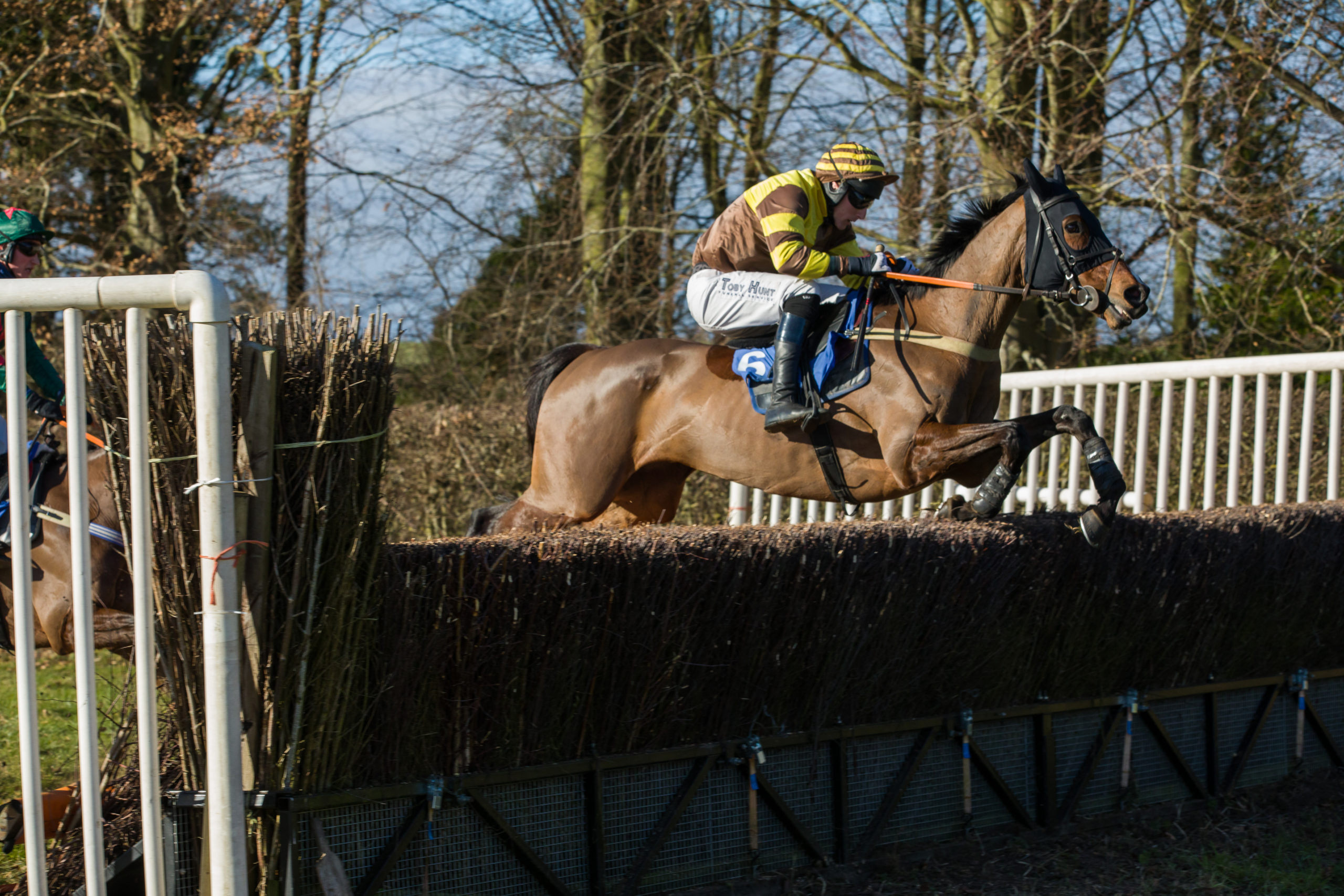 HOW TO GET AWAY and DALE PETERS in total command in the Intermediate race.
This season's East Anglian racing has been out of the top draw and the weather has also been favourable with some very encouraging attendances being generated.
 Photographs courtesy of Graham Bishop Photography
www.gdbphotography.co.uk