REPORT OF THE CAMBRIDGESHIRE HUNT WITH ENFIELD CHACE  MEETING HELD AT HORSEHEATH RACECOURSE ON SATURDAY FEBRUARY 4th  2023
By Mike Ashby
Runners were unfortunately at a premium for this rescheduled Horseheath meeting, postponed from the previous weekend. It was disappointing on two accounts. Firstly for the extra workload involved to make a rearranged meeting even take place and also the card, if it had taken place on the original date, looked to have a touch of class about the entries, for most of the races. However, there is always a surfeit of stories pertaining to jockeys, trainers and owners to enhance a report of proceedings.
 Three jockeys produced noteworthy performances with Gina Andrews riding a double on Twilight Girl (Ladies Open race) and Tigerbythetail ( Open Maiden) matched by her brother Jack on Ragnar Lodbrok ( Mens Open) and All Is True ( Restricted ). These successes maintained both siblings' leads in their respective national jockeys' championships. A perfectly-timed winning ride, by Ellie Holder, on Koyote in the novice riders' contest, deservedly, won her the "ride of the day" award of a framed photograph to give Ellie her second career win, both attained at Horseheath, this season.
Trainer, Tom Ellis, was victorious on six occasions around Horseheath, in his riding days but his current training statistics, at the course, make remarkable reading by any standards. At this meeting, he saddled three winners from three runners, namely, Koyote, All Is True and Tigerbythetail, to follow-up his six successes at the New Year's Eve fixture giving Tom nine wins from ten runners saddled.
All Is True supplemented his Maiden success, here, last month in the three-runner Restricted contest which saw the trio maintain a close proximity until the 6yo quickened from two out and had an eight length advantage at the winning line. Jack Andrews was more than complimentary on his winning partner, post-race, commenting "he could be quite nice". As Jack, sees and is associated with many a young horse, this is a comment not to be taken lightly and worthy of placing in the memory bank.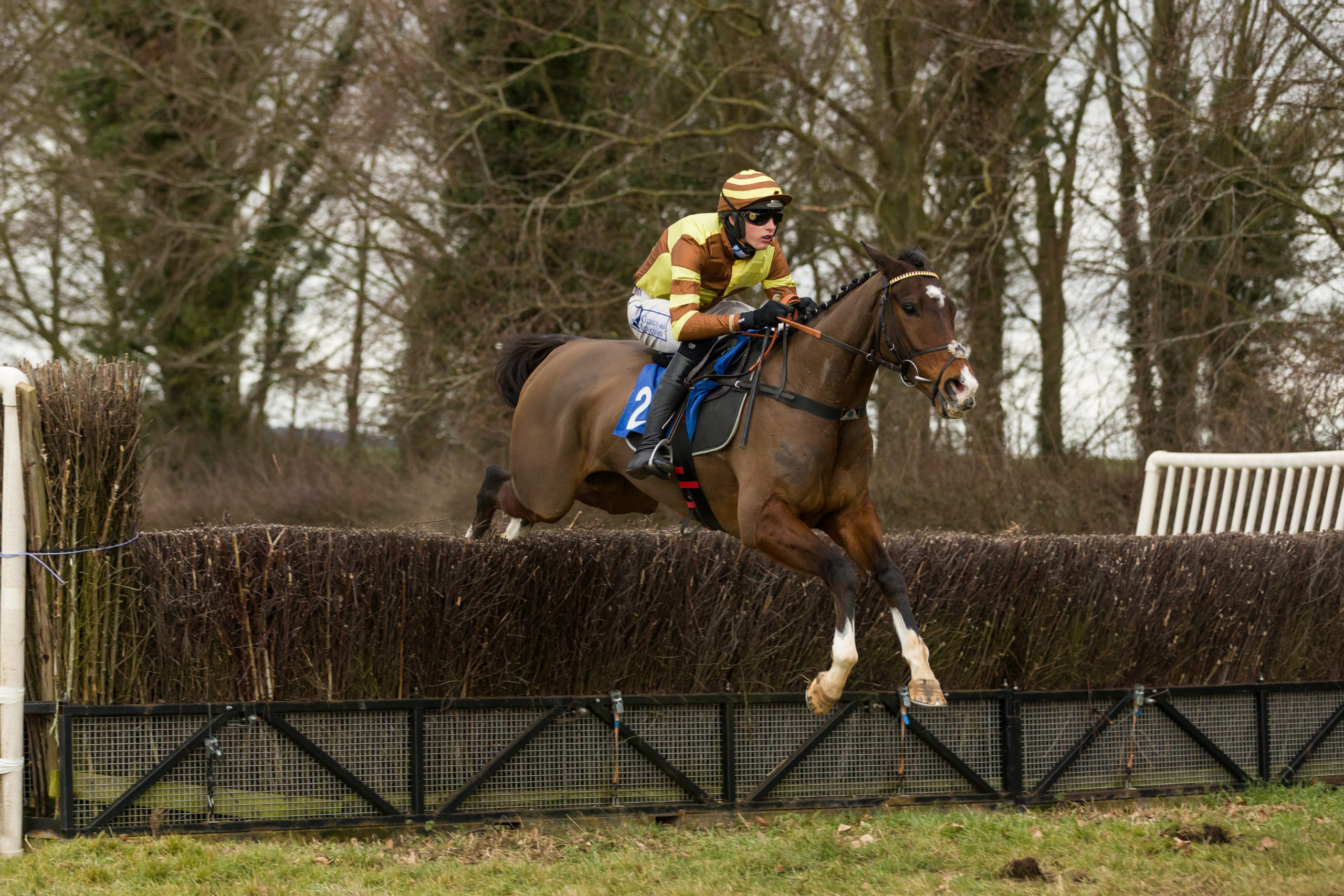 ALL IS TRUE and JACK ANDREWS on their way to victory in the Restrcted race.
The closing Maiden race provided the largest numerical field of the day and of the six that faced the starter there were only two capable of a winning opportunity as they approached the Horsheheath finishing straight. It was Gina on Tigerbythetail and Jack partnering trainer Stuart Morris' Ontherunagain, neither giving any quarter. A slight stumble at the last, by Gina's mount seemed to give Jack his chance but the Ellis-trained 7yo quickly recovered and had a 1 ½ length winning margin, where it mattered. Morris must have been delighted with his runner, who had run loose before the race; whilst Jack was philosophical about the outcome with a sweet family aside "I nearly gave her a fright"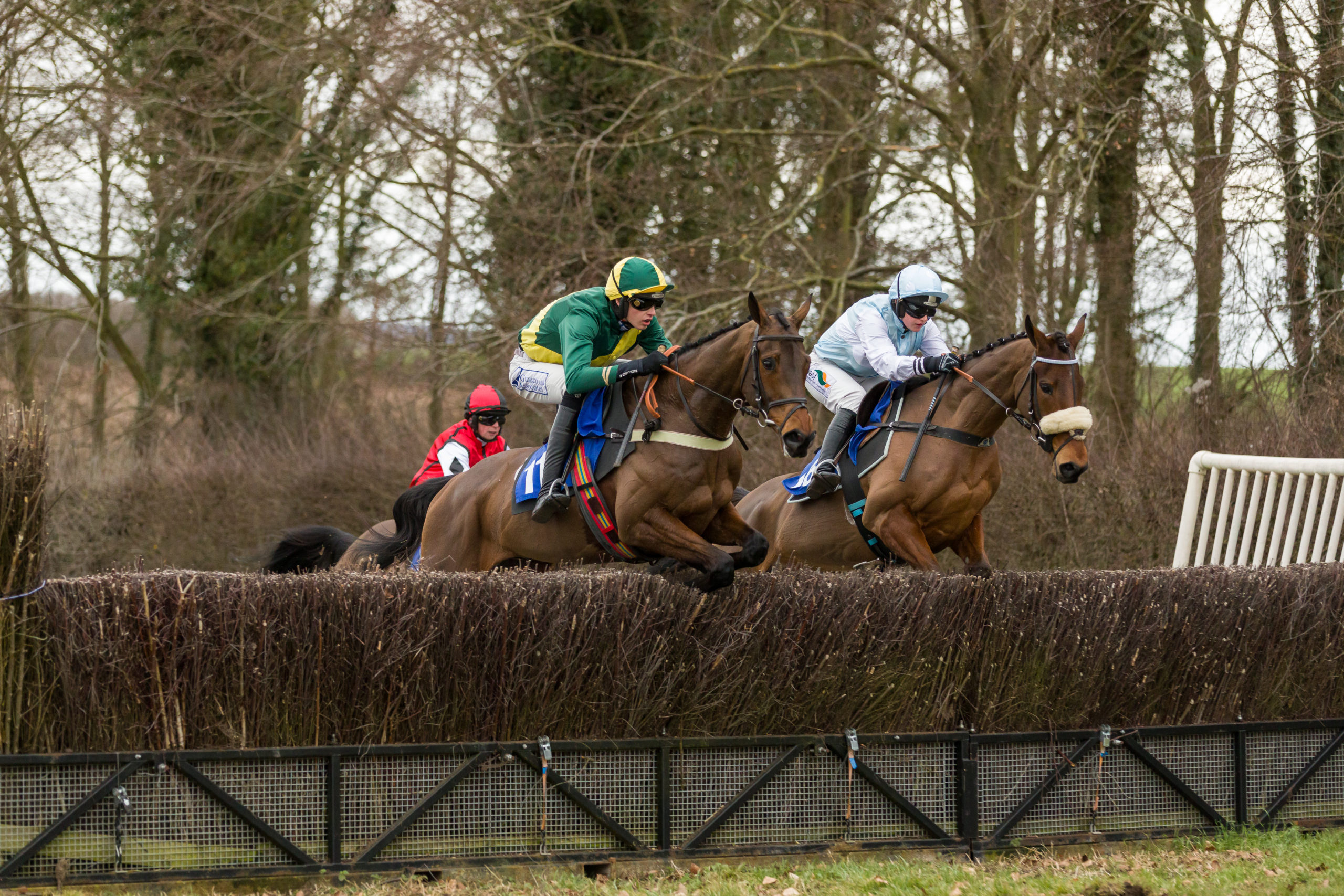 TIGERBYTHETAIL and GINA ANDREWS (right) winners of the Maiden race.
The training stable of James and Jenny Owen, who are based in Newmarket, enjoyed double success by taking both the main races, being responsible for Ragnar Lodbrok and Twilight Girl. The former was partnered by Jack Andrews as the Owen's stable jockey, Alex Chadwick, is currently serving a riding ban. The new partnership had very few problems against a solitary opponent and ran out a comfortable 3 ½ lengths winner after taking the lead, two fences from the finish.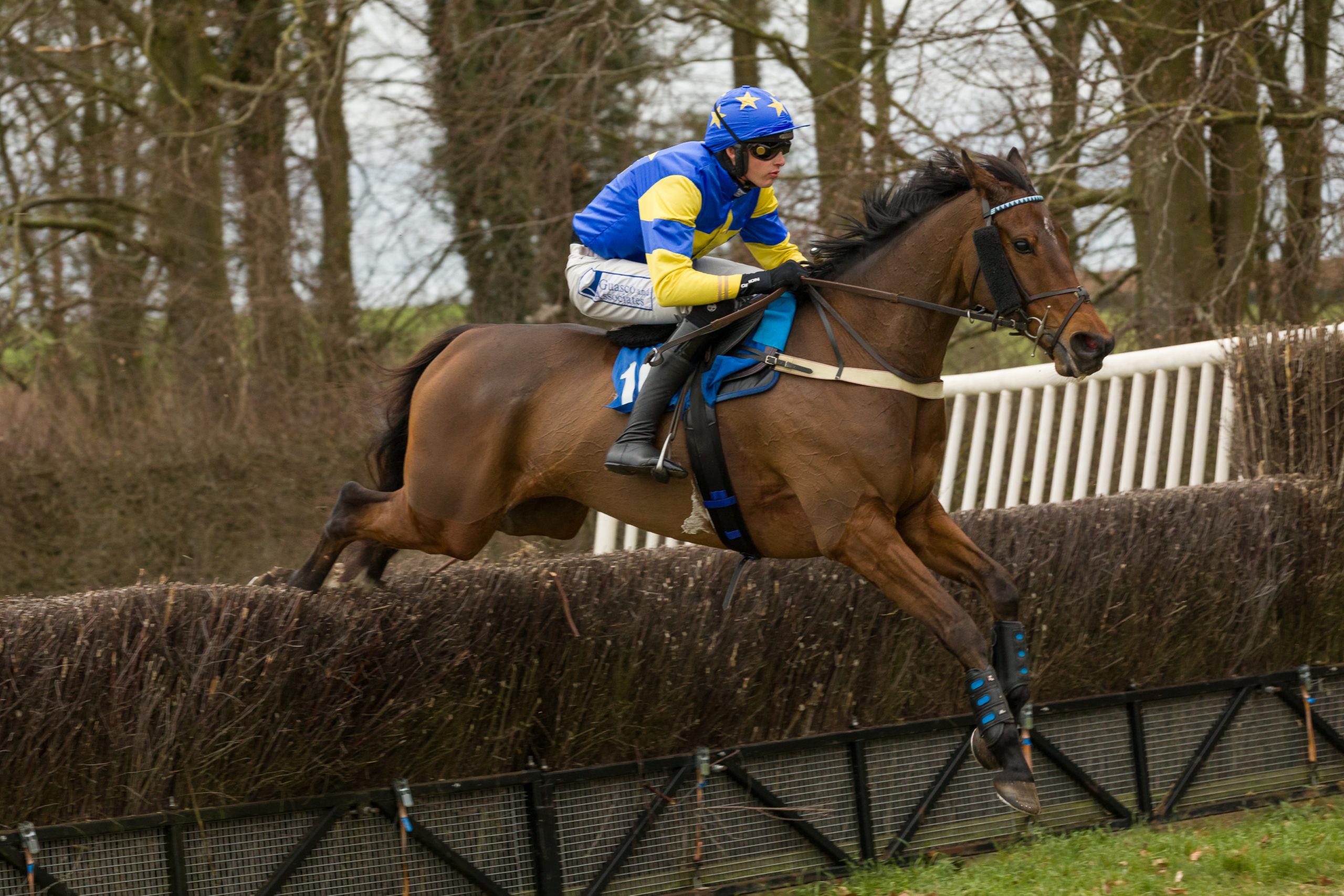 RAGNAR LODBROK and JACK ANDREWS clear of their rival in the Mens Open.
Twilight Girl came to the races in fine fettle having won at Ampton last month and although the mare was stepping up in class, she was 20 lengths ahead of her only rival when clearing the final obstacle. Her opponent, Hawkhurst, is no back number having won 16 point-to-point career races but this was Twilight Lady's day giving leading rider, Gina Andrews, a satisfying steering job, in the saddle.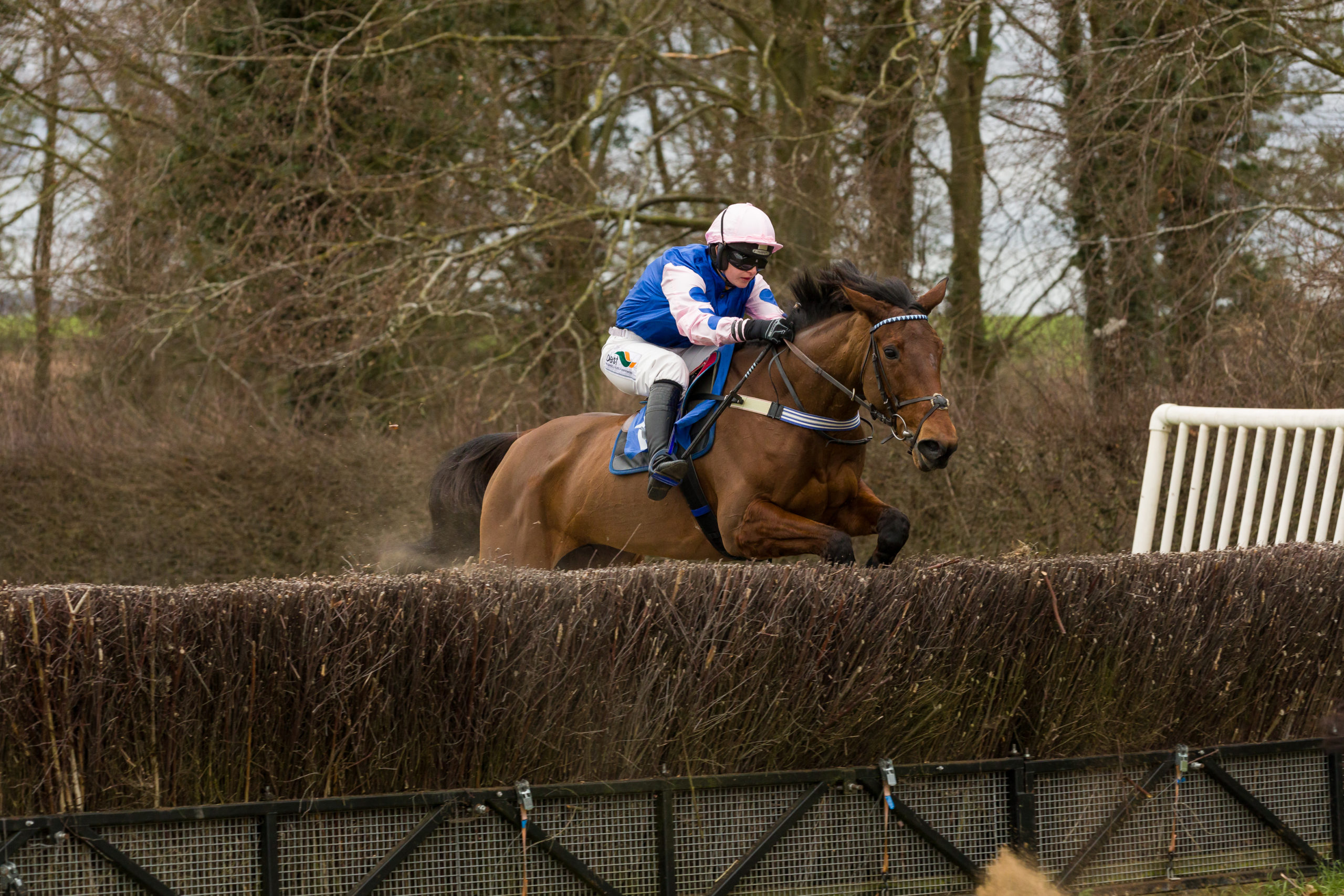 TWILIGHT GIRL and GINA ANDREWS in winning form in the Ladies Open
Gina's double here and her three victories at Charing on Sunday puts her in a clear 4th place in the overall total of winners ridden in point-to-points behind Will Biddick, Richard Burton and Julian Pritchard. Just another remarkable statistic to add to her ever improving, winning CV.
Owners are an extremely important factor in the sport and the enthusiasm and vociferous encouragement shown by Keith Loads when cheering home his Tigerbythetail, in the closing contest, would have been heard many a mile away. This is always to be encouraged, as is any involvement of top sporting and show business personalities, as was the case with the opening winner on the card, Lift Me Up, ridden by James King. The horse, trained by Maxine Filby, is named after a song by Geri Halliwell ( former Spice Girl ) and the owner is Geri's husband Christian Horner OBE, the Principal of the Red Bull Formula One motor racing team. It was with equal pride that Messrs. Loads and Horner were called forward to receive their trophies at the post-race presentations.
A final, massive thanks to the paramedic team based at Redcar, North Yorkshire who were sourced earlier in the week, to complete the medical cover on this revised date. Fortunately their services were not called upon during the afternoon's proceedings and we hope they enjoyed trouble-free journeys on the 450 mile round trip.
ALL PHOTOS COURTESY OF GRAHAM BISHOP  www.gdbphotography.co.uk