POINT-TO-POINT REPORT CAMBRIDGE HARRIERS HUNT CLUB, COTTENHAM. SUNDAY DECEMBER 29th 2019
BY MIKE ASHBY
The standard has been set, for the season, after the first two cracking meetings taking place at Cottenham. On Sunday, a total of 76 runners faced the starter, for the seven races, on ground conditions described officially as "good" and by jockeys as perfect jumping ground.
Two winners from the previous meeting, six weeks ago, were back in the winners' enclosure. Fumet D'Oudairies in the Restricted race once again excelled, in the hands of Jack Andrews. With his foot perfect jumping and here comfortably staying this three mile trip, there is much more to come from this exciting prospect that has been given the name "Nick" in Tom Ellis' yard as a result of the circumstances of his purchase. He was picked up for a relatively cheap price and considered, jokingly, "nicked" as a consequence ! Frank and Honest, who also won here in November fell mid-race whilst the runner-up Bonamargy really pleased trainer/jockey Dale Peters as his horse was giving the winner 7lbs and was not beaten out of sight, on his first run of the season.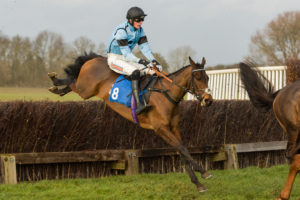 Fumet D'Oudairies and Jack Andrews
The Ladies Open, saw Nantwich trainer Joseph O' Shea saddle Ravished for another facile win following the gelding's success here last month. Harriet Tucker enjoyed the proverbial "armchair ride "for a convincing fifteen length margin of victory. Having walked the course before racing Harriet considered "it rode better than it looked" and was thankful for the opportunity to have the ride on this stylish jumper, to land her first winner at the course. The trainer definitely enjoys his visits to Cottenham and once again had the bookmakers running for cover as he considered his horse was effectively 1/10 shot which went off at 4/6 !!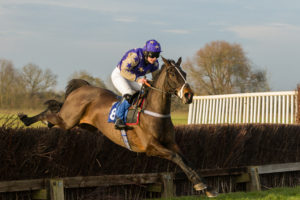 Ravished and Harriet Tucker
The Mens Open went to the classy, market leader Art Mauresque who won with ease after Will Biddick had asked for his effort three out and the pairing never looked back.
Biddick rarely makes an appearance at this course and this was only his second winner, at Cottenham, in a career where he has amassed over 450 winners.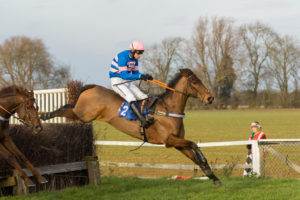 Art Mauresque and Will Biddick
There was a close finish between Call Me Vic and Ballykan, for the Novice Riders contest, with the former confirming places after their first and second positions at Barbury recently. Seventeen year old Albi Tufnell, from Cirencester, was riding his sixth career winner, on his first visit to Cottenham and was delighted and grateful for the experience. Delighted as his mother Jane, owns the horse and grateful for the training element provided by Sally Randell who were both in attendance to witness Call Me Vic's success. Albi confirmed that the horse had given him every confidence and "a great feel "in a race where the favourite The Last But One spoilt his chance with several errors, especially one, which Fergus Gillard did well to survive.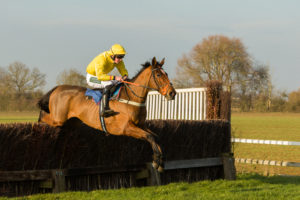 Call Me Vic and Albi Tufnell
Two winners from the East Anglia region came courtesy of Laser Beam ( Conditions ) and Fiddler of Dooney ( 3 mile Open Maiden ). Andrew Pennock, Timworth, near Bury St. Edmunds-based, trainer of Laser Beam was delighted with his winner and would have been encouraged by the performance of Sam Lee, on his debut ride for the stable. Lee had Laser Beam to the fore approaching six fences out and the partnership then capitalised on the departure of the previously unbeaten, Champagne Lilly, three fences from home. The favourite had been travelling comfortably in the middle order and had just moved alongside the leaders but crashed out and her unbeaten run had come to an abrupt end. This left Laser Beam and Lords Park Star to make their way home and the former came home four lengths clear of the running on Burtredgipandgump.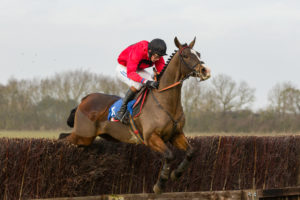 Laser Beam and Sam Lee
Pre-season, Newmarket trainer James Owen had indicated that Fiddler Of Dooney was his selection as the horse to follow for the season. Apparently there are shares available in Fiddler of Dooney who is considered an exciting prospect for the East Anglian circuit this season. This gelding, who will be 7-y-o turning into January, has been placed in Irish Point-To-Points/Hunter chases  At a very affordable price you can contact James Owen Racing at www,jamesowenracing.com to sign up and after this first winning run at Cottenham, he looks an even better proposition for a possible interest. Although difficult to handle at home, the gelding was more compliant here with Alex Chadwick's riding instructions and the partnership won the three mile Open Maiden by a half a length. The pairing just held off the Philip Rowley runner Quinta Do Mar, ridden by Alex Edwards who had a very mixed afternoon by his high Cottenham standards. Twice on the floor in his opening two rides, on Champagne Lilly and Caliente followed by Now Ben who couldn't improve on his previous four course wins in the Mens Open. His final mount of the day, I Will Follow Her pulled up, when not in contention in the last, the younger horse 2 ½ mile Open Maiden.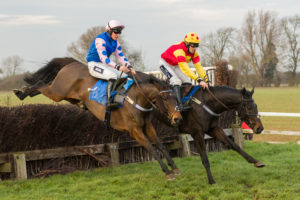 Eventual winners Fiddler of Dooney and Alex Chadwick (nearside) come to challenge Quinta Do Mar and Alex Edwards
This was won by Oscars Fame to complete a fine training double for Tom Ellis from Warwickshire, initiated by Fumet D'Oudairies. The horse had been bought in the summer and been brought along steadily but not helped by the current wet weather, causing some bottomless training gallops at Tom's yard. However there was a quiet confidence that the gelding would give a good account of himself and so it proved to be with a three length advantage over Bold Gesture and Classic Lady a further five lengths adrift.
Gina Andrews, Tom's wife, enjoyed more Cottenham career success on Oscars Fame to round off another outstanding meeting, on a glorious December day, in front of a large holiday crowd.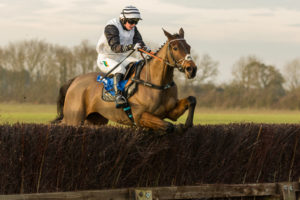 Oscars Fame and Gina Andrews round of great day with a win in the last
FULL RESULTS BELOW:
CHHC Conditions
1st Laser Beam Sam Lee 6/1
2nd Burtredgipagump Archie Wright 4/1
3rd Lords Park Star Phil York 12/1
Time 6-01 Dists: 4L 15L 13 ran
also Bertimont 4th Champagne Lily F 2/1f Exclusive Rights 6thFlugzeug 11th Generous Ransom 5th Rules Of War10thShantou Tiger F Treat Yourself 9th Urban Storm 8thWeather Warning 7th
Restricted
1st Fumet D'Oudairies Jack Andrews 5/4f
2nd Bonamargy Dale Peters 5/1
3rd Mr Snuffles Huw Edwards 7/2
Time 6-03 Dists: 7L 6L 13 ran
also Caliente UR Carumba PU Crazy Penguin UR Frank And Honest F Mano Cornuto F Maximus Maridius PU Occupied 4th Phoenix Park PU Round Robin 5thUknowwhatimean UR
Men's Open
1st Art Mauresque Will Biddick 5/4f
2nd Bletchley Castle Huw Edwards 5/1 3rd
Ballynagour Joseph Stevenson 8/1
Time 5-56 Dists: 4L 5L 10 ran
also Abbey Lane 7th Fixe Le Kap 6th Man Of Steel PU Net D'Ecosse 5th Now Ben 4th Statistical PU Zeroeshadesofgrey F
CA Members Novice Riders
1st Call Me Vic Albi Tufnell 4/1
2nd Ballykan Ben Bromley 3/1
3rd Workbench Murray Dodd 4/1
Time 6-00 Dists: 3L 2L 10 ran
also Donjon 8th Earlshill 6th Emerald Chieftan 7thLegend To Be UR Mahlers Star 5th Minerfortyniner PU The Last But One 4th 4/6f
Ladies
1st Ravished Harriet Tucker 4/6f
2nd Knockedoutloaded Alex Knight 20/1
3rd Celtic Silver Gina Andrews 7/4
Time 5-57 Dists: 15L 8L 7 ran
Also Allbarnone PU Oscar O'scar PU Stage One 4th
Open Maiden 3 miles
1st Fiddler Of Dooney Alex Chadwick 4/1
2nd Quinta Do Mar Alex Edwards 5/1
3rd Benefaktor Gina Andrews 4/1
Time 6-01 Dists: ½ L 10L 12 ran
also Bob The Beetle PU Happy Larry PU Huntsmans Jog UR 2/1f Luscious Lily F Mrs Davies 4th Ringa Ding Ding PU Seeing Blind PU Whats The Problem PU Windy Writer 5th
4, 5 and 6 Year Olds Maiden 2 miles 4 furlongs
1st Oscars Fame Gina Andrews 9/2
2nd Bold Gesture Sam Lee 7/1
3rd Classic Lady Tommie O Brien 7/2
Time 4-37 Dists: 3L 5L 11 ran
also Breaking The Ice 6th Byzantium Lad 4th I Will Follow Her PU Josh The Plod 5th Mello Grey PU Morning Smiles PU The Golden Rebel 7th You Too Bonny Lass F 2/1f