POINT-TO-POINT REPORT
DUNSTON HARRIERS, AMPTON, SUNDAY JANUARY 12th 2020
BY MIKE ASHBY
 The East Anglian season continues to provide some excellent racing with another enjoyable, exciting and informative fixture at Ampton racecourse.
 The James Owen-trained Just Cause won the opening race for veteran horses and provided owner, Ampton's Clerk of the Course, Simon Stearn, with a thoroughly deserved winner. Simon and his hard-working team had the course in superb condition and it was Simon's son, Rupert, who rode a well-judged race, to win by 1 ½ lengths. Always appearing to travel comfortably within the race, Rupert confirmed his mount runs best when fresh. Last of a bunched field after the first circuit the pairing made steady progress and finished clear of After Hours and previous course winner Minella Friend Although a recent purchase by the Stearn family, Rupert had ridden Just Cause, a couple of years ago, at Catterick Bridge and jokingly added he had subsequently been "jocked off".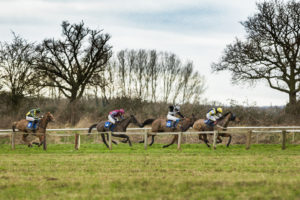 Just Cause and Rupert Stearn currently in 2nd place
Don Cantillon has been around the East Anglian scene for several decades. First as a jockey and in recent times, as an astute trainer. His home-bred 6yo Hunstmans Jog ran away from the opposition in the Open Maiden, winning by a distance, in the hands of Liam Harrison. Don never loses that desire and excitement of developing a young horse and with each success, that twinkle in his eye never dims. Liam from Stow-On- The –Wold area works full-time for the in-form Fergal O' Brien stable and has been given some nice opportunities, recently, including a 3rd place in Saturday's Grade 3 Classic 'Chase at Warwick. This was Liam's 10th points winner and his first of the season and he was riding mainly for Sally Alner, last season.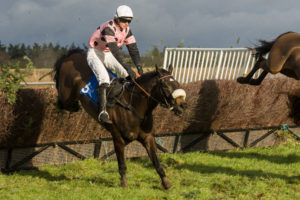 Huntsmans Jog and Liam Harrison
The Mixed Open saw the favourite Tullys Touch and Jack Andrews content to bide their time at the rear, before making a forward move, to overtake long-time leader Chosen Rose, up the Ampton finishing hill. Although the race was run in the slowest time of day, Andrews was impressed with the winner's ability to quicken and considers the 7yo, progressive with very little mileage to-date. Trainer John Ibbott was also pleased to concede this was potentially the best horse he has had in his yard. The mare Chosen Rose will come on for this run and is due to make her next appearance at Horseheath in early February.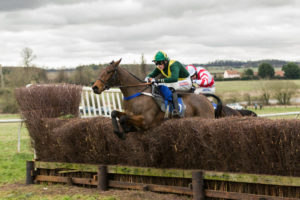 Tullys Touch and Jack Andrews
Occupied and Sam Lee comfortably won the Restricted event after the favourite, Hard Ground had fallen, when upside, two fences out. Sam was more than confident that his mount had the measure of the favourite and the partnership eventually won by 8 lengths from the weakening Taboo, who had lead till three out.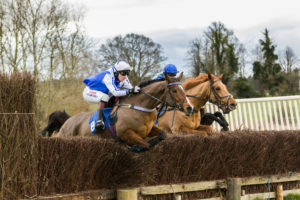 Occupied and Sam Lee ( far side)
The Intermediate race saw another favourite, Fox Valley, miss out on visiting the winners' enclosure. Dream Doc jumped freely and impeccably in front but was joined by the favourite three out. Just when it looked like Fox Valley and Jack Andrews would go on and supplement their Cottenham success they were re-challenged by the very game, mare Dream Doc who "just kept giving more" for winning jockey Kate Gowing. " She likes to get her own way and she loves it and just doesn't like to be headed" added Kate. Owner/trainer Caroline Fryer, was equally delighted not only by the performance of the mare, who is qualified with the host Hunt but more importantly part of the winning prize were some Sandringham Royal sausages !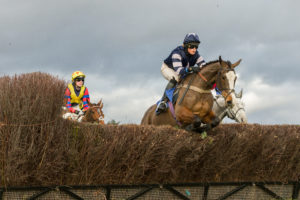 Dream Doc and Kate Gowing
There were 47 runners on the day and 12 contested the concluding Novice Rider's race. The original outcome of the race became immaterial as unfortunately three jockeys had by-passed a dolled off fence, on the first circuit, on the incorrect side and were disqualified. The dolling-off was necessary because of the low sun. After Aspen was always up front and was declared the winner by the judge before the announcement of a Steward's Enquiry. His level-headed rider, Luke Scott, was fully aware of some of his rival's erroneous, fence by-passing and was confident he would retain the race at the subsequent Stewards Enquiry. At the prize presentation, trainer Laura Horsfall was surrounded by delighted members of her racing club who are looking forward to another successful season, for what will be their sixth full season in operation.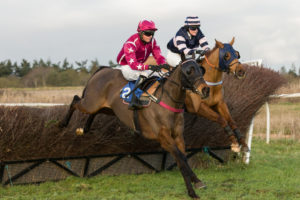 After Aspen and Luke Scott
So another delightful day's racing with ground and weather conditions as decent as you can expect in early January