With point to pointing shut down for the season and the country facing an unprecedented crisis, we thought it would be nice to provide some happier news and inspirational stories for anyone that might need a break from the news.  To get us under way, we are going to hear from James Down.  Jimmy, as he is known to his friends, has been working for one of our leading local trainers, David Kemp, for the last ten years.  Jimmy not only has an amazing story to tell but he also has a positive  outlook on life that is much needed in times like these…
JIMMY'S STORY
Hi! I'm James Down and I've been working for David Kemp for 10 years now with great success.  In that time we have had 67 winners together, including success with the likes of Moroman, Curraigflemens, Master Workman, Law of Gold and Carayto Des Brosses. These are just a few of the Hunter Chase winners we have had in that time.
I am now privileged to have joined 'The Pub Team' (East Anglian point-to-point's preview team) as one of the contributors and I write the preview for each fixtures Maiden races. Point to Points are a passion of mine and contributing to the Pub Team preview each week gives me great pleasure. I'm hoping in the future to continue writing, preferably for the racing press, as this has been a long-term ambition.
Below are just a few of my thoughts and memories of the last year now that our racing season has ended prematurely:
31st May 2019 – What a Night!
This was the night that Law of Gold won the John Corbett (The Champion Novices' Hunters' Chase) at Stratford and Caryto des Brosses was within a whisker of winning the Champion Hunters' Chase. The night was without doubt and amazing high point in my life but the events that were to unfold in the following few days have had a life changing effect on me.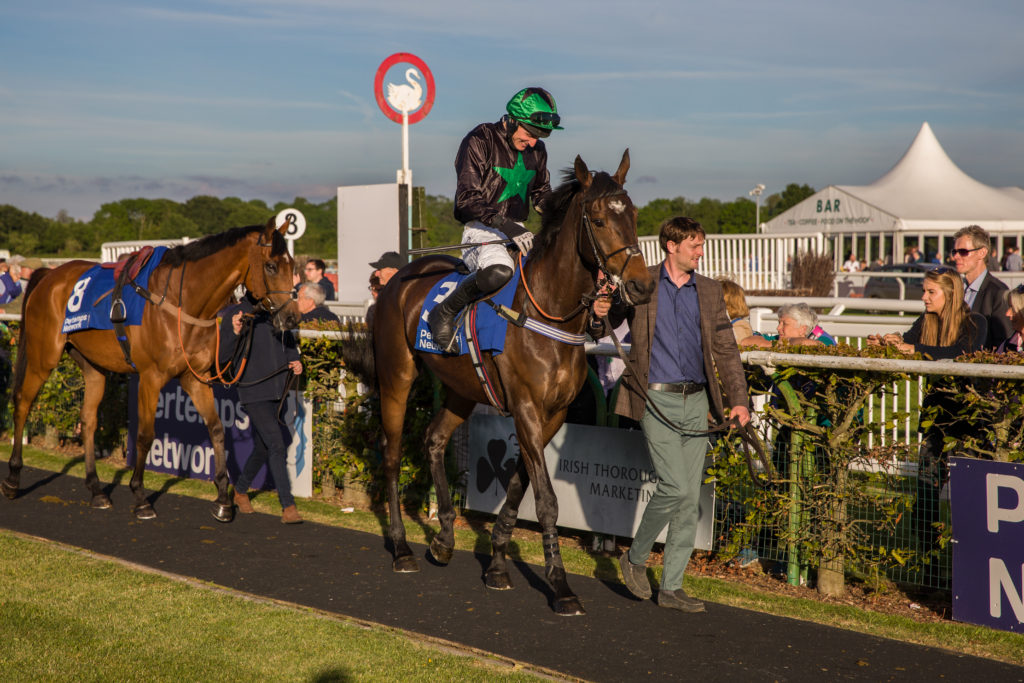 Sunday 2nd June 2019
Last year, on Sunday 2nd June, I was involved in a road traffic accident. I broke my femur, the C2 in my neck and had 30 stitches in a head wound that has left me with a dent in the side of my head. Physically I was in a bad way but mentally I was ready for the challenge to get up and get on.  I went walking on my crutches every day, eventually walking five miles on them!  Amazingly I was off crutches after seven weeks. This was in no small part thanks to the Injured Jockey's Fund's Sir Peter O'Sullevan House in Newmarket, where I was doing some hard work in the gym and having physio sessions up to three times a week.
I'm very strong willed and if I put my mind to something I get it done; I was pretty proud to be riding a friend's horse within just nine weeks of the accident.
What happened next was to change my life forever…
I was out walking one day and just collapsed to the ground. I somehow managed to get myself together and continued to walk about two miles to get home. My breath was short, and I was struggling to walk. Halfway from home I started to cough up blood.  I managed to get myself home and thought I could sleep it off but woke up with chest pains and struggling to breathe.  I was rushed back into hospital and, although in good spirits, I didn't really know what all the concern and fuss was about.  From then on I was in the hands of the NHS.  Firstly I was taken for scans and for an ECG.  I had given permission to be resuscitated because one side of my heart had stopped working.  Everything then went blank.  I don't remember what happened next, I just remember waking up with a team of doctors around me.  I had suffered a cardiac arrest and my heart had stopped.
The doctors had no idea how I survived first the collapse and second the cardiac arrest.  They explained that the number of clots in my body and the size of them were unreal.  In fact, they were in the top five the doctors had ever seen in the West Suffolk Hospital.  I was hooked up to telemetry for five days to monitor my heart rate; even the slightest movement sent my heart rate through the roof.
Amazingly, I was allowed back home just a week later but mentally I was in a bad place. I had healed from my broken bones just in time for the season to start but now I was facing another three months off work due to being on blood thinners. The doctors had told me to change careers because my body wouldn't cope anymore with the damage it had been through.  These months felt like a lifetime away from my passion and not being able to ride.
4th December 2019
However, on 4th December, I was given the all clear to come off the blood thinners and was told that no clots were left.  I was diagnosed with a post thrombotic syndrome.  I was thrilled to be able to get back to work and my first ride was on Law of Gold.  I was so happy to be able to ride again, it felt brilliant and like I'd never missed a day.
19th December 2019
On 19th December I started to get a raised heartbeat again.  At rest my heart rate was about 127 bpm and I was taken back into hospital.  I had all the tests again and was told I had suffered a second pulmonary embolism.
I was put on blood thinners and compression stockings for life.  I was told to give up riding because it was too dangerous and not worth the risk.  But, me being me (stubborn!), I wanted to take the risk.  I could have a stroke or internal bleeding or suffer a cardiac arrest if I was to take a bad fall but, I think there is no greater risks for me doing it than someone else.  I am a very positive, confident rider and for that reason I have decided to continue riding as long as my body can take it.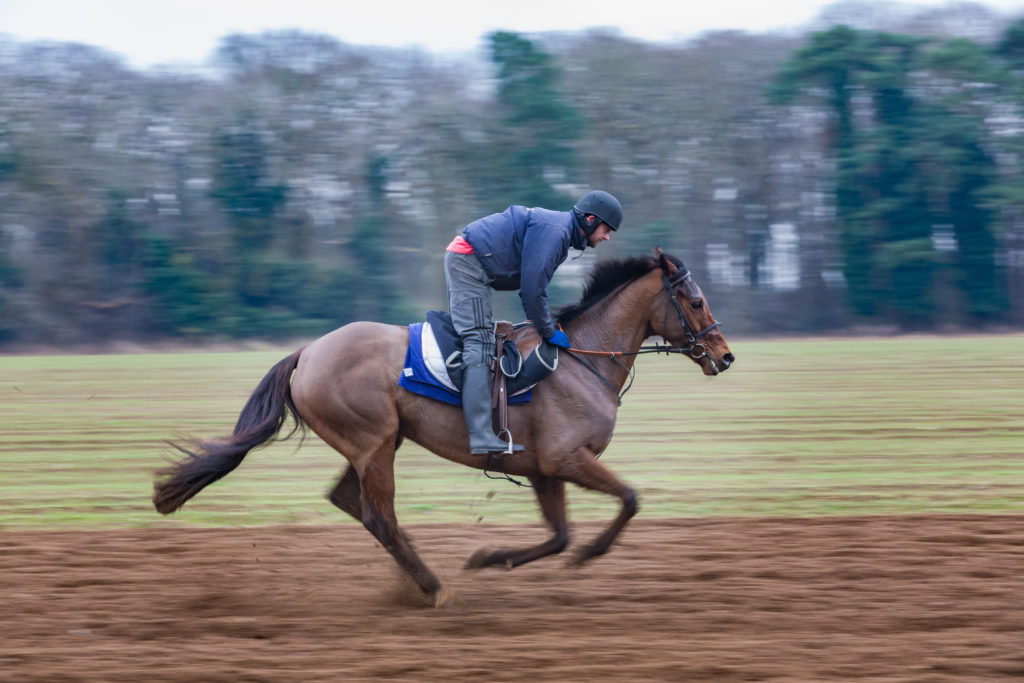 13th March 2020
I'm so glad we got to Cheltenham, where Law of Gold did us proud in the Foxhunters.  He is definitely something for us to look forward to next year.  We have a lovely bunch of horses at the yard and it's too much for me to miss out on. I want to continue to be part of the team and hopefully help the horses progress through the ranks.
I do accept that I may not be able to carry on forever, as the damage to my leg from the thrombotic syndrome is too great.  Later in life, I have been informed that I face the prospect of amputation.  I may be crazy, but for now, I'm going to continue to ride because it's my passion.  Damaged leg or not, I'm doing something I enjoy, and I'd rather do that than be unhappy.  I go by the motto 'we live every day and die once' or in my case I'll die twice!  I was even due to ride in the Charity Race at Horseheath on Saturday 28th March, but that has unfortunately been cancelled due to Covid-19.  Not being able to ride in the race is a great disappointment, it would have been great fun!
Up until now, I have never told the full story of what happened to me last year as I wanted to continue riding without people worrying about me. The present situation is very worrying for the whole country and the loss of racing is incredibly sad but, it is giving me a chance to take things easy and get my mental health back on track.  This has truly been the hardest and darkest year of my life and I would like to thank everyone in the point-to-point world for your continued help.  A massive thank you has to also go to some top friends who have been there for me on this journey; I wouldn't still be here if it wasn't for them!
See you all next season…!
Jimmy.