My Introduction to Pointing, The Highs and Lows of Ownership – John Ridge
Let me introduce myself, I am John Ridge and, in 2008, David Nicholls asked me to join the Pub Team.  I was really honoured, these guys had forgotten more than I ever knew about horses, owners, trainers and form. My first reviews were in partnership with Graham Bishop, who I also worked with, and his expertise was invaluable.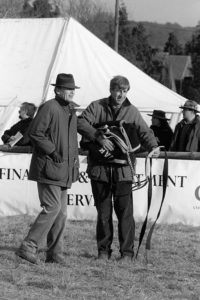 John Ridge and Malcolm Kemp at Parham
Born in an ex. war time Nursing home on 2nd. October 1946 in Sawbridgeworth – by J.E.M. 'Jim' Ridge (Veterinary Surgeon in Old Harlow) out of Mary 'Jenny' (nee Rose who had been a nurse at St. Margarets Hospital in Epping). My Father was the Vet at the Essex Hunt meetings in the 50's and 60's until his sudden death in 1969. He always left early so my first proper experience of Pointing was being taken, in around 1955, to the Essex Meeting at Matching by my Father's right hand man Charlie Worth (ex. POW from WW1 and real name Karl Wort, which for obvious reasons he changed on deciding to stay in England after the war).
Charlie knew all the locals and was a great friend of Tom Watchorn. He was responsible for igniting the interest and enthusiasm I have for the sport and also he liked a small bet, and with the minimum bet of 2/- (10p.) and his expertise I would sometimes manage to supplement my meagre pocket money. The sight of Mick Barber glued to the neck of multiple winner Hard Frost and hugging the inside rail is one of the memories I have of those early years. Pat Rowe tells me that at Cottenham, Mick came in after a race with white stripes across his boots from the paint on the rails!
My pointing experiences were limited to the Essex and Puckeridge meetings at various venues throughout the next 40 years. In the early 60's, when a boarder at Bishop's Stortford College, I used to break out across the fields to Wickham Hall with my friend, the late Johnny Ward, to watch those local legends of the 60's. Hunter Rowe, Hugh Hodge, Ted Harvey and Christopher Sporborg, all of whom had progeny who went on to be well known Pointing jockeys. I met Hunter in 1968 when I had set up a small agricultural supply business and we became firm friends and I watched with a special thrill on our small black and white TV, winning the Aintree Foxhunter on Bitter Lemon which he, with his father Vasser, had bred and trained. I am not sure if that feat has been repeated but with Bitter Lemon he tried again in 1970 but was baulked at the 3rd.
During the next 30 years, my Pointing experiences were limited to the Puckeridge which, when it moved to Horseheath, came to be known as the largest open air cocktail party in East Anglia, the Essex, although Marks Tey was not my favourite track and from the late 60's to Cottenham meetings, as my, then to be, father in law Dudley Hoy was a long standing paddock Steward and I was keen to impress! I married Tricia (nee Hoy) in 1969 and my father in law Dudley continued to give us passes, so if the weather was kind, we both went.
Another milestone was when my good friend Mike Johnson won the Aintree Foxhunter with Newnham in 1988, a horse that he trained on his farm near Buntingford, ridden by Simon Andrews.
It was around the mid 90's when I met Malcolm Kemp. He shared an enthusiastic interest in Murray Grey cattle with Dudley. They shared a bull and met up at all the major agricultural shows and the annual Murray Grey Dinner at the Rutland Arms in Newmarket. Dudley, over several years, won pretty much all the trophies going with his Hobart herd, but gave up the cattle when he became ill. I then took on some of the herd and kept up the contact with Malcolm. Soon after Dudley's tragic death in the summer of 2000 Malcolm suggested I might like a share in a Pointer, "here we go" I thought! Mother in law Joan (an incredibly keen Pointing fan) suggested I registered Dudley's colours and there was no going back.
2001
This was my first season as an owner, with a share in an Irish 7yr. Maiden winner Now or Never (Neville). It was not a great start, the season finished in late February with the outbreak of Foot and Mouth (not dissimilar to today, but an animal epidemic rather than human!). The only meeting option was Parham ("where is that?" I remember thinking) so off we went, and on a beautiful day, we watched David Kemp being unseated in the Restricted at the 8th. The one downer was that I really wanted Lisa Rowe to ride for me, but she hung up her boots at the start of the season. Undeterred but deciding to reduce the financial costs I sold a share to Philly Hamilton.
2002
After 2 PU and an UR (2001) Neville completed the course to get 6th at Higham in February and a 3rd place in the Puckeridge Restricted.  A 2nd in the Restricted at Fakenham when the Johnson / Winchester's You Can Quote Me fell when lying 5th was probably the season's high. We were lucky with Neville to have 7 runs with 2 places but 4 PU's. We even tried a 3m. 6f. H.C. at Huntingdon but PU as it was way beyond Neville's capabilities.
2003
I had by now really got the bug and finances had improved so went with Malcolm and David to Doncaster the previous summer and came back with a £5K. 7yr. real Pointing type – Bard of Drumcoo (Barney) another Irish Maiden winner. My daughter Jo was living in Newmarket at the time and rode Barney out twice a week so I knew he would be fit! It was just as well I had Barney as Neville only ran once (tendon injury) but Barney came good with a win making all in his 3rd run of the season in the Restricted at Horseheath but disaster when 2 weeks later at Fakenham he was brought down at the 1st in a H.C. Barney bounced back at High Easter taking the Tom Watchorn and Ben Moore Memorial Trophy which was brilliant as I remembered Tom from my childhood in Harlow. 6th. in a tilt at the Queens Cup and a 5th in a H.C. at Huntingdon finished off what I considered a great 3rd. season (5 runs in Points with 2 wins and 2 places).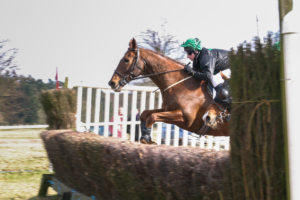 Bard Of Drumcoo and David Kemp
2004
This season was a dream come true and one of my highlight years in Pointing ownership. A double at Fakenham (my only ever double) when Neville took the 12 runner Restricted (only when the fav. Russian Friend fell 3 out in the lead and David galvanised Neville to win by a length) and then in the next race Barney won the Open by 12 lengths. 2 other races stood out; Barney winning Mike Johnson's Newnham Trophy in the Puckeridge Open at Horseheath, I got very drunk at Johnson's in the evening, drinking a lot of Champagne out the cup and the Thurlow Confined at Horseheath when Barney took on and came 2nd (no real surprise here especially with Phil York up) to Algan the winner of the King George and £350K. and as some wag stated, it was a bit like running Linford Christie in the father's race at school sports day.  Barney finished with 5 wins (3rd highest in the country) and a seasons overall tally of 13 runs with 6 wins and 4 places. Nicholls then said I was a lucky owner and it was Neville's last season so at least I didn't have to hear him and Winchester burst into song with 'It's now or never…..' every time we met.
2005
This year was not so good, with only 3 runs 1 win and 1 place. Barney was out with a tendon injury and a new horse, Collective Opinion which Malcolm had bought for Graham Bishop and myself also out. But a young horse I had bought unnamed came good in the Thurlow Maiden with a 10 length win. I thought Fifties on Fire (Basher because he kicked everything!) as a name pretty well nailed it and that fire has burned quite brightly most of the time but the costs still run into fifties!
2006
Another disappointing year, but Collective Opinion won the High Easter Maiden on his only run and like a car with a burst off side tyre he swerved right into the car park just past the winning post. It proved to be a bad split tendon injury and not the noise of the crowd that some thought. Malcolm had a Veterinary friend who was experimenting with Stem Cell surgery and would treat the horse F.O.C. so I said great, please carry on. I then had a call from David to say that the BBC was onto this and wanted to feature the treatment in a documentary – even better, perhaps a fee – no, the BBC Director did not have a budget but eventually we had a deal and they would make a contribution to the Injured Jockey Fund which, incidentally, they never did. I watched the procedure and the injection of the stem cells into the split but unfortunately it did not work, and he never ran again. Barney made all and won the Confined at Ampton on a day when David took 5 horses and won with 4 and was then 3rd in the Open with a 7lb penalty at High Easter in a dramatic finish when all were out on their feet from the last. Overall, 7 runs with 2 wins and 3 places.
2007
This year was not much better as Basher was fatally injured in training and it was, at 12 years, Barney's last season. He had done me proud over 5 seasons –  20 runs with 8 wins (the most wins by any horse I have owned to date) and 9 places, he was not that fast but he was consistent and could run the opposition into the ground. I actually got real money for Barney when he retired to be a riding horse for a charming lady in Kent where he had an amazing home which is exactly as it should be. Portavo was my latest purchase from the Henrietta Knight yard and my most expensive one at that (before or since) but he took the Restricted at Parham, so I had great expectations for the following season.
2008
Portavo out injured but Malcolm had bought Where's My Baby (Basil) for me at Ascot sales and wow what a great looking horse. His form was nothing, but he had a real presence. He came a neck 2nd on his first run for me in a Higham Maiden on good to firm ground and saved the season with a convincing 5 length Maiden win at Horseheath. A new addition to the team was Captain Marshall  (Marshy an  ex. Irish bumper runner), who I shared with Graham Bishop and my good friend Judy Savage, he PU on his first run over fences in April when David Kemp had finally got him right. So only 4 runs with a win and 2 places.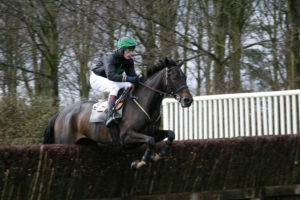 Where's My Baby
2009
Portavo still out injured but now Basil is showing serious promise and this report from Lewis Eagle on Pointingea really sums up Basil and his season "Basil has got to be one of the most consistent and honest horses in East Anglia. Having ran nine times in points, winning 5 of them and 2nd in the other four. This horse doesn't know how to run a bad race." He started off the season with a 3 length 2nd to course specialist Mid Div And Creep in the Horseheath Members. The mare had already had a run out and it would have been interesting for them to meet again later into the season, but they never did. He went back to his beloved Horseheath and won his Restricted very easily (this was one of three for the yard that day!). 2nd behind his season rival Go North at Ampton followed up with two more wins, the Members, back at Horseheath and the Intermediate at High Easter. However, his most impressive win of the season was at Fakenham were he took the step up to open company. Gun Smith and Bob Justice set a flying pace but Where's My Baby did not follow them, sensibly staying a couple of lengths back to lead the rest of the field. A place looked about his best chance after a mistake at the 3rd last cost him his momentum briefly and was being written off by the commentator as "tiring in 5th" but he didn't give up that easily and having to go widest of the four horses round the home turn and over the last, which he flew, he battled gamely with Andy Braithwaite on board throwing everything he had at him to get up to beat Go North by a head. The time was by far the fastest of the day at 6.14. A cracking finish and phenomenal effort by horse and rider. His jumping improved with each race this year and one of my highs in Pointing, so Basil must be the puppy's nuts. Basil went on to a Novice Chase at Folkestone but the hard race at Fakenham had taken its toll, so he finished 7 lengths back in 5th but not disgraced.
Marshy, who had been with Judy all the previous summer where he had some real love and attention, ran a distant 2nd in the Higham Maiden in January but came good in the only win I have ever had at Cottenham. He took the short Maiden by 25 lengths, despite hanging left and nearly disappearing into the wood on the final bend. Moving up to a Restricted he struggled to 4th at Higham and then fell when he had every chance at High Easter. Final tally for the year: 11 runs with 5 wins and 2 places with Basil 2nd in the E.A. Young Horse Awards.
2010
This year started well with Basil a nostril 2nd to Start Royal at Cottenham but disappointed at Higham in February (not his track and firm ground) but then he had a great win in the Open at High Easter which restored our confidence so we decided to enter the Queens Cup but a mistake at the first cooked his chances and he fell at the last, so no surprise when he pulled up in the Fakenham Open.
Lauren Braithwaite had set up as a trainer in Alex Harvey's yard at Wickham Hall and I wanted to support her so, I sent Portavo to her with all his injury issues hopefully behind him but a place was his best and he never quite made it. The final tally was 8 runs with 1 win and 3 places so back to earth with a bump!
2011
2011 was dire. Basil only had 1 run and was beaten ½ length 2nd to Bluegun at Horseheath in a competitive Members and then was out for the rest of the season and Portavo fell badly at the Open ditch at Horseheath which proved fatal when back at Lauren's yard. So, 2 runs and a place only. The question of "why do I continue to do this?" was asked many times.
2012
Another season to forget when firstly I had my leg lifted by the Irish with a horse that I bought privately and it never ran. Basil was not the horse he was, in hindsight I think he had developed a wind issue and I should have retired him. He ran 5 times and was placed once.
2013
The year started miserably. I had moved Basil to Lauren's in her new yard at the Crowhursts in Newmarket where I thought a new and fresh set up would invigorate him but it was not to be and following a dire run at Higham I retired him immediately and he was off to Helene Braekman's dressage and eventing yard. Then luck and Helene's expertise paid off, so when Alice Quinlan and her father came to look at him in the summer, he was on his way to being something of a show horse. There was something special about him, he had real presence and he knew it. It was Alice's 21st coming up so a deal was struck with father and Basil went off into the world of Racehorse to Riding horse. A really successful partnership and career ensued. Tricia and I went first to Henley soon after Alice had him and watched Henrietta Knight judge the class. Henrietta's comment was, "once you can really control him, he'll go far". It was obvious being the first time in a show ring with crowds and noise, Basil was jumpy and just waiting for the flag to drop. We went to Windsor Horse Show the following year to watch Basil, where he behaved impeccably. I have a great photo of Basil and Alice being studied intently by a little old lady in an anorak who most of my friends have difficulty in recognising as the Queen. I understand he has been everywhere, and I last saw him being paraded at High Easter Point to Point when he looked fantastic. A really happy ending.
On a positive note, in the previous summer Lauren had introduced me to Martin Oliver, who from his base in Worcestershire, brings over Pointers from Ireland. I bought Cathedral of Pines (Percy) as a 5 year old and David rode him to a 3rd in the January Ampton Maiden but that was it for the season.
I rang Martin in February and explained that I had just retired Basil and wanted a Pointer to run for the remainder of the season. He offered me West of the Road (Westy) who had no form whatsoever, but he was cheap and Martin would deliver him to Newmarket on approval and if we didn't like him I could send him on to Phil York with no charge. How fair is that, and so on his arrival at Neil King's quarantine yard Lauren, Andrew and I went to view him. Not impressed as he was covered in rain scalds and looked like he had been clipped by a pissed Irishman in the dark, but on an impulse, I said I'd take him. Lauren sorted him out and in March Andrew rode him to be 5th in a Marks Tey Maiden then 2 weeks later 4th in a Maiden at Aldington. The verdict was run him in blinkers, as he needed to concentrate. Lo and behold 5 days later in the Essex High Easter Maiden, Westy ran a blinder to win from the front jumping like a stag. 3 weeks later and onto the Puckeridge at Horseheath where he won the Restricted by 1 length and to my delight, I won the Cup that was presented by my late school chum Johnny Ward. I probably got a rush of blood to my head as off we went to Fontwell and a Novice 2m4f H.C. with Gina Andrews up. Gina had never ridden for me before but make no mistake she was good and led to 4 out when he was touched off into 3rd place by a nostril. My first H.C. placing so pretty chuffed.
2014
A real low point in my Pointing ownership story and the only year that I have had with no horses in the Kemp yard. Westy ran once in the Intermediate at Barbury, he looked great and with Gina up I thought "here we go", but it was not to be, and he ran 6th. Both Westy and Percy were now injured so they went into the incredibly capable hands of Judy Savage and her right-hand lady, Beverley, who has the most fantastic rehab and convalescent set up at County Farm, High Easter. Judy and Beverley were to figure quite considerably in my life over the next few years. Only 1 run!!
2015
The previous summer I had thrown caution (and any sense of financial prudence) to the wind with a visit to Martin in Worcestershire. I bought the 6 year old Flemensfirth gelding Curraigflemens (who names these horses!!) for well within my miserable budget. He had rather poor Irish form but, seeing him in the field, I just thought I saw something there and never regretted my decision. Early February at my favourite track, Horseheath, with Dickie Collinson up, he looked the part and did not disappoint making all to take the young horse Maiden. So off we went to a Whitfield Restricted but he was not quite right, maybe the track didn't suit, so he finished a distant 5th. Back to Horseheath making all to take the Restricted and the Johnny Ward cup, again, so all was well but the tight track at Fakenham didn't seem to suit so, in the Conditions race 4th was the result. A final fling in the Novice Chase at Fontwell, on really soft ground in the rain, meant we pulled up, but we knew there was something to work on.  Westy continuedl in rehab at Judys' but Percy  came back from injury and seemingly not quite fit he pulled up in a Horseheath Maiden with Sam Davies-Thomas up then a Maiden and a great 2nd at Kingston Blount with David back up and on to a soft Brafield and 6th in a 12 runner Maiden. Then 2 3rd places at High Easter and Fakenham so he was not disgraced but he was not the horse I think he could have been. Final tally 9 runs with 2 wins and 3 places.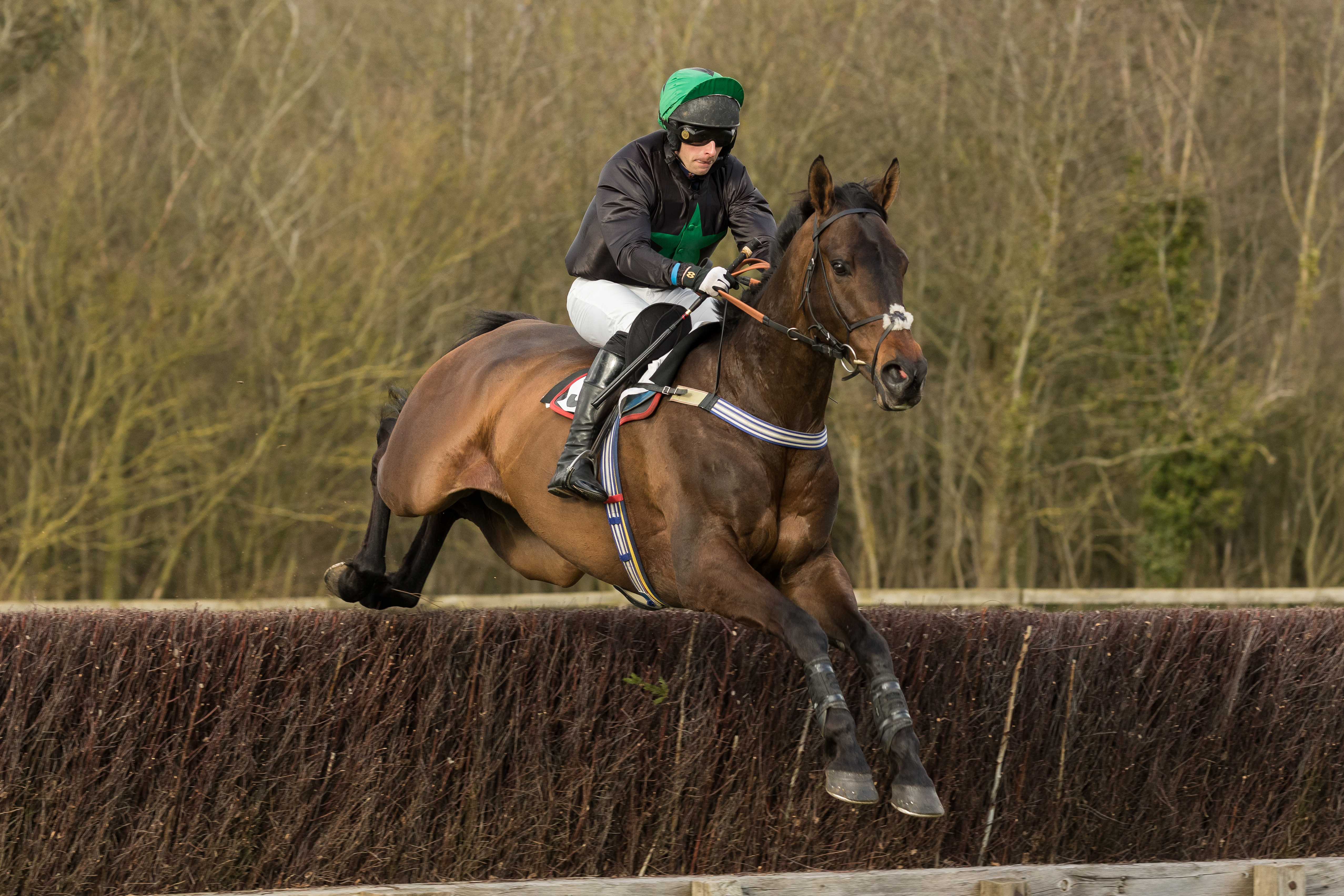 Curraigflemens
2016
Westy's last season. He ran out of Judy's yard with Nicola Cook in charge and Dickie Collinson rode him 4 times with 2 PU and a place but his heart wasn't in it and on his final run at High Easter Dickie had to push him hard from the start and although 2nd to Excitable Island, It was not a pretty sight. Beverley then found him a good home as a riding horse. Bobby started the season with a new Novice rider, Shane Roche, who David had discovered. Shane rode well to a 3rd in the PPORA Novice Riders at Horseheath and then to Parham and another Novice Riders on soft ground. Shane rode prominently and won his first Point by 12 lengths so we were on the up but down again at High Easter on soft ground and pulled up when weakening 3 out in the Intermediate, but we were soon up again taking the Whitfield Intermediate by a head from Alan Hill's Velvet Cognac. There was nothing for it but to take on a H.C. so back to Fontwell and the 3m.1f. Novice Chase in May. Blazing Whale with Biddick up, a multiple Point winner, odds on and apparently a nailed on certainty so no pressure! Bobby asserted over the last 2 and went away to win by 4 lengths at 11/1 – mine as well as Shane's first H.C. win. So, with tails up, it was off to Stratford for the John Corbett but at 3m. 3+f. It was a big ask. Shane rode him prominently but stamina told and he finished 5th, only a length behind Broken Eagle, so not too disappointed and a lot learned especially that this horse could really jump well. Final tally: 8 runs with 2 wins and 2 places plus a H.C. win and the knowledge that Bobby had real potential.
2017
I thought Bobby (rated 102) would come out firing on all cylinders but he was beaten less than a length by Gerald Bailey's Empire Builder (106) in a Horseheath Open, so a good run but disappointing nonetheless and then the same when back at Horseheath a 3 length 3rd to another Bailey runner, The Talkinghorse. Back to Horseheath for a 3rd time and I hoped to be lucky, but I was a length 2nd to Mr Raj. Bobby came good in his final Point run of the season at Dingley when he ran prominently and impressively to win the Open by 3 lengths plus. I didn't realise it then, but the best was still to come with 3 H.C. runs. Cheltenham (the Mecca for all Jump Owners) and the feature race, the 12 runner Timico Gold Cup with £15K to the winner (OMG! the nerves were really jangling). Up against horses rated 120+ with Barrel of Laughs at 138 so I was not disappointed to finish 6th.  Shane probably rode him a little too prominently and stamina told up the final hill. What an experience and again I saw just what a fantastic jump Bobby had in him. Back to 2m.5f. at Fontwell and our friends, Paul and Jo Castelow from New Zealand, had planned a U.K. trip around this meeting. A much easier race and Booby at odds on with Sam Davies-Thomas. Won by 4 lengths and beating horses all rated above him. On to Stratford and a Handicap Chase so with 10st. 9lb. he justified being favourite at 11/4. 2 out and 5th I thought that was it but Shane put him on the outside and he steamed into the straight and the lead to win by 2lengths. A great finish to a great season. While this was going on, my summer 2016 purchase from Martin was 5 yr. Caryto Des Brosses (Frenchie – no surprise here). Early in the season he suffered from sore chins but we managed a run in the Maiden at Fakenham where he finished a ½ length behind Nick Wright's Le Fou Royal with the rest of the field a distance back. Nick's comment to me, "That's a nice horse, he should go far" was most prophetic!  Final Tally: 1 win and 4 places but 3 H.C. runs and 2 wins so total high.
2018
Into the season with probably the 2 best horses I have ever owned. I ran Frenchie at Higham in January and David and I both regretted running him at a track and on firm-ish ground, neither of which he was suited to, but a lesson learnt. Behaving really badly on the way to Charing when he was even doubtful to run, David finally gave the go ahead and just as well, as in the Maiden he ran prominently beating the Andrew/Ellis combination Latenightpass by 3 lengths, it was just the ticket and all his issues in the box were forgotten. A short Restricted at Penshurst in March with another prominent 3 length win stamped the form. Dale Peters took over as Jockey and an easy 8 length short Conditions race win at High Easter in April added to my sense of "there's something special here". Now rated 102 and a 40 length win in the 2 runner Conditions race at the Garthorpe in late April added to my euphoria. Back to an Open at Garthorpe in mid-May and somewhat miffed to be placed 2nd by a nose to Thetalkinghorse (as David at the post said he had won), the crowd and bookies seem to concur and 'should have gone to spec savers' came the cry from a wag in the crowd. This meant that Frenchie took the EA young horse award and qualified for a run at Stratford in the Restricted Championship where the soft ground really suited him. A mistake at the 4th looked terminal but Dale is one of the best and held on. Frenchie took on 12 good horses and won convincingly by 8 lengths. What a cracking end to his season and had us all wondering, what would next season bring?
Bobby also had a rather poor start to his season when 3rd in the Open in the same meeting at Charing as Frenchie – possible fitness issue. Then a pretty disastrous Open at High Easter in a race I choose to forget, with Frenchie on the card again with a win made up for it. Off to the Open at Horseheath and with Shane unavailable the ride went Dickie Collinson who rode a thriller to hold off Ardkilly Witness by a shoulder, to win Johnson's Newnham Cup again made for a magic day. We had, at the start of the season, talked about the Aintree Foxhunter, his first 2 runs did not bode well but, after Horseheath, David was far more positive, so the decision was – let's go for it!
The race lasts under 6 minutes, but the planning and build up last for weeks, probably months. Just to have a horse qualified and capable of taking on a race like the Foxhunter was a dream come true and this was definitely a case of 'taking part with no real thought of even a place'. My daughter Jo and I went up the night before and arrived early for a walk round the track with John Jo and what an experience, standing on the landing side of the Chair, I couldn't even reach the top of the fence. They say the fences are not what they were but, in my opinion, they are still awesome. My other daughter Pip rocked up with her husband and my good friend "Bobby Groupie", Henry Hurrell. Paul & Jo had, again, made the trip from NZ so we had a great team lunch which was, I must say, considerably better value than Cheltenham! Pre-parade ring and then into the cauldron with all the top training names and horses rated way higher than Bobby. Sir Anthony McCoy had rung Dickie to offer a chat in the changing room prior to the race, which I thought was amazing and so kind bearing in mind what he was doing on the day. My offering to Dickie was, have a great ride and keep out of trouble, which was probably rather less that A.P.'s advice and David's instructions. The race was fast and furious but Dickie rode it brilliantly, keeping out of trouble (as I had instructed!) with Bobby jumping all the jumps magnificently. Dickie said he thought he heard a very sharp intake of breath from Bobby as he landed over the Chair and the words 'What the hell was that!!'. Bobby is really a 3 miler and consistent, rather than fast, so we were expecting a lot, but I have never regretted running him and the whole experience was a dream come true. I even got £250 appearance money!!
2019
A season with Bobby, Frenchie and, following another visit to Martin in Worcestershire last summer, Rivercourt Guy (Guy –seemed appropriate) in partnership with David joined the team. Dale took a couple of Maiden races at Kingston Blount and Garthorpe to get a handle on Guy or perhaps it was Guy getting a handle on himself. He pulled up both times but afterwards acted as if he had not been in a race, so very perplexing. Back to Garthorpe in late April and Guy ran a distant 2nd but giving 18lb. to the winner, Wagner. Back again to Garthorpe and an easy made all 25 lengths Maiden win. Dale was very positive and looking good for next season. Then a rush of blood and we mistakenly ran him in the Stratford Bumper – why were we running a 3m. Chaser in a 2m. Bumper? Another lesson learnt! Bobby was in his last season and really was there as a schoolmaster to the younger horses. Alex Chadwick as a Novice took the rides as he had been riding him out and Bobby went well for him. Placed 5th in a Kingston Blount Conditions race in early March and then we tried him in blinkers in a Novice Riders at Garthorpe, he came 3rd but well back so we pulled stumps on the season and his fantastic racing career, he is now a well-loved riding horse.
I was Looking forward to seeing just how good Frenchie was, but did not start well, in addition to his usual back issues he cast and cut himself badly in January, so in late March, with David saying he's only 80%  fit, he had a great 3 length win in a 10 runner field. All good so far. Onto the Open at Fakenham and a chance for Steeles Terrace to get revenge for the Stratford defeat but Frenchie made all and won by 15 lengths. "The real deal" according to Dale and I wasn't going to argue. So to the Timico Gold Cup at Cheltenham 3m.2.5f, a real test and "in at the deep end" as one pundit put it. Up against some serious horses including Haze Hill, odds on and winner of the Cheltenham Foxhunter. Frenchie took a keen hold, jumping well and galloping strongly. Hard pressed from 2 out but still leading over the last and with Dale all out, just caught by Hazel Hill before the post. Looking back we were all euphoric but felt somewhat unfortunate as Alex Edward's liberal use of the whip cost him a 15 day ban and £400 fine with the rest of the field 10 lengths back and strung out like washing, a reversal of the order would have been fair but just to be in the winners enclosure and to watch the replay with champagne in the winners lounge (Hazel Hill's connections never turned up!) was a dream come true. Off to the Horse and Hound Cup for the season finale at Stratford but 3m.3.5f was a big ask after his exertions at Cheltenham. Dale rode him brilliantly with just a slight mistake 2 out and coming over the last he looked nailed on but Sam W-C is a canny jockey and switched Wonderful Charm to the inside and this made Frenchie just hesitate and lose momentum, which was enough to give Sam the edge and he went on to win by a neck. Frenchie lost nothing in defeat. It was a bitter pill but not the same as the Cheltenham race where I felt we should have won, but that's racing.
Caryto Des Brosses and Dale Peters
2020
I could not wait for the season to start with Frenchie having 2 fantastic H.C. runs at the end of last season, optimistic anticipation ran high. We wanted to get a prep run in before Cheltenham and with the appalling weather, Thorpe Lodge became the only option. A strong wind and pouring rain did not bode well and after pulling up with Dale not happy from the start it was obvious there was a major problem. This was borne out on Veterinary examination that showed he had a bad case of ulcers, with the stress of the journey and race build up he would have been in a lot of pain. Cheltenham was out of the window, but we had high hopes for later in the season, sadly this was not to be. Meanwhile Guy, after a minor cough and cold, ran 2nd in the Restricted at the last Cottenham meeting and, bearing in mind it took 2 races last season to get him running to form, we were cautiously optimistic. The rest is history, the season has been cancelled with a complete lockdown imposed the week after Cheltenham.
 Ownership Statistics  :
Point to Point.  :         120 runs  – 34 wins ( 28.3%)  42 places ( 35%)     –  Overall  63.3%
Hunter Chase  :           21 runs  –  4 wins ( 19.2% )   3 places  ( 14.5%)  –  Overall  33.7%
Top 4 horses :
Bard of Drumcoo        :  20 runs  –   8 wins (40%)      9 places (45%)       – Overall 85%.
Where's my Baby       :  20 runs  –   6 wins ( 30%)    8 places ( 40%)      – Overall 70%.
Curraigflemens           :  18 runs  –   6 wins (33.3%)  8 places (44.5%)    – overall 77.8%
Caryto Des Brosses    :  10 runs  –   6 wins (60% )   2 places (20%)        –  Overall 80%
Top Track :
Horseheath                 :   37 runs  –   11 wins (30%)  16 places (43.5%)  – Overall 73.5%
Top Jockey :
David Kemp                  :  68 rides  –   17 wins  (25%)  24 places (35%)  – Overall 60%
Acknowledgements
Firstly, to my wife Tricia and daughters Jo and Pip for all their unstinting support, despite watching their inheritance flying past in a blur of black and green to the sound of thundering hooves.
To my father and Charlie Worth who introduced me to Pointing in my childhood.
To the late Johnny Ward and our breakouts from school to Wickham Hall in the 60's.
To Mike and Annie Johnson and their win with Newnham in 1988 which fired my imagination and thoughts of "I would love to emulate their success."
To Hunter and Pat Rowe, for all their support and hospitality. Hunter's infectious enthusiasm, competitive spirit, and amazing race commentaries. His tragic accidental death in 1995 was devastating, but he had planted the seeds of a dream.
To my late father in law Dudley, for all his help and his stalwart support of Pointing over so many years and for introducing me to Malcolm Kemp in the late 90's.
To the Kemp family, who in the early days made such a fantastic team. Celia and Christina in the yard and leading up, with David riding and Malcolm being Malcolm, running the show!
To David Kemp, who has taken on so successfully the training role, with the superb stable/yard team behind him, not only for me, but with his own horses and for fellow owners. Lewis Eagle who looked after Basil, Zoe Taylor with Bobby and Jimmy Down with Frenchie. Without them, the success I have had would not have happened.
To Lauren and Andrew Braithwaite for an amazing job with Westy and for introducing me to Martin Oliver.
To all the jockeys who have ridden for me including David Kemp, Dickie Collinson (his great Aintree ride), Andrew Braithwaite (awesome at Fakenham on Basil), Shane Roche (my first H.C. win), Sam Davies-Thomas, Gina Andrews, Ben Rivett and Dale Peters (4 wins and a place on Frenchie with I hope more to come).
To Judy and Beverley, for all the hard work and dedication they have shown to my team of crocks they have looked after over the years and for finding some great homes for the retirees.
To all the Track Officials, Medical officers, Veterinary Surgeons and volunteers who make Pointing possible and make the meetings run so smoothly.
And finally, to the Pub Team, for all their interest, encouragement, and support over the last 12 years.
Conclusion
The above clearly illustrates the highs and lows experienced in Pointing, but I have enjoyed every minute of it with all the planning, anticipation and excitement that each season has brought.
Luck, I believe in making your own luck, with the help of so many talented people I have lived many of the dreams I had back in 2001. There are still some targets to hit and dreams to achieve, so I hope to be running in the Black and Green for a number of years.
I believe the current crisis has a way to run yet and nobody can predict the outcome, but I am certain that the world and our way of life will be changing dramatically, I just hope that Point to Pointing will carry on, but it may not be in the way we have become used to.