THE POINTING STORY OF THE TURNER FAMILY OF AMPTON, SUFFOLK
 PART TWO (THE EARLY YEARS)
Within statistics there are always records to be established and East Anglian point-to-point stalwart Joe Turner recorded some outstanding achievements during his career as an owner/trainer. Some of his horses created their own records for the total number of successes and as a result Joe was awarded the leading owner trophy on five consecutive occasions. Son David and daughter Josie were associated with virtually all his winners during the seasons 1961 to 1988, which landed them thirteen national titles between them. David won eight male rider championships whilst Josie recorded five of the ladies equivalent.
Joe's first winner, as an owner, came on the 2nd April 1946 at Kirby Bedon, which was a course situated 3 ½ miles south-east of Norwich, with a horse called Duke. It was also ridden by Joe and was his first and only winner as a jockey.
Point-to-point winners then began to accumulate from there and a career total of over 750 winners with Joe's best seasons' tally coming with 46 wins in 1974 and another 42 successes in 1975. Throughout the 1970's the stable was particularly dominant with equine stars namely Boy Bumble, Master Vesuvius, Culford Cottage, Hardcastle and Even Harmony making frequent visits to the winners' enclosure, season after season. These successes enabled Joe to win the Grand Marnier national owner's championship, for the leading horse, for the seasons 1973 to 1977 inclusive and the following paragraphs gives some details of those equine stars, particular achievements along with comments from Rose Turner, David's wife, Joe's daughter-in –law.
Master Vesuvius ( Winner of Grand Marnier award 1973 with 11 wins )
Very consistent and won 21 times for Joe Turner, including 15 Ladies Open races. Appeared to enjoy racing at Higham and Marks Tey having recorded 8 wins and 5 respectively, at these courses. In the award winning year of 1973, he was partnered by Josie in all of his successes.
 Boy Bumble ( Winner of Grand Marnier award 1974 with 12 wins )
In his first season in 1972 he completed the course, only once in 5 outings and subsequently went show jumping in 1973 and finished 2nd behind John Whitaker on Ryan's Son in a Novice Final.. A total revelation in 1974, when returning to pointing, winning all 12 races. Tragically lost his life in 1975, when brought down at Cottenham.
 Even Harmony ( Winner of Grand Marnier award 1975 with 11 wins )
Won a total of 41 point-to-point races for Joe Turner from 1972/ 79 and 5 Fakenham hunter 'chases. Always headstrong at the beginning of his races but a brilliant jumper of fences and appeared to prefer to race every weekend, whenever possible.
Hardcastle (Twice winner of Grand Marnier award 1976 (9 wins) & 1977 (11 wins )
 A winner of 33 point races from 1974/78 with 5 wins at Horseheath and 4 at Marks Tey whilst 14 came at courses outside East Anglia. Josie rode Hardcastle to victory on 8 occasions in 1976 and David recorded 7 wins on Hardcastle in 1977, on the way to secure the Grand Marnier award for those years. Hardcastle possessed a lot of speed and proved hard to defeat. He bucked at home, consistently, until he was race fit !
Many of the horses owned by Joe Turner not only made several successful appearances each season but would return to action, year after year and maintain their winning form. Culford Cottage was a prime example who won 34 races between 1971 and 1976 with David in the saddle, for 27 of the victories.
David Turner's record of 345 point-to-point winners stood for many a season and his first winner, for his father Joe, came at Hethersett on The Babe II on the 18th March 1961 with his final winner being Pusharda on the 13th May 1989.
In his career total of 345 an amazing 328 came in the famous navy blue, white hoop and checked cap, colours of his father, Joe. The East Anglian courses where David enjoyed the majority of his successes were Higham ( 72 ), Marks Tey (66) Ampton (42) and Horseheath (40) but he rode winners all over the country. The Turner horsebox would often travel to Devon for the final meetings of the season, possibly to secure another title, as proved by winners at Bratton Down (6) and Umberleigh(5).
David recalled a meeting at Bratton Down in May 1980 when riding Hill Point. The field was waived round the 19th fence, due to a fallen horse and jockey on the landing side. Having won the race he was persuaded by Joe and wife Rose to go back to the fence in question, as he was in danger of losing the race. So David quickly remounted and went back to where he had missed the fence out and jumped the remaining fences and kept the race !
David's best season total was 29 winners in 1977 and he rode 26 in the 1974 season. In both cases they secured him the national championship for the leading male rider.
Some memorable days during David's career :-
FIRST DOUBLE:  28th March 1964 at Hasketon, Suffolk
FIRST TREBLE:   23rd May 1970 at Limpsfield, Surrey (although two of his
winners were not for his father, Joe.)
David also rode a treble at Ampton's first ever meeting on 20th March 1971
FOUR-TIMERS   8th May 1971 ( Ampton) / 8th March 1975 ( Ampton ) /
28th April  1984 ( Ampton )
Joe, as an owner, also recorded significant milestones, appropriately on his own Ampton course, with five winners on the following days 8th March 1975 and 28th April 1984. At both meetings David won the Members, Adjacent Hunts, Mens Open and Maiden races with sister Josie successful in the Ladies event.
When asked, back in the late nineties, what David regarded as his best riding achievement he stated it had been the thrill of riding over the Aintree fences and leading over the final fence, before finishing 4th on Master Vesuvius in the 1971 Liverpool Foxhunter 'Chase.
David sadly died in December 2003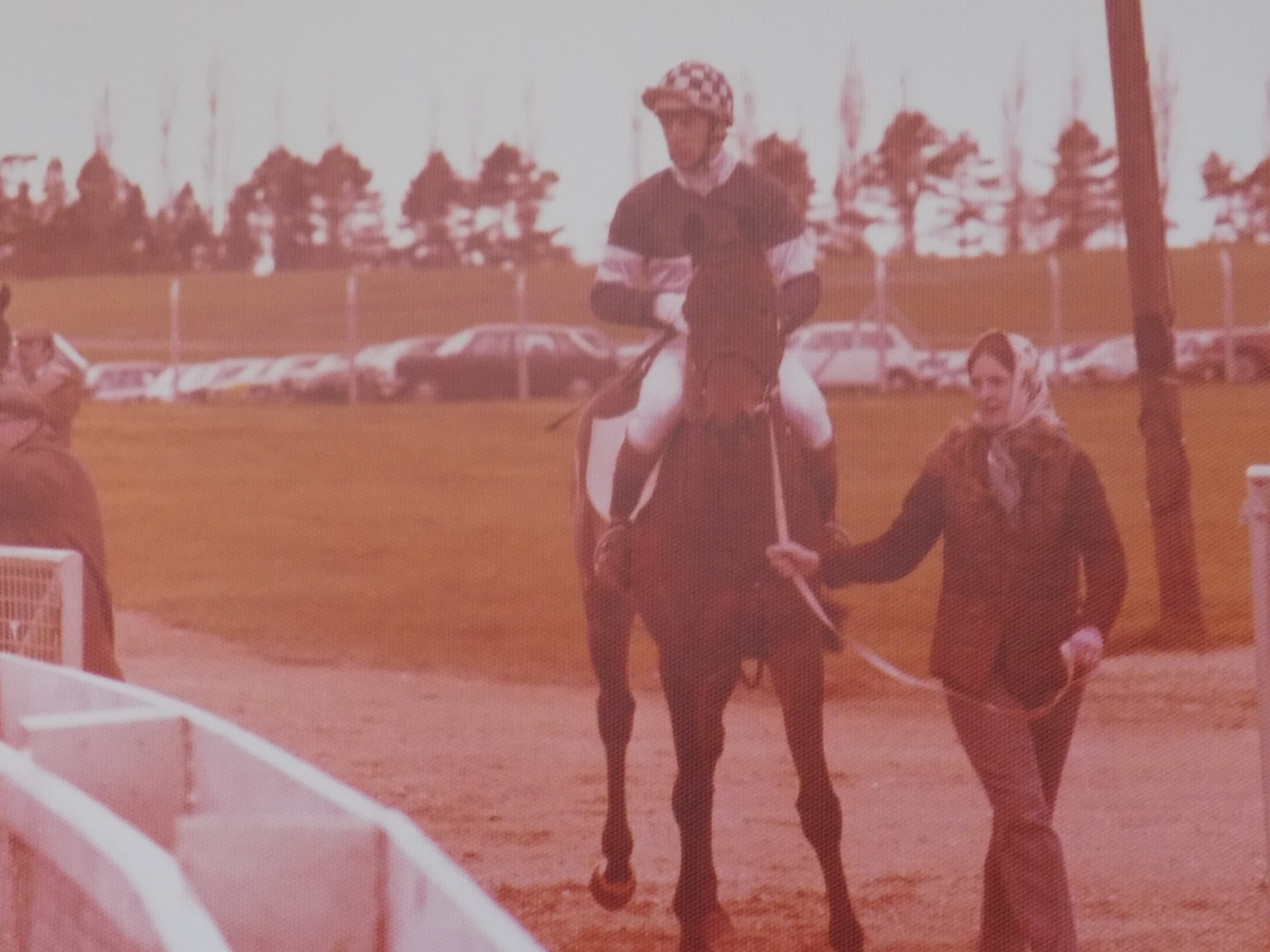 David Turner and Val D'Amour being led by Rose Turner at Cheltenham in 1979.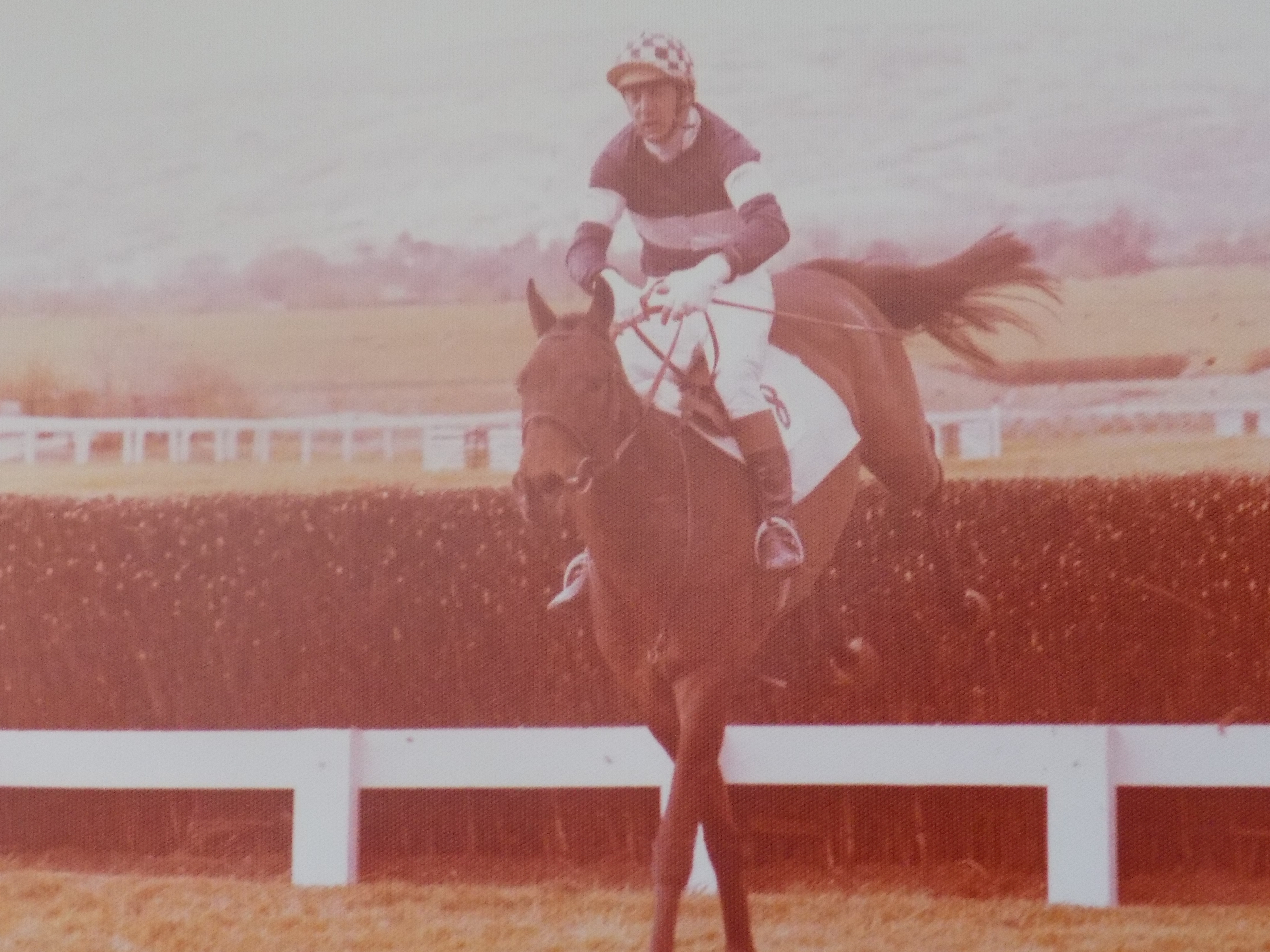 David Turner and Val D'Amour, jumping in fine style, at Cheltenham in 1979
Josie, Joe's daughter, recorded a career total of 173 winners of which 157 were in her father's colours  Josie's achievements were even more significant on the basis that for most of her point-to-point career, her performances were limited to Ladies and Members' races only, due to the rules in existence regarding lady riders.
Josie's first success came on the same horse on which David rode his first winner, namely The Babe II at the Newmarket and Thurlow meeting at Moulton on 24th February 1962. Her last winner, for her father, came at Horseheath on 16th April 1988 on Barstick.
During her fine career Josie struck up some very successful partnerships with horses such as Master Vesuvius (17 wins), Even Harmony ( 15) , Hardcastle (15) and Bachelors Carnation (9).
Josie recorded her first double at Horseheath on the 13th April 1974 with Boy Bumble and Troupship and a particularly memorable day came at Beeleigh racecourse in Essex on the 19th April 1976 when Josie visited the winners' enclosure on three occasions that afternoon on Pennyman, Hardcastle and Star Buck.
Two East Anglian courses where Josie enjoyed the majority of her successes were Marks Tey with 28 wins and Higham with 26. Her best total for a season came in 1974 with a total of 20 wins.
Joe Turner supported not only David and Josie during their careers, with winners, but also Josie's daughter Nicola Bothway and David's daughter Zoe and his son Edward. Rosie Thorogood, Ed's future wife also had two winning rides, on Basic Fact, during Joe's ownership.
Nicola wore the colours, on a regular basis, from 1989 to 1991 and two more winning rides in 1995 and enjoyed 16 successes in total for her grandfather.
Zoe took over the rides, predominantly in Ladies Open races and went on to achieve a remarkable total of 62 successes from 1992 to 2007.
Edward rode 14 winners for Joe from 2010 to 2012 and delighted his grandfather and the whole Turner family by winning the Harley Racing Novice Series in 2010.
There were several other jockeys who had the privilege of riding Joe Turner's point-to-point horses over the seasons. Perry Harding-Jones was involved from 1991 to 1994 and steered home 8 winners whilst Andrew Sansome recorded 50 point-to-point winners from 1997 to 2002, for the Ampton stable, together with various hunter 'chase successes. His notable associations were with Remilan ( 7 point-to-point wins), Pampered Gale (4 wins) whilst Corston Joker's moody antics would have given Andrew many an anxious moment.  Corston was especially notorious for playing up at the start and could at times refuse to race. Even during a race, Andrew would need to exercise some persuasive powers to ensure his mount concentrated on the task in hand and then be produced late in the race. They did, however, achieve 4 consecutive wins in 2002, including a Fakenham hunter 'chase victory.
James Owen commenced his very successful partnership with Joe Turner's horses in 2003 and recorded his first winning ride, for the stable, on Westfield John at Cottenham in February, of that year. Westfield John was another horse who was not the easiest of rides and mainly preferred firmer racing conditions but James struck up an excellent association with him and they recorded 6 wins, in total, together, over three seasons. James' last success, in Joe's colours, came in May 2010 on Art Trend at Northaw and a collective total of 53 point-to-point winners had been recorded, for the stable.
After Zoe Turner had retired, initially Kelly Smith and then Louise Allan took over the rides on Joe's representatives in mainly Ladies Open races. Kelly enjoyed 2 successes whilst Louise had 34 winning rides during 2005 to 2012. Her association with King Du Berlais produced 9 wins and the partnership provided Joe with his last winner at Northaw on the 7th May 2012.
The success story of the Turner family has always been based on a consolidated team effort and two other notable contributors to the horsebox driving, leading-up and entry administration are Rose Turner and her eldest son Ben. To put them in the spotlight, for once, they were asked to reveal their favourite horse, racecourse and racing days.
ROSE
 Favourite horse: "Leatherback, he was my main hunter and was lovely to ride and so gutsy on the course"
 Favourite racecourse: " Has to be Ampton. Where David enjoyed much success and nice and local for driving there ! "
 Favourite racing days::  "Zoe's win on Leatherback at Garthorpe when beating Upham Lord in 2006 and Ed's last ride, winning on Kriss William at Peper Harow in 2017 "
BEN
 Favourite horse: "Kadount. Such a lovely , striking individual and a marvellous jumper."
 Favourite racecourse: " Marks Tey was such a lovely galloping and staying track. Not may of them now and good viewing "
 Favourite racing days: "Assassino with Louise Allan winning the Turner Family Trophy hunter 'chase at Fakenham in 2011. Basic Fact and my brother Ed winning at Cothelstone in 2010 "
Joe Turner sadly passed away in November 2012, at the age of 93, but left many memories of a great era in East Anglian point-to-point racing, It is often said records are made to be broken but it will not be the situation, with these achievements. They were considered totally remarkable at the time and on reflection, even more so now.
(Acknowledgement to Scott Brinded for his assistance with some of the statistics )