The Turner family from Ampton Hall, near Bury St. Edmunds Suffolk, has long been associated with point-to-pointing in the East Anglia region and their overall achievements are well documented. Joe Turner with his son David and daughter Josie created record after record with their success rate and all accolades adorned upon them were fully justified.
Over the next couple of months we are endeavouring to put together some of their history via record information and stories which brings back some glorious memories from the past.
Before we look back too far we thought it appropriate to highlight some of the more recent times with the contribution of Joe's grandchildren Zoe and Ed and Ed's wife,  Rosie, have made in continuing the Turner tradition, together with background assistance of Ben and mum Rose.
ZOE TURNER
Zoe's achievements delighted the Turner family, as she dominated the East Anglian Ladies Open races for over a decade.
Her first point-to-point ride, wearing the famous colours; navy blue, white hoop and check cap, was an eventful one and took place at Higham on the 20th April 1991 in the Essex and Suffolk Members' race where Zoe was partnering Takeover Bid. The pairing were making steady headway when hampered by a loose horse and Zoe was dislodged approaching the 16th fence.
The following season saw Zoe record her first success, albeit a walkover in the Suffolk Hunt Members' event in February 1992, again partnering Takeover Bid. This was followed by a more conventional victory on Skygrange, who impressively beat Fort Hall at Cottenham a fortnight later. As a result of this success they qualified for the RMC Group Ladies Championship Hunter 'chase final in May, held at Warwick racecourse, which they duly won by jumping well throughout and making a decisive move approaching the 2nd last fence and running on strongly to win by 10 lengths.
Four other point-to-point winners were recorded during that year for which Zoe won the PPOA Wilkinson Sword award for novice riders, for the season of 1992.
Over the seasons 1992- 2008, Zoe rode 64 point-to-point and 5 hunter 'chase winners. Numerically Horseheath provided the highest number of course wins with 12 whilst
7 successes were achieved at both Marks Tey and High Easter and 3 of the hunter 'chase wins came at Fakenham.
Zoe rode a double at Horseheath in March 1997 with Royal Sting and Berkana Run and her best season came in 2004 when her 11 victories and landed Zoe the East Anglian leading lady rider championship for the third successive year.
Zoe had an association with so many multiple winning horses but Spring Gale tops the list with an amazing 15 wins over 10 different courses and a Fakenham hunter 'chase success. Celtic Duke amassed 10 point-to-point wins and two further hunter 'chase victories whilst The Wiley Kalmuck contributed another 9 wins over 8 separate courses.
One of the most prestigious races contested in Ladies Open races in East Anglia is for the Warwick Vase trophy, awarded annually at the Essex Hunt meeting at High Easter.
Zoe won the race 5 times with Celtic Duke her partner on 3 of those memorable occasions.
Injuries play a part in most jockeys' time in racing and Zoe had a career low when she broke her neck at Charing, in a fall from Ashboro, in February 1996. Previous to this in February 1994 Zoe broke a bone in her leg from a fall from Berkana Run at Higham but returned to action after 5 weeks and rode 4 winners in the space of a fortnight, after resuming race-riding.
Her broken neck was severe enough to keep her out of action for two years and Zoe returned at the end of February 1998 when partnering Emsee-H at Marks Tey. They then won at Horseheath in the March, beating St Gregory, before landing a Fakenham win the following month. From her return from this serious injury Zoe had 10 rides during the 1998 season, from which she recorded 4 wins and 6 runner-up places.
The above are some of the statistics that are in the record books but for more of an insight into Zoe's favourite memories, relating to her impressive career, here are the replies to some questions that were asked.
Favourite Course ?
 Peper Harow.  I had a lot of luck when I rode there. I was fortunate enough to win the Ladies Open at this Surrey Union meeting, three years running. The Wiley Kalmuck won for me in 2003 and 2004 and Spring Gale completed the hat-trick in 2005.
The reason I loved it was, the atmosphere was always amazing, as there would be a huge crowd baking in the sunshine. Also, it was like no other racecourse….the sharp left-hand bend  ( before they changed it ), coming into the home straight.
Favourite Horses ?
Definitely Celtic Duke. He had such a lovely character and was such an exuberant jumper, who loved showing off  !!.
Leatherback was a great, fun horse to ride. He loved to hug the inside rail, wherever he was racing and you always had white paint on your boots after riding him, in a race !!.
 He was the last horse Dad bought and we still have him in a field at Ampton and he is still as cheeky as ever.
 He ran 53 times for us and won 13 races together with finishing 2nd on 10 occasions and placed 3rd another 8 times. He carried weights from 12st 5lbs with James Owen riding him to 11st when Louise, Rosie, Kelly and myself were in the saddle.
Favourite Race ?
It would have to be in the Ladies Open at the West Norfolk meeting at Fakenham in April 1998. The wonderful Emsee-H was my partner and we were stongly challenged, on the run-in by Lisa Rowe on the odds-on favourite St. Gregory, but we held on by ½ length. When we were coming round the last bend, I could hear the crowd, it was electric and the roar, I will never forget.
This confirmed the same result at Horseheath in March when again we came out victors over St. Gregory and Lisa by a similar winning margin and it was a particularly pleasing performance as St Gregory went on to be the national Grand Marnier award winner for 1998 with the most number of wins (9), in that season.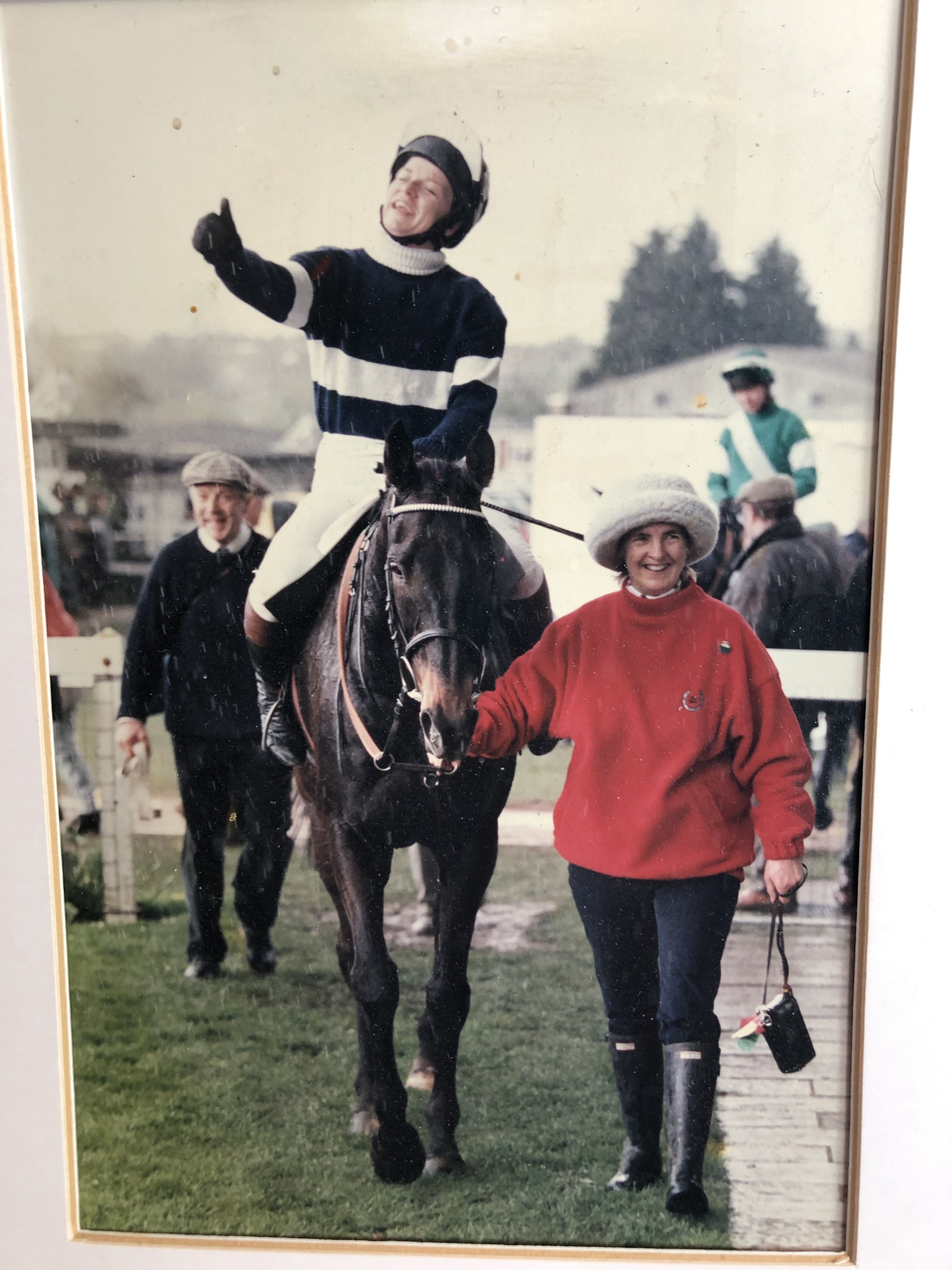 Zoe and EMSEE-H coming back to the Fakenham winners enclosure after victory in the Ladies Open in 1998. They are being led in by mum Rose with dad David, in the background.
Last winning ride ?
This was in the North Norfolk Harriers Ladies Open at Higham in February 2007 on Full Irish. This was his first run for us, in our colours.
Final ride ?
This was Leatherback in the Ladies Open at Cottenham on March 15th 2008 and we were beaten by 2 lengths, in a sprint finish, by Cottenham course specialist Bell Rock, ridden by Emily Jarvis.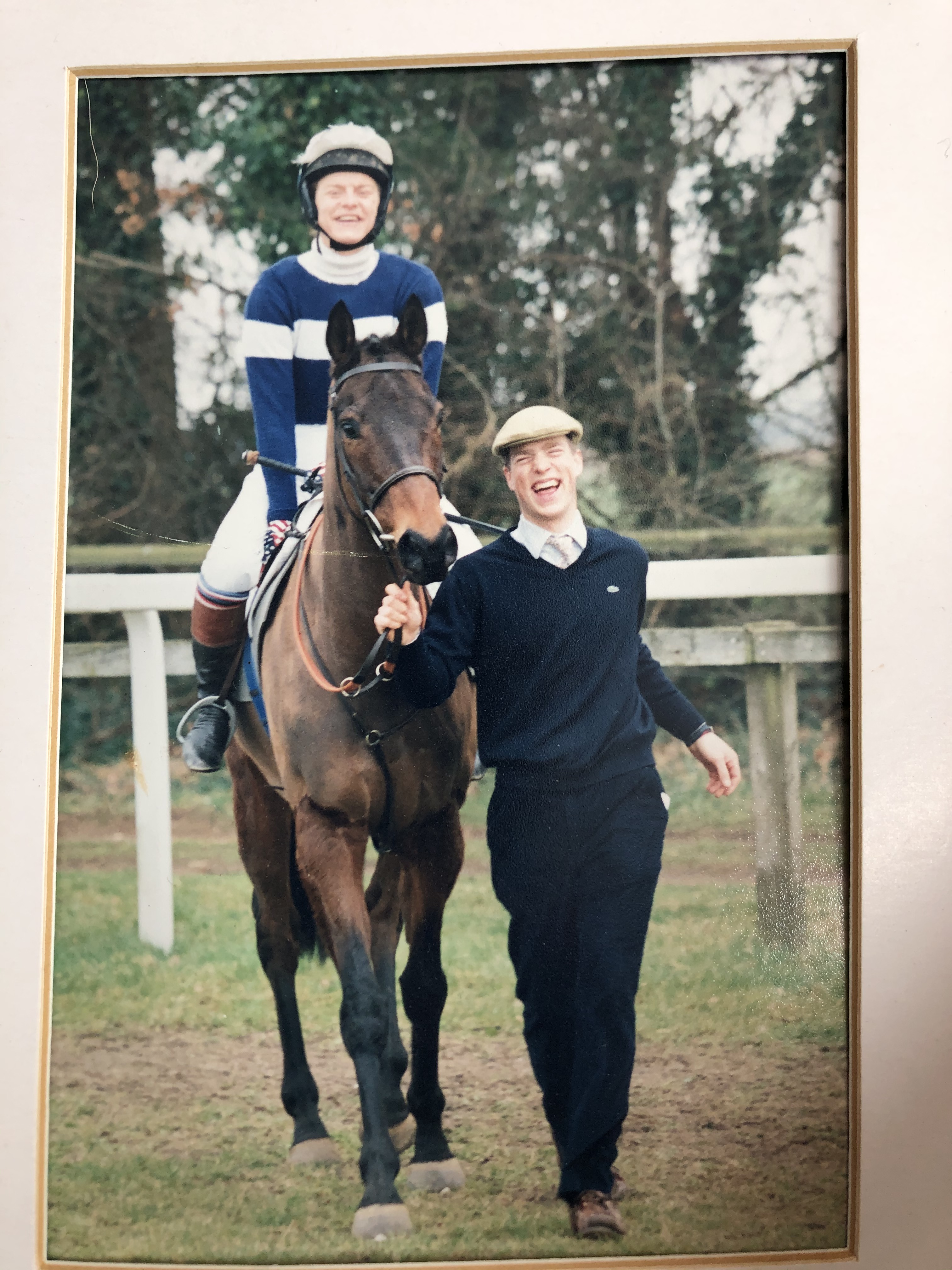 Zoe and LEATHERBACK in the paddock at Cottenham, on her last ride.
ED TURNER and ROSIE TURNER
As told by Ed:-
I started riding in points in 2008 after leaving Cirencester at 15 ½ stone! I didn't think I would have any rides, let alone compete for the next ten seasons.
Undoubtedly 2010 was my best season when I won the Harley racing novice series. I won 6 races that season 4 with Parkinson and 2 with Basic Fact.
We didn't think about the title until the Easter weekend when I was in a position to have a go at it. When we were travelling around the country at the end of the season was great fun but a lot of driving for Mum. We used to pick up Zoe on the way to help Mum with the driving. I really enjoyed riding at different tracks that I would have never been to, without going for this championship. One week, near the end of May, was a particularly busy one. Rosie and I set off in a hired 2 horse box to go to Easingworld on Saturday where Basic was 2nd whilst Grandad, Mum and Ben went to Peper Harrow the same day. Then we went altogether to Garthorpe on Sunday where Parkinson was brought down at the second fence, very annoying at the time. On reflection, I think it was a blessing in the end as he didn't have a hard race which might have helped his chances for the Tabley meeting, the following weekend. Then on the road to Cothelstone on Wednesday evening with Basic. Luckily, he won by half a length….it would have been a long drive back if he hadn't !  We got back at about 2am in the morning having to go via the vets in Newmarket as Basic was kicking the lorry repeatedly he cut his hind leg badly!!  We forgave him as he had put most of his energy into the race!
The next day we set off to Folkestone where I didn't have a ride. Friday we had a day off ! Then off to Bratton Down in Devon on Saturday with Parrain. They kept dividing the races and we ended being the 9th race on the card ! He was disappointing and never travelled and ended up 5th. It was a very long drive home before setting off to Cheshire on the next morning with Parkinson for the Novice Riders final at Tabley. I remember Jane Williams telling me that I needed to be in front, three fences out as not many can come past you from here. Parky duly was in front but steadied into the last and I could hear horses coming but gained momentum afterwards and held on from Aztec Warrior by half a length (who had won the race at Garthorpe where I was brought down). A great success and one that I remember very well. It gave Grandad an enormous thrill.  It was an easier journey home and only took 4 hours instead of the 13-hour round trip the day before!! That week we racked up around 1500 miles! It was worth it though. A week to remember.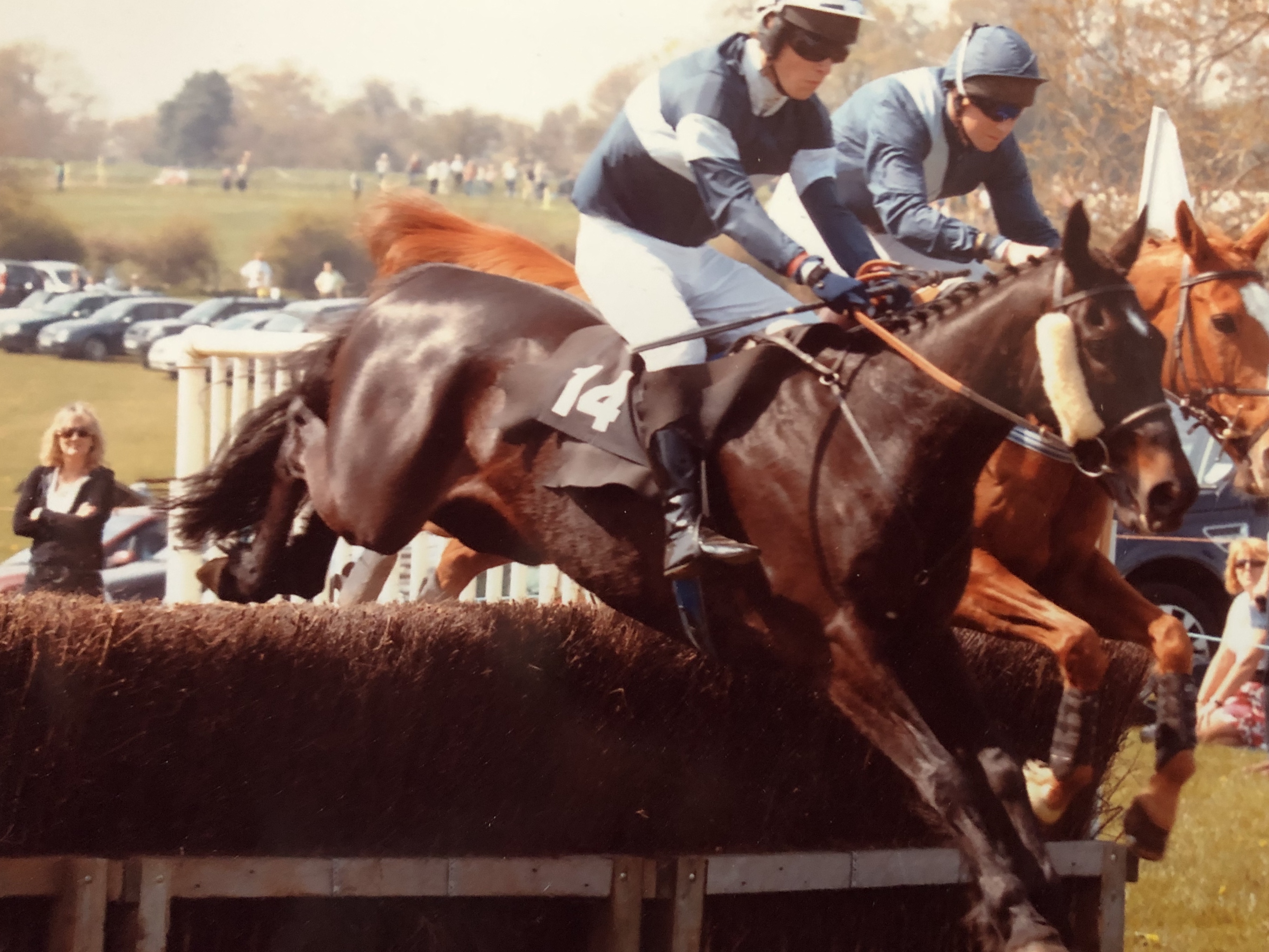 PARKINSON, a winner on four occasions for Ed, during the 2010 season, including their victory, here, at Penshurst.
Next season started badly and I broke my collarbone on my first ride, at the second fence at Higham, it always reminds me that this sport is a great leveller.
I was lucky to ride some lovely horses but Parkinson and Basic Fact would have been my favourites because of the Harley year. Parkinson we bought from Trevor Hemmings who Grandfather got on very well with and we have bought horses from for a long time.
Parrain was probably the classiest horse I was able to ride. He was very good. He had 8 starts in point to points for us and won 6 opens ! James Owen, myself and Louise Allan all won on him. He unfortunately broke a hind leg, a 100 yards after the winning post having just won the Ladies Open at Whitfield.
More recently Kriss William gave me my last winner at Peper Harrow on my last ride but Thoutmosis was the one that started me off and gave me my first winner at Parham carrying 8 lb over!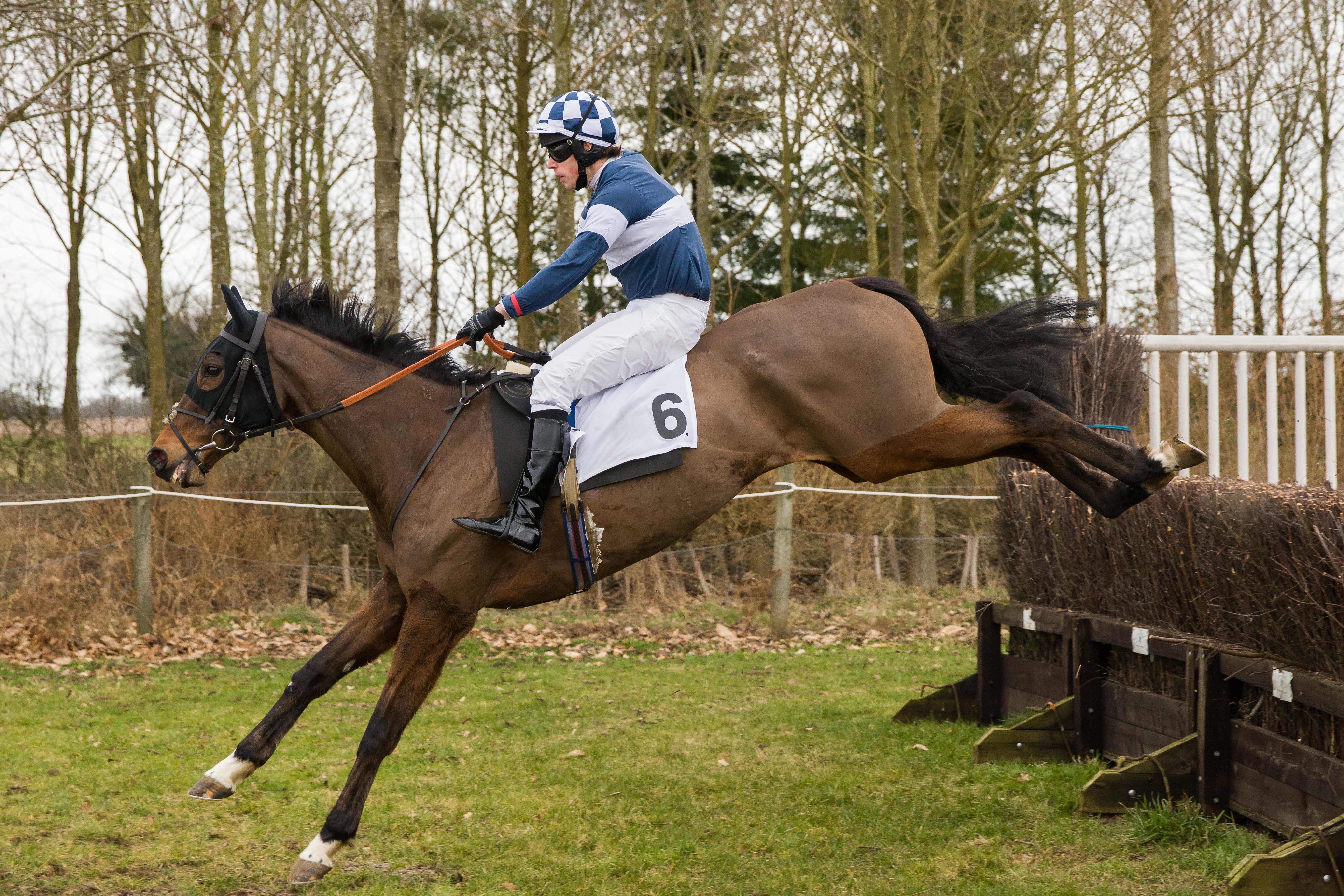 KRISS WILLIAM was Ed's last winner on his last ride.
A lovely day in our memory was at Higham on Easter Saturday 2017 when Kriss William and myself won the last race on the card and Rosie had won the Mixed Open on Sa Kaldoun to complete the husband and wife double.
Rosie first started riding in 2006 but didn't have her first winner until 2011 on Basic Fact at Higham on Easter Saturday, which was wonderful as the whole family was there to see her. She had a lot of fun and in 2019 season she had 7 seconds and a winner on Sa Kaldoun at Fakenham, which was the partnerships fourth victory together. He would have been her favourite but Basic Fact will always be remembered for also giving her 4 wins and that initial, memorable Higham victory.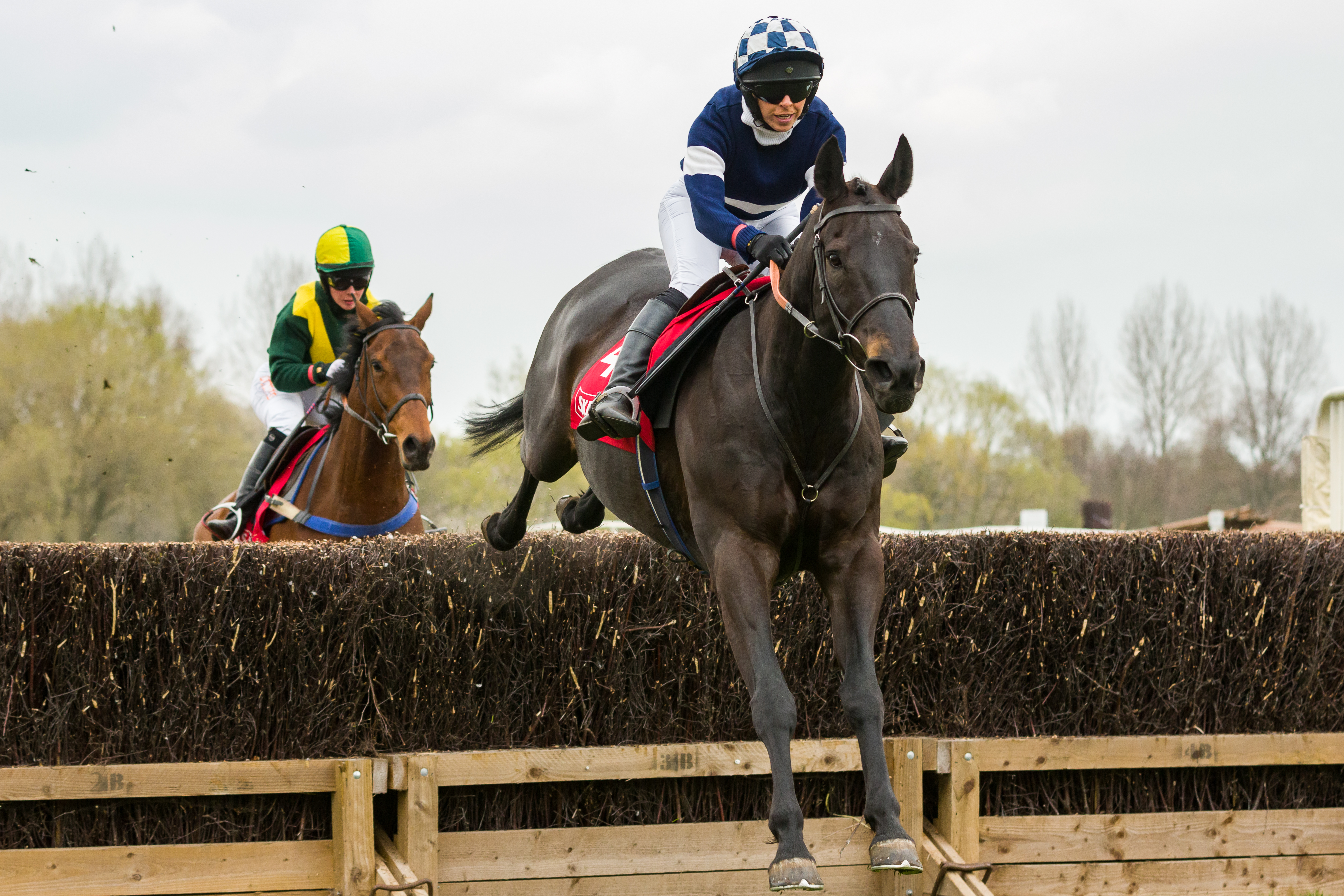 Rosie and SA KALDOUN on their way to victory at Fakenham in 2019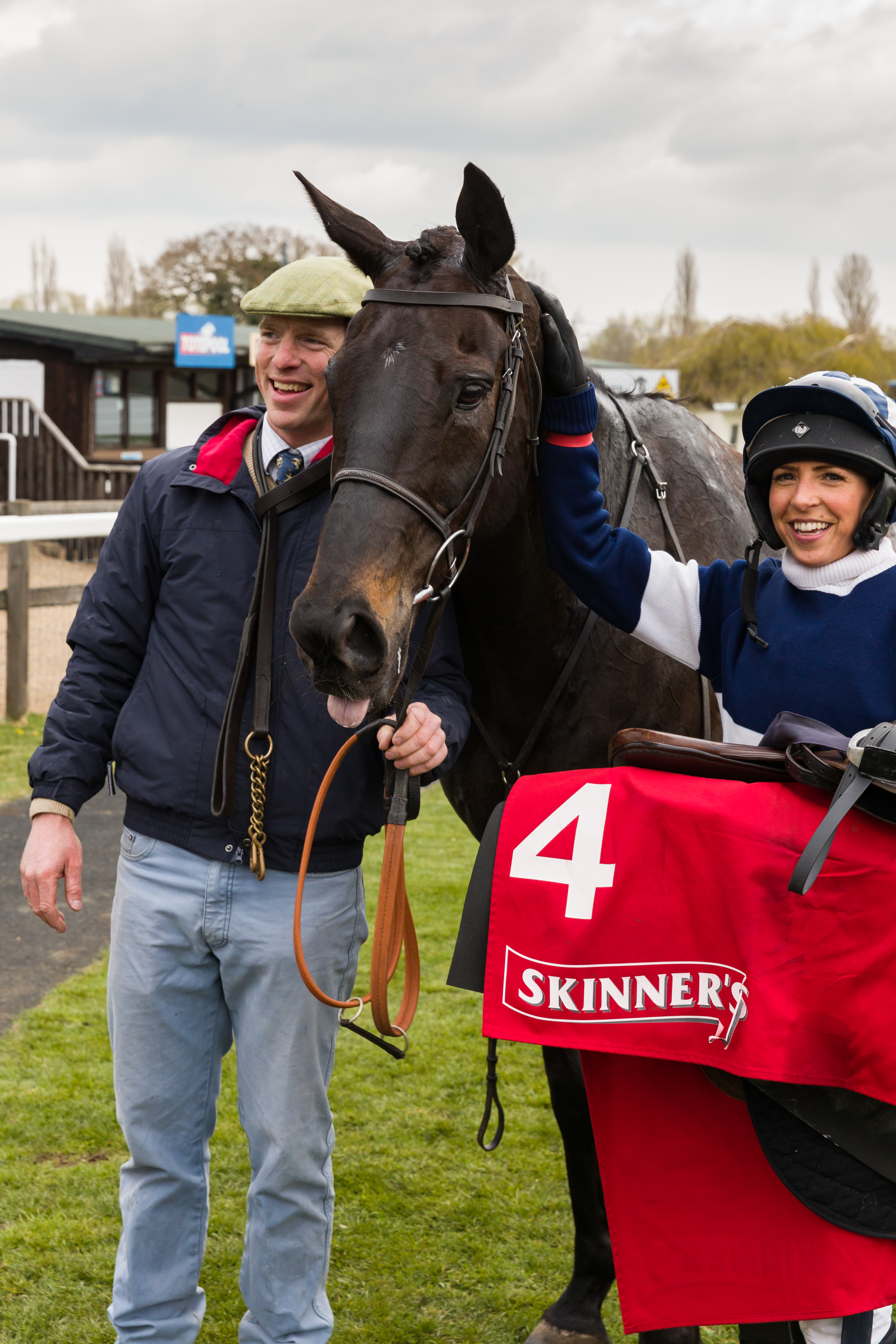 The winning connections. Trainer Ed, Sa Kaldoun and jockey Rosie after the race.