THURLOW, HORSEHEATH, SATURDAY FEBRUARY 16th 2019
 BY JAMES CRISPE 
Photos courtesy of Richard Weller-Poley – www.rwpphoto.com AND Graham Bishop – www.gdbphotography.co.uk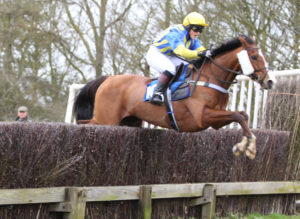 Frankie Flinton enjoyed the thrill of her 18-year-old lifetime on Saturday when she beat three much more experienced jockeys to land her first ever victory aboard Lord Topper in the Ladies Open Race at the Thurlow Point-To-Point at Horseheath, near Haverhill. 
Flinton, from Woolpit, near Stowmarket, has long dreamed of riding success, taking part in local pony races from a young age. And after three unplaced efforts during her debut steeplechasing season in 2018, her ambition was given a boost when her father, Mark, boss of the Eye-based horsebox manufacturer, Equimark, shelled out £14,000 to acquire Lord Topper at the Ascot Sales in November. 
A fine second place to the top class Broken Eagle was achieved when the new partnership was christened at Ampton last month and the duo went one better on Saturday when a flying leap at the final fence sealed a five length defeat of Oh Toodles. 
Afterwards, Flinton was quick to pass credit on to Lord Topper's trainer, Newmarket resident and former East Anglian Champion Jockey, James Owen. She was also endearingly critical of her own riding style in the closing stages – such a thirst for self-improvement makes it likely that we will be seeing Miss Flinton in the winner's enclosure on regular occasions over the coming years. 
And she wasn't the only young rider to impress as Will Humphrey, a student at Long Road Sixth Form College in Cambridge who hails from West Wratting, just a stone's throw from Horseheath, took his tally for the season to three with an easy success in the Novice Riders Race.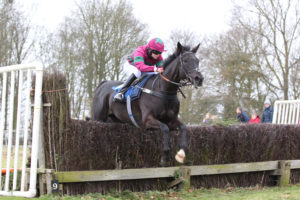 Himself a graduate of pony racing – he was national champion in that sphere in 2017 – Humphrey had a willing partner in the shape of Local Show, a one-time classy National Hunt horse who little more than two years ago was contesting the Hennessy Gold Cup at Newbury. Despite idling in front, they had two lengths to spare over Back Bar when the winning post was reached. 
The first two races witnessed a pair of dominant front-running displays though much the most impressive (and achieved in a time that was fully ten seconds faster) was achieved by Summer Sounds in the opening Club Members Race. Trained in Northamptonshire by Fran Nimmo and ridden by Alice Stevens, Summer Sounds put his superior fitness and accurate jumping to good use to run his seven opponents into the ground.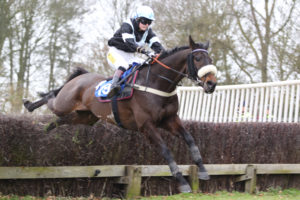 Smoke Man's victory in the young horse maiden was pedestrian by comparison.  
Yet such an assessment is rather unfair on this giant six-year-old gelding who is trained at Melton Mowbray by Helen Connors for her brother-in-law, John Chatfield-Roberts. He responded well to the application of sheepskin cheekpieces here and could yet develop into a decent performer, though such a process is unlikely to be a fast one.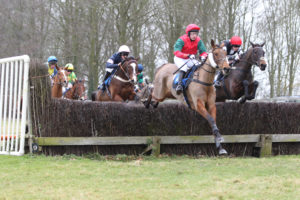 Inmates of the yard of another Northamptonshire trainer, Gerald Bailey, figured prominently in the last three races. 
First, his Thetalkinghorse registered the 14th win of his career – but the first to be gained on his seasonal debut – in the Mens Open Race.  
Everything looked set fair for a comfortable triumph when Thetalkinghorse jumped the final obstacle with a clear lead, only for the 11-year-old Presenting gelding to think he had done enough for the day. Jockey Tom McClorey then deemed it necessary to use his whip with such force to enable his mount to cling on by the margin of just a head that the rider was hit with a £100 fine by the stewards.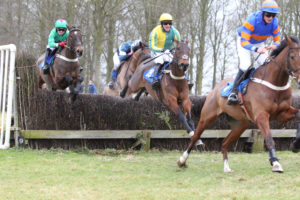 Another Bailey charge, Thomas Shelby, was made favourite for the penultimate contest, the Restricted Race. But he had no answer to the finishing kick of the recent Irish export, Chapelier, who is trained at Timworth, near Bury St Edmunds, by Andrew Pennock and is owned by John Whyte, from Ilketshall St Andrew, near Beccles.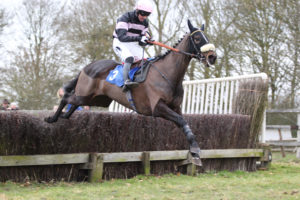 However, Bailey completed a training double 35 minutes later when Bardista, like Thomas Shelby owned by Alice Vaughan-Jones (from Brancaster) and Gary Luck (from Fakenham) and ridden by Alice's son, Alex Vaughan-Jones, prevailed by three-quarters of a length after a terrific duel with Racing Eagle.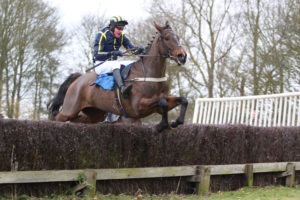 FULL RESULTS BELOW:
THURLOW HUNT RESULTS at HORSEHEATH
GOING: GOOD / GOOD TO FIRM in places
EA Club Members
1st SUMMER SOUNDS ( Alice Stevens ) 5/2
2nd Gunmoney ( John Russell )                    7/1
3rd Bingo Star ( Jack Andrews)                  7/2
Also: Mr Maclennane 9/4 Fav ( 4th ), This Breac 6/1 (5th ),
Cygnet 10/1 ( Fell), Dunara Castle 20/1 (pu),
Titans Approach 8/1 ( hampered ur )
Time: 6 mins 01 secs    Distances: Distance, Head   8 ran
Open Maiden 4,5,6yo
1st SMOKE MAN ( Tom Chatfeild- Roberts ) 5/1
2nd Un Huit Huit ( Richard Collinson )           7/4
3rd Icallherkaytee ( Jack Andrews)                 4/1
Also: Berkeley Forest 7/1 (4th), Broadwater 6/4 Fav ( Fell )
Motley Crew 10/1 (pu )
Time: 6-11       Dists: 10L, 10L                  6 ran
PPORA ( Novice Riders )
1st LOCAL SHOW (William Humphrey)   2/5 Fav
2nd Back Bar ( Henrietta Cranfield )         5/1
3rd Amigo ( John Morrey )                       5/1
Also: Mahlers Spirit 5/2 ( 4th ), We Never Give Up 10/1 (pu)
Time: 6-07       Dists: 2L, 7L                   5 ran
Ladies Open
1st LORD TOPPER ( Frankie Flinton )      Evens Fav
2nd Oh Toodles ( Immy Robinson )             7/4
3rd For 'N'Against ( Izzie Marshall )            9/4
Also: Kriss William 5/1 (4th )
Time: 6-12      Dists:    5L, ¾ L                   4 ran
Mens Open
1st THETALKINGHORSE ( Tom McClorey ) 4/5 Fav
2nd Ardkilly Witness ( Will Thirlby)            4/1
3rd Subtitle ( Phil York )                             10/1
Also; Royalraise 5/1 (4th ), Big Man Doe 2/1 (pu),
Franks A Million 10/1 (pu)
Time: 6-05       Dists: Head, 1L                    6 ran
Restricted
1st CHAPELIER   ( Richard Collinson)       11/10
2nd Thomas Shelby ( Alex Vaughan-Jones ) Evens Fav
3rd It'll Be Grand ( Darren Thomas )              7/1
Also: Sleepy Sunday 8/1 (4th ), Don't Budge M20/1 (ur),
The Tailor Quigley 8/1 (pu)
Time: 6-12     Dists: 4L, Distance               6 ran
Open Maiden 7yo and over
1st  BARDISTA ( Alex Vaughan-Jones ) 2/1
2nd Racing Eagle ( Jack Andrews )          4/5 Fav
3rd Lynda's Boy ( Miss S Walker )              8/1
Also; Bobba Benetta 8/1 (pu), Legendoftheknight 7/1 (pu)
Minuteman Gold 5/2 (pu), Sir Warrior 5/1 (ur)
Time: 6-14         Dists: ¾ L, Distance             7 ran
PONY RESULTS FROM HORSEHEATH
138cms and under Open Pony Race ( Division One )
Approx 6 furlongs
1st   LITTLE ANNE     Harry Davies
2nd   Nomoranun           Jack Dace
3rd   Halley                    Joe Leavy
Time: 1min 29 secs   Distances: 10L, Sh.Head       5 ran
138cms and under Open Pony Race ( Division Two )
Approx 6 furlongs
1st   HONKY TONK GIRL      Zak Kent
2nd Seabrook Rock Serenade   Harry Atkins
3rd   Crofthill Montague            Daisy Dace
Time: 1 min 36 secs  Distances: Sh.Head, 6L    7 ran
148cms and under Open Pony Race
Approx 8 furlongs
1st ABRICKINTHEWALL   Sarah Longthorn
2nd Roy Boy Green                 Harry Davies
3rd Tell Me Twice                Will Featherstone
Time: No time taken    Distances:  4L, 7L   7 ran