HIGH EASTER RACING CLUB, HIGH EASTER, SUNDAY MARCH 17th 2019
 BY JAMES CRISPE 
Henrietta Cranfield overcame a scary moment at the fourth last fence to register her first ever riding victory aboard bargain purchase Back Bar at the High Easter Racing Club Point-To-Point at High Easter, near Chelmsford, on Sunday. 
Cranfield, a 28-year-old lawyer currently working for Linklaters in London but originally from Layham near Hadleigh, admitted that the 'ground was coming up to meet me very fast' after a late jumping error almost ejected her from the saddle during the Novice Riders Race. 
But she managed to keep the partnership intact and Back Bar gamely kept going to hold off the challenge of Mahlers Spirit by six lengths.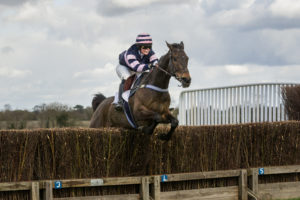 Trained by Alan Hill, Back Bar is owned by Henrietta's father, Richard, and cost just £1,000 when bought out of the yard of Irish trainer Gordon Elliott last September. 
Alex Chadwick and Darren Thomas, both Newmarket-based jockeys, were two other riders to impress during a windswept afternoon when spectators were forced to dodge intermittent hail squalls. 
Chadwick, who only moved down to Suffolk at the turn of the year, gained a glowing commendation from owner-trainer Brian Dowling after Blackwood Rover snapped a four-year 23-race losing sequence when landing the two and a half mile Restricted Race. 
"Today's trip really suited Blackwood Rover, as three miles just stretches him," said Dowling, from Ware in Hertfordshire. "And Alex gave him a lovely ride, as he has proved difficult to win with and needs his challenge to be delayed until the very last moment." 
Chadwick followed Dowling's instructions to the letter prior to seeing off Almost There and Shamat in a tight three-way finish. 
Thomas works for leading flat stable Godolphin and justified his decision to reapply for his riding licence and revert to amateur status by landing the Maiden Race aboard Racing Eagle.
 Trained at Chediston in Suffolk by John Ibbott, Racing Eagle comprehensively outstayed his six rivals to gain a first success after finishing second in four of his previous five starts.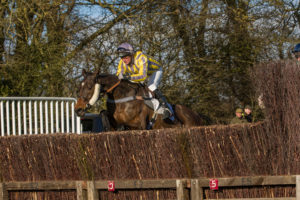 Judge Jonathan Benson was kept on his toes by the other three races, which all saw him preside over narrow verdicts. The tightest of the trio was the Ladies Open Race, which went the way of the favourite, Teeton Power, by just a head. 
Teeton Power was locked in combat with both In Fairness and Sand Blast approaching the final obstacle. And while lack of race sharpness took its toll on In Fairness (having his first start since 2017), Sand Blast proved a doughty opponent and even in the last few strides it still looked possible that he would complete a double for Dowling following Blackwood Rover's earlier triumph. 
But Teeton Power scrambled home to land the spoils for Melton Mowbray trainer, Liz Harris.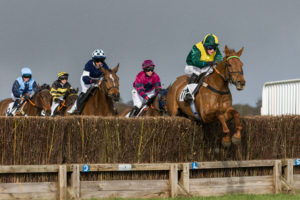 The Conditions Race for ten-year-olds and above was almost as close, as Burtredgipandgump overcame several awkward leaps in the closing stages to overhaul Kashmir Peak in the last five yards to score by a neck. 
Burtredgipandgump is owned and trained at Badlingham, near Newmarket, by Nick Wright and was ridden by his son, Archie, who said: "He's not the most fluent of jumpers, and you just have to sit and suffer and let him get to the other side in his own style, but he tries really hard and it was his determination that won the day."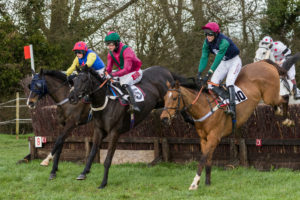 Finally, the three and three-quarter mile Mens Open Race resulted in a half length success for Big Georgie after the favourite had dug deep to stave off the late thrust of After Aspen.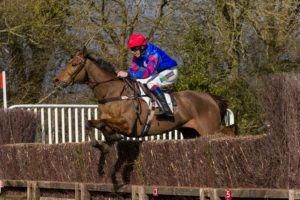 Big Georgie is trained in Worcestershire by his jockey, James Ridley, who enjoyed a fine afternoon as he also trained the winner of the Mens Open at Larkhill in Wiltshire.
Full Results below:
Ground – Good, good to soft in places
The PPORA CLUB MEMEBERS CONDITIONS RACE FOR NOVICE RIDERS.
1ST Back Bar – Miss H Cranfield (1st winner) 7/2
2nd Mahlers Spirit – Luke Scott 4/6 F
3rd Amigo – Mr J Morrey 20/1
4th One fine morning 2/1, Postbridge (F) 20/1 and Ballygrooby Bertie (F) 25/1, Clenagh Castle (PU) 40/1
Winning distances – 6L and 3L
Time – 6.41
THE RESTRICTED RACE  2m4f
1ST Blackwood Rover – A. Chadwick 3/1
2nd Almost there – A.Wright 6/4 F
3rd Shamat- Kate Gowing 14/1
4th Orchard Hill 6/1, Bullsempire (PU) 3/1, Multimedia (PU) 5/1
Winning distances 1.5L and ¾ lengths
Time 5.24
THE MENS OPEN RACE 3 M 6 F

1st Big George – J Ridley evens F

2nd After Aspen – D Cherriman 4/1
3rd Mr Maclennane – A.Wright 5/4
4th According to Trev 12/1, Aigle de la see (PU) 14/1, Kingston College (PU) 5/1
Winning distances ½ L and 15L
THE LADIES OPEN
1ST Teeton Power -Miss T Worsley 1/3 F
2nd Sand Blast – Miss A Peck 6/1
3rd Start Royal – Miss I Marshall 5/2
4th In fairness 16/1, 5th No Through road 20/1, 6th Tirob 25/1
Winning distances- head and 2.5 L
Time 6.40
THE TEN YEAR OLDS AND OVER HIGH EASTER CONDITIONS RACE
1ST Burtredgipandgump – A.Wright 6/4

2nd Kashmir peak- R Collinson Evens Fav

Poyle Thomas
5/2
(F), Dunara Castle
20/1
(PU), Flugzeug
16/1
(
RO
), Letsbeso
6/1
(PU)
Winning distances Neck
Time 6.41
THE OPEN MAIDEN RACE
1st Racing eagle- D Thomas 5/2
2nd Sandygate- A.Chadwick 10/1
Broomtip 10/1 (PU),Josh the Plod 5/
2
(PU), Drive on Joe 6/1 (PU), Oakidoaki 3.5/1 (PU) Un huit huit 2/1(PU)
Winning distances 8L
Time 6.48
Information collated by Amy Naylor