Fumet D'oudairies made and exciting and spectacular arrival on the East Anglia point-to-point scene during 2019/2020, before the season was curtailed due to the coronavirus pandemic.
The bay gelding was foaled in March 2015, his sire is Della Francesca (USA) out of a mare Brise D'Oudairies ( FR) and the mares sire was Califet (FR).
In his early racing career he ran three times for Wexford based, Irish trainer Liz Doyle, herself a successful point-to-point rider and amateur jockey before taking up training.
He made a pleasing racing debut, when 4th beaten 5 lengths in a pro/am NH flat race at Naas, in January 2019. Followed this performance with an outing in maiden hurdle at Cork, in May, finishing 11th of 21 runners. Fumet D'oudairies made one more appearance in Ireland, in another pro/am NH flat race, six days later but could find no extra from 2 furlongs out and finished over 30 lengths behind the winner, back in 5th place.
Fumet D'oudairies was subsequently sent to the Doncaster Sales in the summer of 2019 and commanded the attention of Gina Andrews and her brother Jack who were both directly involved in making the successful, winning bid of £800. Gina and her trainer husband Tom then prepared the French-bred youngster for the forthcoming point-to-point season, at their stables near Marton in Warwickshire.
At the first Cottenham meeting in mid-November 2019, racegoers witnessed a really promising performance by Fumet D'oudairies, in the 2 ½ mile Maiden race winning by 15 lengths and partnered by Jack Andrews. Jack was delighted to have ridden a winner on the opening day but equally buoyant as a result his active participation, in the purchase of his winning mount.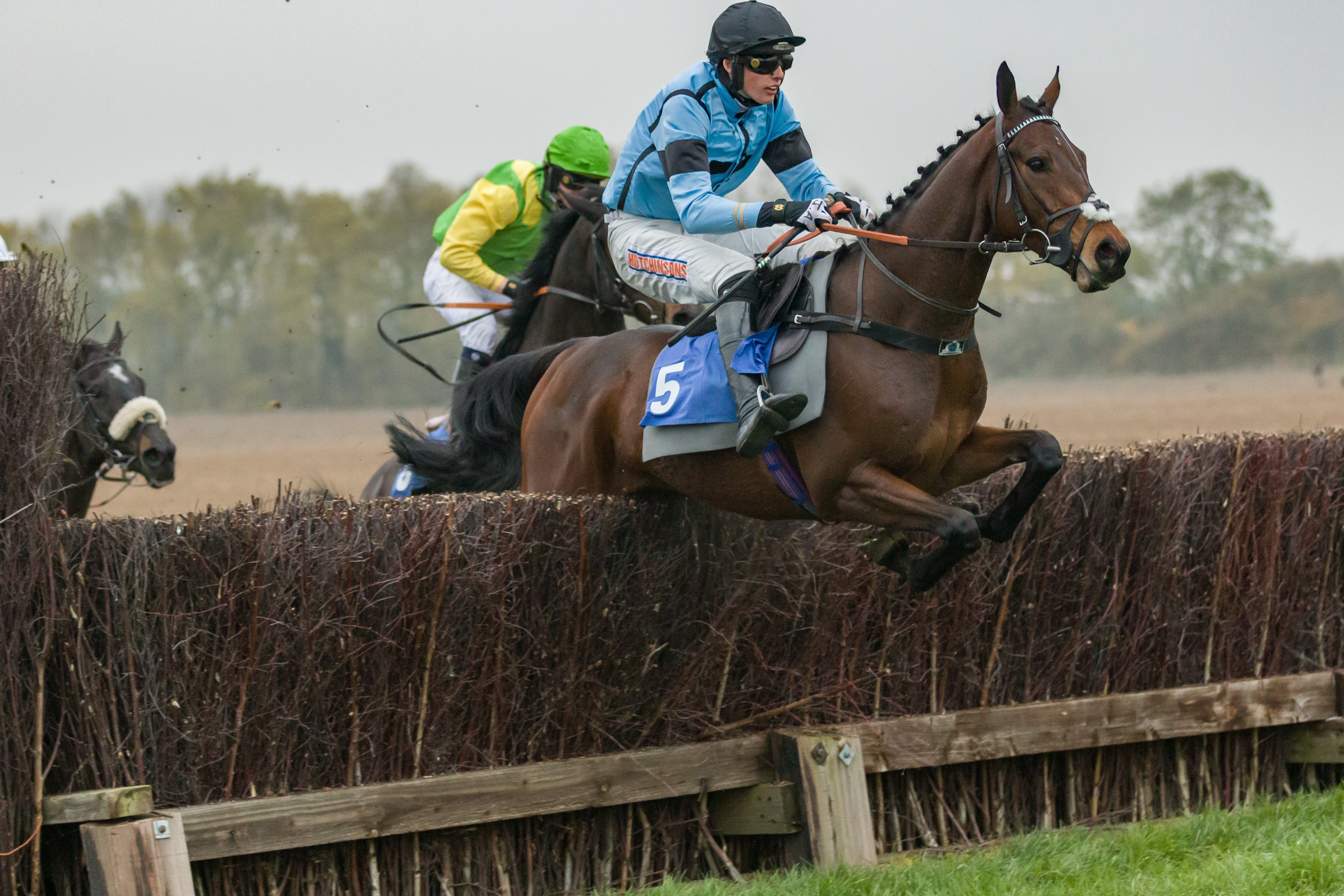 Fumet D'oudairies with Jack Andrews winning the Maiden race at Cottenham in November 2019 (photo GDB Photography)
Fumet D'oudairies returned to the Cottenham course six weeks later, in late December, in the Restricted race and once again excelled, in the hands of Jack. With his foot perfect jumping and comfortably staying the three mile trip, there was high expectation of much more to come from this exciting prospect that had initially been given the name "Nick" in Tom Ellis' yard as a result of the circumstances of his purchase. Having been bought for a relatively cheap price and therefore considered, jokingly, "nicked" as a consequence !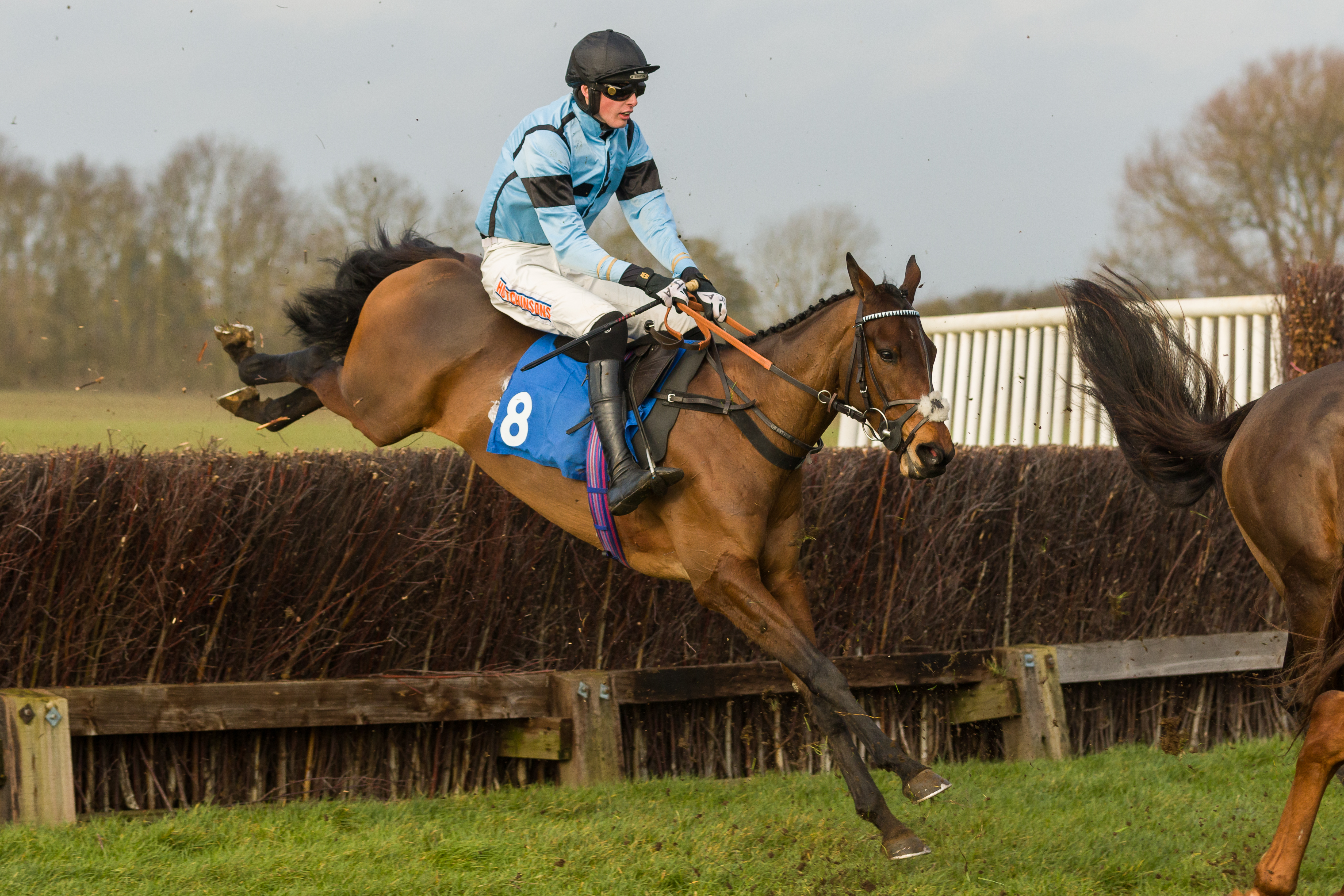 The partnership in winning action at Cottenham in late December 2019 (photo GDB Photography)
The partnerships next appearance came at Horseheath in early February 2020 in the opening Conditions race, which was run in the fastest time of the day. The front-running veteran Gunmoney had to give way, approaching the last fence, where Harmoney Row and Fumet D'Oudairies had emerged as threats. Although the pair came close, after jumping the obstacle, it was Jack and the now 5yo Fumet D'oudairies who prevailed by 1 ½ lengths, at the finish. Jack was thrilled with the way his mount had "winged the last and then stuck his head down, to the line ". This young horse, was now unbeaten in three races for the season, demonstrating that he was definitely on the upgrade. Having previously won twice round the flat track at Cottenham, both at 2 ½ and 3 miles, he was put to the test here, round Horseheath's undulations and stayed on strongly to the great joy of his ever-supportive and vociferous group of owners, the 'Ice & A Slice Racing Club'.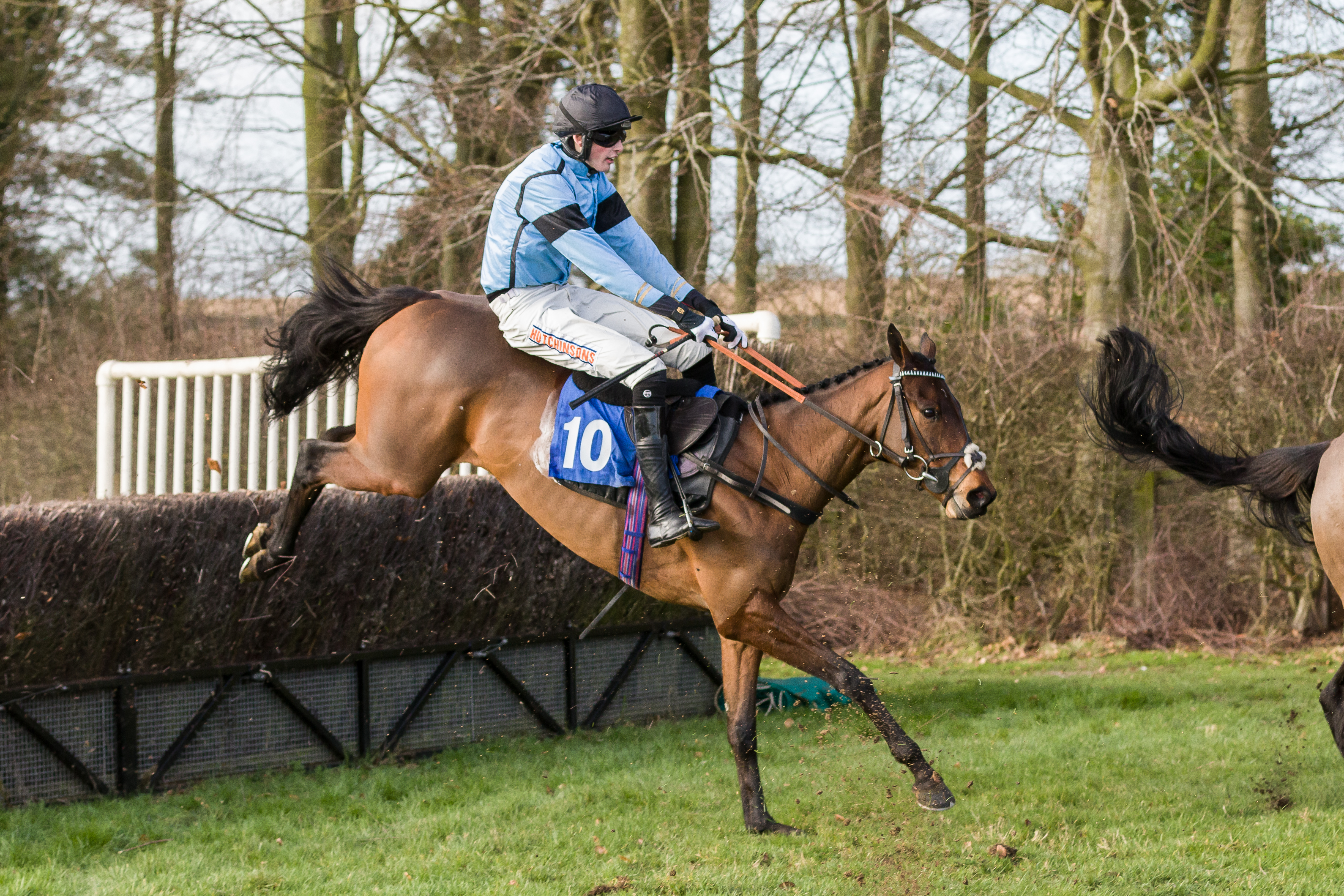 Third success in a row this time at Horseheath in early February 2020.(photo GDB Photography)
The owners made their presence known, once again, when Fumet D'oudairies landed his fourth success of the season in the opening Intermediate race, back at Horseheath at the end of February. Jack had the 5yo up with the leading group throughout and as with all his races, Fumet D'oudairies kept on strongly at the finish. Without doubt the partnership had progressed with every outing with variations in distance, courses, ground conditions and higher grade races. A possible target of the Subaru Hunter 'Chase final at Stratford in May was unable to be pursued, as a result of the pandemic.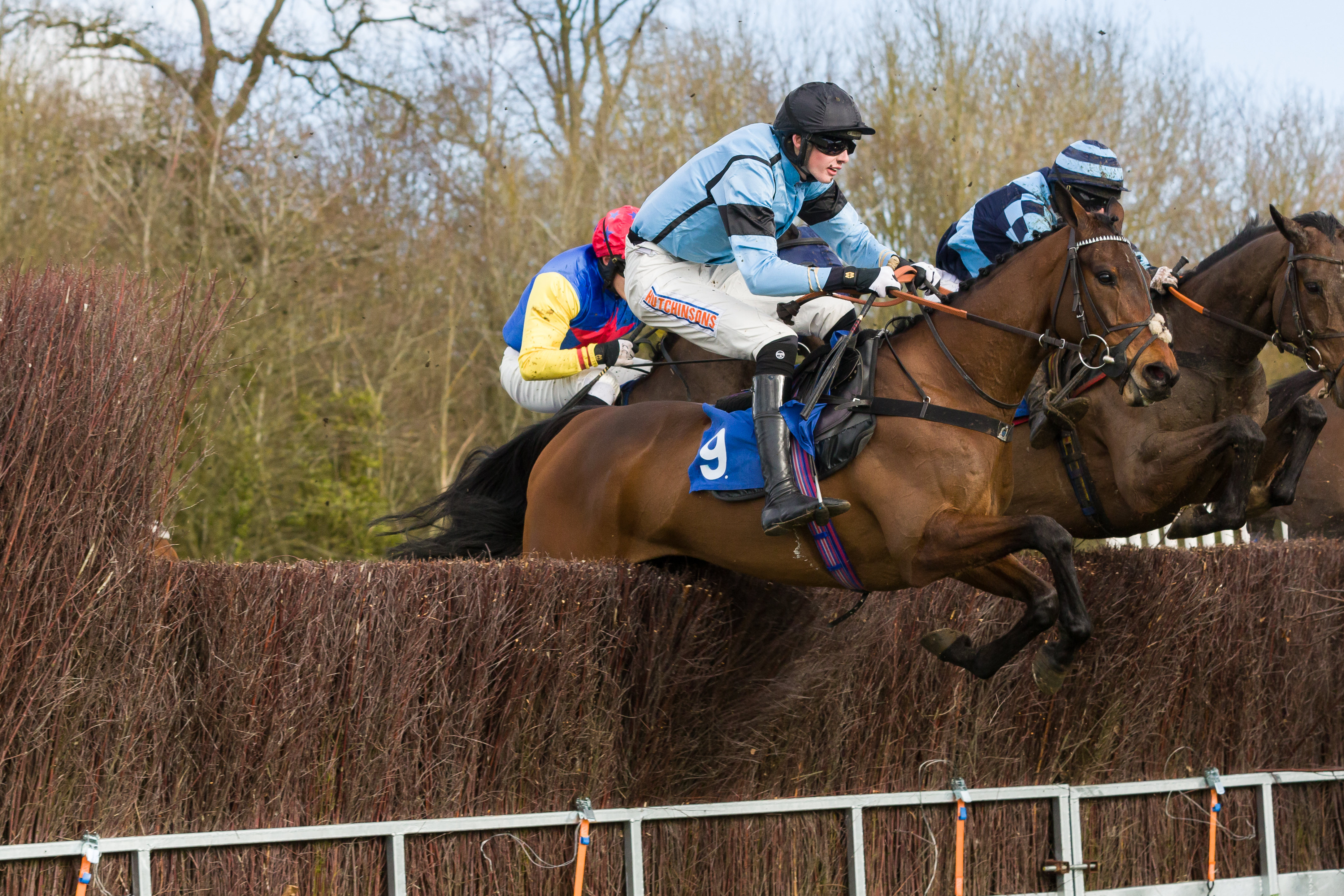 Fumet D'oudairies and Jack complete the four-timer back at Horseheath. (photo GDB Photography)
Through various updates from the Ellis'yard, Fumet D'oudairies, who was now in a new ownership syndicate known as the D'Oudes Partnership, was back in training in good fettle and his next racecourse was awaited with eager anticipation. It came at Leicester in the Cottesmore "Grassroots" Maiden Hunter 'Chase on March 2nd 2021, over a distance of 2 ½ miles with the Jack's sister, Bridget taking the ride. Amateur riders are currently unable to participate under a current BHA decision, which is in line with Government regulations. Bridget was National Point-to-Point Lady Riders Champion in 2014 and turned professional the following year and has ridden over 130 winners and was a natural choice to replace Jack being sister to Gina and sister-in-law to trainer Tom, to make it a true family affair. The new partnership didn't disappoint, starting as favourite in a 13 runner field. they started to make steady headway down the Leicester finishing straight and were described in running by course commentator, Tim Peters, as "cantering all over his rivals" eventually finished going away from their nearest challengers, to win by 6 lengths.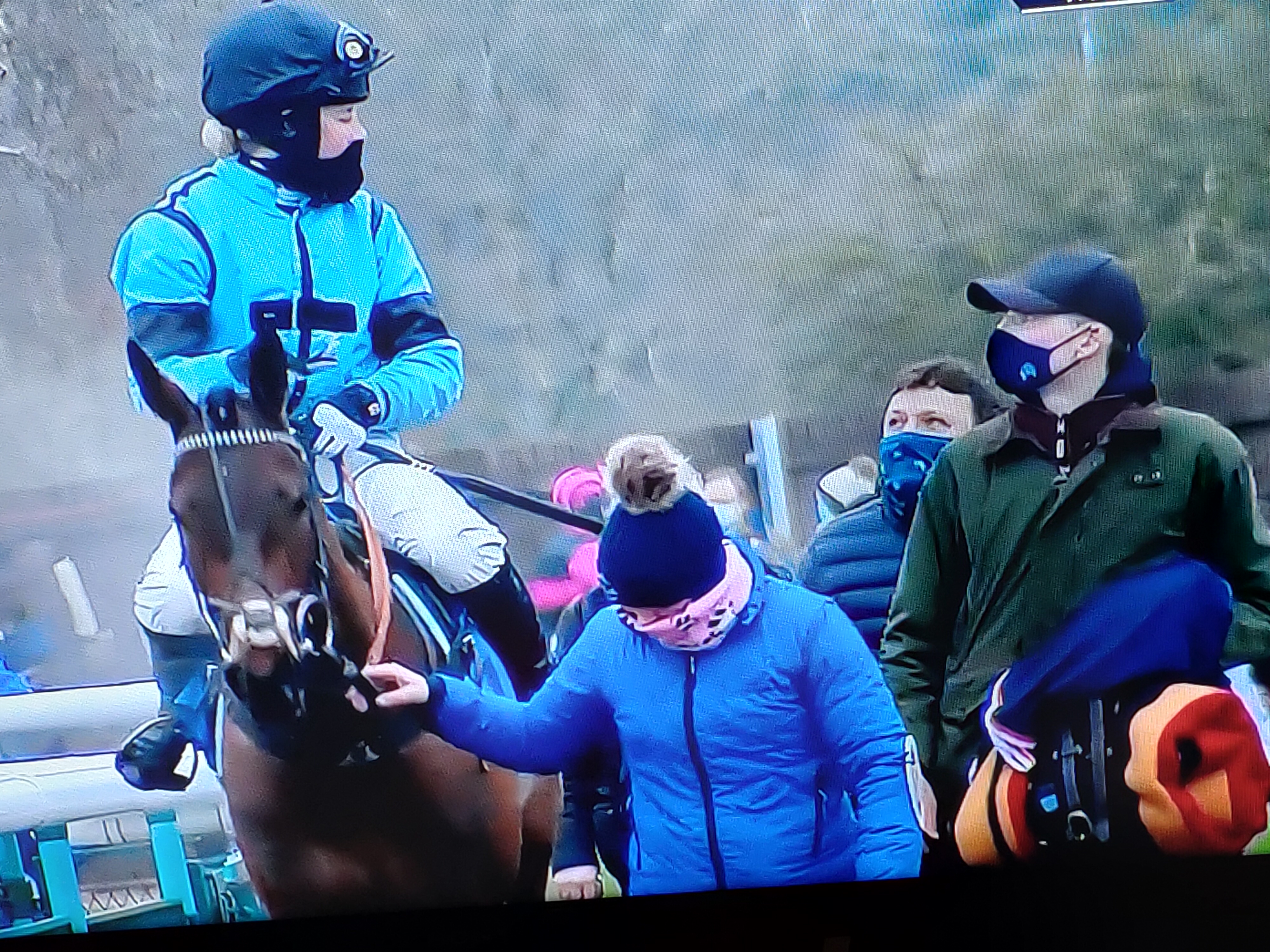 Fumet D'oudairies after his victory at Leicester with the participants of the family success :-       Bridget, Gina, Tom and Jack.
This was the most perfect return to action and those of us who were privileged to follow Fumet D'oudairies progression through his 4 point-to-point successes would not have been at all surprised by this impressive victory. His future looks very bright and he is in excellent hands with Tom and Gina whilst Jack will continue to be fully involved with his preparation for his next racing opportunity with every possibility of being re-united, back in the saddle.