REPORT & RESULTS FROM THE CAMBRIDGESHIRE WITH ENFIELD CHASE AT HORSEHEATH  – SUNDAY 3RD MARCH
Lauren Braithwaite
Photos courtesy of Graham Bishop – http://www.gdbphotograhohy.co.uk and Richard Weller-Poley www.rwpphoto.com
Ride of the day at The Cambridgeshire with Enfield Chase meeting at Horseheath on Sunday 3rd March has to go to young jockey Luke Scott who took the Novice Riders contest aboard the Andrew Pennock trained Mahlers Spirit.  Luke is in his first season riding and had only ridden his first winner last weekend at Chaddesley Corbett on just his eighth ride. He gave Mahlers Spirit a beautifully patient ride in rear until making a move for home with a mile to run and strongly pulling clear from the rest of the field three fences from the finish.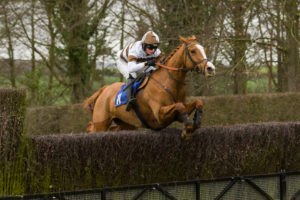 Mahlers Spirit and Luke Scott
What makes the achievement even more impressive is that the last time Luke was seen racing in East Anglia he suffered a horrific fall at Cottenham and he left the track in an Ambulance. That day has clearly not left any mark on Scott's confidence but the same cannot be said for his mother who might have been able to listen to the commentary but was spotted with her head firmly buried in a friends shoulder for the duration of the race!
Luke is aiming for the National Novice title and says he hopes to turn Conditional at some point. He is currently working for up and coming National Hunt trainer Olly Murphy.  With support from Murphy, Andrew Pennock and the Francesca Nimmo yard it would be no surprise to see him make a strong challenge for that Novice title as the season rolls on.
Another Novice jockey seen to good effect was Jamie Brace who won the opening Intermediate contest aboard Tricky Silence by a neck beating Tully's Touch ridden by Jack Andrews. According to Brace Tricky Silence can live up to his name and isn't always the most straightforward ride! Brace said "If he isn't in the mood on race day there isn't a lot you can do to persuade him otherwise and he wasn't travelling at all coming down the hill for the last time today but I had him in a good position to pass horses which is what he loves to do and he stayed on strongly at the finish."  Assuming all is well with the horse post-race the Intermediate final at Cheltenham could be the plan.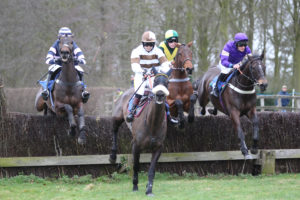 Tricky Silence (Far right) and Jamie Brace
Another who could be Cheltenham bound in May is Zeroshadesofgrey who made all to win the Men's Open. There were only two runners and Zeroshadesofgrey didn't look to enjoy the very steady pace early in the race but once owner/rider Charlie Buckle upped the tempo his mount jumped impeccably and was never going to be caught by After Aspen and Jack Andrews.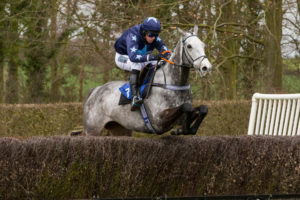 Zeroshadesofgrey and Charlie Buckle
It was a frustrating day for Men's National Title contender Andrews who had three seconds from three rides, the last of which came in the closing Maiden race when odds-on favourite Racing Eagle was beaten a length and a half by the Gerald Bailey trained Spring Cover after not jumping with any fluency. Bailey has his team in great form and Alex Vaughan-Jones made all on his second ride of the day which went someway to making up for a disappointing run from Bardista who was beaten at odds of 1/3 in the preceding Restricted Race.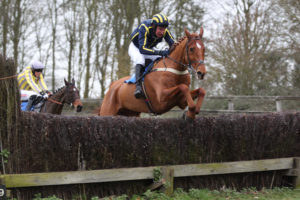 Spring Cover and Alex Vaughan-Jones
It was Black Jewel who kicked on from the top of the hill under his owner/rider Gordy Hopkins who got the better of Bardista to win the Restricted by eight lengths. The Francesca Nimmo trained winner was having his second run in as many weeks but was much better suited to Horseheath's galloping track rather than the sharp course at Higham last week. Hopkins said "I was able to give Black Jewel a breather today where last week the pace was fast and furious".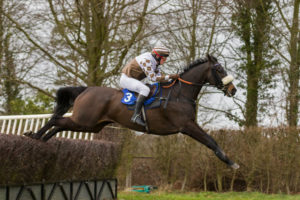 Black Jewel and Gordy Hopkins
Stuart Morris had a good record as a jockey at Horseheath and his record as a trainer at the track is looking even more impressive. It was Proximo, running in the familiar Judy Wilson colours, who was impressive for Morris today when taking the Ladies Open under Alice Stevens who was having her first ride for the trainer. Stevens said "Proximo was a lovely straightforward ride. He almost jumped too well which got me to the front earlier than planned and we had to press on from there".  Proximo always looked like the winner and stayed on well up the home straight to win by 10 lengths from Some Kinda Lama under Antonia Peck who will surely have a win in him if he can tidy up his jumping.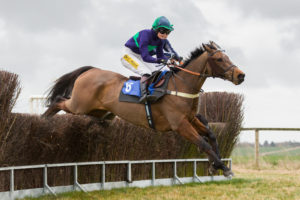 Proximo and Alice Stevens
As always, the team at Horseheath had done a fantastic job with the track and the course was in fantastic condition. The day also saw William Humphrey, who lives just down the road from the track, presented with the February East Anglian Jockey of the Month award.
Full results below:
The official going was good, good to firm in places.
Intermediate    
1st Tricky Silence                      Jamie Brace              4/5f
2nd Tullys Touch                        Jack Andrews           7/4
3rd This Breac                    Alice Stevens           4/1
Time 6-16      Dists: Nk 12L
4 ran
also Clenagh Castle PU
PPORA Novice Riders
1st Mahlers Spirit               Luke Scott                 2/1
2nd Abbey Lane                     Alex Chadwick         4/7f
3rd Ballygrooby Bertie     Luke Humphrey     10/1
Time 6-13                  Dists Dist 15L:
4 ran                                                                  also Brians Well PU
Mens Open                                                                                                                                
1st Zeroeshadesofgrey             Charlie Buckle         1/6f
2nd After Aspen            Jack Andrews           7/2
Time 6-20                 Dists:  1 ½ L only 2             ran
Ladies Open                                                                                                                         1st Proximo                                     Alice Stevens           6/4
2nd Some Kinda Lama  Antonia Peck                        7/2
3rd Kriss William                  Rosie Turner             Evs f
Time 6-14                  Dists: 10L 4L
4 ran                                                                             also Tirob PU
Restricted                                                                                                                1st Black Jewel                        Gordon Hopkinson  3/1
2nd Bardista                          Alex Vaughan Jones 1/3f
3rd Sleepy Sunday                      James Jeavons        3/1
Time 6-20                  Dists:8L Dist             3 ran
Open Maiden                                                                                                                     1st Spring Cover             Alex Vaughan Jones  5/4
2nd Racing Eagle             Jack Andrews              4/6f
Time 6-17                  Dists: 1 ½ L
4 ran
also Drive On Joe UR Seeuwhenugetthere PU