A dry spell in the lead up to the Dunston Harrier's meeting at Ampton meant the going was on the quick side but there was still some really competitive racing and both trainers and jockeys were full of praise for the course which was in fantastic condition thanks to the exceptional job done by Clerk of the Course Simon Stearn and his team.
Local trainer Andrew Pennock's horses can see their stables from the course and always seem to run well here. This meeting was no exception and provided Pennock and his stable jockey Richard Collinson with a double on the day. The first of those winners came in the Maiden race which was won by Chapelier who is owned by local point to point stalwart, John Whyte. A very popular winner, incredibly this was John's first winner for ten years! Collinson was full of praise for Chapelier who he says will just keep on improving as he learns to settle in his races.
The double came in the Intermediate race which unusually was an all-female affair with all the runners being mares. Whilst there were only three runners the winner, Chosen Rose, was potentially the most exciting horse on the day. She was notching up her fourth win on the bounce and she certainly looked as though she was at least Open class if not more as she cruised away from her rivals up the home straight. Collinson was full of praise for her after the race saying "Chosen Rose was phenomenal. Andrew always liked her and said she was top class after her win at Garthorpe. I wasn't convinced but today just blew all doubt away. She's a monster!" Chosen Rose was also a first ever win for owners Dave Everard and Adele Hardy. David owned, trained and rode in the early eighties so has waited nearly 40 years for this memorable day.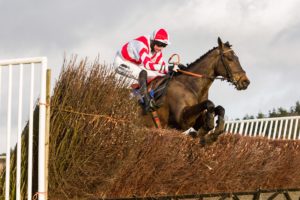 Chosen Rose
The Mixed Open didn't prove so successful for the Pennock/Collinson team when Mahlers Spirit just didn't seem his usual self and didn't jump with any fluency. This left the way clear for the Alan Hill trained favourite Broken Eagle to rack up his sixteenth career win (15 in point to point and one Hunter Chase) under jockey Jack Andrews. Broken Eagle had been a little disappointing last time out at Cottenham but was clearly back to form today on the type of ground that he loves and he was an impressive winner despite Ampton probably not being his ideal track. Owner Jake Exelby sighted Higham as a next possible target and it would take a very good one to get anywhere near him on that flat track which has seen him to such good effect over the last few seasons.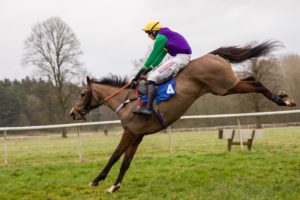 Double on the day for Jack Andrews
Jack Andrews also doubled up on the day when winning the restricted on Tully's Touch for trainer John Ibbott who consistently does well with a small team of horses. Tully's Touch was actually still a maiden coming in to the race today and Jack was clearly very taken with the horse saying "I was very impressed with Tullys Touch. He gave me a nice feel and to win a Restricted race like he did whilst still being a maiden I thought was very encouraging." He will be an interesting horse to follow through the season.
The opening and closing races of the day, the 9 year olds and up Conditions race and the Novice Riders race, were both won by two promising young jockeys who are just starting to make their mark this season. The Novice Riders race provided probably the most exciting finish of the day when Minella Friend stayed on up the hill to beat Trojan Star and Pantxoa in a tight three way finish and provide jockey George Chatterton with his first winner from just three rides.
William Humphrey rode his second winner from just five rides when he steered Local Show to victory in the opening Conditions race. Humphrey rode a patient race to peg back Dandan,ridden by the vastly experience Zak Baker, up the stiff Ampton finishing straight. After taking a couple of fences to get going Local Show really found his rhythm and jumped beautifully. His young pilot had obviously put a lot of thought into his ride after blaming himself for getting beaten last time out at Cottenham. Humphrey said "Local Show was superb today. The ground was plenty quick enough for him and so I was keen to look after him going down the hill each time but making sure I kept him in touch. I waited until he turned for home before asking for everything and he delivered very well. I think the plan will to be to go to horseheath with him next provided that he comes out of today well. It was nice to get another win today for my new sponsor this season – Gibson Saddlers as well.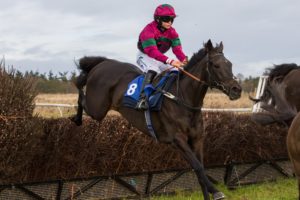 William Humphrey and Local Show
Here are the full results for the Dunston Harriers meeting held at Ampton. The official going was good to firm, good in places.
EA Area Conditions Race 10 Year Old Plus Horses 
1st Local Show                 William Humphrey                  1/4f
2nd Dandan                       Zac Baker                                3/1
3rd Poyle Thomas  Anna Metekohy                      12/1
Time No time taken                Dists: 1 1/2L 12L
6 ran
also According To Trev 6th Paddy The Stout 5th We Never Give Up 4th
Open Maiden Race     
1st Chapelier                     Richard Collinson                   5/2
2nd Racing Eagle   Jack Andrews                         5/2
3rd Broom Tip                        Kate Gowing                          6/4f
Time 6-24                               Dists: 3L 1 1/2L
6 ran
also Beech Hill UR Midnight Medic PU Pandinus Imperator 4th
Mixed Open Race  
1st Broken Eagle  Jack Andrews                         2/7f
2nd Lord Topper Frankie Flinton                        6/1
3rd Mahlers Spirit            Richard Collinson                   3/1
Time 6-11                             Dists: 4L 15L             4 ran
also Flugzeug 4th
Restricted Race
1st Tullys Touch   Jack Andrews                         6/1
2nd Anglesea Lace Richard Collinson                   1/2f
3rd Dontdillydally Charlie Marshall                      7/2                                                                       Time            6-20
Dists: 4L 10L             6 ran
also Berkeley Forest PU Don't Budge Me 5th Stingthebookies 4th
Intermediate Race 
1st Chosen Rose          Richard Collinson                   4/6f
2nd Dream Doc      Will Thirlby                             10/1
3rd Allie Beag                        Jack Andrews                         Evs
Time 6-25                                Dists: 7L 15L
3 ran
PPORA Club Novice Riders Race  
1st Minella Friend George Chatterton                  16/1
2nd Trojan Star                  Jamie Brace                             16/1
3rd Pantxoa                        Jacob Pritchard Webb             10/1                                                                  Time 6-10
Dists: 1L 1/2L             6 ran
also Namako PU Susquehana River 4th Vivaldi Collonges 10/11f 5th