TRAINER TALK with NIGEL PADFIELD
By Jake Exelby
Nigel Padfield, based near the village of Abridge in Essex, must be one of the nearest point-to-point trainers to London and is certainly the only one I've visited who's inside the M25 !! An arable farmer by profession, he has been owning and training a small string of pointers since the mid-1970s and, this season, hopes to have six to run in his yellow and blue colours. Nigel is lucky enough to have access to some of the top jockeys in the country, all but four of his 44 successes in the past decade have been ridden by one of the Andrews siblings – Bridget, Gina and Jack – and Excitable Island took the four-miler at the Cheltenham Hunter Chase meeting under Gina two years ago. The 13-year-old – who has also won ten of his 14 starts between the flags (including his last seven, dating back to 2016) – is still going strong, so I went to feed him a carrot and talk to his trainer.
"The house is over 500 years old and I've lived here all my life," confirms Nigel when I turn up at Hill Farm. "Dad farmed here too and we used to have a dairy herd – he grew up on a nearby farm on the site of what's now Debden underground station – but now we let some of the buildings commercially, although we still have 1,000 acres." Nigel's facilities include a grass gallop, schooling fences and a deep sand canter – which he put in last year – but he is clear that, "Pointing's my hobby, and I wouldn't want to do it on a larger scale, although we do have more horses this year than ever before. I only used to have two or three, but the older you get, the more you chuck at it!"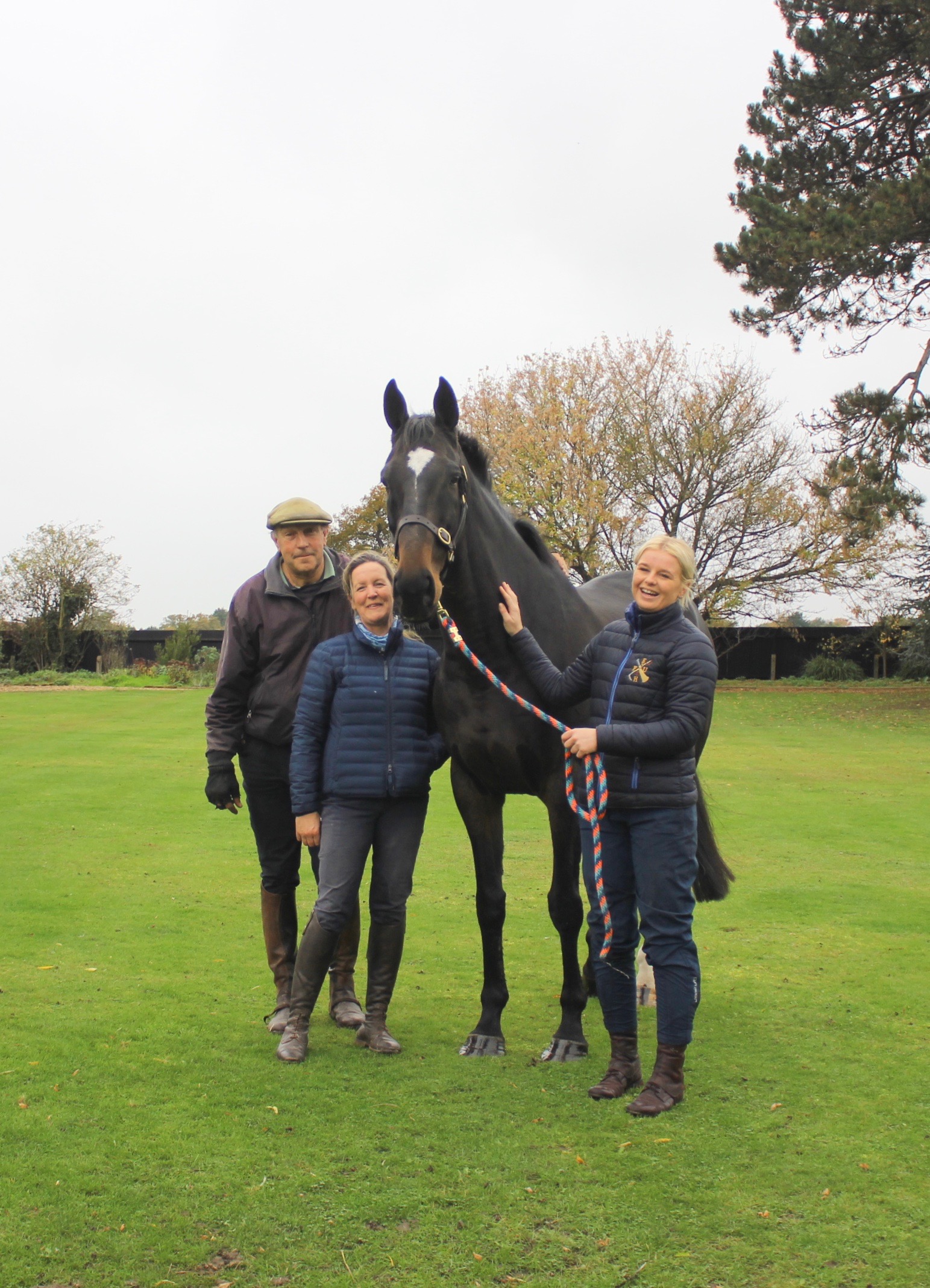 Nigel, Sally and Alice with Excitable Island  ( Photo by Caroline Exelby )
"We" is an important word in the Padfield operation. Partner Sally, a successful eventer, is a key part of the team – she also hunts the Padfield pointers. Sally's daughter Sophie has been riding out since "she was about 13, when she was big enough to hold them," her Mum laughs. Now a qualified equine vet, she rides out less frequently but her advice is useful! Another vital cog is Alice Quinlan, who has been with the couple ten years. As Sally laughs, "Nigel and I might have split up, if it wasn't for Alice!" And the three of them are ready when I arrive, to warm up in their manege, followed by half a dozen circuits of the sand and a spin up the grass.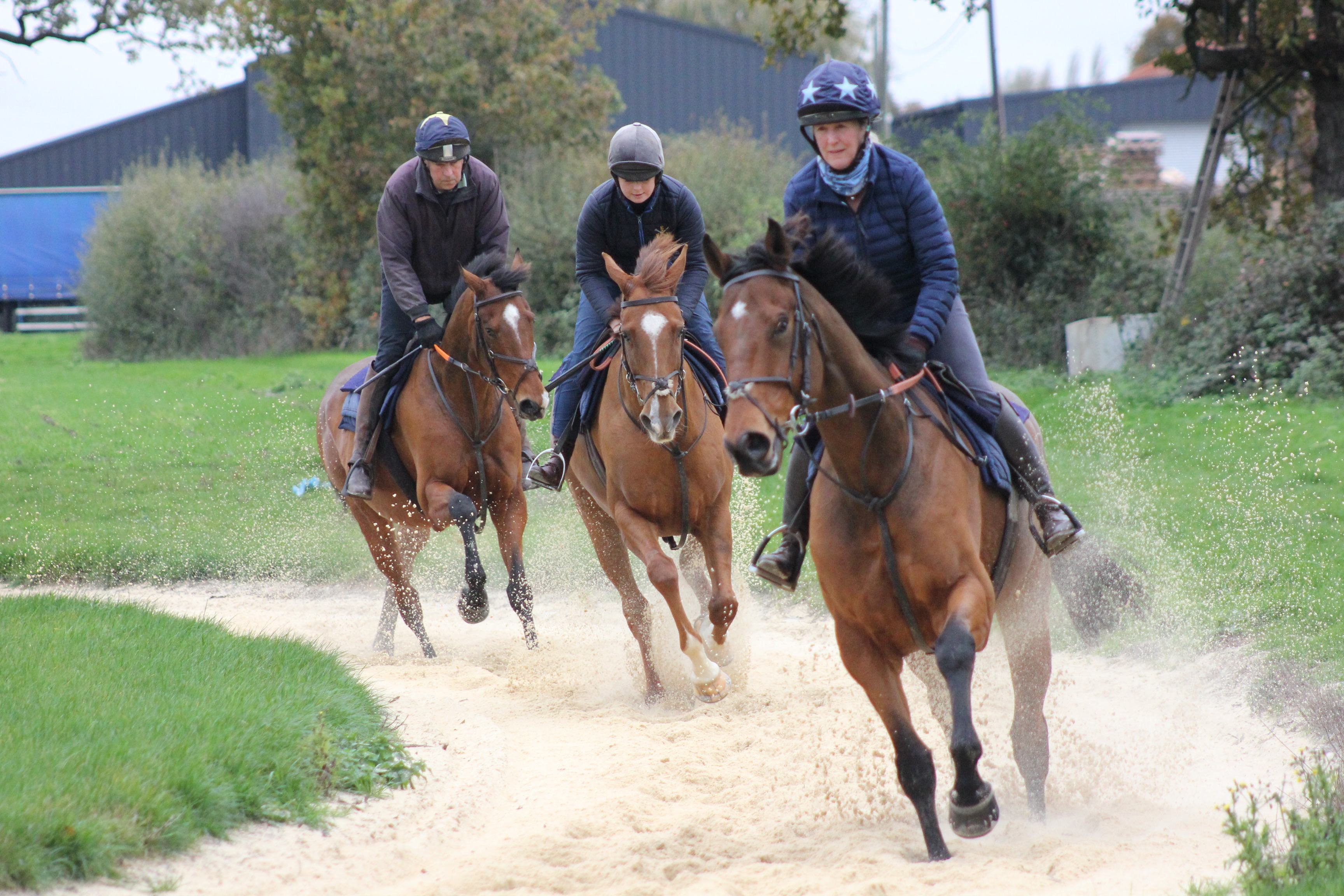 Left to right: Nigel is on stable stalwart Quick Oats, Alice rides the maiden Howitsdone and Sally on Ampton winner Direct Flight . ( Photo by Caroline Exelby ) 
Nigel's first outing between the flags was on Three One in 1976 and he smiles as he tells me how he got into pointing, "Many years ago! I was 13 or 14 and my younger sister Julie was given a pony. It was too much for her, so I started riding it – I'd never ridden before – and it went from there. My Mum then got me a hunter, then a pointer – Three One – before I got too heavy. David Gill, a former point to point jockey and trainer – who ran a riding school close to home – was hugely helpful in teaching me the ropes and without him, I probably wouldn't have got going."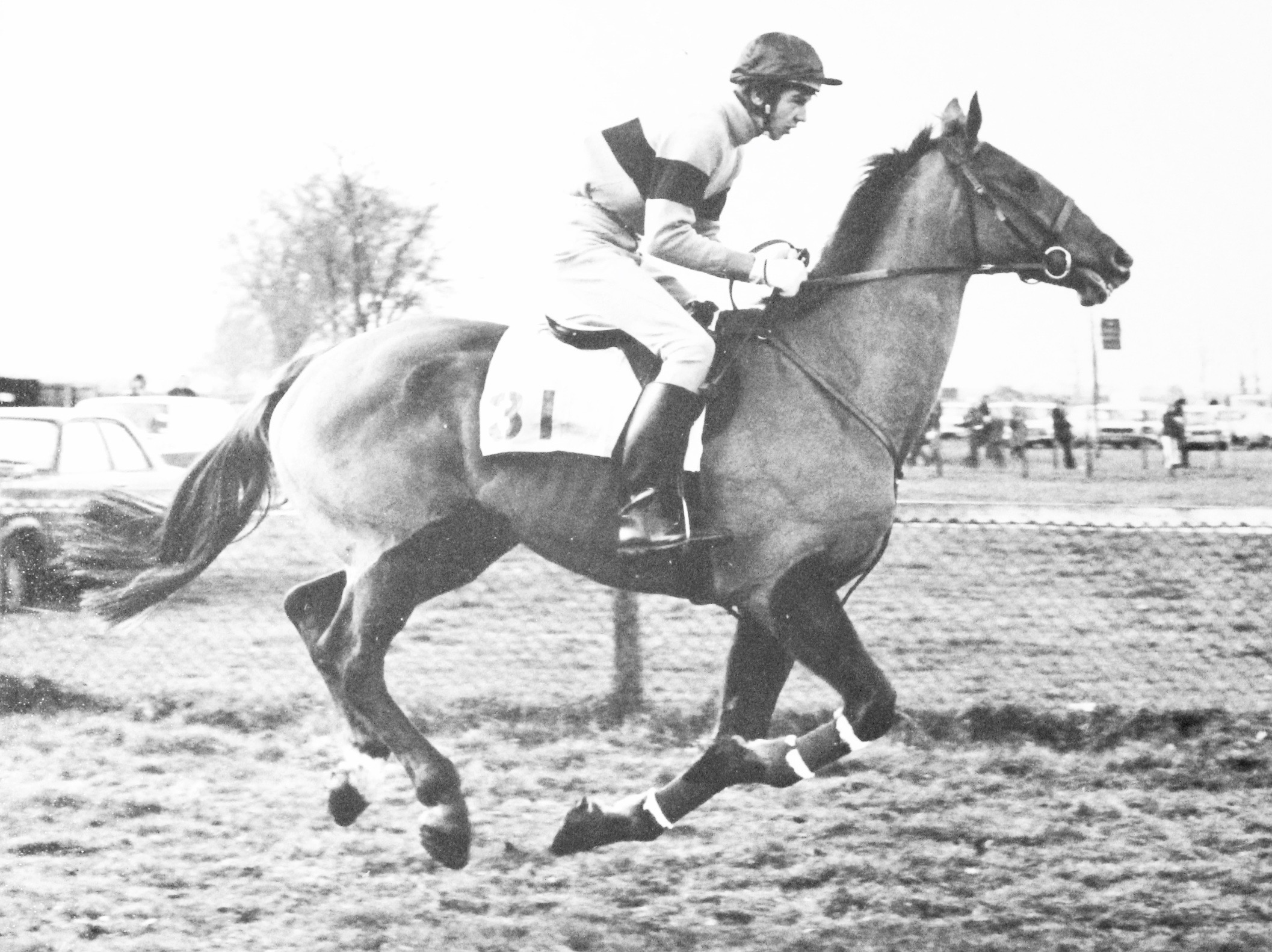 Nigel Padfield on Three One
While Nigel didn't win a race on Three One, he got the taste for pointing and has had at least one horse every year since then, including Hardly Splendid, who was responsible for both his successes in the saddle, at Higham and Marks Tey in 1981
Nigel's riding career was relatively brief – he admits to retiring in the early 1980s due to weight issues before focusing on his training career. "I got fed up with dieting," he laughs. "I just used to eat a couple of boiled eggs. Then I got friendly with Simon Andrews – we were both farmers – and he started riding for me. He rode several winners for me, as did the likes of Perry Harding-Jones."
The friendship with Simon was the start of a long association with the Andrews family. "Gina's second ever ride was for me," he recalls. "Martin Oliver said I shouldn't let a 16-year-old ride a maiden, but Simon and (mother) Joanna were happy. We all get more enjoyment when we one of the Andrews' is riding for us, as we've been friends all our life." Sally agrees. "I don't worry when an Andrews is riding!"
Asked about his training career, Nigel confesses, "I don't know how many winners I've trained, but it must be getting on for 100." And while his career highlight is obviously Excitable Island's Cheltenham win, he cites Short Circuit as the best horse he's had. "He was a bloody good horse," says Nigel ruefully. "But I sold him before he was successful and  (from that) learnt the lesson to hang on to my good ones. Martin Oliver bought him for me from Ireland and he won as he liked at Marks Tey in 1997 from Rupert's Choice (who was unbeaten otherwise that season), then took a 21-runner Restricted at Cottenham a fortnight later. I sold him to Denys Smith but he only ever managed to run once."
Unusually, Nigel doesn't offer to change anything in response to my stock question of the first thing he'd do if put in charge of the sport. "I've been racking my brains, but haven't come up with a sensible answer," he laughs again. "Peter Wright's doing an amazing job putting on point-to-points in difficult circumstances," he continues. "And while an October start is no advantage to us – we're still busy on the farm and all our horses start and finish together – it's essential for the bigger yards, especially with fewer meetings this year to run your horses." He's also in favour of the new structure of Maiden races, while admitting, "We've never had a four-year-old maiden and aren't likely to. I'm a farmer – buying and selling young horses is a different ball game."
Being a habitual late starter, Nigel's 2019/2020 season was badly affected by Covid-19, as well as family sadness. "We'd only had four runs," he tells me. "Then my father died, so I had no time for horses. Sally and Alice took charge and became 'happy hackers', then the horses had an extended spell in the field." Nigel is clear that, while owner-trainers like himself are unlikely to feel the full impact of coronavirus on the sport, point-to-pointing is bound to suffer and that pointing behind closed doors is unsustainable. "It's hugely serious for the bigger yards," he opines. "If you're an owner, why would you want to pay all that money (for training fees) if you can't watch your horse properly and have a beer with your trainer after racing?" As for this season, "We don't know what's happening in February, so how can we know what will happen in May?" he asks rhetorically again.
Nigel, Sally and Alice are – however – unequivocally positive about the live streaming that early season point-to-points have seen and all confirmed they'd be willing to pay to watch. "I'm used to it from eventing, which has Horse & Country TV," confirms Sally. "It should definitely continue (when spectators are allowed pointing again) and might attract more owners." Alice admits to the temptation to bet more (!) with live streaming, while for Nigel, "I know so many people in pointing that I've got an interest in nearly every race when I watch it."
Sally, being a keen hunter and involved in sponsorship with their local meeting – the Essex at High Easter, is concerned how long the hunts will be willing to sustain loss-making fixtures. "The very popular High Easter meeting held on Grand National day draws good crowds and the entrance money is a good contribution to the Essex Hunt," she tells me. "You could argue that if the hunt isn't involved, the meeting can still be viable, as long as you get sponsorship. However, hunts are already an organised community of volunteers and are well placed to do the huge amount of work needed to put on a point-to-point."
Alice – who also helps Nigel and Sally hunt their horses – is pragmatically aware of the need to be cautious around the association between hunting and pointing. "Hunting's so frowned upon now that you have to be careful of too obvious an association, as people who are anti-hunting could also turn against pointing." Sally agrees, saying, "It's a sad reality that I have to play down the involvement of the hunt when I'm looking for sponsorship" while Nigel is even more vehement that, "Pointing's got to do everything 100% correctly – but I respect the traditional link between pointing and hunting and hope it continues." On this note, Nigel and Sally are hoping to achieve a remarkable tenth consecutive victory in their Hunt Members race. Asked which of his six horses will be targeting the impressive trophy, Nigel smiles once more. "Excitable Island," he says quietly.
"The standard of everything has improved – training, riding and professionalism," is Nigel's ready answer to my question of what's changed for the better since he's been involved with point-to-pointing. "Although, personally, I don't want to see it get much more professional – it's being taken away from small owner-trainers and there aren't many of the likes of me and Tim Underwood around these days."
Nigel cites Gina Andrews as an example of this improvement. "She the best female jockey in points I've ever seen," he says, brooking no doubt. "It's her strength, attitude, will to win, determination… on a high class Open horse or the worst maiden. I saw it when she was 16 and knew she could ride before then, having seen her on ponies and show jumping." And among the male jockeys? "Her brother Jack, isn't too bad either – and neither was their Dad!" Nigel answers with the customary twinkle in his eye.
---
NIGEL'S SUPER SIX
Aztec Cosmos
He's got form in Ireland and I think he'll be a soft ground horse. I'll get him ready for the end of January.
Direct Flight
Won at Ampton on his first run ever, as a six-year-old. I told Jack (Andrews) he'd win and he laughed at me! I think a lot of him and will look for a Restricted on good ground.
Excitable Island
Martin Oliver – who's been buying horses for me for over 25 years – found him and I took one look and said I'd have him. All the Andrews children have won on him and he was Nick Pearce's 100th winner – Nick promptly retired. He likes a stiff track and soft ground and – after he had last season off – the plan is to go for a couple of runs in points then back for the four-miler at Cheltenham.
Howitsdone
Still a maiden and has a very high rating for one of 99. Will be ready to run in late January or early February and will go on anything other than fast ground.
Man Of Means
Won an Ampton Maiden for Tom Ellis and I'll look for a Restricted on good ground somewhere like Horseheath. Jack thinks he's quite nice.
Quick Oats
Will go for Conditions races this year. Won't be out until the ground gets good to firm then will keep running until the end of the season.