JAMES OWEN RACING
GREEN RIDGE STABLES, HAMILTON ROAD,
NEWMARKET, SUFFOLK CB8 7JQ
The pointers will now be trained by James' wife, Jenny, whilst James has taken a Jump licence out and hopes to have his first runners around Christmas.
Jenny's pointers and early season targets include:
Ages of horses as of 1st January 2023
Dash Full Of Cash bg 6-y-o
He had a little bit of form for Lucy Wadham and ran ok first time up for Jenny at Chaddesley Corbett last week when finishing second. He should take a big step forward from this as this was his first start after wind surgery and the sharp track didn't suit. He will run in a Maiden on New Year's Eve at Horseheath should hopefully turn into a solid staying type.
Dragon D'Estruval bg 10-y-o
A lovely kind horse, he was purchased from Anthony and Anna Bromley by Tattersalls' John Morrey, who is a big supporter of ours and East Anglian Pointing. The pairing had their first outing at Chaddesley last week, where they went well until getting a bit tired 3f from home. They got on well together and should be a lot more competitive next time. Dragon would ideally like cut in the ground and staying tracks. Horseheath on New Year's Eve will be the next target, probably in the Mens Open as he gets a lot of penalties in other races, but we would ideally need some rain before then.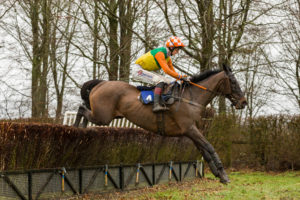 Fiddler of Dooney bg 10-y-o 
He is a lovely little horse who always tries hard. Visors really sharpened him up last season and made Alex Chadwick's job a lot easier, he didn't beat much in his early wins but his last run at Dingley was pretty solid. He's a very strong stayer who we kept busy last season and we plan to start him back in the second half of the season. As he is now up in grade, he will find things tougher so we may go down the Novice Rider route or Conditions races with him. The plan is to run right through to end of the season and then go summer jumping as he is well handicapped. The East Anglian Partnership have had great fun with him and there are still some shares available in him.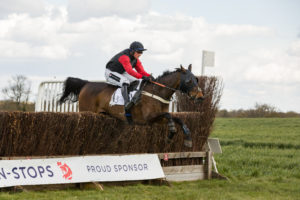 Ragnar Lodbrok bg 8-y-o 
Purchased from Gordon Elliot, he was placed in a graded hurdle but not quite as good over fences, where he is still a Novice. He has done plenty of work/schooling and will start in a Conditions race, hopefully if he's good enough he can go Novice Hunter Chasing. We plan to start off in the 3m Conditions race at Horseheath on New Year's Eve and he is owned by The Whiskey and Water Syndicate.
Twilight Girl bm 10-y-o
She's a nice mare who we haven't had that long, James purchased her from his good friend JD Moore for two novice riders (Jamie Gambin and Tommy Frogley) who will ride her alternately during the season. We will toss a coin to see who gets the first ride and she will start in the Novice Riders at Horseheath. She seems quite tough and will be ideal to get them going.
Pont Aven bg 10-y-o
We had a great time with him last season, although unfortunately he fell at Horseheath on his first start when the yard and a lot of Newmarket had backed him! He then won a Men's open at Higham and a Hunter Chase at Ludlow before running very well when finishing sixth in the Cheltenham Foxhunters on ground that didn't suit.
He wants good ground to be seen at his best and will start back in a point in January. Following that he will go into James's care for a Hunter Chase and have a go at Cheltenham once again. Tim Gredley has been a big supporter of ours and he loves a day out at the point to points.
Midnight Cowboy grg 12-y-o
The Stearn family have been great supporters of the yard and have recently sent back Midnight Cowboy. He got his act together last season and is a nice Open horse to have in the stable. He is best going left-handed and on good ground, running well in the Queens Cup last season. We will be looking for races for him somewhere towards the end of January.
Just Cause bg 13-y-o 
He has won eleven races in total for us so far and the whole team loves this horse, as do the Stearns. He was in the form of his life when rattling a four-timer off before Covid hit but was disappointing the next season for some reason. He came back to win a trio of races last season and was runner-up in two Novice Hunter Chases. We will start him back during February and aim him at the East Anglia and South East Opens. Simon and Penny have been great supporters of the yard and we have a lot of fun with them and Rupert. They particularly enjoyed their trip to Kelso last May when finishing runner-up in the Novices' Hunters' Chase.
We have plenty of opportunities to get involved in individual ownerships, syndicates or our new Racing Club which starts in January. Please see attached our advert if you are able to send it onto anyone who might be interested and we have high hopes for an exciting season ahead!
Many thanks,
James and Jenny 
+44 7880 700559