Gina Andrews became the most victorious lady point-to-point rider in the history of the sport. Wins on Fumet D'Oudairies and Mammoth took her career total to 305 surpassing Polly Gundry's total of 303 point-to-point winners. Born in Hitchin and now based in Warwickshire, Gina has always competed in East Anglia, initially on the pony racing scene where she was often champion rider. Her first point-to-point ride at Cottenham in February 2008, at the age of sixteen and one week, was a winning one and Gina has gone on to land multiple championships as leading lady rider in East Anglia in addition to numerous national ladies titles.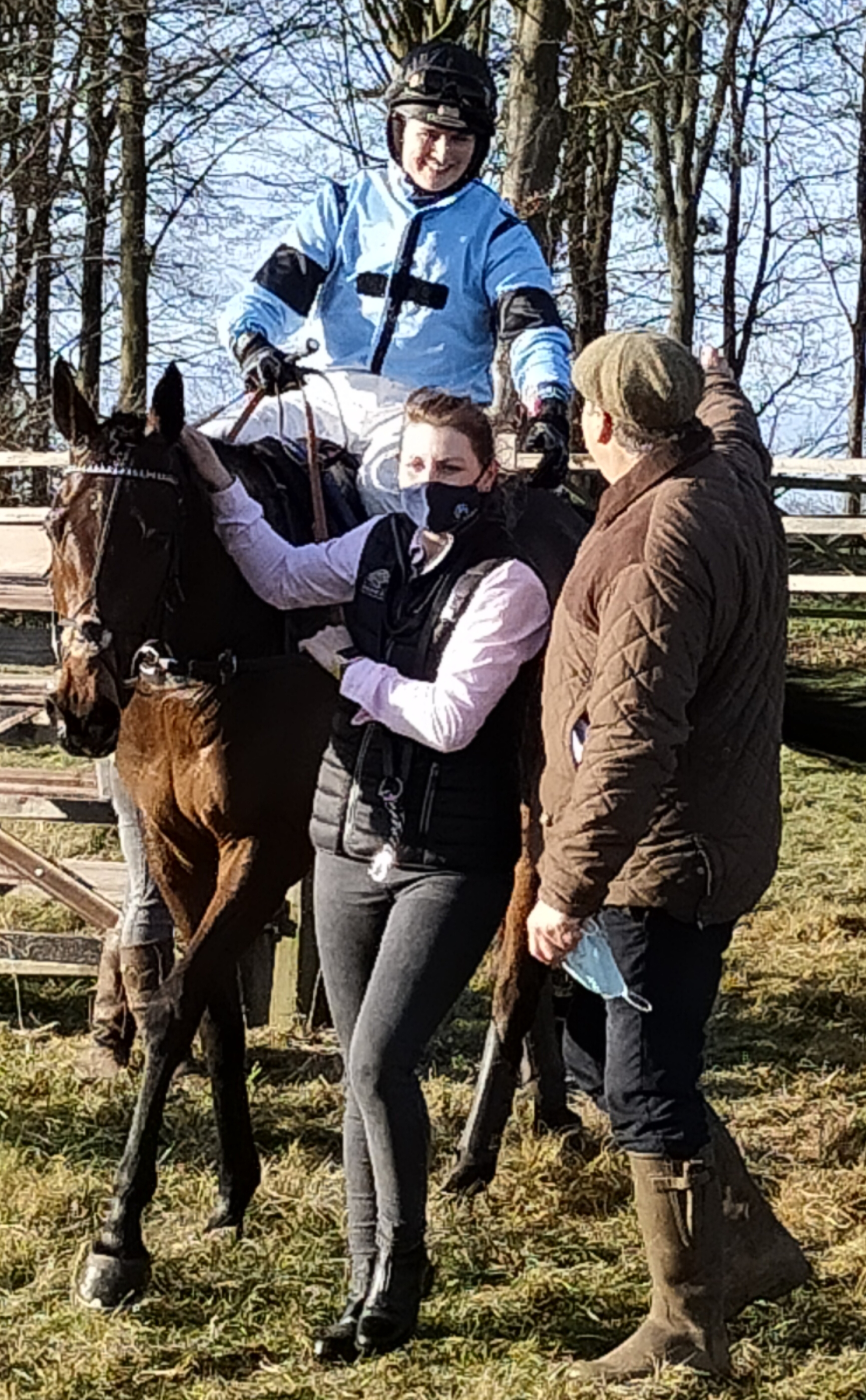 GINA, RETURNING ON FUMET D'OUDAIRIES, IS CONGRATULATED BY HER FATHER, SIMON ANDREWS, ON BREAKING THE RECORD. 
Here are the results for the Thurlow meeting at Horseheath. The official going was good to soft.
Conditions Race
1st Kaproyale James King 9/4 f
2nd Getting Closer Izzie Marshall 5/2
3rd Fiddler Of Dooney Alex Chadwick 6/1
Time 6-35 Dists: 2L, 3L 13 ran
also Benefaktor 4th Calin Du Brizais PU Conas Taoi PU Luscious Lily 5th Myplaceatmidnight PU Neumond PU Ryans Fancy PU
Smoke Man PU The Unmentionable PU Thomas Junior PU
Maiden Race
1st Bloodstone George Henderson 7/4 f
2nd Call Colman Alex Chadwick 4/1
3rd Flashy Kate Charlie Marshall 9/2
Time 6-48 Dists: Nk, 8L 10 ran
also Beauvallon Bay PU 5/1 Bennaway PU Elevenerife 5/2 Gettysburgh PU Gym Tonic 4th Laurel Girl PU Walk In Milan Ref
PPORA Novice Riders Race
1st Mr Love Murray Dodd 5/2
2nd Bawnmore Natalya Irvine 6/4 f
3rd Groundunderrepair Charlotte Butler 5/1
Time 6-43 Dists: 15L, 12L 10 ran
also Agamemmon 4th Attention Please 5th Ego Des Mottes PU Popelys Gull PU Right Of Reply UR Trainwreck 6th West Lake PU
Ladies Open Race
1st Fumet D Oudairies Gina Andrews 1/3 f
2nd Princeton Royale Kate Gowing 5/1
3rd Hawkhurst Izzie Marshall 2/1
Time 6-43 Dists: 3L 1 ½L 4 ran
also Sam Red 4th
Mens Open Race
1st Vivaldi Collonges Ben Bromley 5/1
2nd Early Retirement Dale Peters 4/1
3rd Geordie B Tommie O Brien 5/2
Time 6-39 Dists: Hd, Dist 7 ran
also Pont Aven Evs f F Precious Cargo PU Streets Of London PU Thumb Stone Blues PU
Restricted Race
1st Mammoth Gina Andrews 6/4 f
2nd Hilnamix Dale Peters 2/1
3rd Abunchofmemories Alex Chadwick 6/1
Time 6-39 Dists: 15L, 3L 8 ran
also Ballymac Boy PU Big Dawg PU Cashmoll 4th
Destination Dylan PU Persian Steel PU
Maiden Conditions Race
1st Coolagh Park Izzie Marshall 2/1
2nd Arctic Oscar Will Thirlby 6/1
3rd Go Go Geronimo Tom Chatfield Roberts Evs f
Time 6-37 Dists: Dist, 2L 11 ran
also Conceal 4th Doctor Wong PU Kauto Stinko PU Longtide PU Megaboost PU Panorama Ridge PU Precious Bounty UR Robin Is Ready 5th